LaTeX is one of the most powerful word-processing tools available for creating a professional document like a resume template or CV template, but it's also one of the most complex.
It takes significantly longer to create a resume or CV in LaTeX compared to Microsoft Word or Google Docs. If you don't know how to use the editor, your best option for creating a LaTeX resume is to download one of the hundreds of freely available resume templates for LaTeX.
We've scoured the web to provide you with the six best LaTeX resume templates and four of the strongest CV templates. Find them below.
Our free-to-use resume builder can make you a resume in as little as 5 minutes. Just pick the template you want, and our software will format everything for you.
10 LaTeX Resume Templates
If you're looking for a job and need to write a resume, check out these 10 LaTeX resume templates available through Overleaf and download your favorite.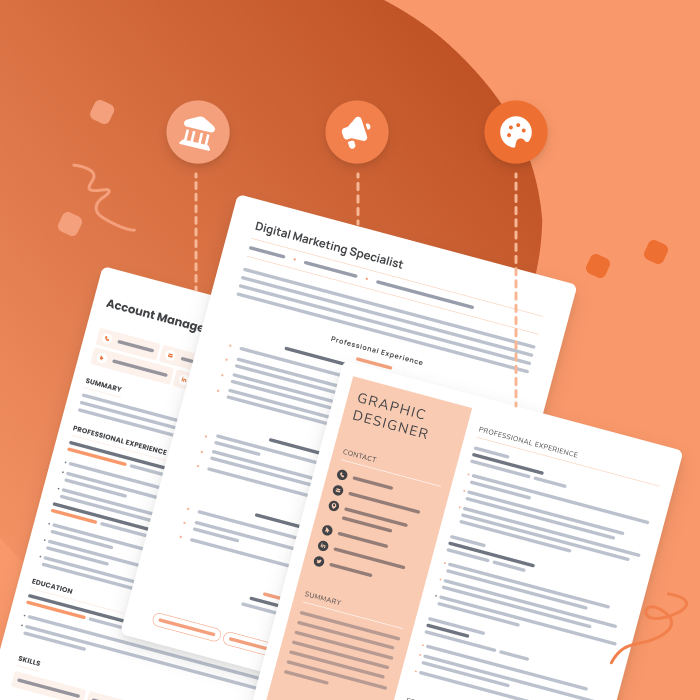 Not sure what your resume should look like? The best way to learn is by taking inspiration from resume examples written by other candidates in your industry.
1. Contemporary LaTeX Resume Template
Need a clear and professional LaTeX resume template? This one is for you. Each section of the template is highlighted in red, and the resume's margins and lines create just the right amount of white space.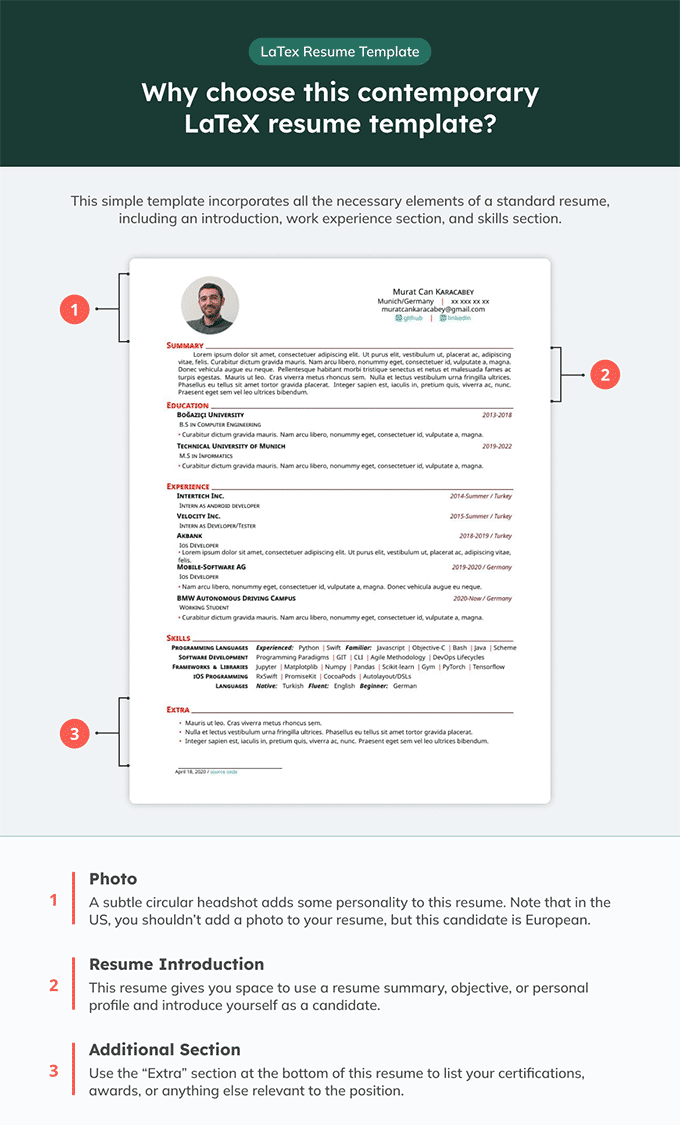 2. Cutting-Edge Overleaf LaTeX Resume Template
If you'd like a modern LaTeX resume template, check out this one provided by Overleaf. You can add a personalized QR code with a logo that links to your online portfolio, LinkedIn profile, or personal website.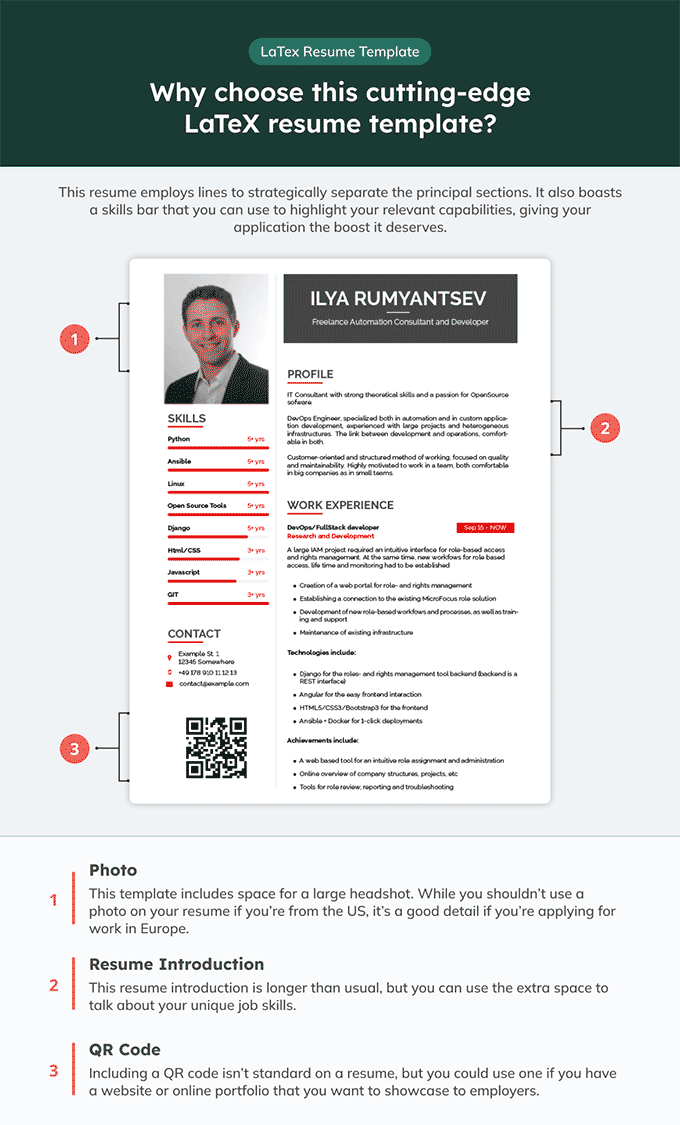 3. Innovative ShareLaTeX Resume Template
This downloadable resume template from ShareLaTeX provides plenty of space for your work experience. It's particularly suitable if you've had a long and distinguished career.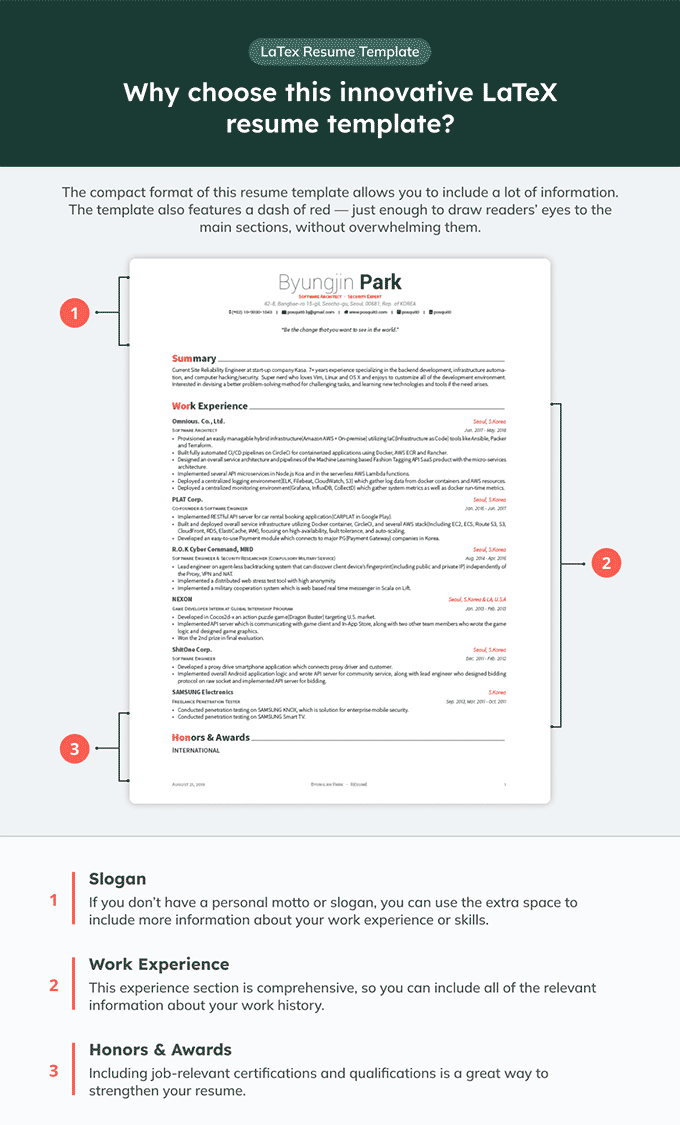 4. Resume Template for LaTeX
This efficient resume template allows you to focus on your work experience while also highlighting particular programming projects that show how you've honed your unique skill set.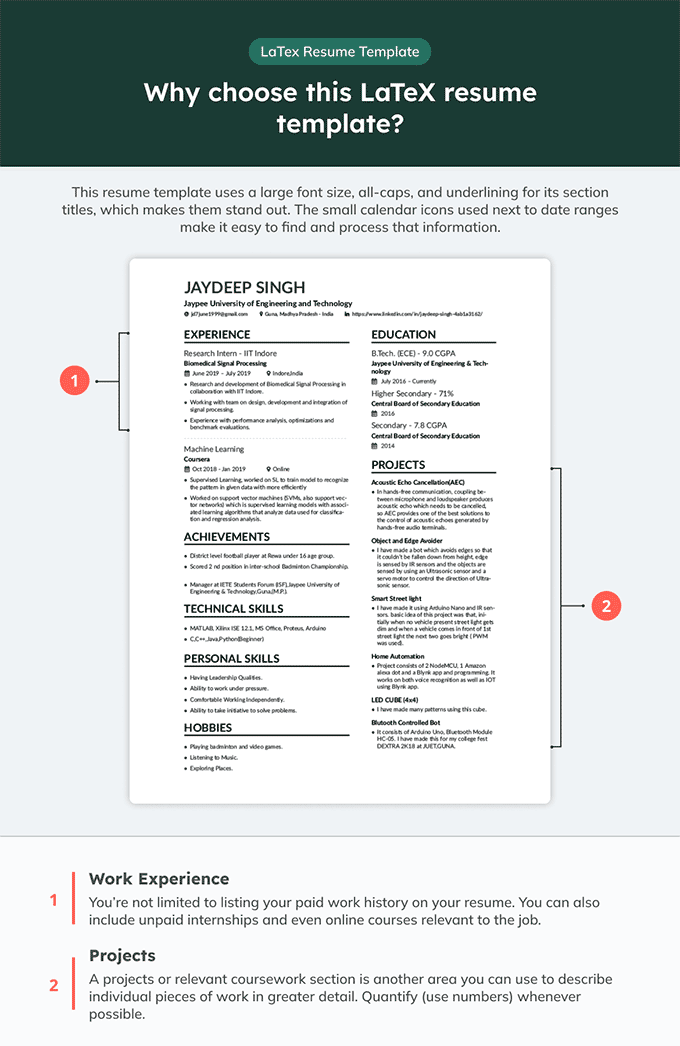 5. Computer Science LaTeX Resume Template
This two-column LaTeX resume template gives you the space to flesh out your accomplishments. You can also create multiple skills sections for both soft and technical skills — there's even extra space to add additional details, such as programming languages.
You can also download a more traditional Microsoft Word computer science resume example and customize the information if that's easier for you.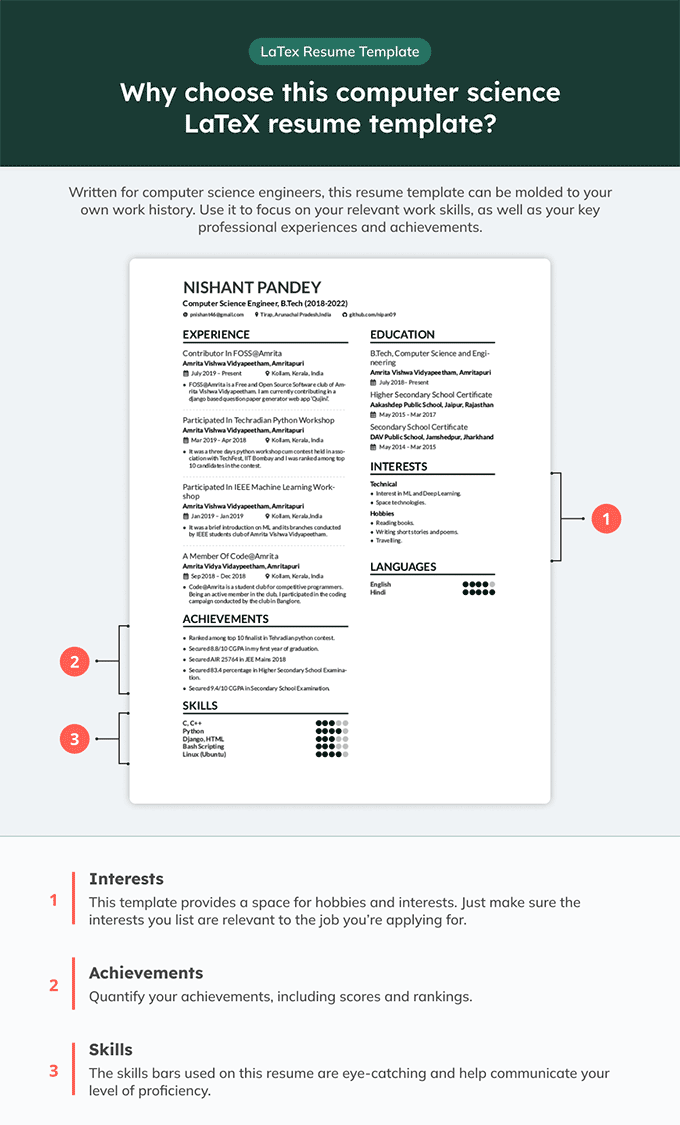 6. LaTeX Resume for Software Engineers
This resume template includes multiple skills sections, making it easy to separate your hard skills from your soft skills. The large empty section on the left-hand side can be used however you like — for example, to add your certifications or relevant coursework.
If this LaTeX resume isn't for you, try our software engineer resume example (available in Word format).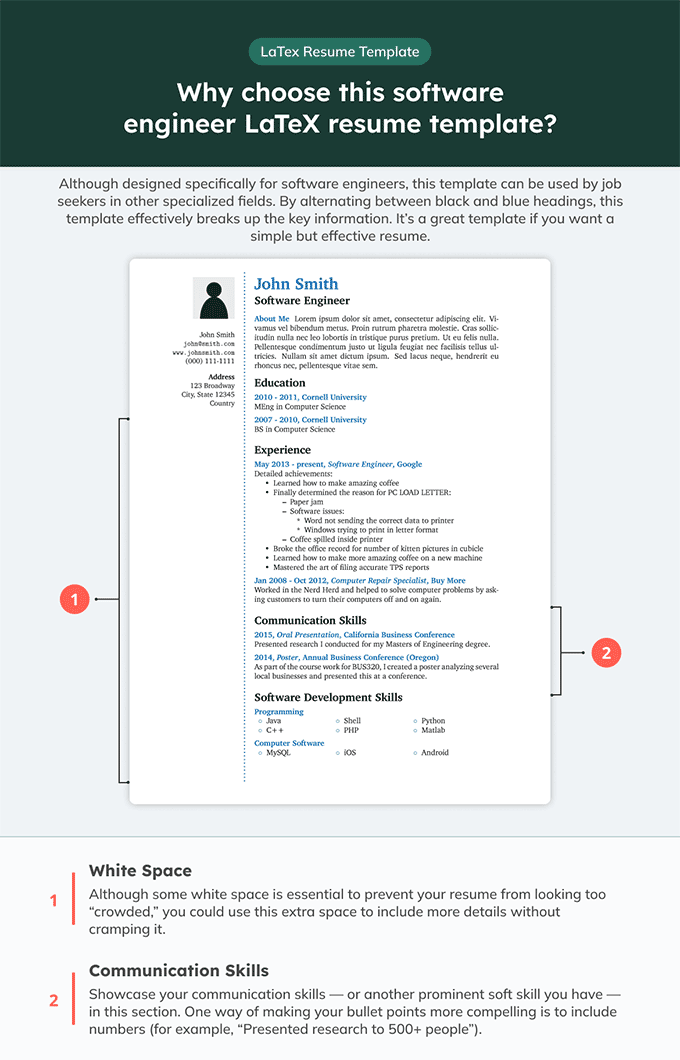 7. Engineering LaTeX Resume Template
A formal design featuring a space to list your GitHub, this LaTeX resume template is made for engineers. Not only that, but this template includes a large work experience section, giving you room to summarize all your professional achievements.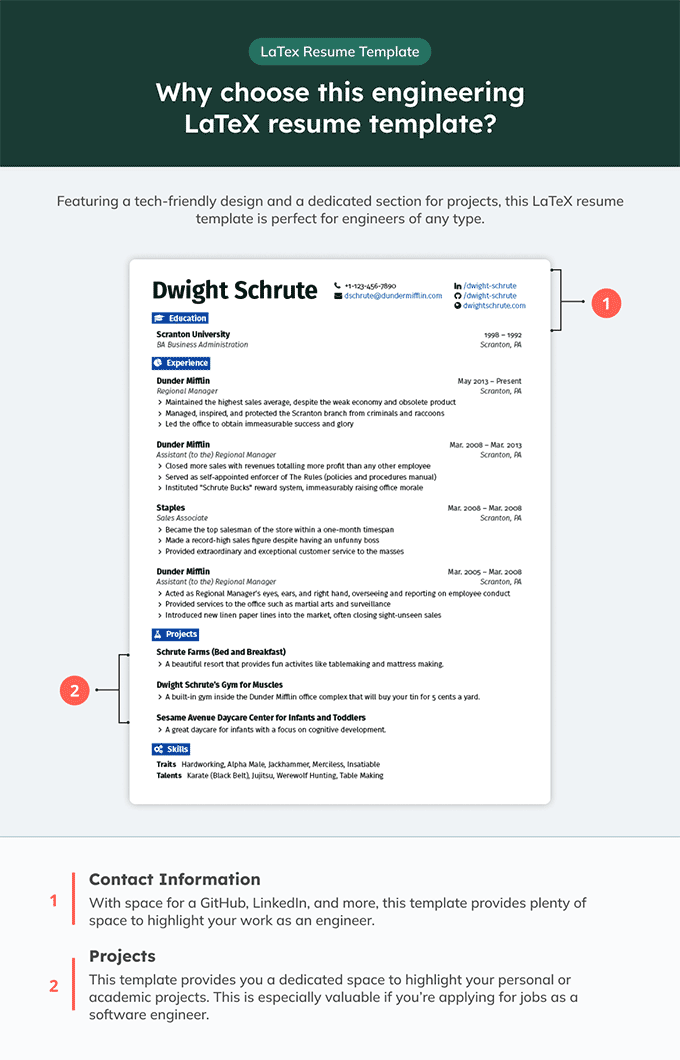 8. Technical LaTeX Template
With a unique sidebar and compact layout, this LaTeX resume template is perfect for candidates writing a technical resume.
The sidebar gives you plenty of space for a detailed skills section, where you can list all the programming languages and tools you're experienced with. Additionally, this template provides you with room to hash out various projects on your resume, allowing you to show off some of your achievements.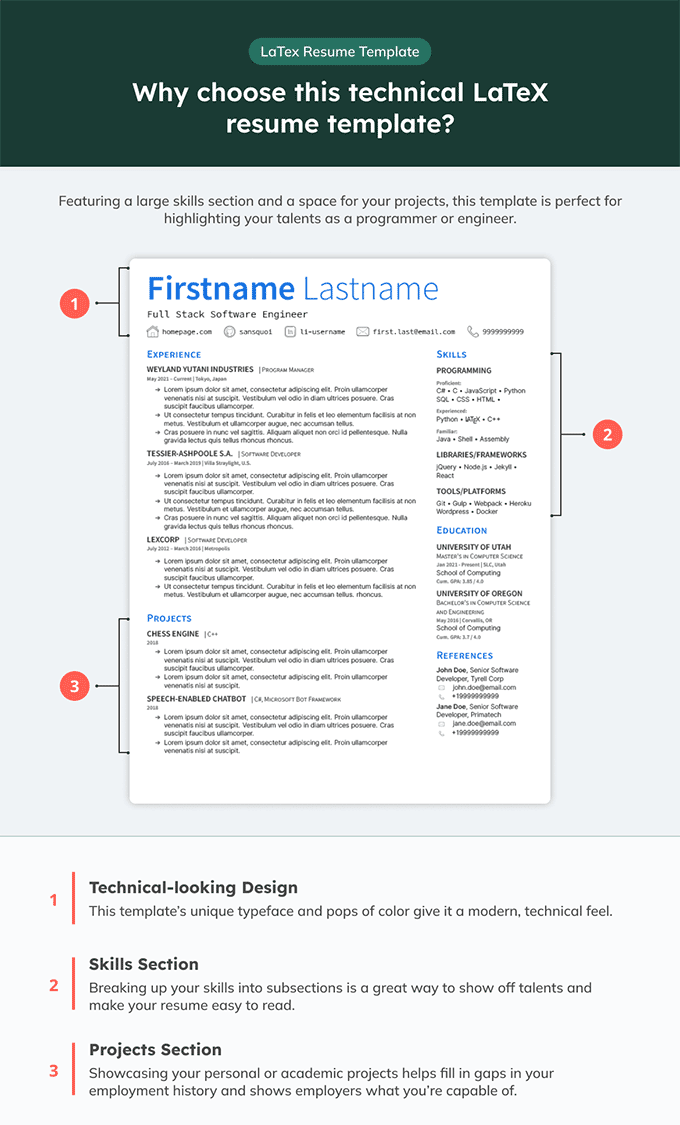 9. Academic LaTeX Resume Template
Do you need a resume that shows off your academic accomplishments? This academic LaTeX resume template is perfect for you. Featuring a large education section and space for any academic or personal projects, this template makes it easy to highlight all your skills and qualifications.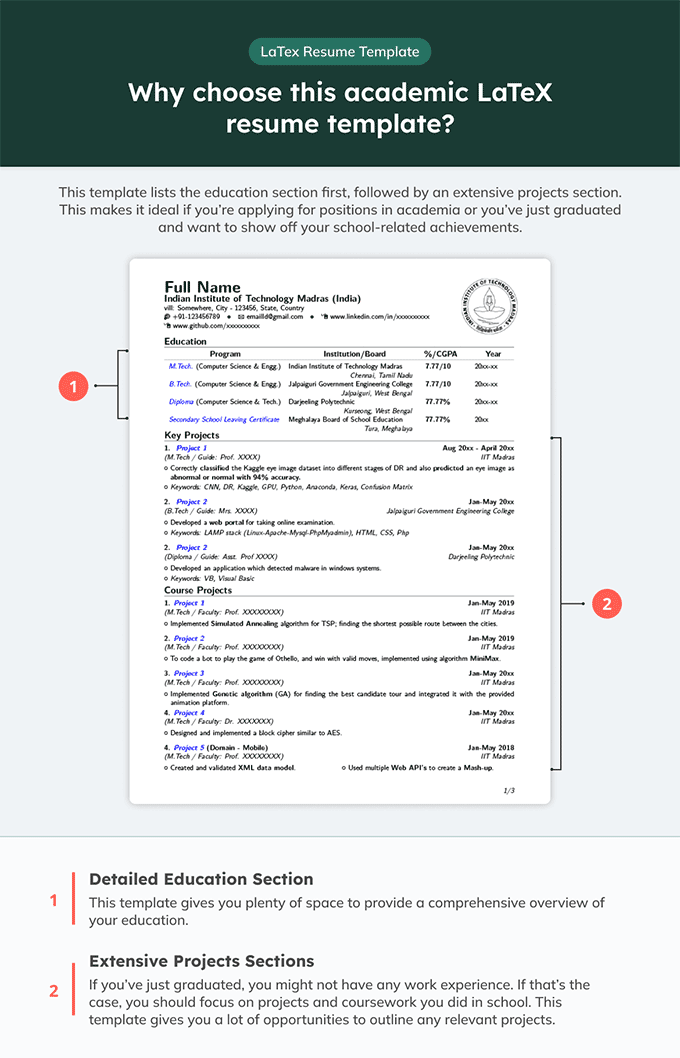 10. Simple LaTeX Resume Template
Want a formal, basic resume? This simple LaTeX resume template will help you highlight your qualifications with a sleek, minimal design.
The template's dense sections and simple headers give you maximum space to talk about your professional accomplishments. And with a conservative design, it won't ever attract attention for the wrong reasons.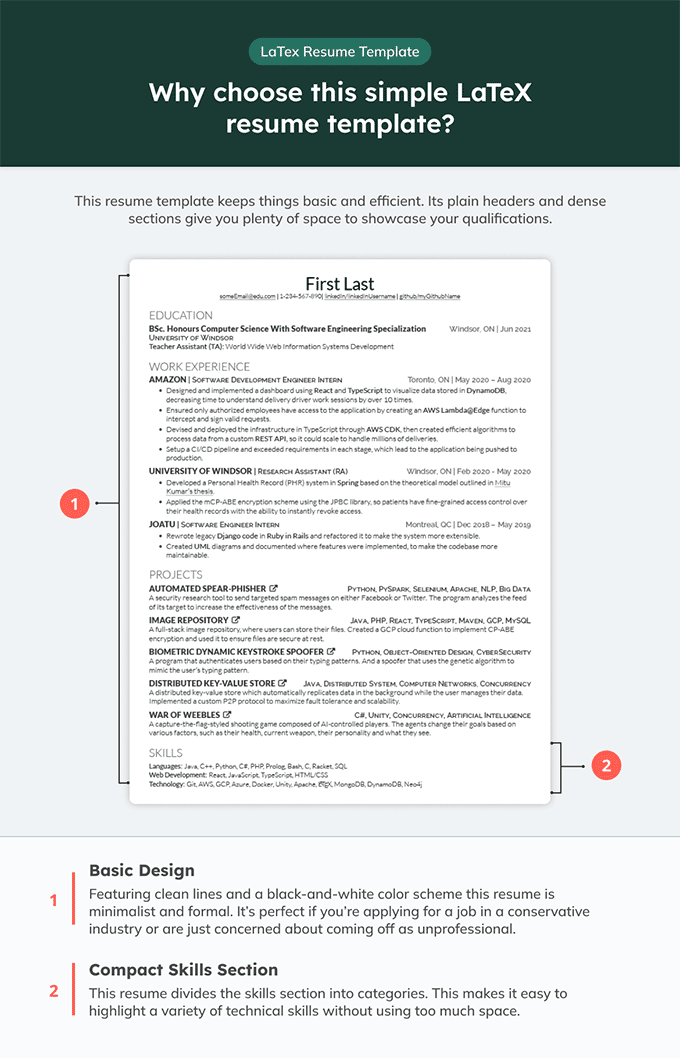 6 LaTeX CV Templates
Need to write a CV instead? Here are six of the best LaTeX CV templates we've found on the internet.
1. Overleaf CV Template
This Overleaf CV template is perfect if you're an academic with minimal experience. It features all the key sections your curriculum vitae needs, including publications, relevant coursework, research, and of course — your education section. All while remaining one page long.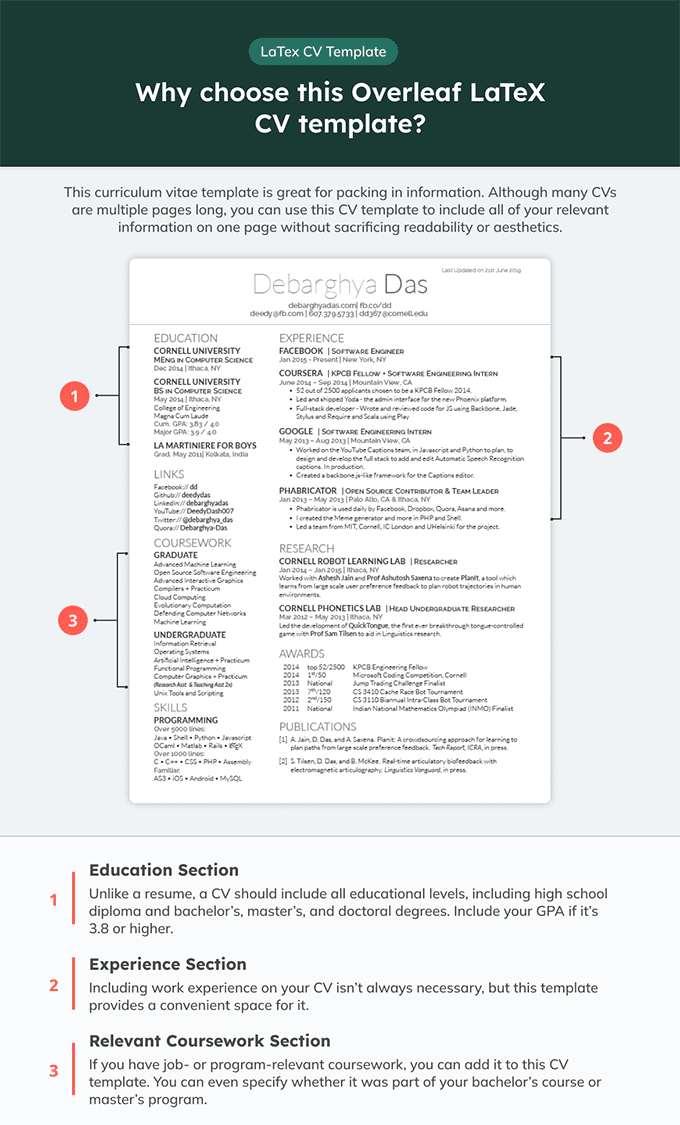 2. LaTeX CV Template
This single-page LaTeX CV template lets you both elaborate on your academic achievements and expand on your experience.
Light shading separates the skills section, language proficiency, and contact details from the two biggest sections of your CV — your work experience and academic accomplishments.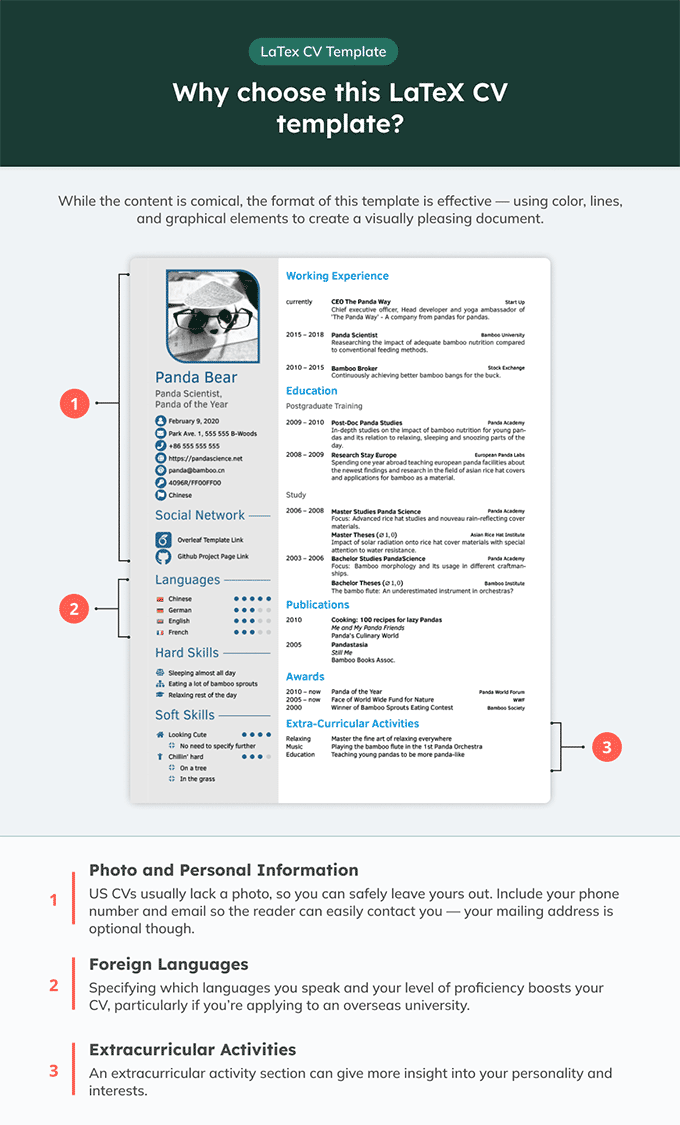 3. Academic CV Template for LaTeX
If you have several years of academic experience, you'll need a multipage CV template. This LaTeX academic CV template starts at three pages, and can be expanded as much as you need.
Unlike the other LaTeX CV templates we've listed, the Academic CV Template's sections are consecutively laid out on the page. This structure make it simple to add new lines — and more pages — if you have extra information to include. As its name implies, it was designed to help people write an academic CV.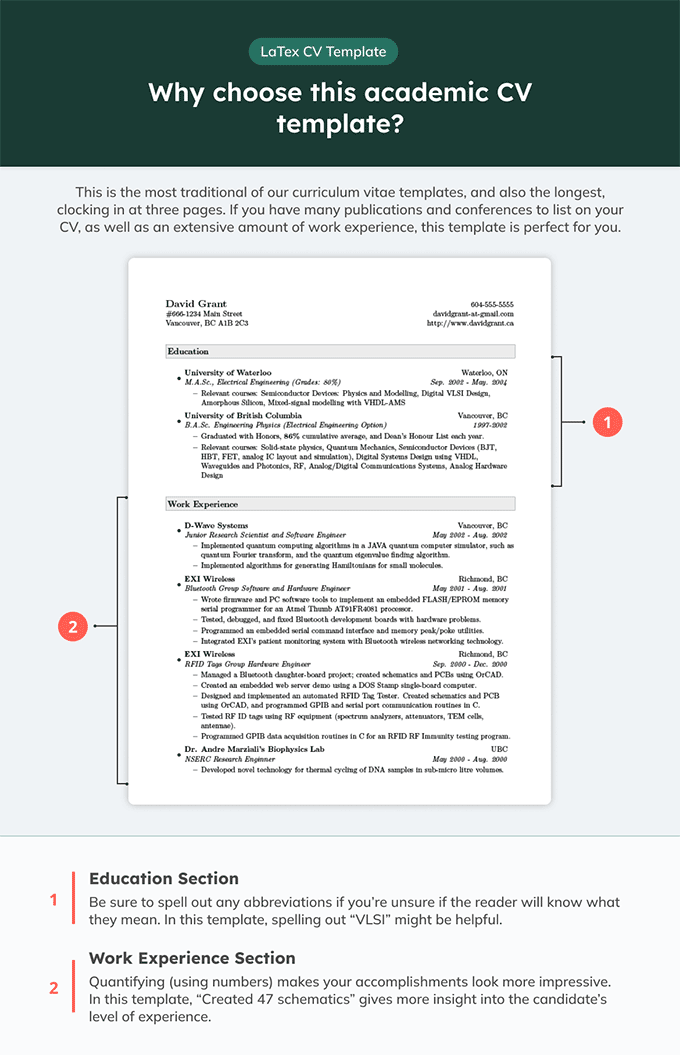 4. Straightforward Curriculum Vitae Template for LaTeX
Adding extra details to — and customizing — this academic CV LaTeX template is straightforward. It features a timeless black-and-white design that ensures your CV format doesn't distract the reader but still catches their eye.
Additionally, this template is a great CV example for students because of its large education section and "Campus Activities" section.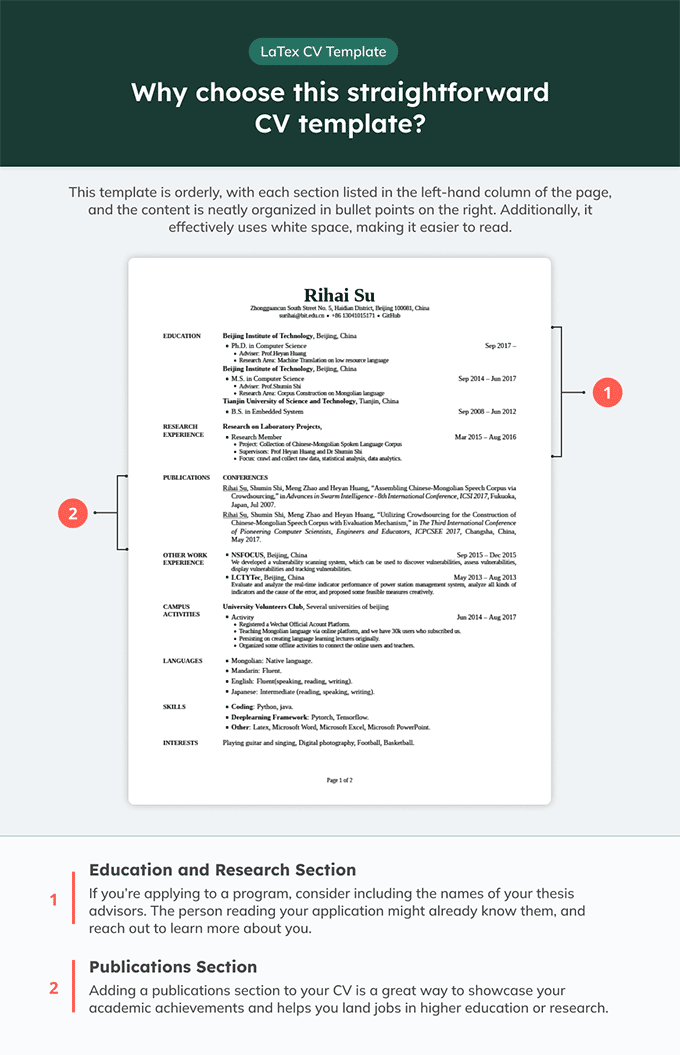 5. Creative LaTeX CV Template
With its bright red colors and bold headers, this LaTeX CV template is a great choice if you want to show off your creative side. For example, if you're a frontend developer or UX designer, this is a great template for you because it helps you stand out from other applicants and shows off your design sensibilities.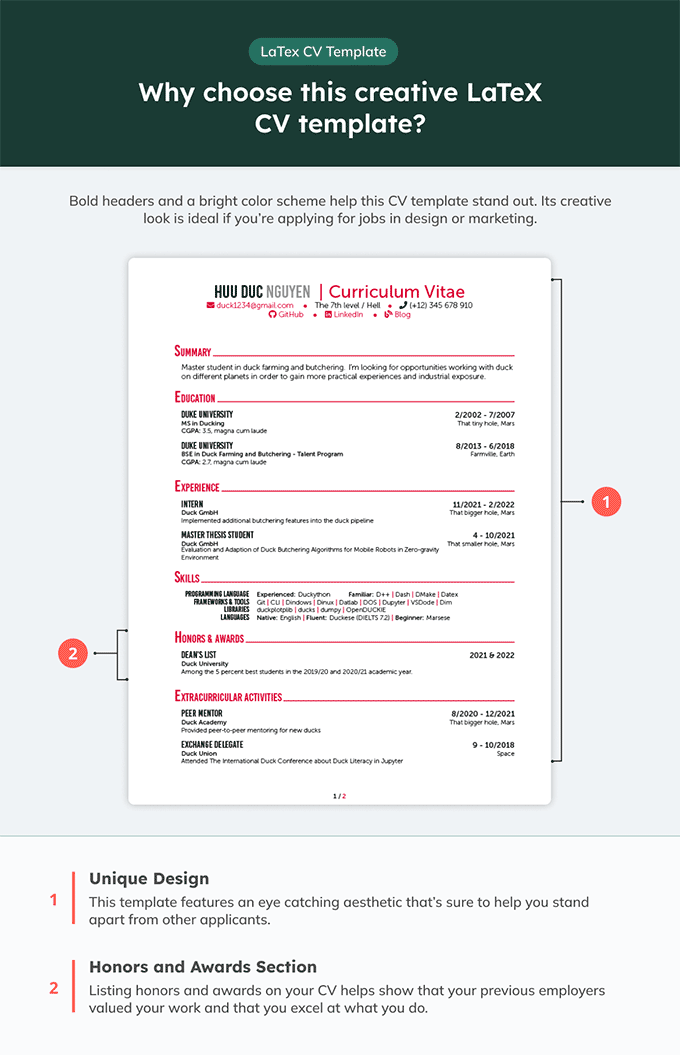 6. Europass LaTeX CV Template
Looking for work in the EU? This neatly organized Europass CV template for LaTeX gives you space to list all your relevant qualifications in Europass-compliant format.