Whether you're making a more formal video presentation or a casual TikTok resume, putting together a convincing video resume is possible with a good phone camera and some creativity.
We're going to explain everything you need to know to make a standout video resume, and provide expert tips and real examples to help you start brainstorming.
Our free-to-use resume builder can make you a resume in as little as 5 minutes. Just pick the template you want, and our software will format everything for you.
What is a video resume?
A video resume is a brief video submitted with a job application to provide supplementary demonstration of your skills, personality, and qualifications. If you decide to use a video resume, you should still write a traditional resume and treat it as your primary application document.
When to use a video resume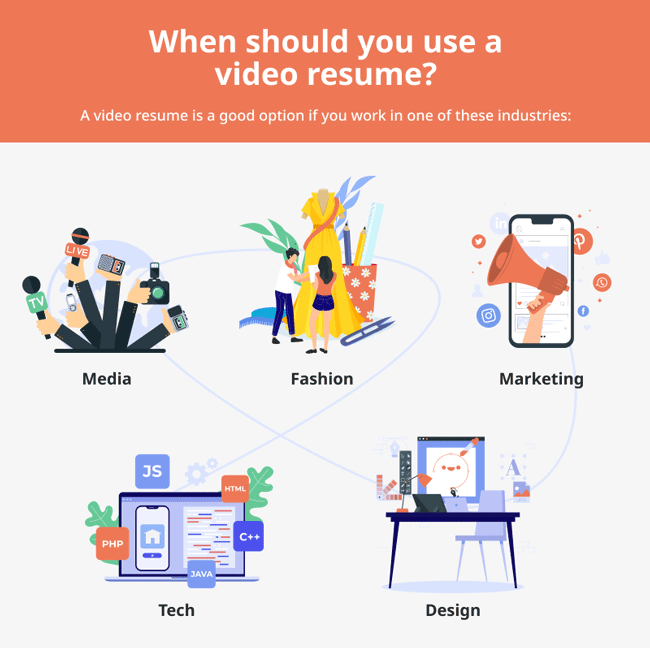 You should use a video resume if you're applying to a job that requires the ability to edit video, present, or perform in some way.
A video resume isn't a replacement for your traditional resume, but does help emphasize certain skills that are valuable for careers in creative industries like journalism, acting, broadcasting, or social media management.
However, using a video resume isn't always a good idea. When made poorly or sent to the wrong employer, video resumes can destroy your chances of landing a job.
Additionally, video resumes can strike employers in many more formal industries as unprofessional or strange.
If you decide a video resume isn't for you, there are still ways you can showcase your creativity. Consider using a visual resume or an infographic resume.
Video resumes are best used for job applications in these industries:
Media
Media could be anything from video editing, production, news broadcasting, cinematography or even social media. In a field where video and camera work are necessary, a video is an extra opportunity to illustrate your talents.
Fashion
If you design clothes or model, showcasing your work on film might help sell yourself and highlight your abilities. Runway footage can be dynamic, and gives you the chance to introduce your unique style.
Marketing
In fields where you frequently interface with clients and customers, interpersonal skills and confidence are important skills for your resume. A video helps demonstrate these qualities before you've even been invited for an interview, so if a firm seems open to creative applications, a video resume might help emphasize your skill set.
Tech
The tech industry tends to be more relaxed and forward-thinking than other industries, and often more receptive to unique job applications. A resume video might help demonstrate your experience and skills in a visual format (especially if you embed links to your work).
Design
Whether you design interiors, cars, or websites, the additional visual aid of an eye-catching video resume can help illustrate your skills as a designer.
Even within creative fields it's important to consider your particular employer and whether or not they will be receptive to a video resume. Do your research about a company's culture beforehand to get an idea of how open they are to nontraditional job applications.
How to make a video resume
Here are all the steps to follow to make an outstanding video resume:
1. Refine your message
Before doing anything else, it's important to decide what message you want employers to take away from your video resume.
Do you want to leave them stunned by your design portfolio, or do you want them to see how adept you are at public speaking? Maybe you want to show off your video editing skills, or have the video serve as a professional reference by interviewing coworkers and managers.
Before you start filming anything, you should have a clear idea of what message you want to send employers and how your video resume helps bolster your job application.
If you're not sure what you want your main takeaway to be, it's helpful to look back at the job description and ask yourself what the employer really wants to see from job applicants.
2. Decide on a format
There are many different approaches to making a video resume. Hone in on what it is you want to convey with your video, and consider which video format can deliver that message.
Here are a few popular video resume format options:
Narration: Simply speaking to the camera can be plenty effective, especially if you have any degree of screen presence.
Interview: A clever format for introducing yourself is filming a mock interview. You can do this one by either asking another person to fill in as the interviewer, or you can play both roles.
Project showcase: Actions speak louder than words, so actually showing your work is an effective approach. A showcase format is a good choice if you work in design, because you can use the video to highlight some of your most impressive work.
Reel: A reel emphasizes what you've done on camera, so it's best for aspiring actors, hosts, newscasters, or any job that requires a camera presence. (If you are also required to submit a demo reel as part of your application, make sure your video resume serves a unique purpose and uses different material.)
Mix: While all of these formats have their merits, taking the strengths of each of them can be the most effective approach. Be careful however – using a mixed format can turn into a hodgepodge, so keep it concise.
When in doubt, be sincere rather than funny in your video. Unless you're certain it will go over well, funny videos can be a gamble.
3. Keep your video structured
Every video resume will be different, depending on your industry and the format you choose. However, all video resumes should include an introduction, qualifications, and a conclusion.
Let's break each section down.
Introduction
The main purpose of a resume is to introduce yourself to potential employers, and your video resume is no different.
In your introduction, state your full name and job title, and use text to emphasize these details if you want to leave a more lasting impression. Then let the viewer know what kind of work you are looking for and why.
Tell the employer why you want to work for them. If you're not tailoring your video to individual jobs, you should still try to get as specific as possible here.
If you have time, you can also personalize your introduction with some additional information, such as where you're from, where you went to university or what hobbies you enjoy. However, make sure to keep your introduction concise.
Qualifications
What you include here, and how you choose to include it, will depend on your work experience and what exactly you want to spotlight in your resume video.
Here are some key elements to add:
Professional experience
Key accomplishments
Awards or other professional recognition
Selected works from your portfolio
Infographics
References from managers/co-workers
Links (to your portfolio, LinkedIn profile or other social media accounts)
Think of your work experience in terms of greatest highlights. Your video is the highlight reel of your previous experience, so emphasize your achievements as briefly and clearly as possible.
Conclusion
Your conclusion should be brief and convincing.
Start by quickly restating why a company should hire you and spell out for employers what you have to offer and how you can benefit their company.
Let them know that you'd love to have a formal interview, and tell them how to get in touch with you. This is also a great place to add in some clickable links to your online profile or portfolio.
Ultimately, your conclusion should be clean, professional and memorable.
4. Write your video resume script
Once you've decided what you want to include, it's time to write the script for your video resume.
When writing about your qualifications, pick out some key professional accomplishments and use hard numbers to quantify them.
For example, If you designed a social media campaign for a client that increased sales, here are two possible ways you can quantify this achievement:
Spearheaded a social media campaign that increased public engagement, generating over 200,000 shares and 635,700 total impressions
Launched a social media campaign that drove an increase in client sales by 11% over 2 months
Using specific and measurable achievements like these shows an employer that you're capable of achieving results, and makes your accomplishments more memorable.
While you are writing your script, it's important to visualize how you want your video to appear throughout. This is where to plan your cutaways, your voice over segments, your text overlay and your camera shots.
It's also important to pay attention to your tone. Even if you want your video to have a relatively casual feel, you should still be able to use professional language and conduct yourself as you would in front of a potential employer.
Before moving on to setting up and shooting your video, take the time to rehearse. It may feel cumbersome and unnecessary, but your extra practice will be paid off with smooth results.
5. Get the right equipment
When you make a resume like this, it's important to consider the technical elements of filming to achieve a professional-looking result. Putting some thought into production will go a long way to guaranteeing that your video resume is professional and polished.
Here are the most important technical elements to consider:
Camera
This is the most obvious and important piece of equipment. The only hard and fast rule here is that your camera should be able to produce video that has no obvious grain or quality issues. Your phone camera is likely able to record acceptable video.
However, if you want a more impressive end-product, consider using a video-capable DSLR camera with a tripod.
Audio
Your audio needs to be clear and audible. If it sounds tinny, muffled, or if music is drowning out speech, you need to re-edit or re-shoot. Quality is incredibly important here as poor audio is distracting.
Lighting
Your lighting in your video resume should be even and clear. Natural lighting is cheapest and easiest, but it should be soft and look professional. Alternatively, ring lights are relatively inexpensive and provide professional-looking results.
6. Shoot your video resume
When shooting your video, make sure to do several takes, even if you think the first one went over perfectly. Don't be afraid to experiment and try out each take from a different angle or with a different background.
The more material you have to work with when you get to the editing process, the happier you'll be with your options and the final result.
When you're getting ready to shoot your video, choose a business casual outfit that makes you look and feel your best.
7. Edit
If you're an editing pro then you already know exactly what to do here. If you don't know how to edit video though, don't worry, because there are also plenty of places to download free editing software.
Not only will this help you adjust your lighting, audio, and other visual effects, but it will also allow you to break up your shots and integrate your portfolio showcase or other features.
Additional tips for making a great video resume
Now that you know how to make your video resume, it's time to get started. Here are some important things to keep in mind through the process:
Keep it short
No hiring manager is going to watch five minutes of a candidate when they could glance at a traditional resume and know whether or not to interview the applicant in six seconds.
Your video resume should be between 30 and 90 seconds, and should not exceed 2 minutes. Anything longer risks making your hiring manager impatient.
Keep it appropriate
While we all love to make others laugh, a video resume is probably not the best time or place to try out your new material. Cracking the wrong joke to the wrong hiring manager could easily land you in the do-not-hire pile.
It's okay to add some humor, but make sure that your tone remains professional and in line with the values and behavioral expectations of your potential employer.
Be creative
Because the video resume format is most often utilized for positions demanding creativity, you should showcase this skill heavily.
Make use of the possibilities available to you. Whether it's using creative cinematic shots, adding clever text and image overlay, or including infographics, you should seek to make the most of all the visual elements this medium has to offer.
Doing so will make your video much more engaging and likely to leave employers with a favorable impression.
Let your personality shine
Sending in a video resume is a great opportunity to show off your personality and convince employers that you'd be a strong culture fit.
Videos have the ability to present "the real you" to an employer much better than a traditional resume can. Your job is to make sure your video actually does this. This is your chance to tell potential employers who you are and what you care about.
Be positive and confident
Just like in a job interview, it's important to display a positive and friendly attitude. Try not to rationalize why you might not have a skill or particular kind of experience. Instead, focus on the skills and experience you do have.
Having confidence will instill a sense of trust from potential employers. You could be the best video editor in the world, but if you look scared and aren't able to confidently articulate what you can do, a hiring manager just isn't going to believe you.
Have someone review it
Once you've finished editing your video it can be tempting to send it right off.
However, it's a good idea to have a friend or colleague take a look at it and provide some feedback first. They might notice something you missed, like if the sound quality isn't good, there's something in your background that shouldn't be there, or if anything comes across as unprofessional.
Getting an objective opinion on your video resume can save you from potential embarrassment later on.
7 great video resume examples
Looking for some inspiration before you start shooting your own video resume? Here are seven examples of the best video resumes we've found to help you get started:
1. A good hook
Mattias doesn't start talking about himself until half way through his video, but it's barely noticeable because he piques the viewer's curiosity from the beginning with a great hook.
As a cinematographer, his video is more geared towards showcasing his cinematic talent with beautiful shots than discussing past work experience. The viewer comes away with a memorable and lasting impression.
2. An engaging use of visuals
Arthur's footage itself is very simple, featuring himself standing outside and speaking to the camera. In the editing process, however, Arthur adds in several components that bring the visual elements to life, including text and image overlay, additional audio, and cutaways that show off his previous work.
His video is short, to the point, effectively showcases his work, and maintains the viewer's interest.
3. A solid mix of footage
As a woman of all trades, and a YouTuber, Isa has a wealth of experience and footage to draw from when creating her video resume.
If your story and experience is similarly varied, it can be hard to know where to start, but Isa does a good job of telling her story and informing viewers about her professional experience and qualifications.
The other great thing about Isa's video is how clearly viewers get a sense of her personality. She is nothing but herself, adds in some great humor, and manages to maintain a sense of professionalism.
4. An unexpected video resume
You might not expect a geologist to have a video resume, but Bruce's is very effective.
Bruce's video offers great insight into what he does, who he is, and his unique approach to his work by using time lapse videos he's taken over the course of his career. The content is engaging, informative, and gives employers a good idea of what Bruce can offer them.
5. An expressive resume video
Victoria's video resume runs on the long side, but does a fantastic job of capturing her unique qualities and personality.
The video gives the viewer a good idea of what motivates Victoria, what inspires her and what she is passionate about.
As a beginner videographer, she showcases some of her creative work effectively and invites potential employers to connect with her.
6. A straightforward pitch
In this example, the candidate gives a great overview of their professional experience, skills, and goals.
The video itself doesn't use any added visual effects, but instead keeps the focus on the candidate. Their speaking is clear and effectively communicates their qualifications to potential employers. The straightforwardness and simplicity of this video resume is what makes it strong.
7. A TikTok resume
If you like to create content on TikTok, then maybe a TikTok resume is the way to go.
This TikTok resume from Justine does a really good job of highlighting her qualifications and experience, and gives viewers a good understanding of Justine's skill set in just 47 seconds.
She maintains a positive and friendly attitude throughout, and ends on a strong note by inviting potential employers to get in touch.