Whether you're applying for your first job, have just graduated, or are switching careers, you need to write an impressive entry level resume to compete with other applicants.
Even if you don't have much relevant experience, employers are much more likely to take a professional interest in you if you send them a resume that:
highlights the right skills and knowledge
shows a thorough understanding of the job
demonstrates your passion for the specific industry or position
This guide will show you how to write an entry level resume to help you land your first part-time, full-time, or graduate job.
To help you write yours, we've also included four entry level resume examples, an entry level resume template you can edit, and detailed writing tips on putting together an excellent application for your first job.
Our free-to-use resume builder can make you a resume in as little as 5 minutes. Just pick the template you want, and our software will format everything for you.
Entry level resume examples
Effective entry level resumes convince employers that an applicant is ready for work in their industry by emphasizing the right skills and relevant knowledge.
Convincing an employer that you have the right skillset can be tricky, especially if you're trying to find work in a field that requires lots of technical knowledge (like medicine or engineering).
But a great entry level resume will side-step that problem by highlighting your transferable skills, education, and passion for the job. These qualities can show that you understand the job you're applying for and are ready to grow in your potential role.
This entry level job resume is a great example to follow because it uses a resume format that focuses on the applicant's industry knowledge rather than their years of experience.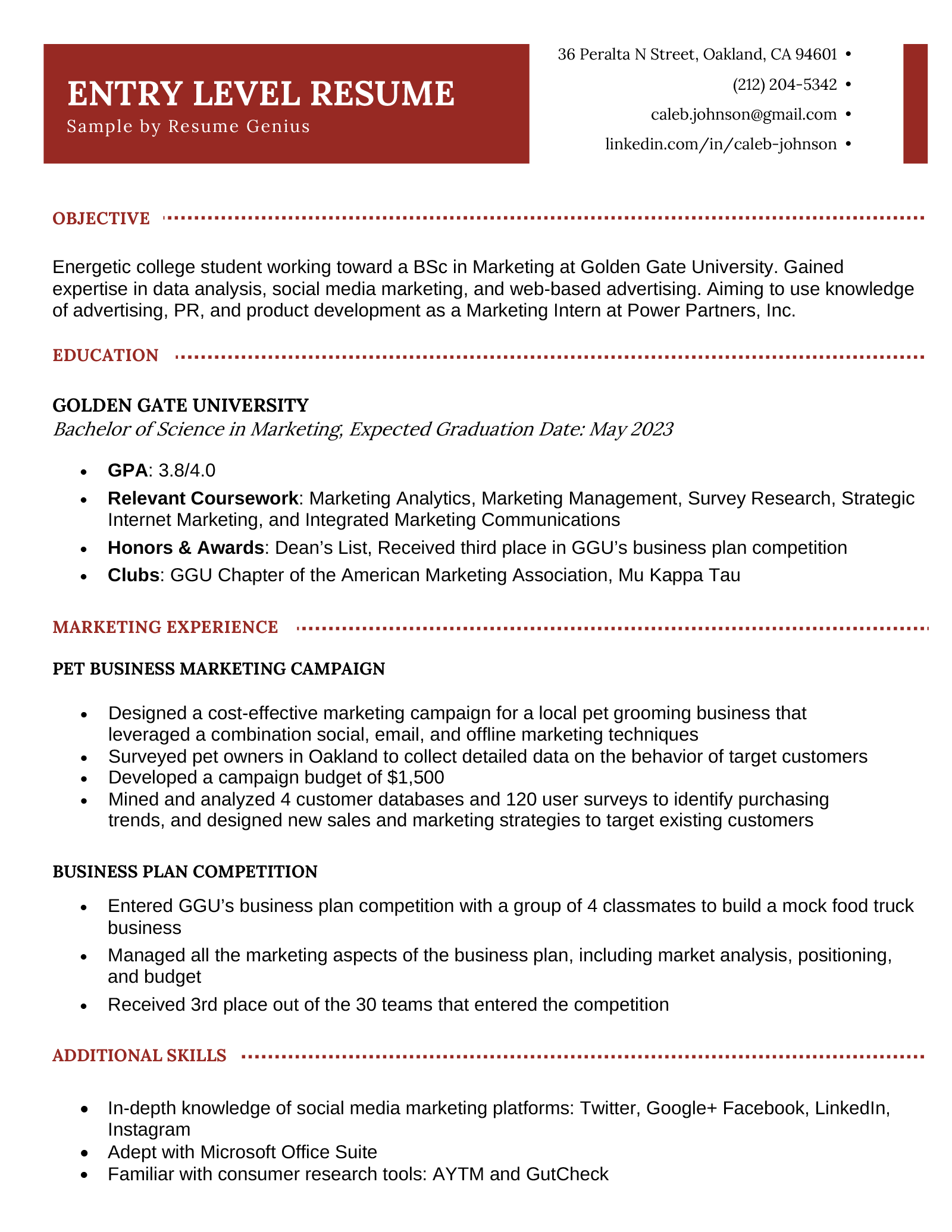 And here are three more entry level resume examples with varying levels of experience: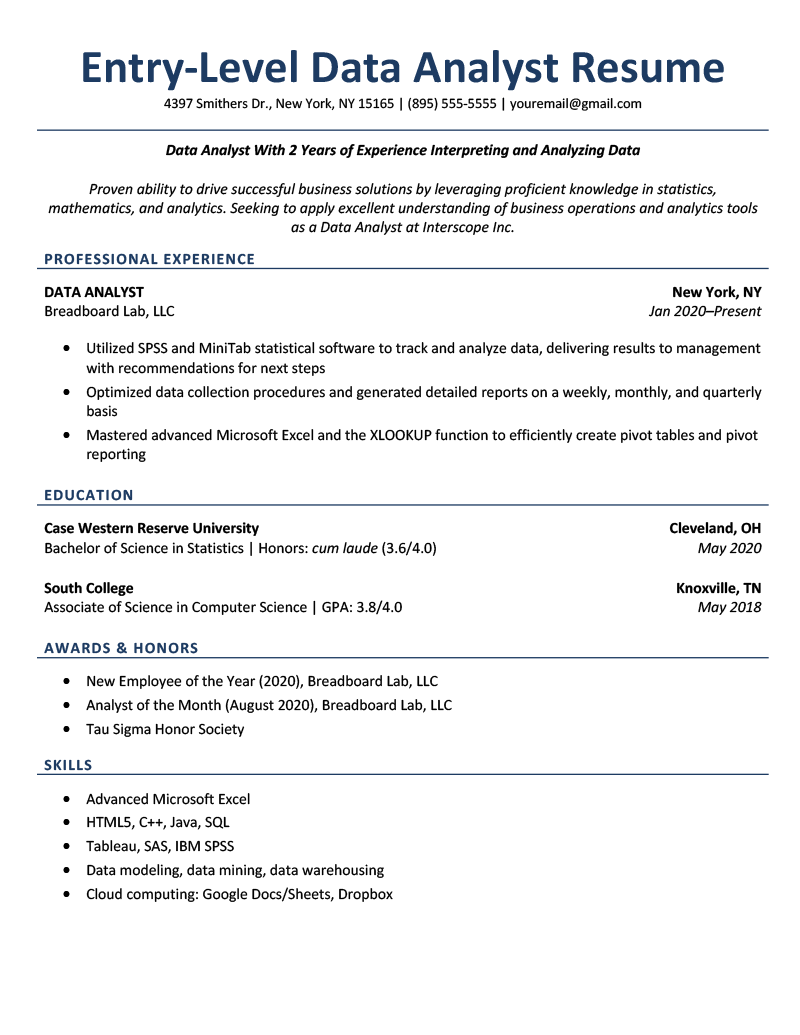 Entry Level Data Analyst Resume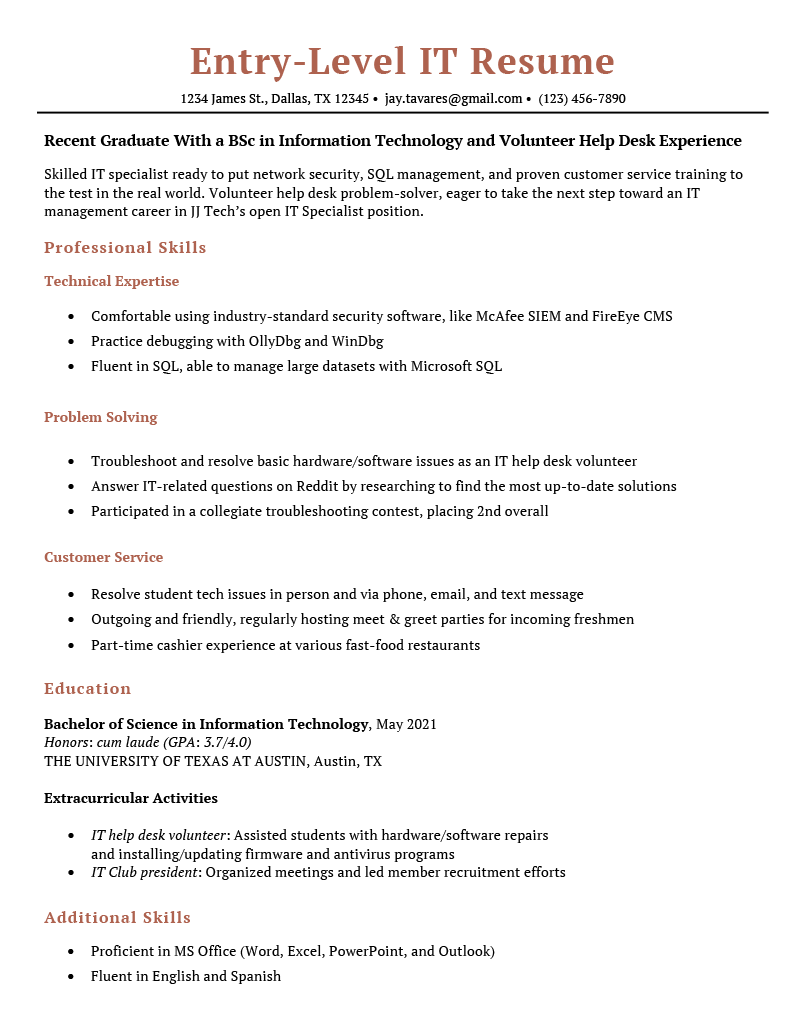 Entry Level IT Resume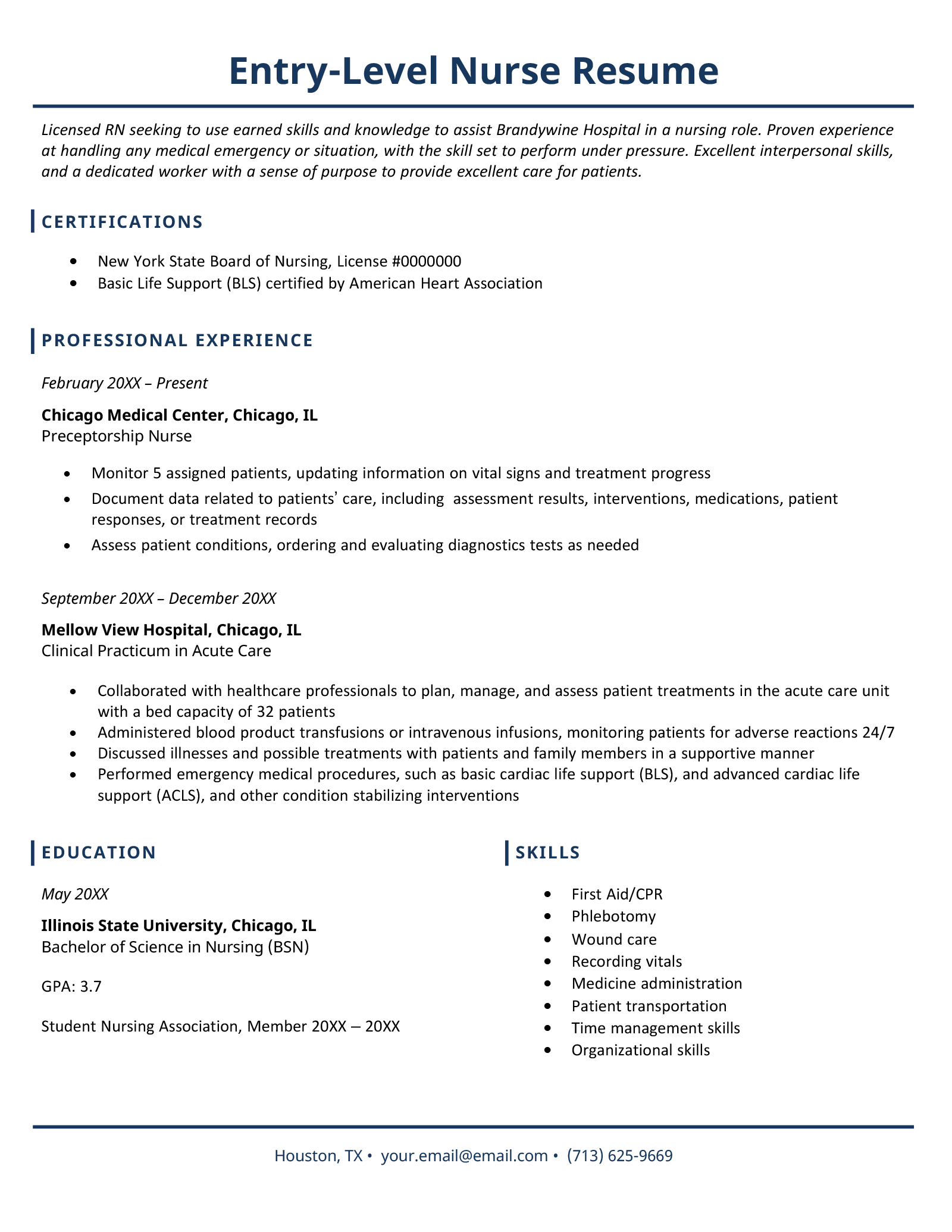 Entry Level Nurse Resume
Here's a list of even more entry level resume examples to give you an idea of how to write your first resume for specific jobs and positions.
Entry-level resume examples for specific jobs
The applicants who wrote these beginner resumes obtained basic industry knowledge and skills by completing internships or getting work experience in other industries. It's also possible to write a great entry level resume when you
apply for your first job
— for example, by focusing on your
education section
and choosing the right
skills for your resume
.
Entry level resume template
Replace the information on this entry level resume template with your information to make a resume that gets you hired:
1. Resume Heading
FIRST AND LAST NAME
Email: youremail@gmail.com | Phone: 895 555 555 | Address: 4397 Aaron Smith Dr., Harrisburg, PA 17101 | Linkedin: linkedin.com/in/yourprofile
2. Resume Title
[Job Title] With [# Years of Experience / Best Skills]
3. Resume Summary or Objective
Expand on your resume title by listing more relevant skills, the name of the position you want, and how you plan to help your target company in 3–5 sentences or bullet points.
4. Relevant Skills
First Skill
Include a bulleted list of accomplishments related to this skill
Quantify (add numbers to) these bullet points whenever possible
Second Skill
List any accomplishments or responsibilities that demonstrate this skill
If you no longer perform a task, use past tense verbs to describe the experience
Be as specific as possible — mention the names of software or tools you've used
5. Work History
Most Recent Job Title
Employer Name / Location / Start Year – End Year
Earlier Job Title
Employer Name / Location / Start Year – End Year
6. Education
Degree / Diploma Name / Major
University / High School Name, Location | Start Date – End Date
7. Additional Resume Section
Here's where you can add other relevant information
For example, this section could be any of the following: publications, languages, volunteer experience, or relevant hobbies
You can also adapt other resume templates to fit your entry level job application needs.
How to write an entry level resume
First, here's an overview of how you should structure your entry level resume and what you should write for each section:
This entry level resume is highly effective because it highlights skills and experience that are relevant to the position.
The applicant has expanded their education section and included a section highlighting their marketing experience in place of a traditional work history section.
Organizing the resume in this encourages the employer to focus on the applicant's skills instead of their years of experience, which is great for an applicant with little or no formal work experience.
Here are five more steps you can take to make your entry level resume just as effective:
1. Use a professional entry level resume title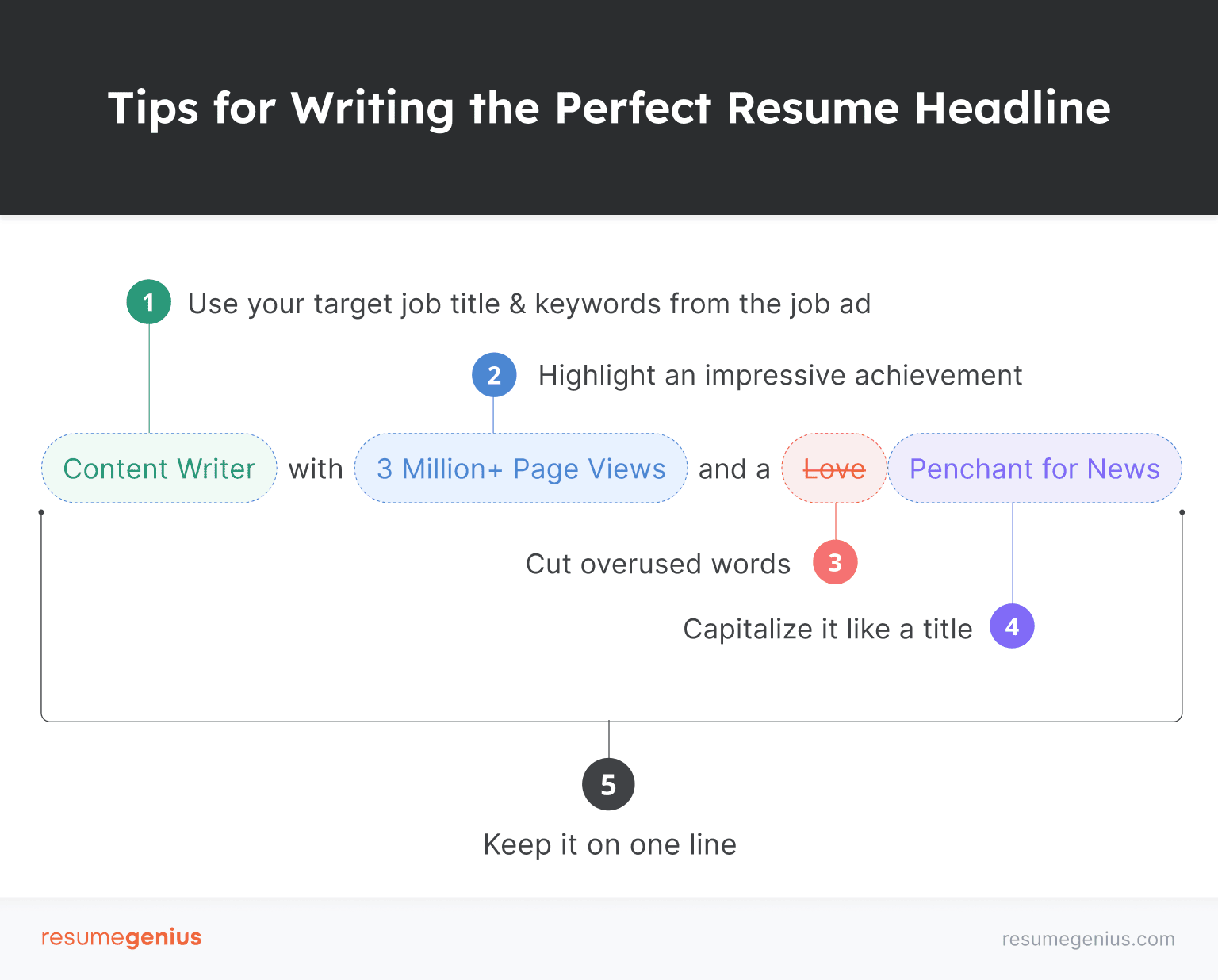 Hiring managers receive hundreds of resumes for entry level jobs. Make your application stand out by writing an attention-grabbing resume title that includes your:
job title
most impressive skill or accomplishment
Use skills-based resume keywords from the job ad in your title. Many companies use applicant tracking systems (ATS) to filter applicants using job-related keywords. If your professional title mirrors some of the language in the job description, it'll be much more likely to get the employer's attention.
Below are three good resume title examples for entry level applicants like you. Note how these headlines use title capitalization, don't have periods, and fit on one line:
Accomplished Graphic Designer Upskilling in UI/UX Design
Recent Graduate With a BSc in Economics and a US Treasury Internship
Volunteer Fundraiser Seeking to Apply Sales Skills in the Private Sector
2. Write your resume objective around the job you want
A resume objective is a 2–3 sentence professional introduction that:
outlines your experience
highlights your key skills
sets out your career goals
Your resume objective is the first section employers will look at after your resume header. As it's longer than your resume header, it's also a crucial opportunity to explain why you're a good fit for the specific role.
Here's an entry level resume objective example aimed at a specific position:
This applicant outlines their expertise and goals within their industry.
Still unsure how to write your resume summary? Use an online resume summary generator if you need some help coming up with ideas for your resume introduction.
3. Choose the right resume format
Because you're applying for an entry level job, you probably don't have much formal relevant experience. That's okay if you use the right resume format for your situation.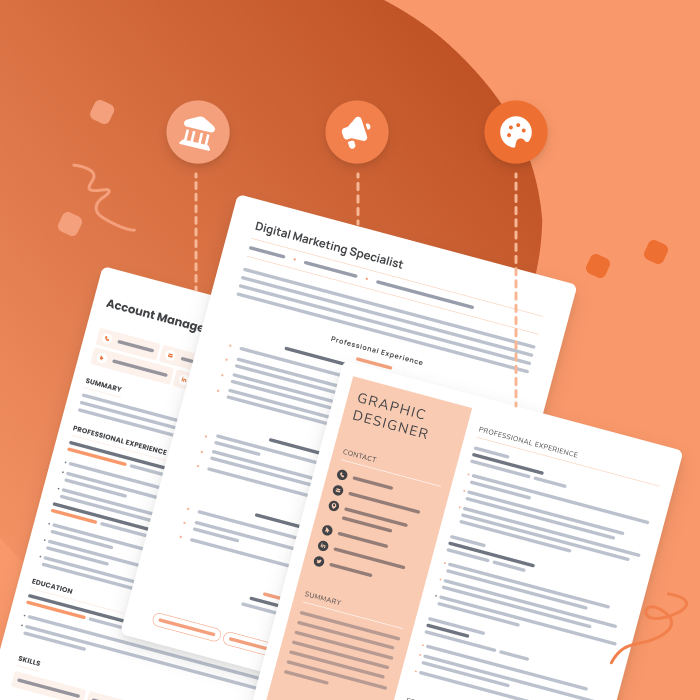 Not sure what your resume should look like? The best way to learn is by taking inspiration from resume examples written by other candidates in your industry.
The functional resume format features an expanded skills section with headers and bullet points detailing relevant achievements and experiences for each skill you include. This layout is perfect for showing the hiring manager that your relevant skills make up for your lack of work history.
Here's an example of how to use a functional resume format to showcase your skills if you're writing an entry level resume with no experience:
PROFESSIONAL SKILLS

Technical Expertise

Comfortable using industry-standard security software, like McAfee SIEM and FireEye CMS
Practice debugging with OllyDbg and WinDbg
Fluent in SQL, able to manage large datasets with Microsoft SQL

Customer Service

Resolve student tech issues in person and via phone, email, and text message
Outgoing and friendly, regularly hosting meet & greet parties for incoming freshmen
Part-time cashier experience at various fast-food restaurants
And here's how a skills section looks on a functional resume: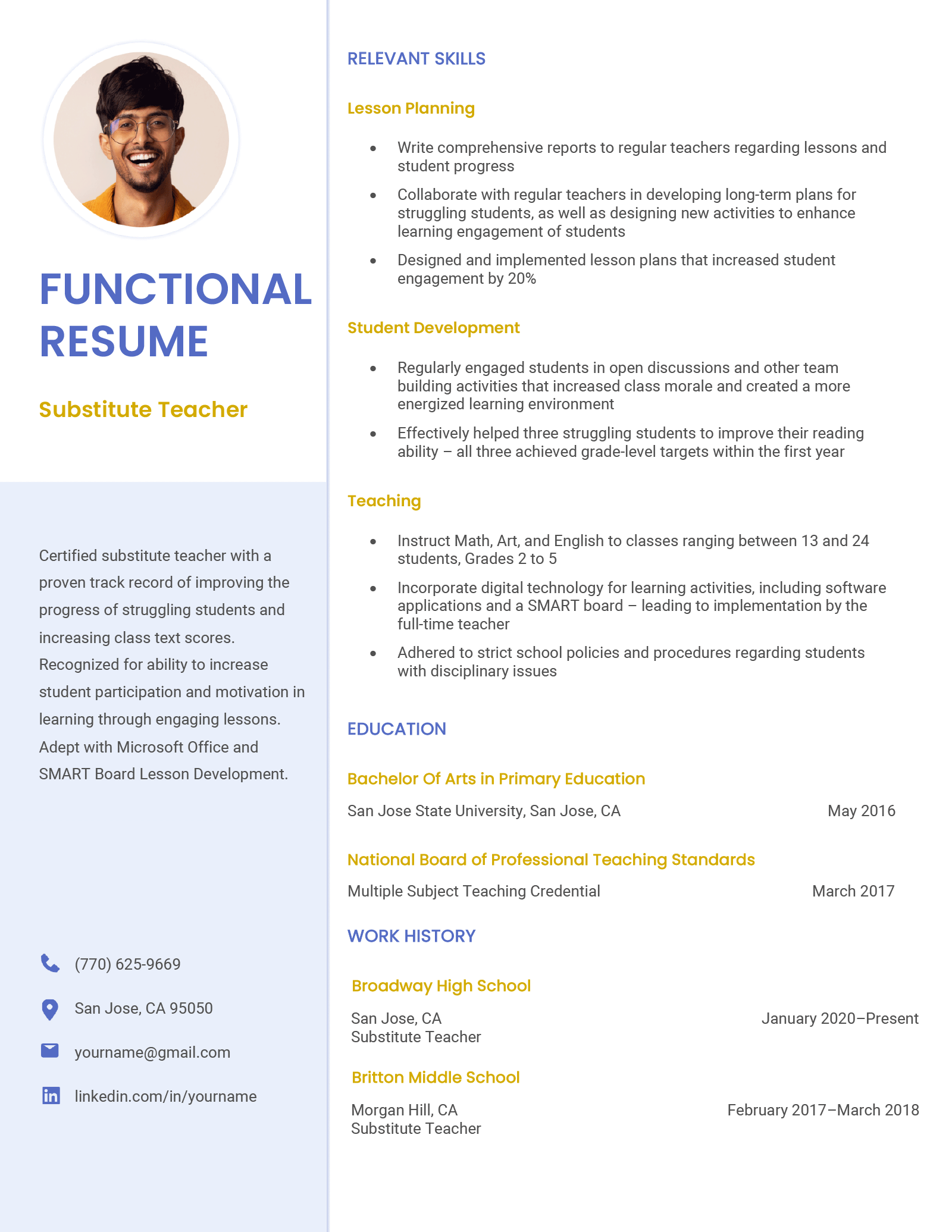 Download This Functional Resume Example
4. Emphasize your relevant entry level skills
When hiring for an entry level position, most employers assume you have little-to-no formal work experience in their industry.
But most employers do want you to have the knowledge to successfully handle your new responsibilities and quickly grow in your new role.
As a result, putting the right beginner skills on your resume often determines the success of your job application.
Best beginner skills to include on an entry level resume
The entry level skills that are most popular with employers tend to be transferable between industries and allow you to think critically and work well with others.
Consider both industry-specific skills and personality-related traits relevant to the job you are applying for.
Here are some entry level skills that you're likely to see on a job ad in 2023:
Attention to detail
Adaptability
Language skills
Decision making
Creativity
Proficiency in Microsoft Office
Basic graphic design (e.g., Canva, Figma)
Photo editing software (e.g., Photoshop)
Data skills
Social media skills
Choosing the right beginner skills for your resume
Employers clearly state what kind of applicants they are looking for in the job ad. Read the job description, requirements, and responsibilities carefully and make a list of the skills they mention and the skills you think are necessary to perform well in the role. Use this list of skills as a guide when planning what to put on your resume.
5. Show your relevant experience
Employers have a strange understanding of the term "entry level job." In a recent analysis of 3.8 million entry level positions on LinkedIn, 38.4% asked for at least three years of relevant work experience — with even greater demand in technical industries like software and IT services (60.3%) and manufacturing (50%).
But don't worry, those figures don't mean you're locked out of your desired industry.
To write an entry level resume with no experience, fill your entry level resume with:
If you have formal work experience in another industry, you should list that too. Employers will consider work experience in other industries if you show them the transferable skills you can carry over to your new career.
Here's how to format part-time jobs and freelancing work as entries in your resume's work experience section:
Video Editor (Freelance)

Various Vendors, August 2021–Present

Combine original, stock, and found footage to create videos for internet and television ads
Accrued 100,000+ views on YouTube across 8 videos
Reached Level 2 selling status on Fiverr within 4 months

Cashier (Part-Time)

Jack's Grocery, June 2021–July 2022

Rang up and bagged groceries for 50+ customers daily, promoting weekly sales specials during each transaction
Managed an average of $2,000 per shift
Led all cashiers with a 99.7% customer satisfaction rating
Frequently asked questions about entry level resumes
Here are answers to three of the most common questions asked about entry level resumes:
1. What is a good summary for an entry level resume?
If you're writing an entry level resume, it's best to write a resume objective, not a resume summary.
Great resume objectives are 2–4 sentences long and highlight your knowledge, skills, and any relevant experience you have, as well as outline your career goals for the employer.
2. How do I professionally say I have no experience?
Never say you have no experience on your resume. Employers are interested in what you can offer them, not what you lack.
If you have no formal work experience, focus on the hard skills you've obtained through study or other life experiences. It's also a good idea to highlight your soft skills (also known as personal skills), as everyone develops soft skills throughout their lives.
If you can show the employer that you're a well-rounded, hard-working individual with knowledge of their field or industry, they're much more likely to consider you for an entry level position.
3. What are entry level skills?
Entry level skills are the skills and abilities you need for an entry level position. Naturally, entry level skills differ from job to job and can be hard or soft skills.
Some examples of entry level skills include:
knowledge of a specific programming language
strong writing skills
attention to detail
graphic design skills
More resources to help you get an entry level job
Here are more resources to assist you as you seek a rewarding new career: