Looking for ways to make your resume stand out? A powerful resume headline can help you do just that. Immediately grab hiring managers' attention by writing a headline modeled after one of the examples below.
Our free-to-use resume builder can make you a resume in as little as 5 minutes. Just pick the template you want, and our software will format everything for you.
What is a headline on a resume?
A headline on a resume is a title that summarizes your qualifications. Also known as a resume title or resume tagline, the headline goes under your resume header and features catchy wording that prompts employers to keep reading.
Here's how to write a resume with a compelling resume headline:
40 resume headline examples
We've compiled examples of 40 good resume headlines across multiple industries for both entry-level and experienced candidates. Each of these headlines gives a quick yet impressive summary of the applicant:
Engineering & software development
1. Award-Winning Chemical Engineering Researcher
2. Expert Software Engineer Knowledgeable in Python and C++
3. PE Licensed Mechanical Engineer with Oil Industry Experience
4. Graduate Electrical Engineering Student and Published Research Assistant
5. DOT Structural Engineer Experienced in Bridge Evaluation
Business & management
6. Organized Project Manager and Part-Time MBA Student
7. Communicative Administrative Assistant with Extensive Software Knowledge
8. Straight-A Business Major and Chamber of Commerce Volunteer
9. Marine Veteran with 15 Years of Leadership Experience
10. Professional Writer Specializing in Business Proposals and Grants
Marketing & sales
11. Top-Grossing Medical Device Sales Manager
12. Friendly B2B Sales Rep Who Exceeds Targets by 30%
13. Marketing Student with EDMMarketing Experience
14. Online Marketing Manager Responsible for $500,000+ in Yearly Sales
15. Non-Profit Social Media Specialist with 10 Years of Experience
Customer service & retail
16. Bilingual Call Center Agent with 8 Years of Experience
17. Outgoing Retail Associate Well-Versed in Men's Fashion
18. Warehouse Manager with 15 Years of Forklift Experience
19. Friendly, Reliable Cashier and Bagger
20. Bank Branch Manager and Business Management Student
Accounting & finance
21. Detail-Oriented Certified Public Accountant Specializing in Small Businesses
22. Senior Financial Controller with 10 Years' Executive Experience
23. Honors Finance Student and Top-Rated Bank Intern
24. Part-Time Tax Preparer Skilled in Multiple Tax Preparation Software Packages
25. Financial Data Analyst with Bank and Insurance Experience
Education & human services
26. K12 Teacher Skilled at Assessing and Guiding 150+ Students Per Term
27. Social Worker with 7+ Years' Experience Leading 2–4 Weekly Therapy Groups
28. CPR/AED Certified Lifeguard Ensuring Safety for 100+ Swimmers Daily
29. Teacher Assistant Successfully Managing Classes of 30+ Students
30. Certified Public Librarian and Recent Recipient of an MA in Library Science
Healthcare & wellbeing
31. AAMA/CPT Certified Medical Assistant Passionate about Healthcare
32. Certified Nurse with Experience Communicating in English and Spanish
33. Medical Receptionist with 10 Years' Experience Handling Patient Intake
34. Newly Graduated RN with Emergency Clinical Experience
35. Physician Assistant with 5 Years' Experience Treating Patients of All Ages
Students & recent graduates
36. Software Engineering Student with Expertise in Software Design, Development, and Testing
37. Recent Journalism Graduate with Internship Experience in Print and Broadcast Media
38. Urban Planning Student with a Passion for Sustainability and Community Development
39. Economics Graduate with Financial Analysis and Business Strategy Expertise
40. Proactive Law Graduate with Proven Legal Research and Problem Solving Skills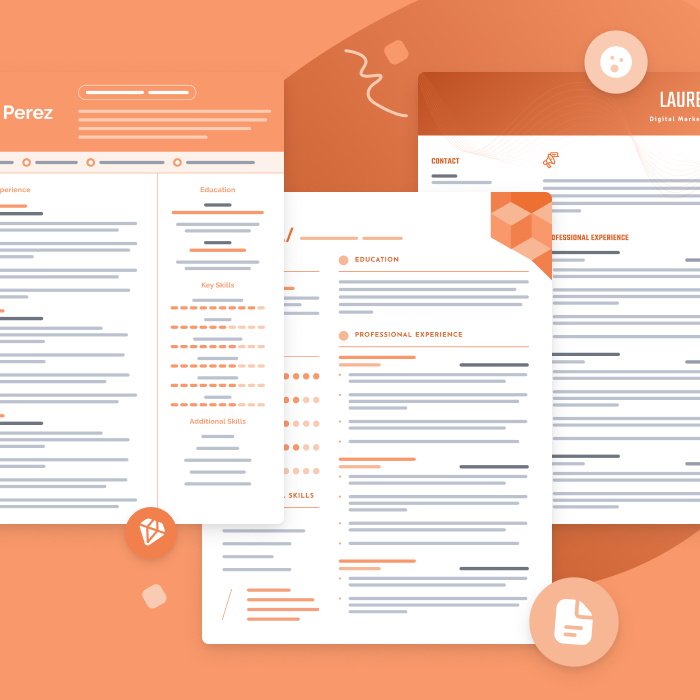 One of the best ways to make your resume is by filling out one of our free resume templates. All our templates are designed by experts and free to download for Microsoft Word or Google Docs.
How to write a good headline for your resume
Here are five tips for writing a headline that will make the hiring manager want to read your whole resume:
1. Capitalize each word
A resume headline is a title, so it should be capitalized as such. The first word of a title is always in upper case. Nouns, verbs, and adjectives are also capitalized.
Short words that are not nouns, verbs, or adjectives are only capitalized if they're the first word in the title. Here's a useful tool that automatically capitalizes your title.
2. Add keywords from the job ad

Keywords in a job posting tell you exactly what the company wants in an applicant. Resume keywords are hard and soft skills, qualifications, and experience that make you suitable for the role. Hiring managers scan resumes for those keywords, so use words that apply to you in your resume headline.
You can usually find relevant keywords under "Requirements" or "Key qualifications" in the job ad.
3. Include an achievement (with hard numbers)

The more specific your resume headline is, the better. An accomplishment backed up with quantifiable data makes your headline more impressive. Hard numbers show the hiring manager that you're qualified for the role. Professional accomplishments to list on your resume include degrees, licenses, certifications, and specific experiences.
Examples of quantifiable data include:
Years of experience
Number of awards won
Dollar amount of sales made
Amount of product sold
Number of people managed
4. Cut generic language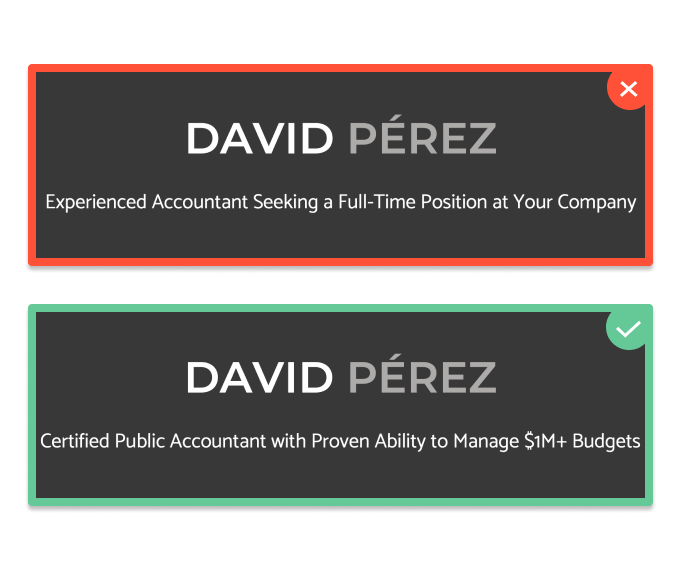 Use detailed information and resume adjectives that apply specifically to you, not to everyone applying for the job. A generic resume headline with overused words like "skilled," "motivated," or "hard-working" won't make you stand out.
5. Keep it short

The best resume headlines are short and impactful.
Keep your resume headline between 1 and 2 lines. Once it spills onto a third line, it becomes a summary rather than a headline. If you have more to say, include a resume summary or resume profile beneath your short resume headline.
Why is a resume headline important?
Eye-tracking studies have shown recruiters view each resume for an average of seven seconds before moving on.
Hiring managers receive hundreds of applications for each position, so they don't have time to comb through each resume. If they don't see relevant information as soon as they glance at your resume, they'll click to the next one.
So if you want your resume to receive a fair critique, include a resume headline. A prominent resume headline catches the hiring manager's attention with relevant skills and impressive achievements, ensuring your resume isn't filtered out during the selection process.