Many of the skills and experience you gained while serving your country translate well into a civilian career, making you a valuable candidate to employers.
Unfortunately, knowing how to list your military service on a resume isn't so easy.
You'll need to correctly translate military terminology, acronyms, and experience into easy-to-read, civilian-friendly writing so that hiring managers better understand what qualifications and skills you have to offer them.
To help you, here are five tips for how to put military experience on your resume, along with three helpful reminders about what to avoid in the process.
Our free-to-use resume builder can make you a resume in as little as 5 minutes. Just pick the template you want, and our software will format everything for you.
1. List your military experience in your resume summary
A resume summary is a paragraph placed at the top of your resume that briefly summarizes your professional background. It's your first chance to show employers why your military experience makes you an ideal candidate for the job.
Your resume summary should highlight the following information:
Relevant military experience
Certifications
Expertise and skills
Career highlights
Achievements
Here's an example of a great resume summary for a military police officer:

Notice how the veteran details their experience in the army (8+ years of experience leading, managing, and training a team of 60+ police personnel), and expertise (delegating and managing base security, conducting searches, and identifying potential security flaws and concerns).
Finally, they include a career achievement to show the hiring manager they're able to deliver results (oversaw safeguarding of $1M+ in military equipment, while reducing safety and disciplinary incidents by 20% in under 1 year).
If you've recently been discharged and are transitioning to a civilian career that requires different experience from what you gained in the military, consider writing a military to civilian resume with a resume objective. Resume objectives are typically meant for recent graduates or candidates lacking work experience in the industry they're applying for.
2. Put your military service in your work experience section
If you have military experience relevant to the job you want, you should list it in your resume's work experience section.
Treat your military service the same as any other professional work experience by listing it chronologically and adding your dates of service and positions held. Additionally, you should include your accomplishments by quantifying your work experience with hard numbers.
Using hard numbers when listing your work experience gives the hiring manager a better idea of the scope of your military duties and responsibilities, as well as how you contributed to your previous military unit or company.
For example, here are three work experience bullet points from a military police officer resume that quantifies their achievements:

Note how the veteran uses hard numbers above when detailing their military work experience and accomplishments. For example, detailing the number of police officers they managed (20), the number of personnel they provided security for (1,000), and the base size (1.5 square miles).
3. Add your military education
Military academies and schools are highly regarded in the U.S. as being top-tier educational institutions. If you've graduated from a military academy, take credit for your hard work by listing your education in your resume's education section.
When writing your resume, treat your military education the same as any education acquired at a public or private U.S. institution. List dates of study, degree achieved, and any achievements or honors you gained.
Here's an example of a veteran's military education experience from West Point:

4. Display your relevant military awards on your resume
Military awards are excellent additions to your resume because they showcase a variety of valuable soft skills such as dedication, strong work ethic, teamwork, and integrity.
Include your military awards in a dedicated section titled "Military Awards" or "Military Honors".
However, if you're running out of space on your resume (remember the length of your resume should be about one page), then you can include your military award(s) as bullet points in your work experience section.
Additionally, make sure only to include military awards relevant to the job you're applying for, and that civilian hiring managers can easily understand their significance.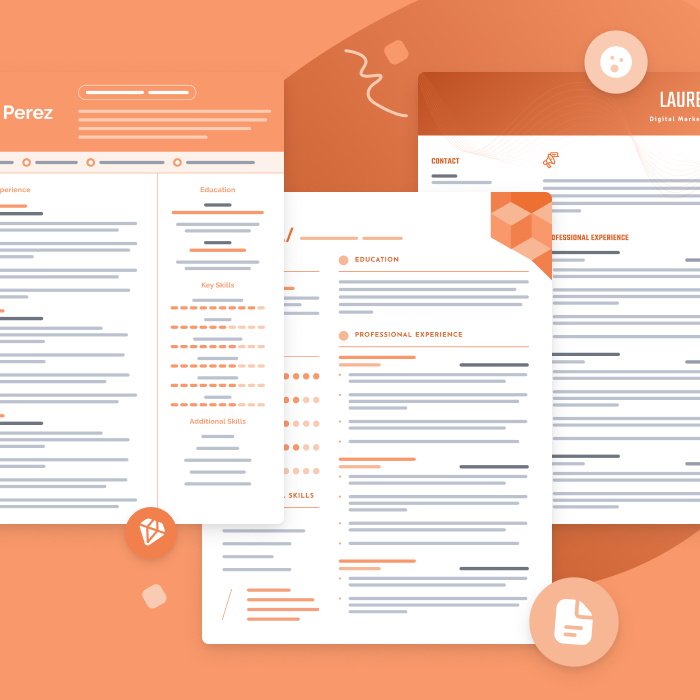 One of the best ways to make your resume is by filling out one of our free resume templates. All our templates are designed by experts and free to download for Microsoft Word or Google Docs.
5. Highlight your transferable military skills
Throughout your military experience, you've gained many soft skills that employers value, such as excellent management skills and leadership skills, as well as hard skills specific to your MOS, NEC, or AFSC.
Showcase how your military service provided you with transferable experience by listing your hard and soft skills in the skills section of your resume.
If you're not sure exactly what skills are appropriate for you to list, given your military experience, use a military skills translator to search with your MOS, NEC, or AFSC indicator and branch of service.
6. Don't include graphic details about combat experience
Many veterans have unfortunately seen combat and the side effects it produces. While you may be accustomed to discussing combat experience with your fellow veterans, civilian hiring managers may find it intimidating, or at the very least irrelevant to the position you're applying for.
Only include combat experience if you're applying for a position that values it, such as law enforcement or security guard positions. Additionally, make sure when describing your combat experience to omit any graphic details while highlighting the transferable skills you gained in the process.
Here's an example of what not to do when writing about your combat experience:
How not to describe combat experience:
Personally responsible for 11 KIA enemy combatants
Managed a squad-sized element, training them on mission tactics and SOPs while receiving enemy fire and TIC ambushes daily
Now here's that same example, but focused on the transferable skills rather than the combat experience itself:
How to properly describe combat experience:
Managed and trained 10 military personnel, developing and executing detailed team and objective SOPs under sometimes stressful conditions
Increased team employee retention rate by 25% through proper mentorship and acting on insights from previous employee exit surveys
7. Translate military jargon and acronyms
Chances are you've used many common military acronyms and terms during your service that civilians won't understand. Even something as simple as saying, "The U.S. military is part of D.O.D." will likely confuse people who don't have a government background.
When listing your military service on your resume, you'll want to make sure that you translate military terms such as your military rank, job duties and responsibilities, and other jargon into relatable terms that civilian hiring managers will grasp.
8. Proofread your military experience
Proofreading your resume is essential no matter what kind of experience you have. Be sure to check for spelling and grammar errors, and make sure you've properly translated military acronyms and jargon into civilian-friendly language.
Use programs such as spellcheck on Microsoft Word or Grammarly to check for grammar and punctuation mistakes. Also, ask a friend already working in the industry you're applying for to proofread your resume for clarity, checking that civilian hiring managers will understand your military experience.
Frequently asked questions about military service on a resume
Here are some frequently asked questions about adding military service on a resume:
Should I put my military service on my resume?
Yes, you should put your military service on your resume. Your military service is an asset because many employers value the skills and experience veterans possess.
When putting your military experience on your resume, make sure to:
Additionally, when including your accomplishments and work history in your military experience, use hard numbers and include action verbs instead of phrases such as "responsible for" and "duties included."
Where do you put military experience on a resume?
You put military experience on a resume in different sections depending on the position you're applying for. If your military experience is highly relevant to the job you're applying for, mention it in both your resume summary and your work experience section.
If it's less relevant to the role, only include it in your experience section and focus on highlighting transferable skills you gained that will help you in your new job.
What subject does military experience fall under on a resume?
Military experience falls under the subject "work experience" on a resume most of the time. Alternatively, if you attended a military academy, include your military experience in your education section. You can also add any military awards in a separate "Awards" section.