After hundreds of hours studying and juggling assignments, you've graduated college with a double major. Congratulations! Graduating from college with a double major is an achievement worth showcasing on your resume.
However, to impress hiring managers and land a job interview, you need to know how to list your education properly. It's important to include your double major on your resume in a way that's easy to understand and won't be overlooked.
Before tackling the specifics of formatting your resume for a double major, let's start with a basic question.
Double major vs dual degree
A double major is a single degree that indicates two areas of specialization. You can pursue a double major in:
similar fields, such as Economics and Finance
fields that are less obviously related, such as Biology and English Literature
If your fields are unrelated, your primary major defines the type of degree you receive (for example BA vs BSc).
A dual degree instead awards you with two separate credentials (such as a Bachelor of Arts and a Bachelor of Science).
How to put a double major on a resume
Correctly listing your double major is a key part of writing an effective resume that helps you land a job.
A double major not only shows that you're driven and have effective time management skills, but also that you have a deep understanding of two different subject areas. This achievement alone makes you a great candidate for a variety of jobs.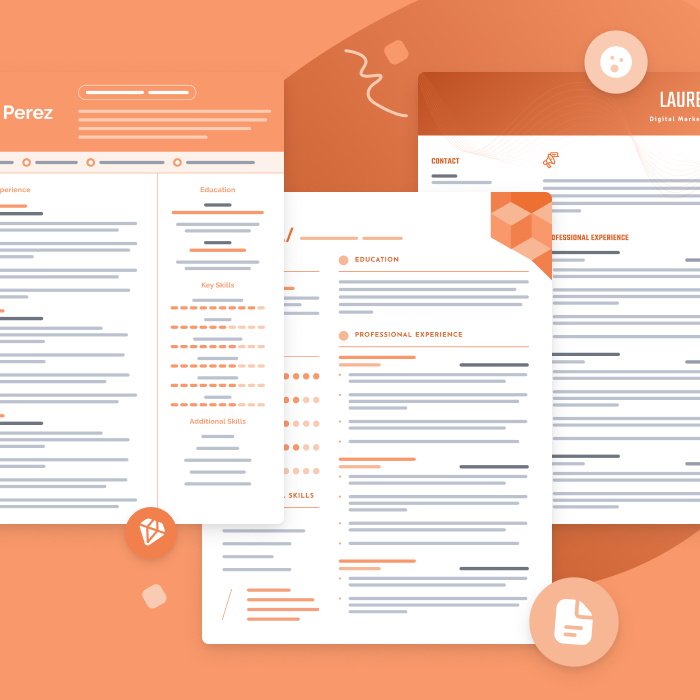 One of the best ways to make your resume is by filling out one of our free resume templates. All our templates are designed by experts and free to download for Microsoft Word or Google Docs.
1. Format your education section
How prominent the education section of your resume should be depends on how far into your career you are. If you're writing a high school student resume or a recent college graduate resume, your education section should come at the beginning of your resume.
Alternatively, if you've already held numerous jobs and graduated many years ago, your education section should come after your work history.
If you're writing a resume, list only the highest degree you've achieved. However, if you're writing an academic CV, include your educational qualifications in their entirety, as well as any publications you've authored.
2. Add your degree first, unless you went to a well-known college or university
The first line of an entry in your education section should be the degree title. For example:
Bachelor of Science
Highlighting your degree title shows the hiring manager right away that you hold a degree. However, if you went to a prestigious institution (such as an Ivy League school), then you should highlight this achievement by listing the institution first.
3. List your most relevant major first
Consider which of your majors is more relevant to the job you're applying for, and list that major first. If you're applying to a variety of positions, tailor your resume to each position.
Both majors should be written on the same line. For instance, if you received a double major, do not write "Bachelor of Arts in French" and "Bachelor of Arts in Politics" on two separate lines. Writing your double major in this way suggests you graduated with a dual degree rather than a double major.
4. Add any minors
If you graduated with a minor in addition to your double major, you can include it on your resume to showcase your other area of specialization.
However, if you find you're running out of space on your resume and the minor is irrelevant to the job you are applying to, you can leave out this information.
5. Include your GPA if it's high
Include your GPA on your resume if it's over 3·5. Otherwise, this information can be omitted. If you graduated with Latin honors (such as magna cum laude), you can also choose to include these honors here.
6. List any coursework relevant to the job
If you have coursework that's relevant to the job you're applying to, you can also include this relevant coursework on your resume under the respective major.
Although adding relevant coursework is usually unnecessary if your resume already fills a page without it, it can be useful to include if you recently graduated from college or high school, or if you lack professional experience.
Our free-to-use resume builder can make you a resume in as little as 5 minutes. Just pick the template you want, and our software will format everything for you.
Double major on a resume: sample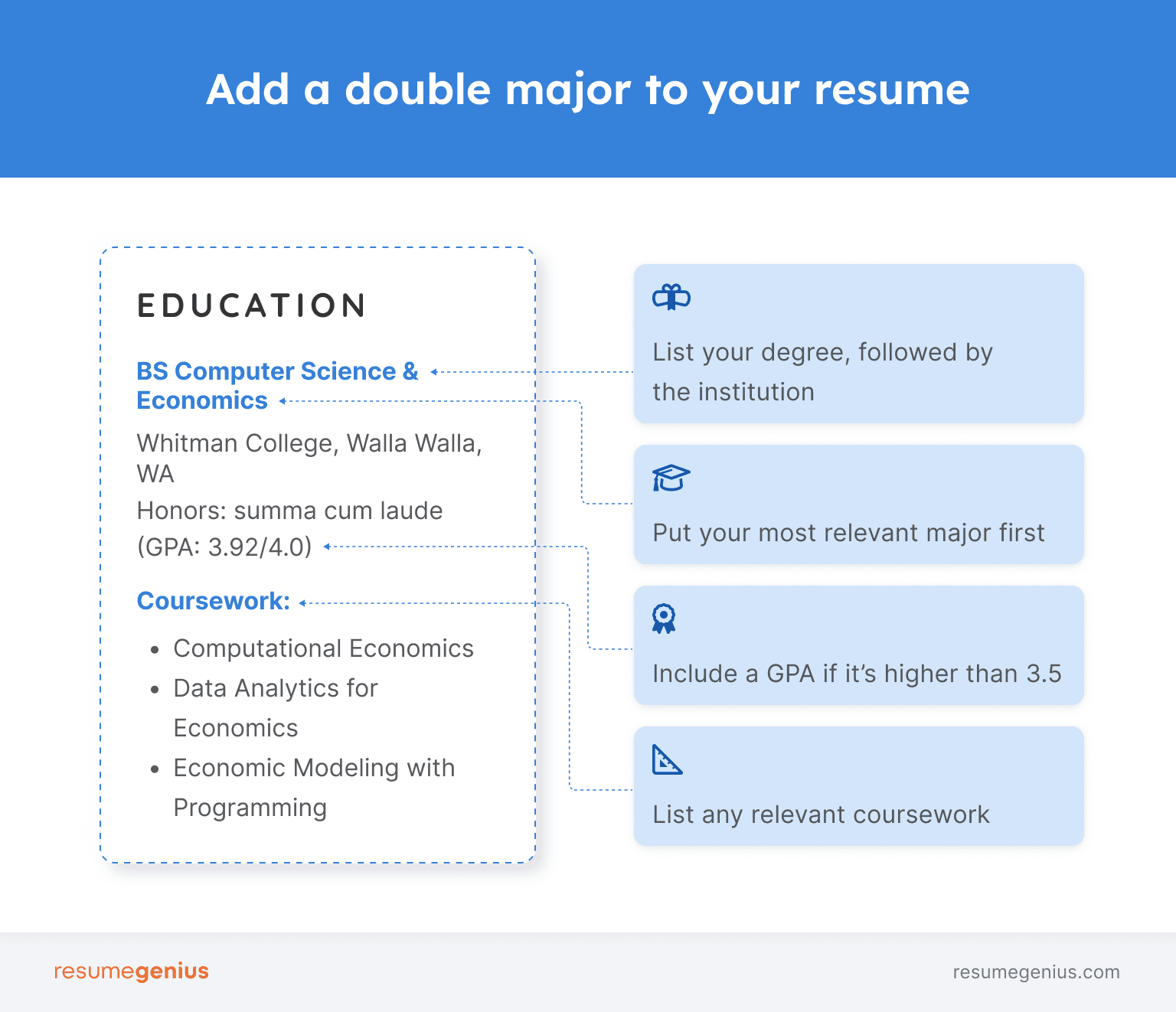 Dual degree on a resume: example