In a competitive field like engineering, you need more than just a degree to stand out. Employers are looking for candidates with a diverse set of technical skills and expertise, and to get their attention you need to showcase your qualifications effectively on your engineering resume.
In this article, we'll show you:
Engineering skills list
Being a competent engineer requires a well-rounded set of hard and soft skills.
While your hard skills reflect the things you've learned through training, education, and hands-on experience (like specific software or protocols), your soft skills determine how you approach work and interact with others in a professional setting (like attention to detail or communication skills).
Below we'll provide the best of both to include in your engineering resume.
Engineering technical skills for your resume
Employers want to know that you've got the technical skills you need to succeed in an engineering role. Here are some common engineering hard skills to highlight.
Troubleshooting
Mathematics
CAD software (AutoCAD, SolidWords)
Documentation
Material and equipment lists
Cost analyses
Technical specifications
Data analysis
ERP software (SAP)
Inventory management
Process simulation and modeling (Aspen Plus/MATLAB)
Safety standards and regulations
Of course, as an engineer you work in a very specialized field, and it's important to show employers you have the skills you need for your specialization.
Here are some of the top technical skills across five key engineering fields:
Technical skills for engineers
| Civil Engineering | Mechanical Engineering | Electrical Engineering | Chemical Engineering | Industrial Engineering |
| --- | --- | --- | --- | --- |
| Utility designs | Creating 3D models | BACnet & Modbus | Quality control & assurance | Production planning |
| Read & interpret architectural/civil construction drawings | Technical proposal designs | Electrical codes and standards (NEC, IEC) | Regulatory and safety compliance | Six Sigma methodologies |
| Roadway design | Feasibility studies | Circuit design | Hazard & risk analysis | Supply chain management |
| Permit applications | BOMs | Ground fault systems | Chemical separations | Lean manufacturing |
| Storm drain modeling | Structural analysis (NASTRAN/ANSYS) | Electric power systems | Process flow diagrams | Facility layout & design |
| Pipe networks | Structural testing | Single-line & 3-line diagrams | P&IDs & PFDs | Simulation modeling |
| Hydraulic and hydrological engineering | Earned value management systems | Power wiring & control wiring | NDT/NDE | Constraint analysis |
| HEC-RAS modeling | Revit | IFS switchboards | Process equipment design | Workcell optimization |
| LOMR/CLOMR requests | Robotics and mechatronics | PLCs | Chemical reaction kinetics | Statistical quality control |
| Geotechnical engineering | HVAC systems and design | Analog and digital electronics | Material procurement | Industrial automation & control systems |
Engineering soft skills for your resume
Engineering isn't just about the technical aspects of your job. You also need to demonstrate a strong set of soft skills that help you plan and oversee projects, communicate effectively, and collaborate with others to produce a quality result.
Here are some soft skills to highlight on your engineering resume:
Analytical skills
Problem solving skills
Communication skills
Creativity
Time management skills
Teamwork skills
Attention to detail
Innovation
Independence
Work well under pressure/with tight deadlines
Collaboration
In addition to your hard and soft engineering skills, it's also common to list certifications in your skills section. Here are some certifications that may be relevant for your engineering resume:
How to highlight skills for engineering on your resume
Here's how you can make sure you highlight all those engineering skills effectively on your resume.
1. Target skills in the engineering job description
The best way to ensure your resume gets a hiring manager's attention is to include the skills they're looking for by checking the job ad.
Here's an example of a mechanical engineer job description: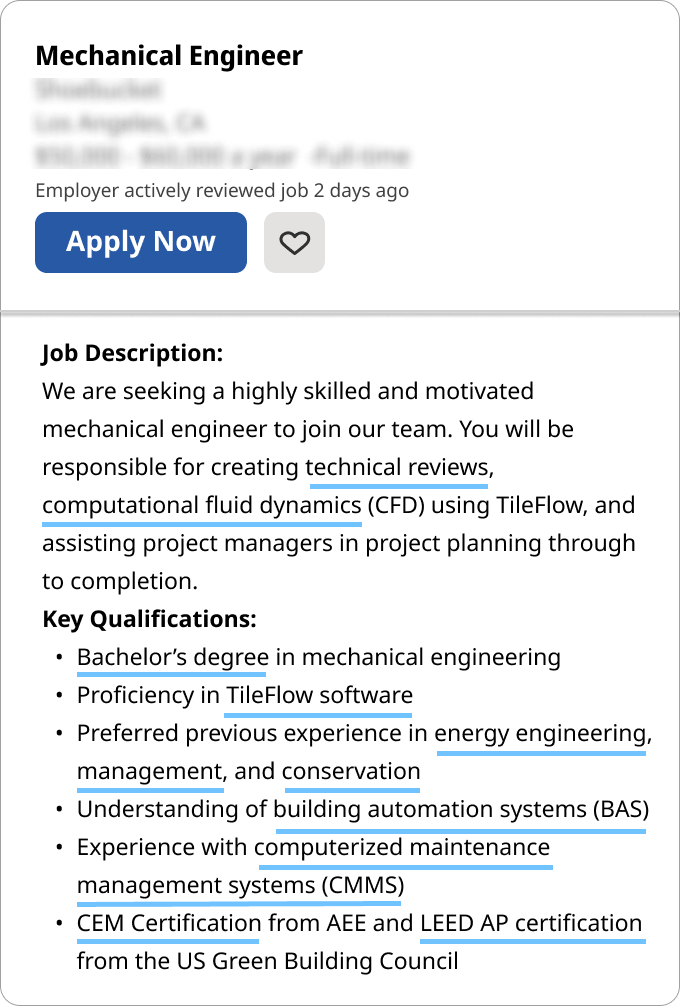 By picking out keywords from the job description (underlined in blue) and highlighting your relevant experience on your resume, you can show employers that you're a great fit for the position.
Here are some keywords that a candidate applying for this position should highlight:
Computational fluid dynamics/CFD
TileFlow
Energy engineering/engery management/energy conservation
Computerized maintenance management systems (CMMS)
Building automation systems (BAS)
Certified Energy Manager (CEM) Certification
LEED AP Certification
Below we'll show you how to put keywords into your resume using these as an example.
2. Feature your strongest qualifications in your resume objective
Now you know how to scan the job description for keywords which makes writing your resume objective much easier.
Your resume objective is usually the first thing hiring managers read, so it's important to use it to highlight your most relevant experience.
Here's what you should include in your resume objective to make it stand out:
How many years of experience you have, and in what areas
Your top skills and qualifications, highlighted by a professional accomplishment
How you can benefit the employer
Here's an example of how to write a resume objective that matches the job ad from our example, with keywords in bold:
CEM– and LEED AP-certified CFD specialist with 8+ years of experience in energy engineering, management, and conservation. Skilled in utilizing TileFlow and implementing CMMS and BAS. Seeking a challenging role where I can leverage my technical prowess and industry knowledge to deliver innovative energy solutions and drive significant cost savings for your organization.
Using your resume objective to highlight your top qualifications for the job will draw employers in and make them want to learn more about you as a candidate.
3. Add engineering skills throughout your work experience section
You've given employers a standout resume objective, so your work experience section is the perfect opportunity to expand on those highlights and add a little more context.
When you write your work experience bullet points, it's important to use action verbs that demonstrate the proactive role you've taken in your career as well as numbers to quantify any professional accomplishments.
Here's an example of a resume work experience section that targets the keywords from our job ad (in bold):
Senior Energy Engineer
GreenTech Solutions
Jan 2020 – Present
Utilized computational fluid dynamics (CFD) simulations and TileFlow software to optimize airflow patterns and improve energy efficiency in a large-scale manufacturing facility, resulting in a 15% reduction in energy consumption.
Led the integration of a computerized maintenance management system (CMMS) to streamline equipment maintenance schedules and enhance energy conservation efforts, achieving a 20% decrease in maintenance-related energy waste.
Spearheaded the design and implementation of a building automation system (BAS) for a commercial office complex, resulting in a 30% reduction in overall energy usage through optimized HVAC controls and lighting automation.
Conducted comprehensive energy audits and developed customized
Using action verbs and numbers to bolster your experience makes your resume more memorable and gives it a more powerful impact.
4. Highlight additional engineering skills in your skills section
The skills that aren't demonstrated in your resume objective and work experience section should go in your resume skills section.
It's good to include a mix of both hard and soft skills, but for such a technical job it's best to focus on more hard skills.
Choose soft skills that you weren't able to demonstrate in your other resume sections, but that support your ability to perform at a high level.
Here's an engineering resume skills section that supports our example resume objective and work experience:
Skills

Computational modeling & simulation
Energy efficiency analysis & optimization
HVAC system design
Data analysis
Energy management systems implementation
Environmental impact assessment
Technical report writing & documentation
Problem solving
Effective project management
Strong attention to detail
Remember, don't use this section to repeat skills you've already included elsewhere on your resume. Instead add hard and soft skills that complement your top qualifications and show employers that you're a well-rounded candidate.
Engineer resume templates
For inspiration, here are two engineering resume templates you can use to write your own engineering resume.
Engineering student resume example
Student Engineer Resume (Text Version)
Resume Objective
Highly motivated and detail-oriented engineering student seeking an entry-level position as a Civil Engineer at RDQ, Inc. Utilize my strong educational background in Civil Engineering, exceptional problem-solving abilities, and desire to learn and apply new concepts to contribute effectively to the project team and excel in high, medium, and low voltage utility projects.
Education
Anticipated graduation: May 2024
Bachelor of Science in Civil Engineering
University of Illinois at Chicago
Chicago, IL
Relevant Coursework:
Transmission and Distribution Line Design
3-D Modeling and Structure Design
Construction Package Development
Routing Studies
Field Investigations
Professional Experience
Engineering Intern
Solid Foundations, Chicago, IL
Assisted in the design and analysis of transmission and distribution line projects, ensuring compliance with industry standards and regulations
Conducted field investigations, collected data, and assisted in the preparation of reports
Collaborated with the project team to create 3-D models and develop construction packages
Utilized Microsoft Excel for data analysis and created detailed spreadsheets for project tracking
Engineering Intern
TerraStruct Engineering, Chicago, IL
Supported the engineering team in conducting routing studies for utility projects
Assisted in the preparation and review of working drawings, layouts, and estimates
Conducted surveys and gathered relevant data for design and analysis purposes
Contributed to the coordination of project tasks and collaborated with team members on specific assignments
Key Skills
Proficient in AutoCAD & MATLAB
Microsoft 365
Analytical and problem-solving skills
Excellent communication skills
Organizational skills 
Keen attention to detail
Collaboration
Motivated
Certifications
Fundamentals of Engineering (FE) Exam, NCEES, 2023
Electrical engineer resume sample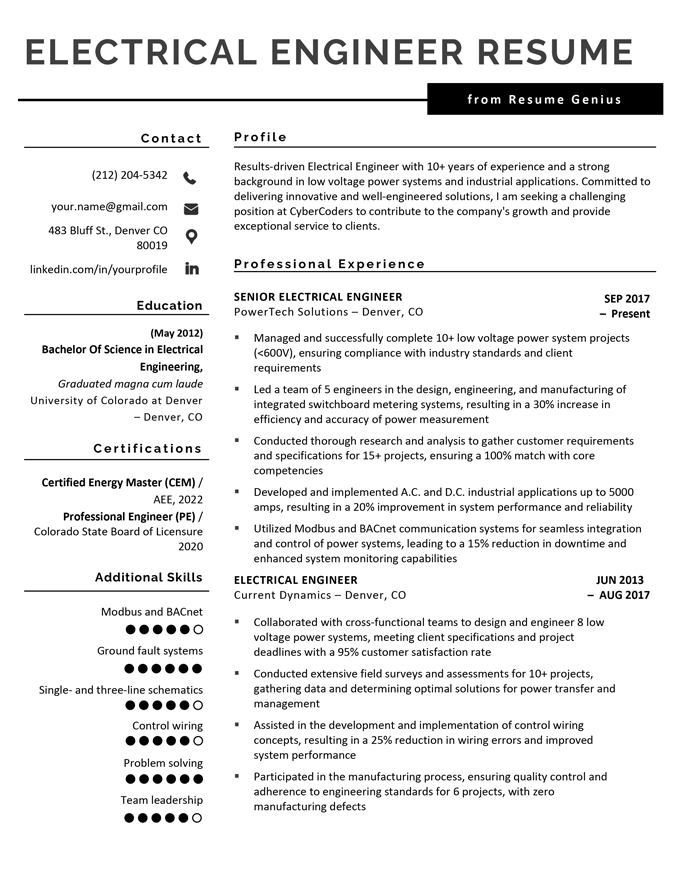 Electrical Engineer Resume (Text Version)
Resume Objective
Results-driven Electrical Engineer with 10+ years of experience and a strong background in low voltage power systems and industrial applications. Committed to delivering innovative and well-engineered solutions, I am seeking a challenging position at CyberCoders to contribute to the company's growth and provide exceptional service to clients.
Education
(May 2012)
Bachelor of Science in Electrical Engineering
Graduated magna cum laude
University of Colorado at Denver, Denver, CO
Certifications
Certified Energy Master (CEM) / AEE, 2022
Professional Engineer (PE) / Colorado State Board of Licensure, 2020
Professional Experience
Senior Electrical Engineer
PowerTech Solutions – Denver, CO
Sep 2017 – Present
Managed and successfully completed 10+ low voltage power system projects (<600V), ensuring compliance with industry standards and client requirements
Led a team of 5 engineers in the design, engineering, and manufacturing of integrated switchboard metering systems, resulting in a 30% increase in efficiency and accuracy of power measurement
Conducted thorough research and analysis to gather customer requirements and specifications for 15+ projects, ensuring a 100% match with core competencies
Developed and implemented A.C. and D.C. industrial applications up to 5000 amps, resulting in a 20% improvement in system performance and reliability
Utilized Modbus and Bacnet communication systems for seamless integration and control of power systems, leading to a 15% reduction in downtime and enhanced system monitoring capabilities
Electrical Engineer
Current Dynamics – Denver, CO
June 2013 – Aug 2017
Collaborated with cross-functional teams to design and engineer 8 low voltage power systems, meeting client specifications and project deadlines with a 95% customer satisfaction rate
Conducted extensive field surveys and assessments for 10+ projects, gathering data and determining optimal solutions for power transfer and management
Assisted in the development and implementation of control wiring concepts, resulting in a 25% reduction in wiring errors and improved system performance
Participated in the manufacturing process, ensuring quality control and adherence to engineering standards for 6 projects, with zero manufacturing defects
Skills
Modbus and Bacnet
Expertise ground fault systems
Single and three-line schematics
Control wiring
Problem-solving
Team leadership