Mixology
When the hiring manager skims your bartending resume, they'll first look for proof of your mixology skills, including:
People skills
When you apply for a bartending job, you must show your people skills. Enjoying human interaction is as important as your drink-making expertise is because as a bartender you're the face of the bar or restaurant.
You'll spend most of your time on the job chatting with all types of people — both customers and coworkers. Plus, you'll earn more tips if you offer friendly service.
Here are some good interpersonal skills to list on your bartending resume:
Conversation skills
Open-mindedness
Listening skills
Charisma
Self-confidence
Not sure how to demonstrate your people skills on your resume? Check out this video where our career expert Eva shows you how to make a great resume skills section:
Memory
To be a successful bartender, you need a good memory to easily remember:
drink ingredients
menu items
customers' names and faces
food and drink orders
Flexibility
Showing flexibility on your bartending resume is key. Bar and restaurant hiring managers want to know that you:
can work flexible hours, including late nights and weekends
are comfortable handling various tasks in addition to making drinks, including washing dishes, waiting tables, and cleaning
Multitasking
Working behind a bar can be chaotic, so you must have great multitasking skills. You'll have to simultaneously:
handle a barrage of food and beverage orders
make complicated cocktails
maintain a clean workspace
open and close tabs
process payments
Energy
Spend a moment at a busy bar, and you'll notice that bartending is a workout. If you want to work as a bartender, prepare to be on your feet for full shifts. You'll move around quickly, taking orders, working the cash register, lifting kegs, cleaning dishes, and carrying food and drinks.
If you're sweating after merely reading about bartending duties, you know how critical it is to show that you're a high-energy person on your bartender resume.
Teamwork
When you tend bar, you must collaborate with barbacks to ensure you never run out of supplies like ice, limes, and clean pint glasses. You'll also work with waiters and kitchen staff to quickly serve food to customers.
You'll also work with other bartenders at the same time, so you'll need to coordinate with them to keep the bar running smoothly.
Point-of-sale skills
Between pouring shots and mixing drinks, you'll also process payments — both cash and credit cards. Here are some skills that indicate you'll be good at point-of-sale tasks:
Basic math skills
Trustworthiness
Upselling skills
Point-of-sale equipment (cash registers, tablets, and credit card processors)
How to put bartender skills on your resume
Here are tips for how to list bartending skills on your resume if you're:
Our free-to-use resume builder can make you a resume in as little as 5 minutes. Just pick the template you want, and our software will format everything for you.
Highlight relevant skills to get your first bartender gig
Writing a resume with no experience for a bartending job? Feature your relevant training or soft skills to get hired. Here's how:
If you have relevant certification or self-training, explain your certification on your resume with hard numbers on your resume to stand a chance against other applicants with work experience.
Here's an example of a resume summary that details an applicant's bartender training with data:
Recent graduate of New York Bartending School with Bartending Certification. Training involved memorizing recipes for 20+ classic cocktails and creating 2 original drinks using principles of mixology. Looking to apply efficient, creative bartending skills to helping your bar expand.
If you don't have any bartending training, showcase your related soft skills.
For example, show how your interpersonal skills helped you succeed as a waitress, or emphasize your ability to quickly learn new concepts. Here's a bartending resume objective that does a great job of pointing out relevant soft skills:
Aspiring bartender with people skills and fast-learning ability proven in high-pressure customer service call center jobs. Eager to learn the art of serving drinks from an experienced mixologist as an Assistant Bartender at your reputable eatery.
Whether or not you have bartender training, find transferable skills in your work history to highlight in your resume's work experience section.
The below example emphasizes hard and soft skills practiced as a cashier that transfer well to bartending:
EZ Mart Convenience Store – Cashier

Received a 99.5% customer satisfaction rating by maintaining a cheerful attitude in every customer interaction
Learned a new point-of-sale system and began training coworkers on the system within a single shift
Worked 8–12 hour shifts without sitting down and without losing energy
Show your skills for your next bartending position
Here's how to make your bartender resume accomplishments stand out if you're an experienced barkeep looking for a new bartending gig:
Use hard numbers: Include years of experience, the number of bartenders you managed, how quickly you can make a drink, and how many drink recipes you've memorized.
Do your research: Check out the bar's website or visit in person to learn about their menu and work processes. Then list relevant techniques and find the right skills to put on your resume.
Make a certifications and awards section: List bartending certifications you've received and awards you've won. For example, if you helped your bar win "Best Martini in the City" from the local newspaper, put it on your resume to impress the hiring manager.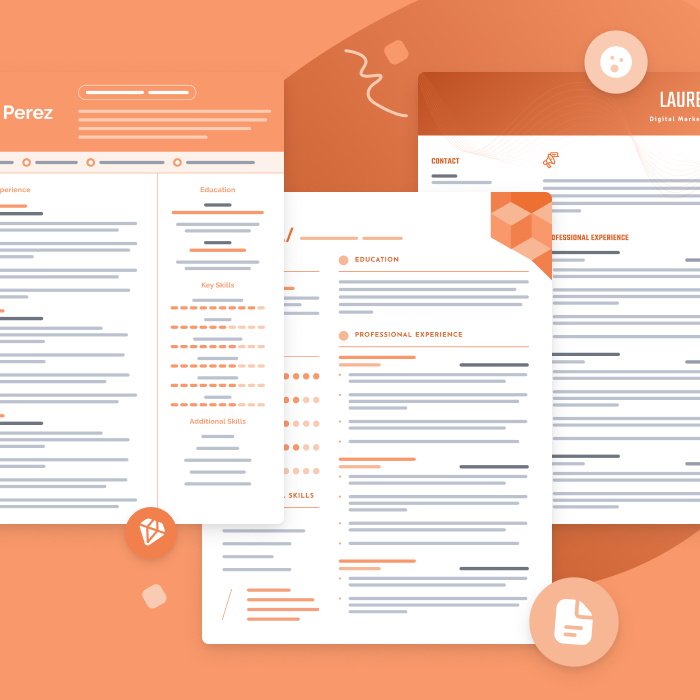 One of the best ways to make your resume is by filling out one of our free resume templates. All our templates are designed by experts and free to download for Microsoft Word or Google Docs.
Use your bartending skills to land any type of job
Skills you've learned as a bartender can help you get jobs in other industries. Here are some examples of how you can use your bartending skills when you write your resume for a different kind of job:
Mixology: Drink-mixing skills show your ability to pay attention to details, follow directions, and work with your hands, so they look good on your resumes if you're seeking a cooking or product assembly job.
People skills: The people skills you honed as a bartender are essential for any job, but they're especially transferable to sales and customer service positions.
Memory: Emphasize how slinging drinks helped you practice your memorization skills if you're applying for a position that requires them — performing or writing, for instance.
Flexibility: Your ability to handle the late nights and weekends on a bartending schedule translates well to other jobs with odd hours, such as emergency services and hotel management posts.
Multitasking: The multitasking necessary to your bartending success is something you can use to get jobs in office administration or project management.
Energy: Use your bartending experience to prove your energetic personality if you're looking for a teaching or physical training position.
Teamwork: Show how you worked well with others as a bartender when you apply for marketing and communication jobs.
Point-of-sale skills: Your payment processing skills will boost your resume for jobs that require you to learn new software programs, like data entry or bookkeeping.
Here's an example of a bartending work experience entry that focuses on relevant skills for a sales manager position:
Jack's Drinks & Wings – Bartender

Led staff in selling side dishes and top-shelf liquor, earning upselling bonuses in 5 consecutive months
Managed a staff of 6 bartenders and barbacks on weekends, ensuring smooth operations during the bar's busiest hours