How many years of experience should be on a resume?
The amount of work experience you add to your resume depends on your circumstances. For instance, are you applying for a managerial or executive role? Are you writing a resume for a career change? Is all of your experience relevant to the job?
Here's how many years of experience to add to your resume:
Resume Experience Guidelines
| | | |
| --- | --- | --- |
| Type of role | Years of experience to add to your resume | What your experience should illustrate |
| Entry-level | As many as you have | Your ability to learn, and other soft and hard skills that make you hireable |
| Mid-level or middle manager | 10–15 years | Your skills, achievements, and qualifications so hiring managers have a sense of what you've achieved and can potentially achieve in the future |
| Senior leadership (e.g., CEOs, CFOs, senior vice presidents) | 15+ years (anything relevant) | Your leadership skills, managerial experience, and technical expertise |
Our free-to-use resume builder can make you a resume in as little as 5 minutes. Just pick the template you want, and our software will format everything for you.
How far back should your resume go?
Here's how far back a resume should go for people at different stages in their careers: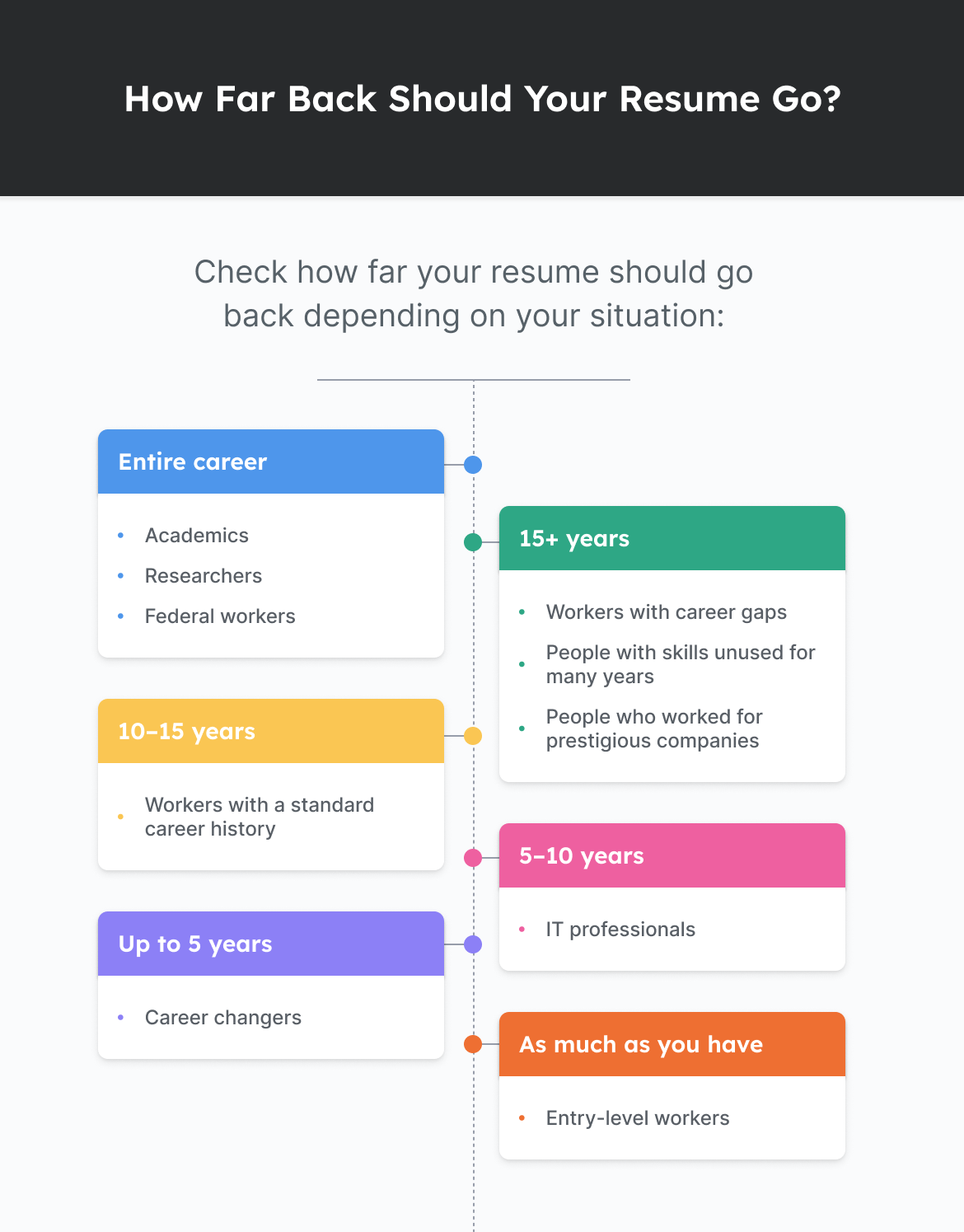 For most people: 10–15 years
If your career so far has been normal (for example, you've stayed in one industry and haven't had substantial career gaps), then you can go back up to between 10 and 15 years on your resume.
Why you should avoid going back over 15 years
Your resume should be a concise document. Employers prefer reading a one-page resume that highlights your most relevant experience rather than a lengthy account of your entire life (that's what a CV is for). Setting a 10–15-year limit on your resume helps keep your resume both short and relevant.
Limiting your work experience to 15 years allows you to better hide your age. Age discrimination is a real thing, and has the potential to affect all of us at some point in our lives. Downplaying the breadth of your experience and age can work in your favor as an older job seeker.
For people with job-relevant experience earlier in their career: 15+ years
If you're applying for jobs that require skills you haven't used in a long time, you may go back even further than 15 years to include those skills on your resume.
For example, if you're fluent in COBOL but haven't used it since the early 90's, you can include it in your resume's work experience section even though it was over 15 years ago.
To fit all of your relevent experience onto your resume, consider using a two-page resume so that employers don't miss anything.
For people with sizeable career gaps: 15+ years
Have a long gap in your resume from the time you were working your last stable job? In this case, it's fine to add work experience dating from before 15 years ago.
You can use your resume summary to set out your reasons for your career gap. Alternatively, explain it when you write your cover letter.
Employers are sympathic to career gaps if you:
took a break to care for newborns
were busy upskilling or attending grad school
needed to care for a relative
were doing something productive or meaningful like volunteering
For people who've worked at prestigious workplaces or had impressive job titles: 15+ years
Some companies and job titles are more impressive than others. Worked at the White House? That experience is going to raise your profile over other candidates for a role, so put it down even if it was over 15 years ago.
Similarly, if you've ever worked for a big-name company like Microsoft or Apple, it's worth putting their names down too because they command a lot of respect among hiring managers.
Additionally, an impactful job title is worth adding to your resume. For example, if you've ever been a Chief Technology Officer, it can provide a glimpse of how capable you are, so you can add it.
New graduates: As much as you have
As a recent graduate, you might have little experience even if you've held down part-time jobs while studying, so feel free to include all the experience you do have.
That experience may include:
If you're adding these experiences to your resume, format them like you would a previous job. Add a job title, organization name and location, dates worked there, and some resume bullet points clarifying your achievements with hard numbers.
Career changers: 5 years
Changing industries? Your resume should stick to more recent work experience unless you have relevant experience from your earlier days as a professional. For example, if you're applying for a managerial role in your new field, go into detail about your managerial experience.
However, as it's likely you'll have little or no relevant experience in your new industry, there's no reason to include all of your work experience in your current field.
Instead, focus on the last five years so that you:
seem fresh to the job market
focus on your transferable skills from previous roles to the industry you're interested in joining
keep your resume short
IT professionals: 5 years
If you work in the IT industry, you don't need to go back as far as 10–15 years on your resume.
We suggest focusing on the last 5 years of your career because IT skills and tools quickly become outdated, so the experience you want to list from 10 years ago won't reflect the tools you currently use.
Instead, use the space you've saved to create an extra technical skills section that you can use to list even more of the programs, apps, and skills you've mastered.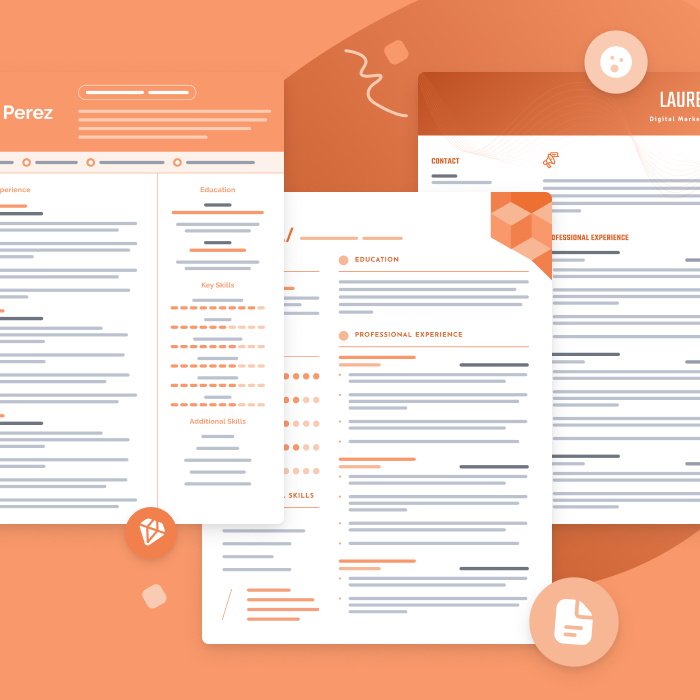 One of the best ways to make your resume is by filling out one of our free resume templates. All our templates are designed by experts and free to download for Microsoft Word or Google Docs.
Federal employees: your entire career
If you're a federal employee or currently applying for government jobs, you'll be expected to detail the entirety of your career to hiring managers.
While it might seem like a lot of work, this requirement is easier than you might think. Instead of creating a resume from scratch, a federal resume is a standardized document that you can download a template for and fill in (although you still have to spend some time thinking of impressive resume accomplishments, skills, and hard numbers to include).
You can even use the US government's federal resume builder to quickly create a resume for a federal job.
Academics/researchers: your entire career (on a CV)
If you work in academia or are a researcher, you'll need to write an academic CV instead of a resume.
A CV's length depends on the breadth of your career, but is generally much longer than a resume because it includes all of your:
publications
conferences
group projects
research grants
teaching experience
professional appointments
awards
So there are many examples of CVs that are over 10+ pages long.
Frequently asked questions
These are some of the most common questions job seekers have about how far back a resume should go:
How many jobs should be on a resume?
Two to five jobs should be on a resume. While the number of jobs you include depends on your experience level, a range of 2–5 typically fills a one-page resume and is best for most candidates.
How far back should a resume go for education?
How far back a resume should go for education depends on your level of experience. If you're a current high school student or your highest degree is a high school diploma, then you should include your diploma on your resume. Otherwise, it's not necessary.
If you have decades of work experience and a college degree you should include it, but place it toward the bottom of your resume and don't go into detail about courses you took or details like your GPA.
How far back should volunteer experience on a resume go?
If your volunteer experience is one of your key selling points, include it on your resume even if it has been several years since you held the position. If it's less relevant to the position, you can choose either to not include it or only include positions from the past five years.