Our free-to-use resume builder can make you a resume in as little as 5 minutes. Just pick the template you want, and our software will format everything for you.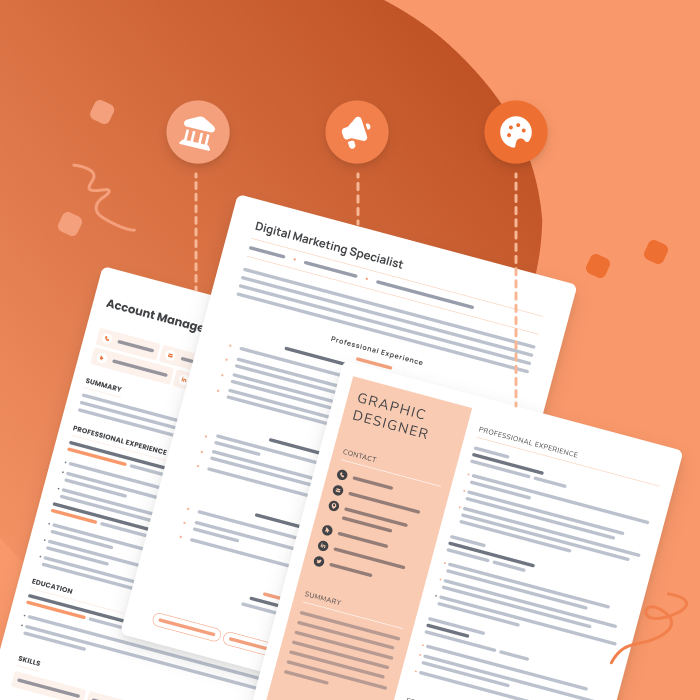 Not sure what your resume should look like? The best way to learn is by taking inspiration from resume examples written by other candidates in your industry.
1. Resume Heading
FIRST AND LAST NAME
Email: youremail@gmail.com | Phone: 895 555 555 | Address: 4397 Aaron Smith Drive Harrisburg, PA 17101 | Linkedin: linkedin.com/in/yourprofile
---
2. Resume Introduction
Passionate [industry] professional with [# of years] years of experience. Seeking to leverage my expertise in [relevant skills] to fill the [position name] position at [Company's Name]. A dedicated professional looking to further my career in [industry] and help contribute to [Company's Name]'s goals as soon as possible.
---
3. Work or Relevant Experience
Most Recent Job Title
Employer Name / Location / Start Date – End Date
Include a bulleted list of your accomplishments and responsibilities
Unless this is the only job you've held, use five bullet points or fewer
Add numbers (such as percentages or dollar amounts) to these bullet points to showcase your specific achievements
Earlier Job Title
Employer Name / Location / Start Date – End Date
List relevant accomplishments or responsibilities from an earlier job
If you no longer hold this job, use past tense verbs to describe your achievements
---
4. Education
Degree Name / Major
University, Location | Start Date – End Date
---
5. Skills and Certifications
List your relevant professional skills
Include a range of hard skills and soft skills
Be as specific as possible and mention the names of software or tools you can use
---
6. Additional Resume Section
Here's where you can add any other helpful information to your resume
For example, this section could be for any of the following: publications, languages, volunteer experience, or even hobbies