How to Use a Resume Outline
Learning how to write a resume that effectively highlights your strengths can require a lot of effort.
A resume outline breaks up that difficult process by giving you a proven structure you can use as a starting point to craft your application.
Resume outlines help you visualize:
To help you get going, we first provide an example of a resume outline. We then explain the seven key pieces of this outline, so you know what a resume is and how to create your own.
If you want to get started immediately, simply begin plugging information relevant to the job you're applying for into your outline or resume template as you read this article. Alternatively, just copy-and-paste this outline if you're creating your resume in Word.
Resume Outline Example
Here's a breakdown of the most common sections included in a resume outline:
1. Resume Heading
FIRST AND LAST NAME
Email: youremail@gmail.com | Phone: 895 555 555 | Address: 4397 Aaron Smith Drive Harrisburg, PA 17101 | Linkedin: linkedin.com/in/yourprofile
---
2. Resume Introduction
Skilled [industry] professional with [# of years] years of experience. Seeking to leverage my expertise in [relevant skills] to fill your [position name] position. An intuitive worker aiming to help achieve [Company's Name]'s goals and take on more responsibility as quickly as possible.
---
3. Work or Relevant Experience
Most Recent Job Title
Employer Name / Location / Start Date – End Date
You can include a bulleted list of your accomplishments
Make sure you quantify (add numbers to) these bullet points
Earlier Job Title
Employer Name / Location / Start Date – End Date
List any relevant accomplishments from an earlier job
Assuming you no longer perform this job, make sure you use past tense verbs to describe this experience
---
4. Education
Degree Name / Major
University, Location | Start Date – End Date
---
5. Skills and Certifications
List your relevant skills and certifications
Include a range of hard skills and soft skills
Be as specific as possible. Mention the actual names of software or tools you're able to use
---
6. Additional Resume Section
Here's where you can add any other relevant information
For example, this section could be for any of the following: publications, languages, volunteer experience, or relevant hobbies
Notice that this resume outline example opens with a resume objective, and then immediately moves into the candidate's professional experience. This format is referred to as a chronological resume, and it's the most common type of resume used by job seekers today.
Depending on your background and job experience, you may want to set up the outline for your resume differently. For example, if you have gaps in your work history, consider using a functional resume to focus on your skills rather than your professional experience.
7 Pieces of a Professional Resume Outline
To help you understand what to put on your resume, here's a more detailed breakdown of a resume outline, divided by section, with specific information about what to include for each part.
1. Resume Heading
The first thing any hiring manager will see when they open your application is your resume header. You can't win an interview with your resume header, but you certainly can miss out on one by including incorrect contact information or an unprofessional email address.
There are several ways to format your header, but it should generally include your:
First and last names
Current job title
Phone number
Email address
LinkedIn profile (optional)
Traditionally, your street address and city, state, and zip code are also included in your header. However, since most employers do all their correspondence online nowadays, it's no longer necessary.
2. Resume Headline (Optional)
A resume headline is a short blurb placed in your header or toward the top of your resume that summarizes your professional skills and experience, and contains notable resume keywords relevant to the job listing.
Including a headline on your resume is a great way to catch the hiring manager's eye, and encourage them to continue reviewing your application.
However, it's an optional addition to your resume, and can be left off if you need to prioritize space. Additionally, if you have an objective on your resume, you should not include a headline, as the information it provides is already stated in your objective.
3. Resume Introduction
You need to know how to start your resume so it immediately grabs the hiring manager's attention and sells your qualifications. That's why a convincing introduction is essential to any good resume outline.
A resume summary is a brief statement that highlights your key work-related achievements and skills in four to five bullet points. This gives the hiring manager an idea of your general qualifications, the qualities that make you a good candidate, and how your career objectives fit into the company's long-term goals.
Resume summary statements are best for candidates with some relevant work experience under their belt. However, there are several other ways to introduce yourself to the hiring manager if you have a wealth of work experience and qualifications:
4. Work or Relevant Experience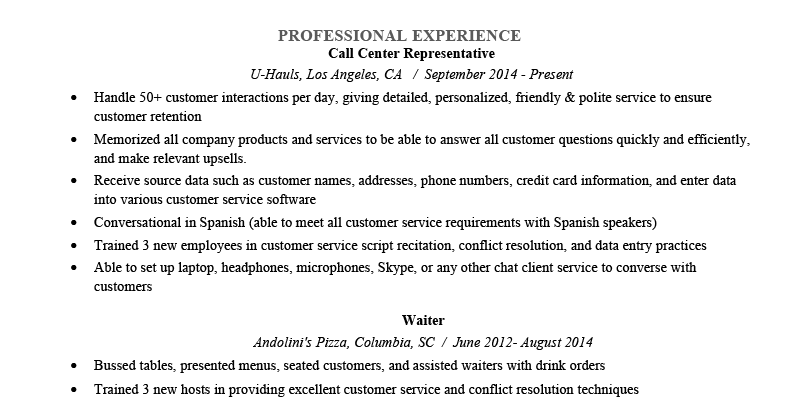 So you've reeled the hiring manager in with a stellar introduction. Now it's time to impress them with the real substance of your resume: your experience section.
If you're using the chronological resume format, your experience should be listed from your most recently held position at the top, to your least recent position toward the bottom of your resume.
For each job, include the:
Name of the company
Company location
Dates you were employed there
Job title you had
Then, include a bulleted list of your responsibilities and quantifiable achievements you made while on the job.
Have little to no formal work experience?
If you have little or no relevant work experience, you may consider using a different outline for your resume.
If you have work experience, don't expand on your education other than noting your degree, year graduated, and GPA (if it's 3.8 or higher).
However, if you lack work experience, you can turn your work experience section into a "relevant experience" section, where you outline major educational achievements related to the job you want. To see this in action, check out our college student resume example.
This helps frame your application in terms of the experience you do have, making it ideal for candidates with little experience.
Have a lot of formal work experience?
If you have a lot of experience and are looking to showcase a highly particular set of skills, consider creating a combination resume. The combination format highlights your work experience and your skills, making it ideal if you need to showcase your technical know-how without sacrificing a detailed professional experience section.
5. Education

Even if you're far along in your career, your outline should include a resume education section.
In general, yours should list your:
School and its location
Degree and major
Graduation date (optional)
Awards, honors, and GPA (if it's 3.8 or higher)
If you're a recent graduate or you're applying for an academic job, your resume outline should include a more robust education section. That means including your GPA and any awards you've received.
Meanwhile, a more experienced candidate might choose to leave this information off their resume.
6. Skills and Certifications
No outline is complete without an overview of your relevant resume skills, abilities, and certifications. Include a bulleted list of specific hard skills and soft skills, as well as any certifications that are relevant to the job you're applying for.
The skills listed on your resume should be specific, not general or ambiguous. It's not enough to note that you're proficient in "data entry software." Instead, specify pieces of software or tools you're proficient in — "Wolfram Mathematica," for instance.
7. Additional Resume Sections
You've got the basics down — now it's time to add the finishing touches to your resume outline.
Here are a few sections that you could include, depending on your specific situation:
Languages
Candidates who speak multiple languages are highly desirable for many businesses. If you speak more than one language, include an additional section highlighting language skills on your resume.
Hobbies
Listing your hobbies or interests on your resume can help you stand apart from other candidates and demonstrate that you're a good cultural fit for a company (however, make sure they're relevant to the work you'd be doing).
However, you should consider the level of formality of the company you're applying to before adding hobbies to your resume. While a more casual office may value knowing what your interests are, a more buttoned-up company may find it unprofessional.
Volunteer work
Putting volunteer work on your resume is a great way to highlight certain skills and show that you're involved in your community. Consider adding this section to your resume if you need to round out your application, or you lack relevant work experience.
Takeaway
Putting together a resume might seem intimidating at first, but with our expert-approved free resume outline, you'll have everything you need to construct a job-winning resume of your own. Simply choose the sections that are right for you, and fill in your information.
But before you get started, consider making the job-hunting process even easier with our simple-to-use resume builder and cover letter builder. In just a few minutes, our software will help you put together a professional, well-organized application that's ready to send out to recruiters.