Your resume objective is one of the first things a hiring manager sees when they view your resume. Understandably then, your resume objective needs to catch their attention, otherwise they might throw your application in the trash.
Job seekers often think their resume objective should simply state what job they want, or where they want their career to go. This is the wrong approach.
If you want to learn more about how to write a great resume objective, check out our video on the topic below. Our resident resume expert Aaron explains how to write an effective objective for your teacher resume (or any other job):
A great teacher resume objective emphasizes what you bring to a school. Companies hire employees based on what they can do for the company, not what the company can do for them. Schools are no different.
Our free-to-use resume builder can make you a resume in as little as 5 minutes. Just pick the template you want, and our software will format everything for you.
14 Teacher Resume Objective Examples
The last thing you want to do is plop a generic objective at the top of your teacher resume.
To make your resume objective stand out, incorporate specific details about your teaching skills and experience to show administrators how their school will benefit from your expertise.
The following objectives for teacher resumes show you how to do this effectively:
General Teacher Resume Objectives
No great teacher resume is complete without an effective resume objective — use our examples for the teaching role you have your eye on.
With Experience
Bilingual public school teacher with over 6 years of teaching experience at multiple grade levels. Ready to use my language expertise, cultural understanding, and proven teaching ability to help the diverse Williams High School students reach their academic goals. Earned a BA in Education with a minor in Spanish, a California teaching license, and 15 Continuing Education credits.
Without Experience
Graduating biology and education major with two years of student-teaching experience in a private middle school. Seeking to use math and science expertise to cultivate STEM knowledge in students. A team player and effective communicator eager to learn the practices of a new middle school.
Elementary Teacher Resume Objectives
Our elementary teacher resume example and writing tips can help you make a start on your resume. Now you just need a great resume objective. Luckily, we have you covered. Take a look at our examples and base yours on what they do right.
With Experience
Kindergarten teacher with 10+ years experience in a private, suburban school with a large gifted population. Seeking to challenge students and guide them toward the path of excellence as the district's Gifted Education Coordinator. Skilled at communicating effectively with both students and parents. Attained a BA in Early Childhood Education and an MS in Gifted Education.
Without Experience
Recent magna cum laude graduate with a double BA in Education and Art and 4 years of experience volunteering at an after-school art program. Aiming to inspire students to express themselves creatively while teaching them a wide variety of art media and traditions. A punctual and reliable educator who loves children and also communicates well with parents and peers.
High School Teacher Resume Objectives
Seeking a role in a high school? You'll need to start your resume off strong. Look no further than our resume objectives for help beginning your own.
With Experience
Well-liked high school teacher of 8 years. Have taught American Government, American History, Economics, World Cultures, and World History. Aiming to use strong communication skills and proven ability to push students toward success at Roland High School. Achieved a BS in Secondary Education and working toward an MA in Education.
Without Experience
Junior in college working on a BS in Mathematics with a minor in Education. Scored in the upper 5% on the ACT Math section. Seeking to share my technical knowledge with high school students in a student-teaching role that leads to a permanent position. A dedicated and passionate educator who believes all students can enjoy and excel at math if given the chance.
ESL Teacher Resume Objectives
Teaching English to ESL students can be challenging. Writing an ESL teacher resume objective isn't — especially if you remodel our examples to fit your own resume.
With Experience
ESL/ELL instructor with 12 years' experience teaching English to recent immigrants. Trilingual in English, Spanish, and French with basic knowledge of Italian and Portuguese. Wanting to use my language knowledge and strong people skills to help refugees better adjust to life in a new country. Attained an AA in Liberal Arts and a TESOL certification.
Without Experience
High honors graduate student nearing completion of an MA in Chinese Languages and Literature. TEFL certified. Seeking to use my passion for language to effectively teach English to students in China. Hard-working and motivated educator who has experience traveling internationally and is respectful of other cultures and traditions.
Teacher Assistant Resume Objectives
Having an effective teacher assistant resume gives you a competitive advantage while hunting for jobs. Check out these real-life resume summary statements, which landed their writers work in record time.
With Experience
Organized, patient teaching assistant with 5 years of experience in NYC public elementary school classrooms. Seeking to use ability to listen and connect with students to successfully assist teachers at a Chicago public school. Attained an AA in Child Development and 6 credits of professional development coursework.
Without Experience
Recent graduate with an AA in Paraprofessional Education and one semester experience as a teaching assistant intern. Hoping to leverage my strong communication skills and a love for learning to become a successful full-time teaching assistant at your middle school. A focused and attentive worker who understands both students' and teachers' needs.
Preschool Teacher Resume Objectives
A great resume objective serves as a fantastic starting point to your preschool teacher resume. These examples will give you more insight into how to write this important part of your application.
With Experience
Preschool teacher with 10+ years of classroom experience and 5 years' teacher management experience. Aiming to use my lesson planning knowledge, natural rapport with both children and adults, and classroom management ability to increase the success and popularity of Landon Hills Preschool. Possess a BA in Early Childhood Education.
Without Experience
New graduate with an AA in Liberal Arts and three years of daycare worker experience. Seeking to apply my educational knowledge and love for children toward helping the students of Green Tree Preschool successfully prepare for kindergarten. Passionate and dedicated educator ready to quickly learn the ways of a new school.
Substitute Teacher Resume Objectives
If you want to come across as a good sub, you'll need a professional substitute teacher resume sample with a powerful introduction. Take ideas from our objective examples so you can get your resume started off strong.
With Experience
Retired History teacher with 35 years of high school teaching experience and 5 years of experience substitute teaching at all grade levels. Aiming to provide seamless education during teacher absences to the Sarasota school district. Hold a BA in History and an MA in Secondary Education.
Without Experience
Recent straight-A graduate with a BA in Sociology and two years of part-time non-profit work experience. Seeking to apply knowledge and people skills to a one-year substitute teaching position. Punctual and focused worker dedicated to keeping classes running smoothly and students learning during teacher absences.
Takeaways
A resume objective grabs an employer's attention, but the rest of your resume needs to be good too — so it's essential you know how to write a resume effectively.
To save time, download one of our resume templates to create a well-designed resume that will help you land the teaching job you want.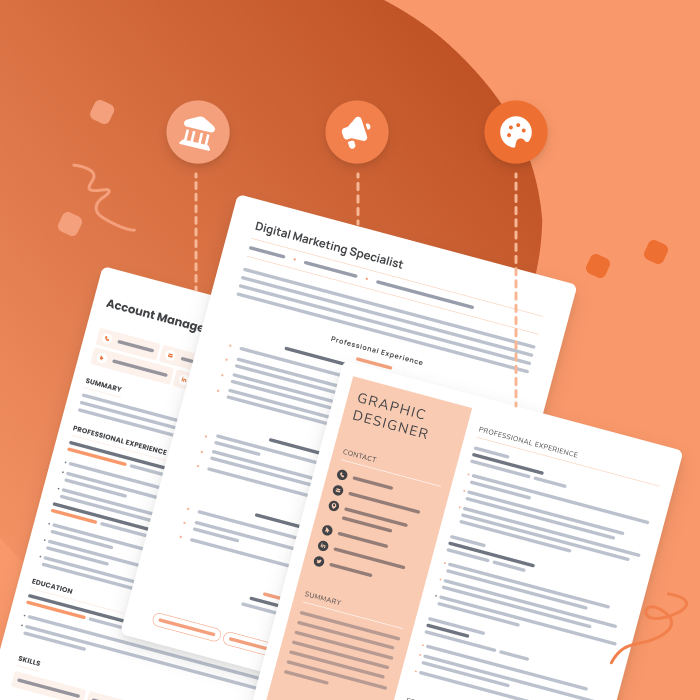 Not sure what your resume should look like? The best way to learn is by taking inspiration from resume examples written by other candidates in your industry.
Complete your job application with a teacher cover letter already formatted with tips and tricks to most effectively introduce and land yourself on a principal's radar. We also have other matching cover letter templates to make your teacher application look especially professional.