What is a resume objective?
A resume objective is a short, 2-4 sentence statement that sums up why you're the best candidate for a job and explains why you're applying for the role. Your objective is typically the first thing a hiring manager sees when they look at your resume, sitting at the top of the page right below your resume header.
Resume objectives are especially well suited for candidates who want to target a specific position or those who lack previous experience because they highlight their passion for the role and job-related skills.
If you have a lot of prior work experience, a different type of resume introduction might be better for you.
Our free-to-use resume builder can make you a resume in as little as 5 minutes. Just pick the template you want, and our software will format everything for you.
How to write an objective for your medical assistant resume
Hiring managers usually spend less than 10 seconds looking at each resume, so when you write a resume you need to quickly and successfully conveys your strengths.
Writing a good medical assistant resume objective is the best way to immediately highlight relevant skills that will make you a valuable employee. Details such as your ability to handle administrative tasks, or to assist doctors during medical procedures.
Here's how to write a great medical assistant (MA) resume objective:
Tailor your objective to the job description
The key to writing an effective medical assistant objective for your resume is to make sure it addresses the requirements of the job.
Start by scanning the job ad for the position you want and taking note of any specific requirements or skills listed. Then, include some of these prominent keywords from the job ad in your resume objective.
For example, look at the following job description for a medical assistant: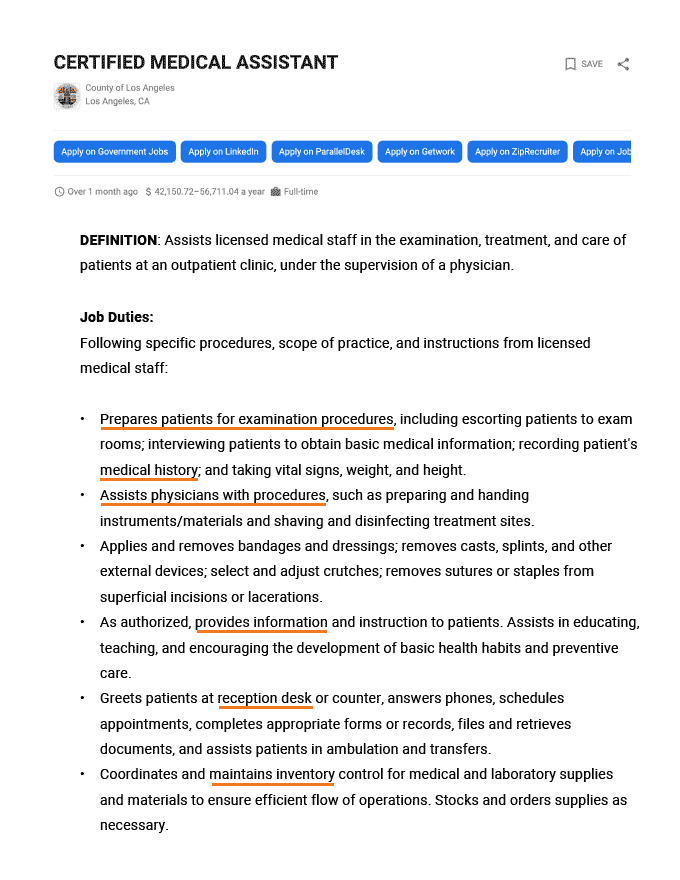 To target this job with your resume objective, use the same verbs and key phrases to highlight your experience in these areas.
Break your objective into three main components
It can be overwhelming to try and sum up your greatest qualifications in three sentences. One way to make it easier is to break your resume objective into three manageable sentences. The sections below describe what each sentence should do:
1. Describe your experience and skills
In the first sentence, describe your previous experience. If you don't have any formal work experience yet, describe some of your transferable skills and any qualifications.
2. Highlight how you're qualified
Use this sentence to note your education as well as any related licenses or certifications. In this example, the certification has already been listed in the first sentence, so the second sentence can be used to highlight additional qualifications, such as relevant skills.

3. Explain what you would like to accomplish in the new position
Use the last sentence in your resume introduction to impress the hiring manager with how you plan to make a valuable contribution in your new role.

Medical assistant resume objective examples
Below are 5 examples of medical assistant resume objectives, representing a range of experience levels:
No experience example
Hard-working high school graduate with 3+ years of volunteer experience at the Los Angeles Medical Center. As a volunteer, update records and use strong communication skills to assist patients with medical forms. Seeking an entry-level Medical Assistant position at [Clinic Name] to gain experience and contribute to the smooth running of your clinic.
Recent graduate example
Recent college graduate with 3 years of lab experience seeking an entry-level position at Casper Health Clinic. Graduated with honors and a degree in Public Health from the University of Wyoming. Highly motivated self-starter with exceptional multi-tasking capabilities looking to learn from the experienced medical professionals at [Clinic Name].
Low experience example
Medical Assistant with 2+ years of experience in front desk management and patient care. Currently undergoing CMA certification, to be completed in June. Possess excellent administrative and time management skills, and pay attention to detail. Seeking a position at [Clinic Name] to grow as a medical professional.
Moderate experience example
CMA with 5+ years of experience working alongside physicians and nurses to assist during medical procedures and follow-up with patients. Demonstrate extreme competence in running the front desk, completing administrative tasks, and maintaining organization of the office. Looking to apply medical knowledge and skill in a Medical Assistant position at [Clinic Name]. 
Highly experienced example
CMA with 7+ years of experience in helping patients, assisting medical staff, and ensuring efficiency of daily operations. Fluent in Spanish, with extensive experience in preparing patients for medical procedures and in assisting physicians during procedures. Seeking a position at [Clinic Name] to help care for patients and support medical staff.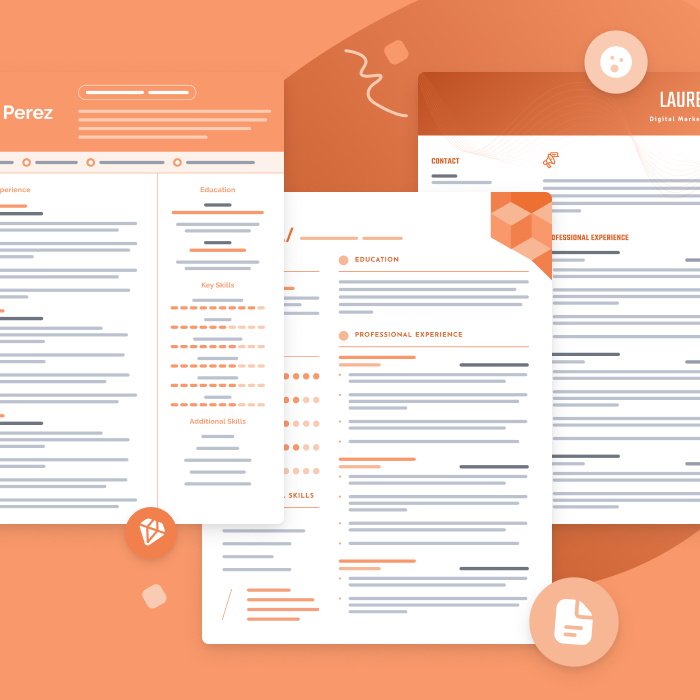 One of the best ways to make your resume is by filling out one of our free resume templates. All our templates are designed by experts and free to download for Microsoft Word or Google Docs.