Whether you're a registered nurse (RN), licensed practitioner nurse (LPN), or even a new graduate looking to start your nursing career, starting your resume with a tailored nursing resume objective helps highlight your qualifications and skills.
But writing an effective resume objective isn't always easy. To help you get started, we outline how to write a great nursing resume objective and include seven nursing resume objective examples.
Our free-to-use resume builder can make you a resume in as little as 5 minutes. Just pick the template you want, and our software will format everything for you.
For visual learners, our Career Advisor Chloe shares her expert advice on why it's important to include a clear and effective resume objective when writing a resume for a nursing role in this helpful video:
How to write a great nursing resume objective
Your resume objective is one of the first things any hiring manager at a hospital will see when they review your job application. To make a strong first impression, it's essential you put together a great nursing resume objective.
Fortunately, writing a great nursing resume objective isn't difficult. Generally, objective statements for nurses are three to four lines long (or around three sentences) and should be used to showcase a quick overview of your experience, skills, and prior achievements.
Want to learn more about writing your resume objective? Check out the following video where we explain exactly how to write a convincing objective for your nursing resume (or any other job):
Here's how to craft a strong nursing objective for your resume in six steps:
Highlight one or two of your career accomplishments
Decide which nursing skills to list that are most relevant to the position you're applying to, such as having great people skills and interpersonal skills
Remember to mention any nursing licenses, certifications, or credentials you have
Be mindful of where you'll be working, and with what types of patients when deciding which work experience to highlight
Review the job posting, ensuring to scan for industry-specific keywords to include in your resume objective
Make sure you're able to back up any information listed on your resume objective in your work experience, skills section, or education section on your nursing resume
Additionally, always add quantifiable data (i.e., figures, hard numbers, or statistics) to your nursing resume objective to give hiring managers a better sense of what you've achieved in your career.
For example, highlight how many beds you oversee in your current role or how many patients you take care of on a daily basis. You could also mention how many times you perform a particular procedure each week or how many junior nurses you've trained.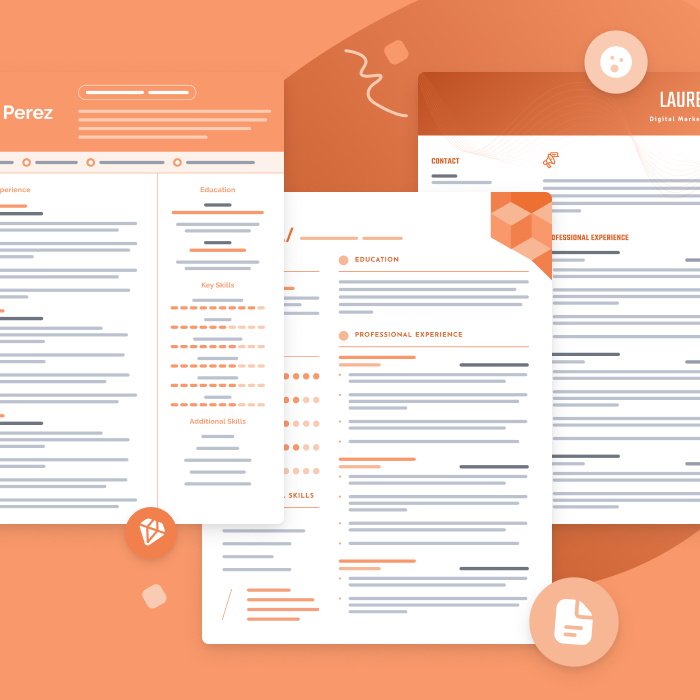 One of the best ways to make your resume is by filling out one of our free resume templates. All our templates are designed by experts and free to download for Microsoft Word or Google Docs.
Six professional nursing resume objective examples
Now that you have a better idea of how to craft a great resume objective, take a look at our nursing resume objective examples below for more inspiration.
1. RN resume objective
Here's a nursing resume objective for an RN working in an emergency care unit:
Dedicated and patient-focused RN with 5+ years of experience treating avg. of 30 patients daily in an emergency care unit. Expertise in handling and monitoring trauma, emergency response, and critical-care patients. Possesses a master's qualification in nursing, and currently focused on earning a doctorate in the field. Eager to fill the RN vacancy at the ECU in Deerwood Hospital and provide quality care to patients.
2. Entry-level nursing resume objective
Here's a great resume objective example for an entry-level nurse resume:
Compassionate and hard-working nurse professional with 2+ years of experience caring for special needs children at Red Heart Hospital. Possess a BSN, and CNA certification. Eager to utilize my education and experience caring for developmentally and mentally disabled children to fill a nursing role at Bernard Hospital.
3. Experienced nurse career objective
Here's a nurse resume objective for a senior-level nursing candidate:
Established psychiatric mental-health RN with 12+ years of experience providing care at Clarksville Area General Hospital to patients of all ages with various psychiatric conditions. Lead staff in training on counseling patients and their families with psychiatric needs. Aspire to fill the vacancy for a dedicated, caring mental-health nurse practitioner at Healthy Minds Clinic. Listed P/MH nurse with a Master's in Community Mental Health Nursing.
4. Nursing student resume objective
Here's an example of a resume objective for nursing students:
Hard-working recent-graduate nurse with clinical internship experience as an FNP diagnosing patients with acute and chronic illnesses, and developing treatment plans. Able to work under pressure, and handle any medical emergency or situation professionally. Excellent interpersonal and communication skills. Possess a BSN.
5. Licensed practitioner nurse resume objective
Here's an example of a resume objective for an LPN resume:
LPN with 4+ years of experience caring for elderly patients in facilities and at their homes. Specialties include infection control, IV insertion, blood drawing, and monitoring vital signs. Eager to fill the LPN vacancy at Willow Oaks Retirement Facility and tend to patients, making them as comfortable as possible. Bring a positive and empathetic attitude to the workplace, and hold a BSN.
6. Certified nursing assistant resume objective
Here's a great objective for a CNA resume:
Reliable, caring CNA with 4+ years of experience caring for teenagers and young children. Excellent client care, and work well with bedridden, physically and mentally challenged adolescents. Supportive, dedicated, and compassionate, with excellent interpersonal and teamwork skills. Discreet and confidential in all dealings with patients, their families, and fellow staff.
7. School nurse resume objective
Have a look at this school nurse resume objective:
Responsible School Nurse with 7.5+ years of experience working with elementary and middle school students. Hold a Bachelor of Science in Nursing degree from the University of Washington. Seeking an opportunity to leverage my caring nature and healthcare expertise by applying for the open School Nurse position at Catlin Gabel School.