There are two ways to write your availability on a resume:
1. Include your availability as the last line of your contact information.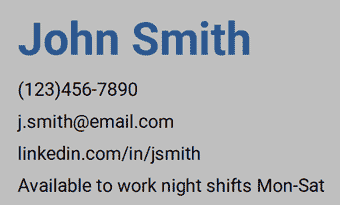 2. Discuss your availability in your resume introduction, in either the first or last sentence.
A machine learning engineer with 2+ years of work experience in artificial intelligence. Possess a Bachelor's degree in Computer Science and experience completing projects using Python and C++. Looking to bring my skills in problem-solving, data analysis, and model building to Disney Streaming in March 2023.
Talk about your availability — rather than unavailability — to maintain a positive tone.
If you're applying for work with non-standard working hours (shift, part-time, or seasonal work) or you can only start work after a certain time, it may be suitable to write your availability on your resume.
Note that adding your availability to your resume can negatively affect your application in some cases. We suggest mentioning your availability in interviews instead.