While we're used to seeing headlines about the four-day workweek and its global trials, another innovative alternative to the standard five-day workweek has quietly emerged: the 9/80 work schedule.
Below, we explore what a 9/80 workweek is — weighing its pros and cons and assessing its potential impact on the future of work-life balance.
The 9/80 schedule defined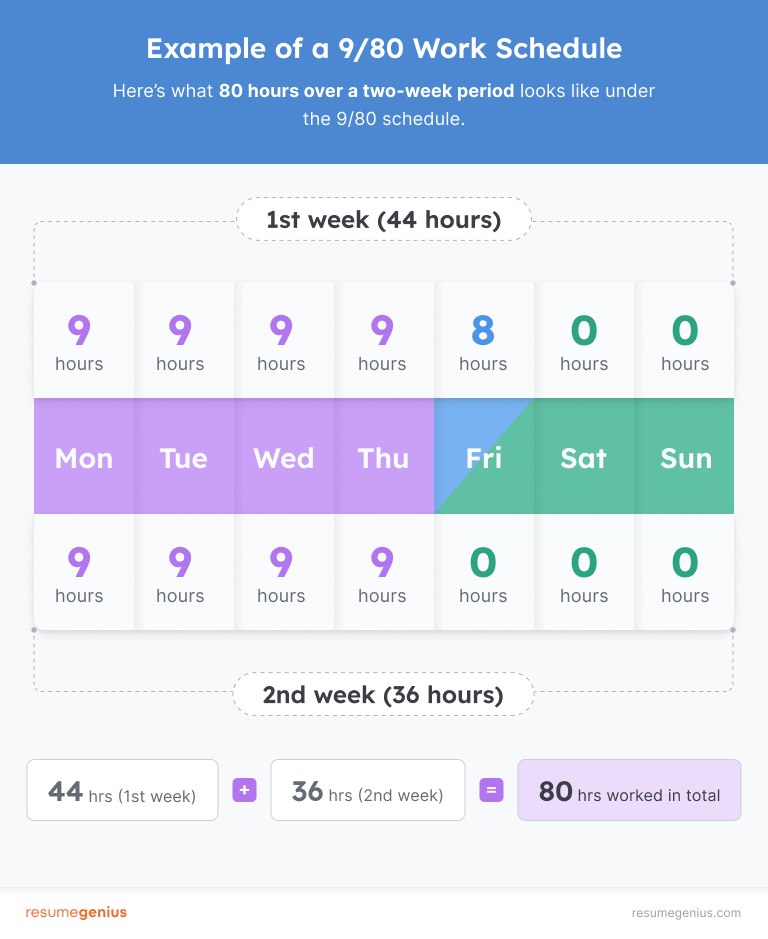 Although some companies have explored different approaches to the 9/80 schedule, typically the 9/80 concept is about compressing the same number of work hours in two business weeks (80) into nine business days rather than 10.
Ultimately this provides employees with one three-day weekend every two weeks.
However, of these nine days, eight are typically nine-hour shifts (with one standard eight-hour day).
With a focus on rearranging work hours rather than cutting them back, the 9/80 schedule aims to give employees better work-life balance while also appeasing employers by keeping employees on a 40-hours-per-week average work schedule.
Why a 9/80 schedule could be the answer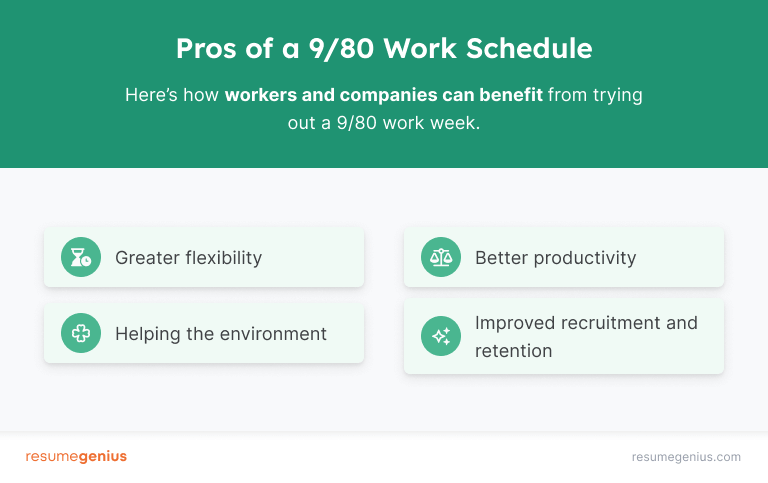 Implementing a 9/80 workweek poses several benefits to both employees and employers. Let's look at some of the advantages below:
1. More days out of the office
One advantage of a compressed schedule is that employees can maintain their usual work hours while gaining an extra day off every other week.
With two additional days off each month, a 9/80 schedule can provide opportunities for workers to complete personal errands, spend quality time with loved ones, or simply relax and decompress from work.
These extra days off can also be strategically incorporated into employees' plans, offering the opportunity to extend holidays or travel more.
This resulting flexibility can be highly valuable to many employees, as indicated by a recent survey in which respondents expressed a willingness to trade a portion of their salary, ranging from 2.6% to 5.1%, in exchange for additional time off.
Moreover, businesses can benefit from substantial monthly cost savings in utilities, such as electricity and office supplies. Expense management provider Emburse suggests that a four-day workweek can cut 20% of overhead expenses tied to electricity and energy consumption.
With fewer workdays in a month, companies and workers can reduce their carbon footprint and ultimately help the environment.
According to the US Energy Information Administration, the US experienced an 11% reduction in energy-related carbon dioxide (CO2) emissions in 2020, largely due to pandemic-related changes.
During this time, remote work and online meetings swiftly replaced traditional commuting and in-person gatherings. Notably, petroleum, a major contributor to transportation emissions, decreased by 15%.
A shorter workweek can also make daily life smoother and more efficient, as employees can tailor their schedules to avoid peak traffic hours.
For instance, the transportation sector saw a significant 15% decrease in emissions due to reduced travel during the pandemic, including fewer commutes and business trips.
These findings suggest that a shorter workweek not only offers cost-saving advantages to employees and businesses but can also contribute to environmental sustainability by reducing energy consumption and CO2 emissions.
Knowing there's a day off around the corner can result in heightened focus and better performance during work hours.
This compressed schedule can encourage employees to optimize their time by completing tasks more effectively and minimizing distractions.
As a result, businesses can witness improved task completion rates, enhanced morale, and a reduction in sick days and vacation requests.
4. Improved recruitment and retention
The 9/80 schedule often serves as a valuable recruitment and retention tool for businesses and employees.
Many potential employees are drawn to the idea of a 9/80 schedule due to its potential for improved work-life balance. This can give businesses a competitive edge in attracting skilled professionals who prioritize both their career and personal lives.
A study by McKinsey found that out of nearly 600 workers who voluntarily left a job without another in hand, 44% said that they "have little to no interest in returning to traditional jobs in the next six months."
This finding highlights a significant shift in workforce preferences, as workers are more interested in finding flexible work than ever before. Consequently, businesses can take advantage of this fact by introducing a shorter workweek policy.
Is a 9/80 workweek the wrong move?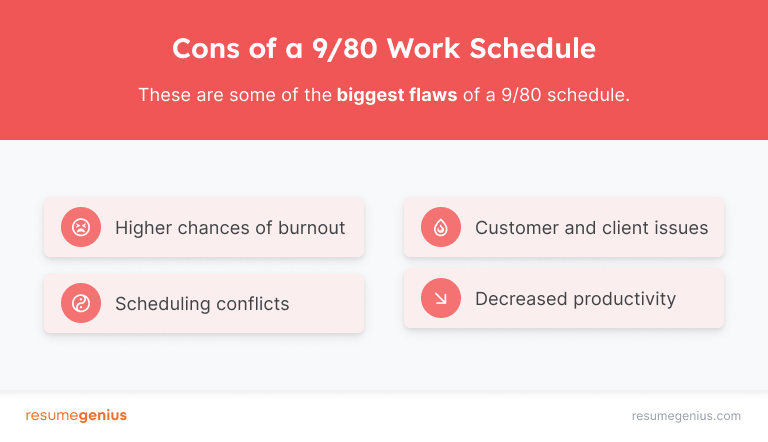 Moving to a 9/80 schedule as an employer could lead to future workplace and operational challenges. Below are some reasons why:
1. Greater chance of burnout
While the 9/80 schedule offers an extra day off every other week, it compensates by extending daily work hours.
While this schedule arrangement has its advantages, it also presents challenges in maintaining consistent productivity.
The longer workdays may demand more from employees, potentially affecting their ability to sustain focus and energy levels over extended periods.
This heightened demand could potentially lead to burnout, as indicated by a recent survey revealing that 82% of workers have experienced burnout in their current jobs, with 16% reporting constant burnout.
According to 51% of the surveyed respondents, one of the most significant contributing factors to burnout was "too much time at work."
2. Scheduling conflicts and staffing gaps
Transitioning to a 9/80 schedule can introduce scheduling conflicts when dealing with colleagues accustomed to traditional business hours, especially for understaffed companies.
For instance, if two employees can't make it to work due to sickness, and there's nobody available to handle their duties, the absences can pose substantial challenges.
The rest of the team might find it difficult to cope with the extra workload, potentially causing delays and a decline in overall productivity.
3. Issues with customers and business clients
Maintaining consistent service levels may require adjustments, especially when dealing with customers and clients who operate on traditional schedules.
Businesses would need to plan for potential shifts in customer expectations and ensure that they can continue to meet their needs effectively.
4. Decreased creativity and productivity during the extra hour
An additional hour in each workday can be a double-edged sword. Some employees may struggle with productivity during the extended hours, particularly if they're not accustomed to working long shifts.
For example, employees who aren't morning people may find it challenging to be productive at the beginning of their shifts with the added hour. On the other hand, productivity may dip as employees approach the end of the workday.
Moreover, the level of work intensity may remain unchanged during a 4-day workweek, subjecting employees to increased pressure from managers in terms of performance, supervision, and efficiency.
As a consequence, employees might take less breaks and interact less with colleagues, potentially impeding the free flow of creativity and innovation as they strive to meet deadlines.
The future of the 9/80 work schedule
The global workforce shifted significantly in 2020 as remote work gained popularity, introducing a new form of flexibility to the way we work today.
With employees gaining more influence over their work environment by leaving jobs for better benefits, flexibility, and pay, compressed workweeks like the 9/80 schedule are becoming attractive alternatives for people looking for a change in lifestyle.
But as many companies pivot towards hybrid work models, blending remote and in-office work, the 9/80 schedule may face competition from other flexible arrangements.
To today's forward-thinking companies, take note: employees crave setups that champion their work-life balance, and they're willing to invest extra hours in their workday to make it happen.
Final words of advice? The future belongs to companies that recognize these shifts and have open-minded leadership willing to experiment with pioneer work setups like the 9/80 schedule.
Businesses that adapt will have a higher chance of successfully attracting a generation of workers who no longer accept the traditional schedule as the only option.
How to switch your company over to a 9/80 schedule
Switching over to a 9/80 schedule requires a careful plan. Here are some steps to ensure a smooth transition into a shorter workweek:
1. Understand the legal requirements
To begin, businesses should develop a thorough understanding of the legal requirements associated before transitioning to a 9/80 schedule.
Legal requirements can vary by state in the US, so it's essential to research and ensure your business complies with local labor laws.
Resources like the US Department of Labor and your specific state's labor department website can provide valuable information.
2. Create a clear policy based on open communication
Effective communication is key to helping employees understand the new schedule and its expectations, so companies should establish a clear company policy that's communicated openly to all employees.
For instance, company-wide emails or regularly using communication tools like Slack or Microsoft Teams can help facilitate transparent communication within organizations.
3. Do a trial run
Before fully committing to the 9/80 schedule, consider conducting a trial period.
During this trial, employees and employers can try an existing scheduling plan as a backup and set a defined timeframe for evaluating the effectiveness of the new schedule.
This trial period allows both you and your employees to assess its suitability and make necessary adjustments.
4. Use time-tracking and scheduling tools
Employers can enhance the transition by implementing time-tracking and scheduling tools like Clockify or TimeCamp to help prevent errors and scheduling conflicts, as well as ensure efficient workplace management.
Frequently asked questions about 9/80 work schedules
Interested in learning more? We answer some commonly asked questions about the 9/80 schedule below:
1. What's the difference between the 9/80 schedule and the 4/10 work schedule?
Both the 9/80 schedule and the 4/10 work schedule offer alternative work arrangements, but they differ in terms of workdays and hours.
A 9/80 schedule means employees work 80 hours in a two-week period, typically by working nine hours a day for nine days and eight hours on the tenth day, earning a day off. This schedule typically results in a three-day weekend every other week.
By contrast, a 4/10 arrangement requires employees to work four ten-hour days each week, totaling 40 hours. As a result, workers will have three consecutive days off, typically creating a long weekend every week.
The main difference lies in the frequency of long weekends: the 9/80 schedule typically offers a three-day weekend every other week, while the 4/10 schedule provides it every week. The choice between the two depends on an organization's needs and employees' preferences.
2. Does the 9/80 schedule exceed the 40-hour workweek?
No, the 9/80 schedule should maintain a standard 40-hour workweek over a two-week pay period. Ideally, a 9/80 schedule means employees will redistribute the hours they work without increasing the total number of hours.
3. What are alternate scheduling arrangements in a 9/80 work schedule?
The 9/80 schedule can vary depending on a company's policies and needs.
For example, some places may choose to have employees work extra hours on some days to leave early every Friday, while others may prefer giving every other Friday off.
Also, the designated day off isn't restricted to only Fridays and can be scheduled on a different day according to an organization's specific preferences.
Join the 9/80 workweek conversation
Have you trialed the 9/80 schedule or have insights to share?
Your experiences and comments about the 9/80 work schedule as an employee or an employer can help inform other businesses considering making the shift.
If you'd like to discuss your story and be a part of a future update on our blog, we invite you to reach out to us at eva@resumegenius.com or eduardo@resumegenius.com.
Sources
About Resume Genius
Since 2009, Resume Genius has merged innovative technology with up-to-date industry expertise to simplify job hunting for people of all backgrounds and experience levels.
Resume Genius's easy-to-use resume builder paired with a wide range of free career resources like resume templates, cover letter samples, and resume writing guides can help anyone improve their job hunt. Resume Genius has been featured in esteemed publications such as CNBC, Business Insider, Forbes, and The New York Times.
Supported by a team of dedicated career advisors and HR experts, Resume Genius's ultimate mission is to guide job seekers toward fulfilling work and help them reach their career goals.
For media queries or concerns, please contact us.