Impact of COVID-19 on the US Job Market
In the time it takes you to read this blog post, the number of people infected with the novel coronavirus (COVID-19) around the globe will have risen, and so sadly, will the number of casualties.
Unemployment Is Spiking
Accompanying the human toll is rising unemployment:
This is just the beginning. Half of all companies are considering lay-offs, so the 36.5 million new unemployment claims is likely to increase. Goldman Sachs estimates that the unemployment rate will peak at 25%.
With millions of people following the medical advice to socially isolate, hundreds of thousands of businesses have closed their doors to customers across the nation.
Take restaurants, for example. By the end of March, restaurants in most major cities had stopped serving eat-in diners, offering only take-out options instead: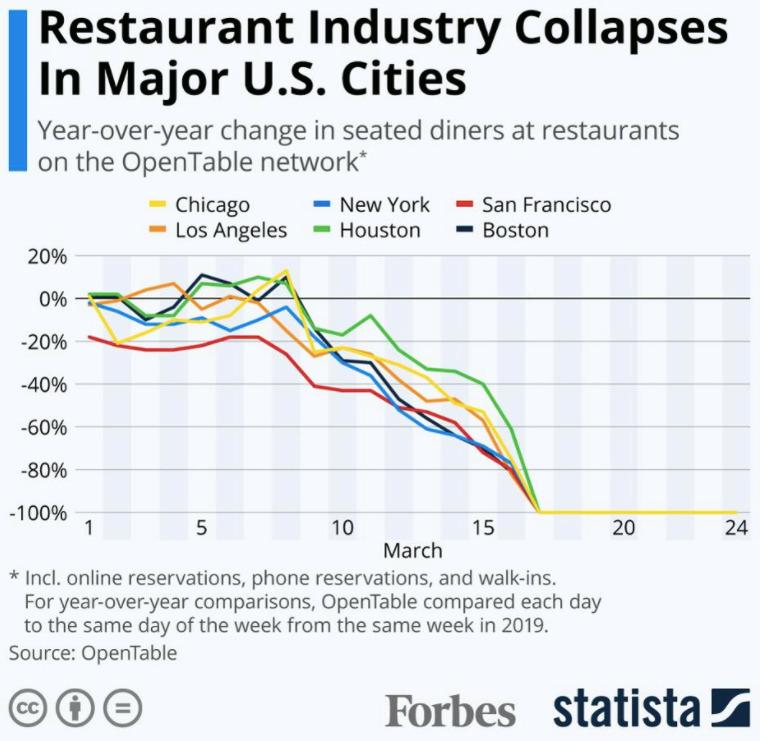 This one short period of low demand in the restaurant industry has led to thousands of servers losing their jobs, and many other businesses deemed non-essential during this crisis have shut down and laid off workers.
This global pandemic will affect you no matter what industry you work in — particularly if you work in one of the industries that involve close interaction with other people: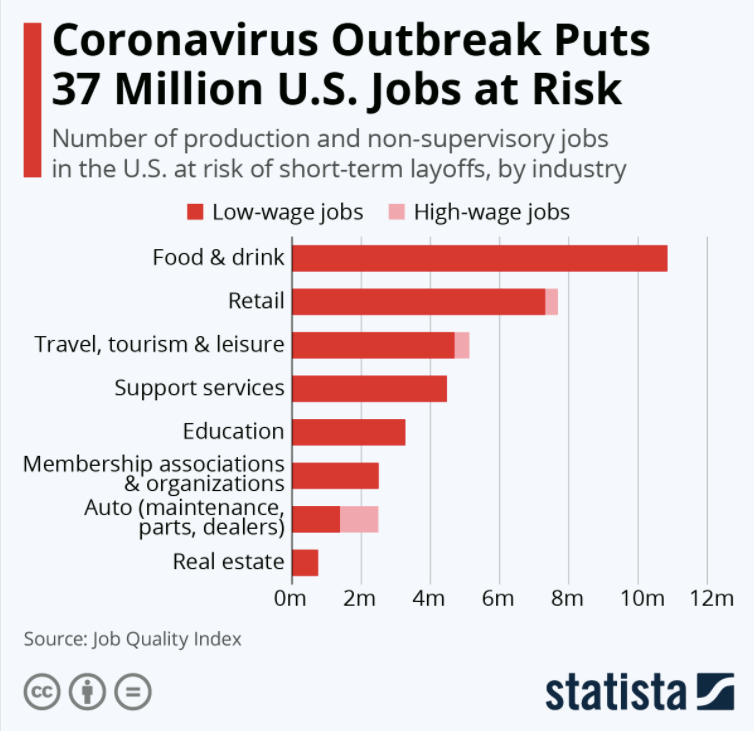 We're living in unprecedented times. It's only natural to worry about keeping your job (if you have one), or your job hunt if you're unemployed.
Despite Rising Unemployment, the Number of People Searching for Jobs is Plummeting
As a leading online provider of written and downloadable job hunting resources, Resume Genius's traffic is highest during times when the demand for jobs is highest.
From early March to today, traffic across ResumeGenius.com has dropped by 53%.

It's clear that as things currently stand in the US, Americans are not looking for jobs at the same rate.
Don't Follow the Trend: Update Your Resume and Find a Job
The drop in job seeker traffic to our website makes sense: people may be afraid to change jobs now, much less leave the house to find one. That doesn't mean you should follow their lead.
If you've recently become unemployed, now's the time to brush up your resume and cover letter. Even if you're still employed consider doing the same: the  uncomfortable truth is that those of us with jobs can't be sure we'll have them in a few months — or even a few weeks. The most unpleasant aspect of the COVID-19 crisis is the uncertainty it creates.
One thing that's certain, however, is that there are still opportunities for you to find employment today if you look for them.
Career Opportunities in the COVID-19 World
COVID-19 has halted many types of businesses, and made certain occupations dangerous. But it has also increased demand for work in other sectors.
In fact, job openings in companies tied to handling COVID-19 have increased as they seek to manage demand related to COVID-19: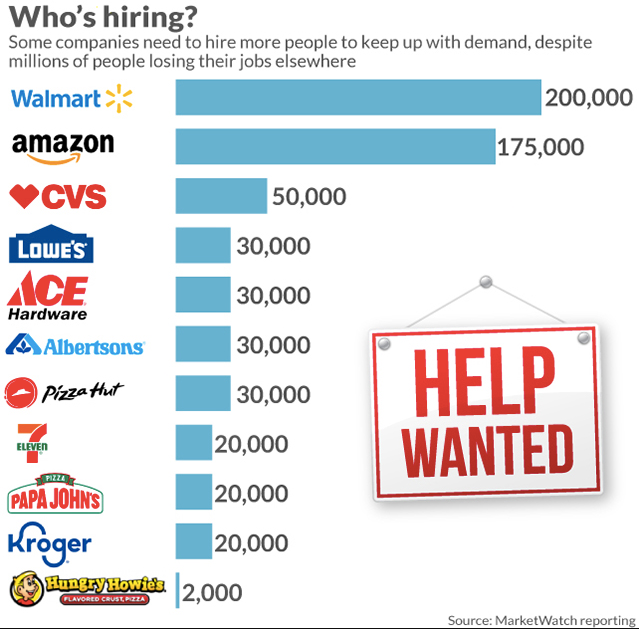 Companies in many industries are desperately seeking workers during this crisis. We've highlighted those industries, and discuss job requirements, educational background, and necessary skills to list on your resume before applying.
Retail
In retail, convenience stores and supermarkets need more store associates to ensure Americans can buy the essentials they need to get through this crisis. 7-11 is hiring over 20,000 new workers in the US alone to cope with the surge in demand caused by the pandemic.
Meanwhile, Walmart is offering over 200,000 full-time, part-time, and temporary jobs, with new hires able to begin working soon after they submit their applications.
Job Requirements, Education, & Transferable Skills
Retail is known for being a sector that welcomes entry-level candidates. Here are some typical requirements for retail jobs.
Job Requirements: Although experience working with people helps, there are usually no particular job requirements for working an entry-level retail position.
Education: Many retail positions are entry level, meaning you can apply with only a high school diploma or GED on your resume.
Transferable Skills: To create an effective resume for a retail position, you'll need to highlight typical sales associate skills. These include the ability to use point-of-service (POS) technology, product knowledge, and customer service skills to interact effectively with your customers. If you've been laid off from food service, this would be an excellent industry to rebound into.
Companies Hiring Retail Employees
Related Resume & Cover Letter Examples
Warehouse Work
At the same time, companies like Amazon are hiring warehouse workers to supply consumers with the kinds of products they can't buy directly from stores now that businesses selling "non-essential" goods have been closed.
Amazon says you can start working within seven days of applying, so if you're in need of quick cash flow, this might be a good opportunity for you.
Job Requirements, Education, & Transferable Skills
Here are the basic requirements needed to get work in a warehouse.
Job Requirements: Warehouse work generally requires you to be physically fit.
Education: Often entry level, meaning you'll need a high-school diploma or GED.
Transferable Skills: You'll need to showcase effective organizational skills on your resume to ensure orders are packed and processed properly, and time management skills to keep up with the orders you've been assigned.
Companies Hiring Warehouse Employees
Related Resume
Delivery
Food delivery companies like Uber Eats are offering greater earning opportunities during this crisis to attract new delivery drivers because families aren't going out for food.
You can also find non-food delivery jobs. For example, among its 50,000 new hires, CVS is seeking delivery drivers to deliver medicine and pharmaceutical products directly to consumers at their homes.
Job Requirements, Education, & Transferable Skills
If you think delivery work is something you'd enjoy, keep in mind the following base requirements:
Job Requirements: You'll need a means of transportation (bicycles can be used in some major urban areas), a driver's license if applicable, and access to a smartphone so you can get details on customers' orders and addresses.
Education: High-school diploma or GED.
Transferable Skills: You'll need effective people skills because you'll be dealing with the public everyday. Also clarify that you have a driver's license if you'll be delivering using your car or motorcycle.
Companies Hiring Delivery Employees
Related Resume & Cover Letter Examples
Medical Care
There are many job opportunities related to looking after patients with coronavirus. Not only are more doctors and nurses needed, but clinics and hospitals are also looking for orderlies and cleaners who play a vital role disinfecting care areas.
In fact, almost a third of new jobs have been posted by the government, health care, biotech and pharmaceuticals, and nonprofit industries, indicating that jobs related to caring for patients with COVID-19 and researching the virus will only continue to grow.
Job Requirements, Education, & Transferable Skills
Highly skilled healthcare jobs will have more stringent requirements than entry-level or support roles.
Job Requirements: A background check will be necessary for jobs in the medical sector — even janitorial posts — depending on your state's regulations. You'll also need specific certifications depending on the role (check the job description).
Education: Most people working in the health care sector need either an Associate's or Bachelor's Degree. Be sure to list your applicable certifications and educational background on your resume if you apply for any medical-related position.
Transferable Skills: Nursing skills are vital for anyone working in a caregiving capacity. That includes the ability to stay calm and professional in a fast-paced environment. You also need good communication skills because people's health will depend on your ability to communicate to other health professionals about their status.
Companies Hiring Medical Sector Employees
Related Resume & Cover Letter Examples
Freelance Work
If you can't risk exposing yourself to the dangers of COVID-19 or prefer not to, you can wait out the crisis from the safety of your home and still earn an income via freelance work.
What you apply for will naturally depend on your interests and experience. If you've done writing or editing in school, consider freelance writing. Or you could take online surveys for a little boost in cash.
Upwork has described some of the easiest freelance jobs to make a start in if you have little experience freelancing. These jobs include data entry work, operating as a virtual personal assistant, and even transcribing — listening to audio recordings and typing them out onto your computer.
Job requirements, education, and skills will vary depending on the position.
Related Resume & Cover Letter Examples
Helpful Job Seeker Resources
Before you can land a new job, you need to update your resume and cover letter.
We've grouped our main resume and cover letter writing resources in this section for your convenience. Other than our free resume templates and matching cover letter templates, we have professional writing guides that address every aspect of creating these two important application documents.
Resumes
Cover Letters
Job Boards
We've linked to some of the major companies hiring above, but you should also try out job boards to find open positions near where you live. For example:
Take Indeed for example. Simply type in the job you want, choose a location, and hit "Find Jobs":

You'll be given a list of jobs fitting that description in the location you picked:
Click one of the results that interests you, and you'll get a full job description as well as a link to apply.
Conclusion
These are frightening times, especially if you've lost your job due to coronavirus or are afraid that you might in the coming weeks.
But society is already adapting through measures like social distancing and working from home, and you'll also adapt.
If you're worried about your job, update your resume and cover letter to keep yourself ready to find a new one.
As you start writing your resume and cover letter, the Resume Genius team wishes you the best on your job hunt, and hopes you and your loved ones stay healthy during this difficult time.