As an electrician, your resume and cover letter serve two slightly different purposes. Your resume is going to be the nitty-gritty details of your certifications and credentials, complete with dates, locations, and some details about the work you did. Your cover letter, on the other hand, is more of a pitch to the person who is going to hire you, a persuasive piece of writing that says 'This guy/girl is exactly the kind of electrician I am looking to hire'.

In a hurry? Our state of the art cover letter builder can help you write a convincing cover letter in minutes.
Build My Free Cover Letter Now >>
You'll highlight some of the information that will be explained further on your resume, such as your qualifications and years of experience, but without getting bogged down in detail. Where the resume has bullet points, your cover letter has full sentences. Your resume is the circuitry and wiring laid out and properly organized inside the walls; the cover letter is the dimmer switch that showcases the desired effect of all that wiring.
Remember that some hiring managers are details people and will be more interested in your finely-tuned resume, while others can be more easily swayed by the well-crafted piece of writing that is your cover letter. Combine the two together and you'll have a lights-out (lights-on?) application for the next electrician position you apply for.
A quick note on structure and some points you might emphasize:

The first paragraph should introduce yourself, clarify the position you are after, and note where you saw the position advertised. If you didn't see it advertised but are applying anyway, you can leave this part out
In your second paragraph, you'll want to highlight your best qualification and your professional experience, and add any points that match things you have done or skills you have with what was written in the job posting
In your third paragraph: Once you've nailed your professional qualifications, show the reader your personal qualifications – the features of your wonderful personality that make you a pleasure to work with
In the last paragraph you might wrap up by mentioning that you are up to date on industry safety protocols, and remind the reader where they can find the information so they can pick up the phone and give you the job immediately (hopefully)
Check out the sample electrician cover letter below to see how it all comes together:
Table of Contents
SEE ALSO > Cover Letter Examples by Industry
1. Electrician Cover Letter Sample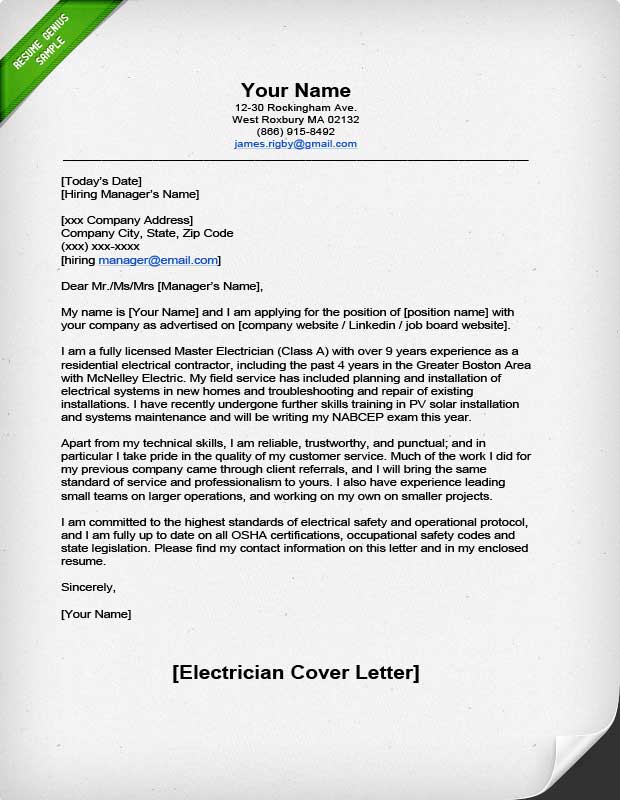 Click Here to Download Our
Electrician CL Example
2. Electrician Cover Letter (Text Format)
[Today's Date]
[Hiring Manager's Name]
[xxx Company Address]
Company City, State, Zip Code
(xxx) xxx-xxxx
[hiring manager@email.com]
Dear Mr./Ms/Mrs [Manager's Name],
My name is [Your Name] and I am applying for the position of [position name] with your company as advertised on [company website / Linkedin / job board website].
I am a fully licensed Master Electrician (Class A) with over 9 years experience as a residential electrical contractor, including the past 4 years in the Greater Boston Area with McNelley Electric. My field service has included planning and installation of electrical systems in new homes and troubleshooting and repair of existing installations. I have recently undergone further skills training in PV solar installation and systems maintenance and will be writing my NABCEP exam this year.
Apart from my technical skills, I am reliable, trustworthy, and punctual; and in particular I take pride in the quality of my customer service. Much of the work I did for my previous company came through client referrals, and I will bring the same standard of service and professionalism to yours. I also have experience leading small teams on larger operations, and working on my own on smaller projects.
I am committed to the highest standards of electrical safety and operational protocol, and I am fully up to date on all OSHA certifications, occupational safety codes and state legislation. Please find my contact information on this letter and in my enclosed resume.
Sincerely,
[Your Name]
[Electrician Cover Letter]