If you find yourself needing to decline a job offer, be smart and don't burn bridges with the company.
Knowing how to politely decline a job offer lets you save face and help maintain a good relationship with the company, in case you want to be hired by them at a later time or use network with employees there.
Check out our tips and examples below to ensure you know the best way to decline a job offer graciously.
4 professional tips for declining a job offer
Here are four professional writing tips you can use for declining a job offer, either by email, in a rejection letter, or via a phone call:
1. Don't procrastinate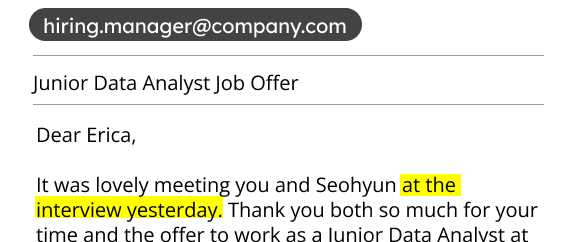 It's important to respect the company's time and inform them you're not accepting the job offer as soon as possible.
They'll need to move forward with another applicant, and if you delay, you're costing them unnecessary time and effort.
If you wait until the last minute to inform them you're declining, no matter the reason, you'll likely upset the hiring manager. So while rejecting an offer can be stressful, it's best to not procrastinate on sending your rejection letter or email (for your sake and theirs).
2. Tell them why you're turning down the job offer

After carefully selecting from a pool of applicants, the hiring manager offered you a position, so simply declining without a reason won't suffice. You'll need to be honest about why you've chosen not to join their company.
If you're declining for personal issues (for example, tending to a sick relative), then you're under no obligation to share that information. However, it's best to give some details to avoid leaving a bad impression.
On the other hand, if you received another job offer that either pays more or is a better fit for you, it's perfectly fair to share that with the hiring manager.
Depending on how badly they want to hire you, they may either increase their compensation package or offer you another role within the company to compensate you.
3. Show your gratification in your rejection letter

Just like if you were writing a job acceptance letter, you should show appreciation for the hiring manager when you decline a job offer. They spent hours reviewing your application, work history, references, and talking with colleagues about bringing you on the team. After all that, most candidates will be happy to have received an offer for the position.
You'll need to convey that same gratification in your rejection letter or email to avoid burning bridges when you turn the company down. Start your email or letter by thanking the team for their time and the job offer.
Consider also sharing what you learned in the interview process, which can help the hiring manager going forward by giving them an idea of how candidates perceive their company and employees.
Sharing your gratification in your rejection letter shows the company that you took the job offer seriously even though you're declining.
4. Protect future networking opportunities

It's common to run into the same people if you're working in a specific industry. For this reason, even if the company is not hiring you at this time, you'll want to keep a connection open with them for future networking opportunities.
When declining the job offer, tell the company you're looking forward to any possible future chances to work with them. Consider adding the interviewer on LinkedIn and restating that you liked the team and company culture.
2 sample emails for politely declining a job offer
Here are two email samples for declining a job offer that you can use to start writing your rejection letter or email:
How to decline a job offer for a different position
How to decline a job offer for personal reasons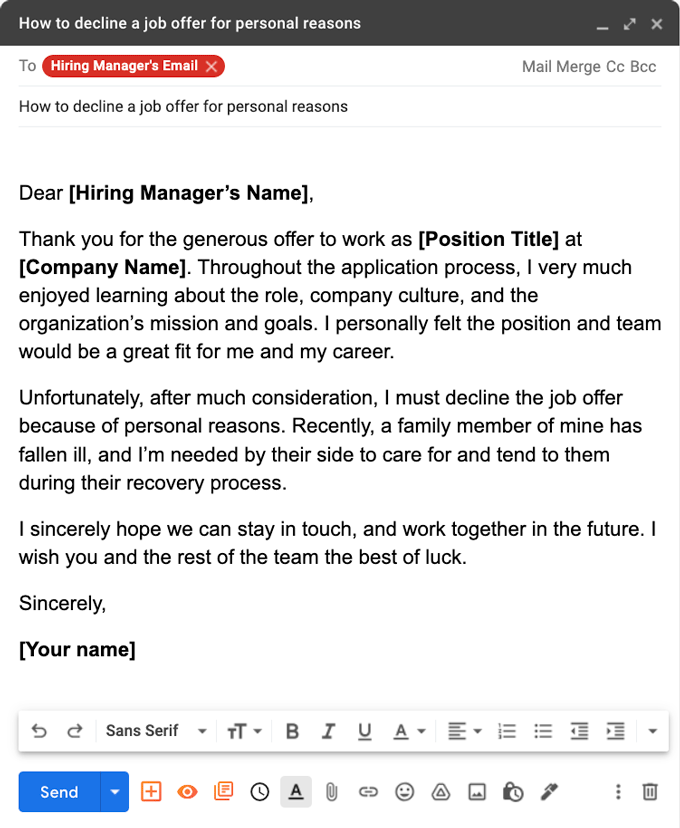 How to reach out to a company you've previously declined
If things don't work out at your new job (or after you've finished your personal issues and are ready to start job hunting again), maintaining a good relationship with the company you previously declined is highly beneficial.
When you're ready, email them to check in with the hiring manager and see if the position has been filled. Or, you could even ask if anything else is available.
Start the conversation with how much you want to be at their company and why you've changed your mind.
Lastly, give an honest and earnest reason for why you're leaving the job you previously chose over them. This will give the hiring manager a clear idea of your situation and possibly make them sympathize with you, both of which are good if you want them to make you another offer.
Here's an example you can use as a template for sending an email to a company you've previously turned down:
Dear [Hiring Manager's Name],
I hope things are going well for you and the team at [Company Name]. Interviewing with you on [Interview Date] was a positive experience, and I was hoping to reach out and touch base with you.
During my time as [Position Title] at [Current Company Name], I've learned the position isn't quite what I had expected and does not align with my career goals. I'm writing to inquire if the job with your company was still available, and if not, if you perhaps were looking to bring someone on for another position.
I have attached my updated resume and cover letter. I would love to discuss any opportunities that may be available at this time. I'm looking forward to hearing from you. Thank you for your continued consideration.
Sincerely,
[Your Name]