Care about the environment and want to make a difference but not sure where to start? You're in the right place.
A career in sustainability could be the perfect fit for you, offering value-driven work where you can make a positive impact on your community (and the Earth).
If you're thinking about pursuing a career in sustainability, we're here to help.
In this article we'll go over:
Let's get started.
Sustainability career outlook
With job growth on the rise, the outlook for sustainability jobs is overwhelmingly good.
In the World Economic Forum's 2023 Future of Jobs Report, they predict that rising trends toward sustainability (such as consumer demand, greater application of ESG standards, green transition investment, and climate change adaptation investment) will drive significant job growth.
While it's difficult to measure the precise growth of sustainability jobs (as definitions vary), all evidence suggests that we're seeing a societal shift toward a greater focus on sustainability, with a growing demand for talent to support it.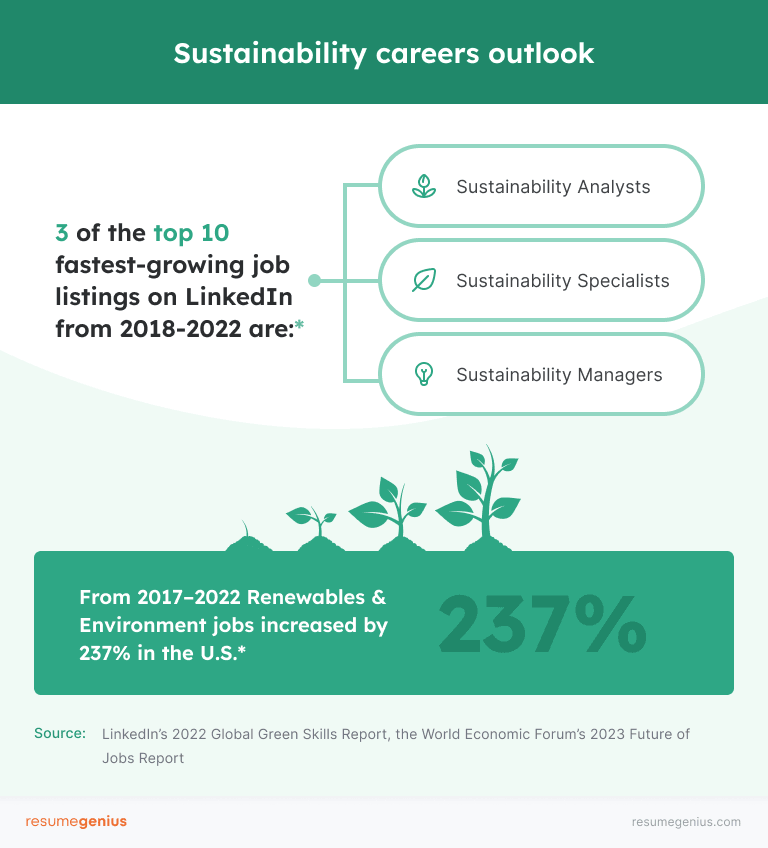 So if you want to pursue work in sustainability, there'll be plenty of opportunities for career growth.
Sustainability career paths
Because sustainability is important for so many industries, there are many types of sustainability jobs you can choose from.
There are two very basic pathways for careers in sustainability: sustainable development and sustainability management. We'll go over both below (as well as an alternative third path).
Sustainable development careers
Careers in sustainable development are focused on ensuring responsible development that protects the environment and livelihood of future generations, while mitigating the impact of climate change.
This includes careers in:
Agriculture and forestry
Conservation
Education
Government and policy
Infrastructure, energy and engineering
Product design and development
Science and research
Careers in these fields are often highly specialized and require specific credentials, education, training, and technical skills.
Here are some common sustainable development jobs, with average salary ranges (taken from salary.com):
| Job title | Salary range | Job title | Salary range |
| --- | --- | --- | --- |
| Agriculture environmental specialist | $45,711 to $63,019 | Farm manager | $44,125 to $53,570 |
| Atmospheric scientist | $82,160 to $132,040 | Geoscientist | $67,332 to $123,393 |
| Climate change analyst | $65,005 to $83,172 | Green building consultant | $71,241 to $99,380 |
| Climate change specialist | $102,402 to $137,522 | Hydropower engineer | $73,846 to $100,396 |
| Conservation scientist | $63,863 to $92,193 | Natural resources manager | $63,122 to $75,059 |
| Construction manager | $79,146 to $100,759 | Natural sciences manager | $72,610 to $96,072 |
| Ecologist | $61,445 to $77,600 | Renewable energy consultant | $56,922 to $70,405 |
| Energy efficiency specialist | $55,792 and $73,122 | Renewable energy engineer | $74,034 to $100,089 |
| Energy manager | $96,050 to $129,985 | Soil Conservationists | $59,599 to $92,403 |
| Energy modeling engineer | $50,641 to $82,373 | Solar consultant | $59,013 to $82,322 |
| Environmental educator | $27,385 to $35,142 | Solar energy engineer | $64,049 to $83,456 |
| Environmental engineer | $63,554 to $82,105 | Sustainable architect | $89,897 to $115,262 |
| Environmental geologist | $49,733 to $65,567 | Urban planner | $48,740 to $58,866 |
| Environmental planner I | $64,460 to $84,710 | Waste management specialist | $31,651 to $40,261 |
| Environmental policy analyst | $54,154 to $66,985 | Water resource specialist | $72,803 to $97,629 |
| Environmental scientist | $63,554 to $82,105 | Wind turbine technician | $42,941 to $56,773 |
Careers in sustainability management
Careers in sustainability management usually operate on the corporate managerial level. These positions focus on improving sustainability in business practices and outcomes – whether through consulting on business strategy, guaranteeing sustainable sourcing, or ensuring proper compliance with relevant laws and regulations.
Sustainability management careers vary in scope, and some are more heavily focused on sustainable social and economic (as well as environmental) outcomes.
Here are a few sustainability management jobs, with corresponding salary ranges:
| Job title | Salary range | Job title | Salary range |
| --- | --- | --- | --- |
| Compliance manager | $109,221 to $143,180 | Social impact manager | $46,954 to $63,083 |
| Corporate Social Responsibility (CSR) Manager | $93,800 and $130,000 | Sustainability analyst | $61,003 to $140,491 (depending on seniority level) |
| Environmental Compliance Specialists | $65,422 and $96,310 | Sustainability manager | $105,034 to $149,041 |
| Environmental consultant | $63,947 to $84,332 | Sustainability specialist | $67,850 and $94,650 |
| Environmental Health and Safety (EHS) Coordinator | $96,090 and $115,590 | Sustainable product designer | $57,699 to $72,245 |
| ESG consultant | $64,948 to $91,856 | Sustainable sourcing manager | $121,643 and $155,206 |
| ESG manager | $105,090 and $149,090 | | |
Alternative careers in sustainability
The two basic categories above represent the jobs most commonly classified as "sustainability jobs", however you shouldn't feel limited to these career paths.
There are so many different ways to promote sustainability in your work, and you can always create your own sustainability career.
If you're entrepreneurial, consider opening a bulk goods store, a second-hand store, or a bicycle repair shop – whatever aligns with your passions.
Green entrepreneurship is growing fast and taking place outside of traditionally "green" industries, according to LinkedIn's 2022 Global Green Skills Report, so if you have an idea for a green business now could be a great time to get started.
Remember, your job title doesn't need to have the word "sustainability" in it to make it a sustainability career.
How to prepare for a sustainability career
To build the sustainability career of your dreams, you need a plan.
Here are four tips to help you set yourself up for success.
1. Pursue education
Most sustainability jobs will require a relevant degree or specific training, so getting a degree in your chosen field will be a big asset in your job search later on.
If you're not looking to study sustainability itself (if you're going for an engineering degree, for instance), try to find a program in your area of interest that offers a concentration in sustainability.
Here are some degrees in sustainability that can help you carve out your career path.
| Bachelor's degree in sustainability | Master's degree in sustainability |
| --- | --- |
| Bachelor in Social Justice and Sustainability | MA in Ecology, Spirituality, and Religion |
| BA Environmental Studies | Master's in Business Administration (Concentration in Sustainability) |
| BA/BS in Sustainable Urban Development | MELP/LLM in International Environmental Law & Policy |
| BS in Business Administration (Concentration in Sustainability) | MS in Architecture (Concentration in Energy Performance) |
| BS in Conservation Biology | MS in Climate Science and Policy |
| BS Environmental Engineering | MS in Climate Science & Solutions |
| BS Environmental Science | MS in Global Energy Management |
| BS in Marine Resource Management | MS/MEM in Environmental Management |
| BS in Native Environmental Science | MSc in Agroecology |
| BS in Sustainable Agriculture and Food Systems | MSc in Natural Resources Science and Management |
| BS in Sustainable Science Management | MSc in Sustainable Agriculture & Food Systems |
| BSc/BA in Sustainability Studies | MSc in Sustainable Business |
| BSc in Energy and Sustainability Policy | MSc in Sustainable Fashion |
| BSc in Natural Resource Science and Management | MSc Sustainable Urban Planning |
| BS in Sustainable Development | MSc in Water Resources Management |
Certifications
Higher education isn't the only path to a career in sustainability. There's a large (and growing) number of certifications for professionals who want to work in sustainability.
If you've already gotten a college degree, certifications can be a great way to round out your qualifications and demonstrate your expertise to employers.
Here are a few certifications you can get to advance a career in sustainability:
General Sustainability Certifications
Energy & Infrastructure Certifications
Business & Governance Certifications
2. Develop your sustainability skill set
According to LinkedIn's 2022 Global Green Skills Report, job postings requiring green skills grew 8% each year from 2017-2022, while the share of green talent grew at only 6%.
That means a large skill gap between role requirements and talent, resulting in a slower shift toward a sustainable economy.
Having a robust set of sustainability skills will make you a competitive candidate. You should develop both the soft skills and hard skills needed for a role in sustainability.
Hard skills are the abilities you gain through hands-on experience or training, like proficiency in specific software or programming languages. For a sustainability career, hard skills could be solar panel installation or sustainable product design.
Here's a list of sustainability hard skills that'll help make you a top choice for employers:
Business strategy
Circular economics
Climate engineering
Community outreach
Conservation
Corporate social responsibility
Corporate sustainability
Data analysis
Ecosystem management
Energy efficiency
Environmental auditing
Environmental law & policy
Environmental management systems
Environmental remediation
Environmental science
Erosion control
Leadership in Energy and Environmental Design (LEED)
Material recycling
OSHA
Pollution prevention
Presentation
Program management
Project management
Renewable energy
Reports
Research
Solar design
Strategic planning
Sustainability consulting
Sustainable design
Sustainable development
Sustainable fashion
Waste management
Soft skills are your personality traits and strengths that impact how you interact with others as well as how you approach work, like communication skills.
According to a recent study conducted by the Resume Genius research department, 48% of employers believe soft skills are a must-have in a candidate, while 28% believe that they're even more important than a candidate's hard skills.
Here are some important soft skills for a career in sustainability:
Agility
Analytical thinking
Communication
Creativity
Curiosity
Environmental stewardship
Flexibility
Leadership
Motivation
Problem solving
Resilience
Self-awareness
Once you know what skills to develop, find ways to learn and practice them, whether that means taking an online course about the circular economy or overcoming your fear of presenting by delivering regular practice talks to your family.
3. Network with professionals in climate and sustainability
One of the best ways to build a successful sustainability career is to network with like-minded professionals. Networking will provide you with opportunities for learning and growth as well as help you make valuable connections that can land you a job.
Joining professional associations, attending sustainability workshops and conferences, and even finding local sustainable businesses where you can meet the owner or employees are all great places to start.
There are also several online communities of professionals supporting the transition to a green economy. Here's a short list of sustainability communities and networks you can get involved in:
4. Use social media
Social media is a popular recruitment tool, and a great place to learn about potential employers, find professional opportunities, and make helpful connections.
LinkedIn, Facebook, Instagram, and Twitter are particularly useful platforms for job hunting. Choose one or two to focus your efforts around, then use these tips:
Tailor your profile (using relevant keywords) so that it targets the job you want and increases your chances of getting seen by recruiters.
Follow companies you're interested in to get a better idea of the company culture, values, and day-to-day operations.
Follow hashtags that will bring more job opportunities to your feed, for example: #sustainabilityjobs
Connect with employees at your target companies and reach out with questions or let them know about your interest. Employee referrals have a high applicant-to-conversion rate.
Engage and interact with content in the career space you're aiming for to show recruiters you're motivated.
Where to find jobs in sustainability
There are many job boards and directories dedicated to jobs in sustainability and climate work.
Here are a few helpful links to get you started:
Green job boards & Directories
Additional resources
Frequently asked questions about sustainability careers
Below we offer answers to some frequently asked questions about careers in sustainability.
How do you break into the sustainability field?
You can break into the sustainability field by honing your skills and qualifications, finding opportunities for experience, and making the right connections.
Consider getting a relevant certification or taking courses to develop your sustainability skills.
Gaining some experience through volunteer work is a great way to showcase your professional abilities and strengthen your resume.
Use tools like social media and online communities to connect with professionals in the sustainability field.
Is sustainability a good career path?
Sustainability is a good career path if you're seeking a fulfilling, values-driven profession and believe in the importance of sustainable development and corporate responsibility.
Depending on what role you go for, you can make a good living with a sustainability career (see our list of sustainability careers and salary bands). The green job market is growing, along with job openings for sustainability specialists, so there will be an increasing need for skilled talent.
What are the career areas of sustainability?
There are many career areas where you can find jobs in sustainability. Here are some key sectors where sustainability jobs are common:
Agriculture
Business
Climate tech
Conservation
Energy & infrastructure
Fashion
Government & NGOs
Law & policy
Science & research
What degree do you need for sustainability careers?
What degree you need for a sustainability career depends on your chosen field or industry. For example, if you're applying for work as a solar engineer, an environmental engineering degree would be best.
If you want to become a sustainability consultant or specialist, you should look for a degree in sustainability studies or sustainable business.
Whatever your desired career, choose the most relevant and fitting degree program to help you reach your professional goals.