Writing your resume can feel overwhelming. After all, summarizing your career on a one-page resume doesn't come naturally to most people.
Like many things in life, getting started is the most difficult part. In this guide, we walk you through how to start a resume, so you can move your job hunt forward.
Table of Contents
Our free-to-use resume builder can make you a resume in as little as 5 minutes. Just pick the template you want, and our software will format everything for you.
How to begin writing a resume
After you've chosen a resume template, you might think you should start your resume by writing an introduction. However, you should actually leave it until last. Here's how to start writing your resume:
1. Write every section except the resume introduction
A resume introduction shortens the most important aspects of your experience into a concise pitch to the hiring manager. So, write the other parts of your resume first. Then, decide which points from each part to include in your resume's introduction paragraph.
Here are the sections to write before starting your introduction:


2. Read the job description again
The first step in making a resume that lands you a job is to reread the job description. Hiring managers list the exact qualifications they're seeking in job ads, so ensure the information on your resume corresponds to the listed requirements.
Another reason to reread the job description is to find the right keywords and skills for your resume. Many companies use applicant tracking systems (ATS) to automatically delete applications that don't include the skills they need.
Here's a job description with keywords applicants should add to their resumes highlighted: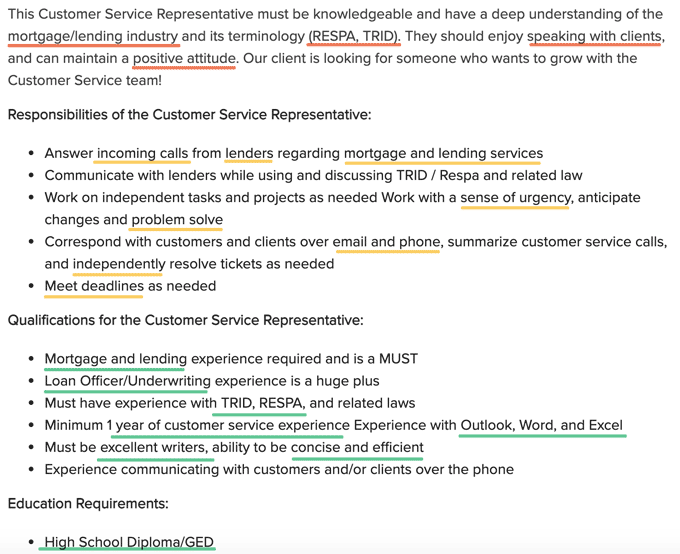 So, mine the job ad for keywords to add to your resume, and include them in a natural way.
Additionally, you can use a resume maker to speed up the process by automatically generating your experience section complete with relevant industry-related keywords.
3. Compile relevant information
Once you've written the majority of your resume and studied the job description to see what skills and experience the hiring manager is looking for, compile the most impressive information from your career.
List accomplishments relevant to the target job, as well as any hard and soft skills listed in the job requirements, (e.g., computer skills, language skills, communication skills, and interpersonal skills).
Also, consider creating a list of applicable resume starter words — action verbs and strong adjectives that emphasize your accomplishments and make you come across as confident.
If an achievement you're proud of isn't related to the job you're seeking, cut it.
Below is an example of a job-relevant accomplishment for a customer service representative position:
Next, you need to choose the best resume introduction. Here's how to pick and write the best type of resume opening for your situation:
How to choose the best resume introduction for you
You have four resume introductions to choose from: the resume summary, professional profile, career objective, and summary of qualifications. Just like choosing the right resume format for your profile, you'll also need to choose the right resume introduction.
Follow our "How To Choose a Resume Introduction" flowchart below to discover which resume intro maximizes your chances of getting hired: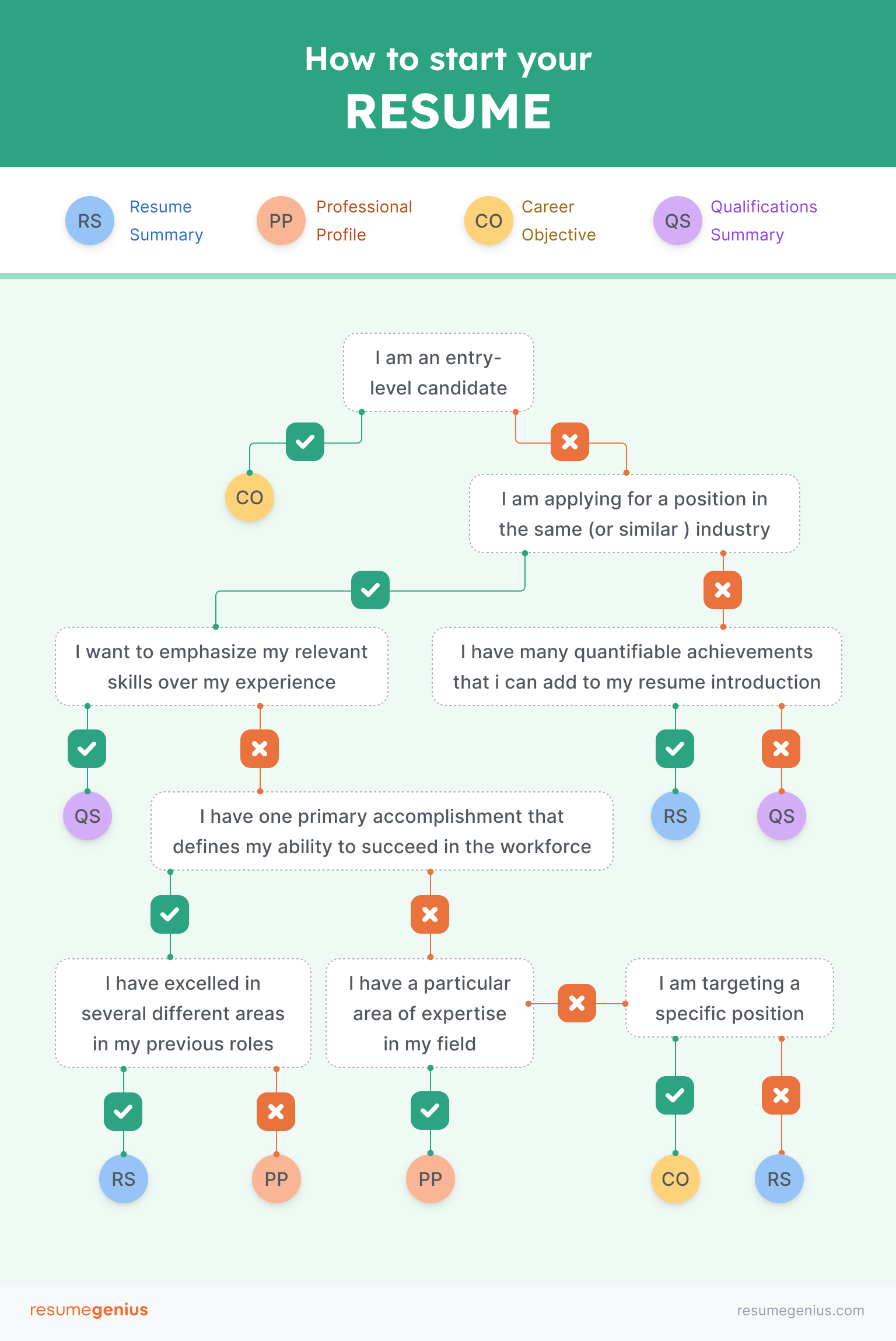 Now that you've picked your resume introduction, let's look at how you can adapt it to effectively promote your experience and skills.
Below we describe each resume introduction and show you how to write each one. You'll also find several resume introduction examples at the bottom. Click the resume introduction our flowchart recommends to get started:
Career objective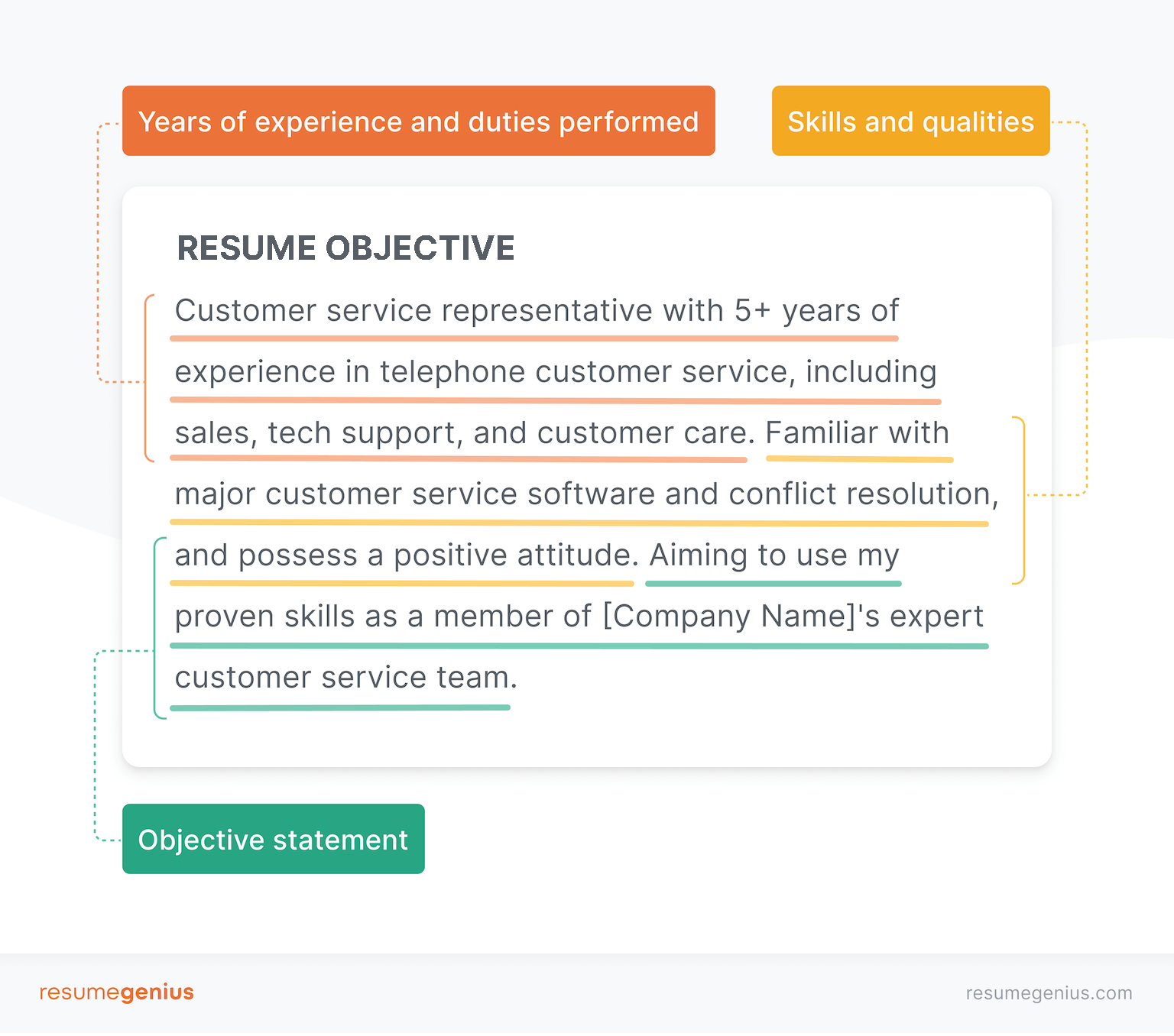 Career objective example (text version)
Career objective
Customer service representative with 5+ years of experience in telephone customer service, including sales, tech support, and customer care. Familiar with major customer service software and conflict resolution, and possess a positive attitude. Aiming to use my proven skills as a member of [Target Company]'s expert customer service team.
Career objectives are great if you're just entering the workforce or only have 1–2 years of experience. A good career objective tells the hiring manager what you're looking for, what you have to offer, and why you deserve the position.
A career objective, also known as a resume objective, has four basic parts:
Years of work/internship experience and the job duties performed
The major qualities, skills, and abilities you have that were advertised in the job ad (you must be able to prove these skills in the professional experience section)
Relevant degrees, licenses, and certifications you hold
A closing statement describing your objective (i.e., how you plan to use your qualifications to help the company)
Summary of qualifications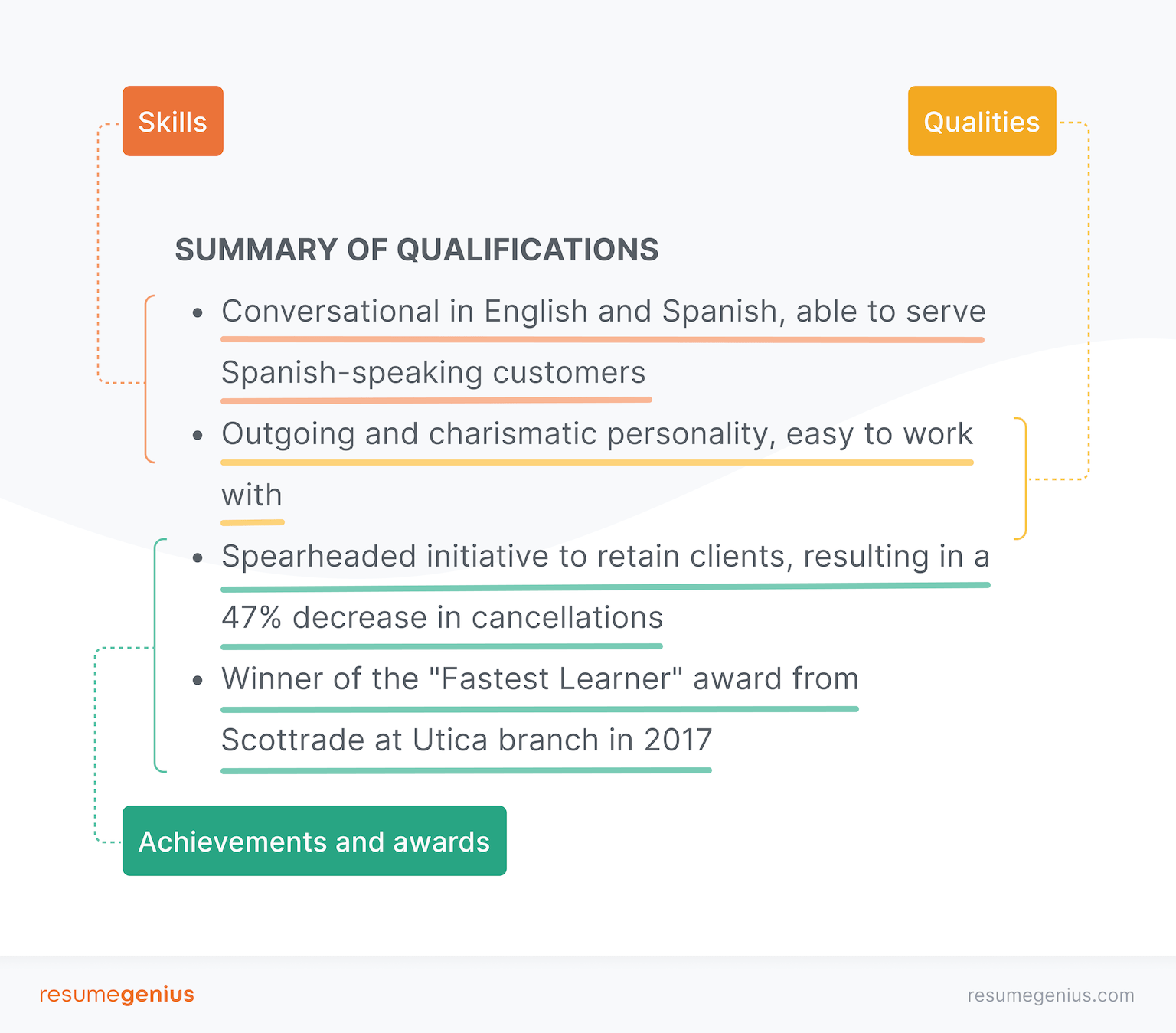 Summary of qualifications example (text version)
Summary of qualifications
Conversational in English and Spanish, being able to serve Spanish-speaking customers
Outgoing and charismatic personality, easy to work with
Spearheaded initiative to retain clients, resulting in a 47% decrease in cancellations
Winner of the "Fastest Learner" award from Scottrade at Utica branch in 2017
Fast and accurate typist (70 wpm)
A summary of qualifications (also known as a qualifications summary) is best if you have numerous skills or achievements and are switching industries. A qualifications summary contains 5–6 bullet points emphasizing your:
Authority
Creativity
Efficiency
Recognition
Management
Communication
The order of the bullet points is up to you. However, we suggest listing the most relevant and impressive first to attract recruiters' interest.
Resume summary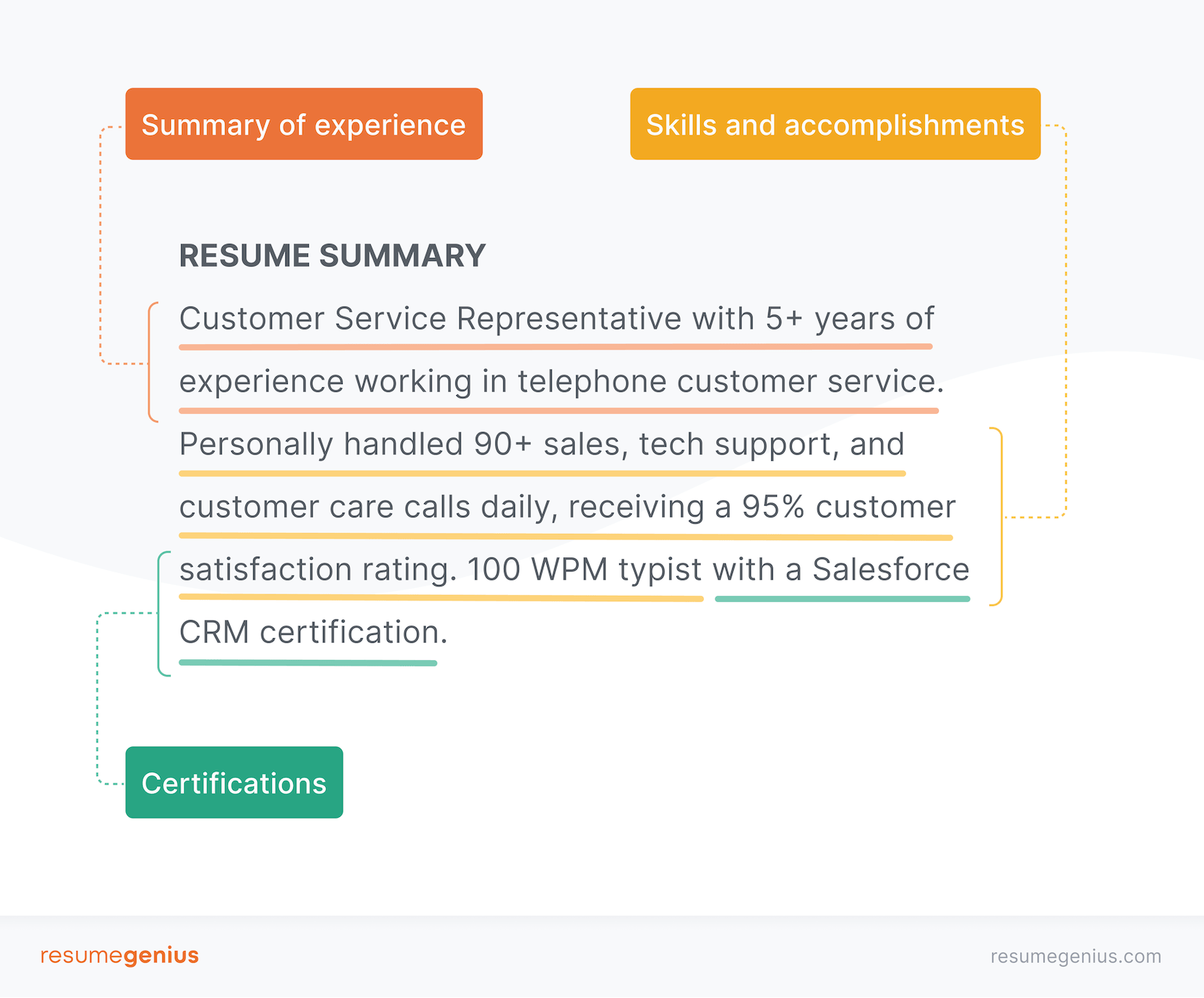 Resume summary example (text version)
Resume summary
Track record: 5+ years of experience in telephone customer service
Typing: Fast and accurate typist (70 wpm)
Customer service: Received an average 85% customer satisfaction rating
Leadership: Managed a team of 7 junior customer service representatives
A resume summary or a resume about me is the right option if you have many work-related accomplishments to showcase. Resume summaries are also versatile because they can be used if you're seeking work in the same industry or are trying to enter a different one.
When you write your resume summary or use a resume summary generator, include a 2–3 sentence paragraph or 5–6 bullet points with subheaders. Add a keyword (usually a relevant skill or achievement) and a sentence outlining your accomplishments. Tie all the information in your qualifications summary together with quantifiable data, like statistics, to support your claims.
Resume profile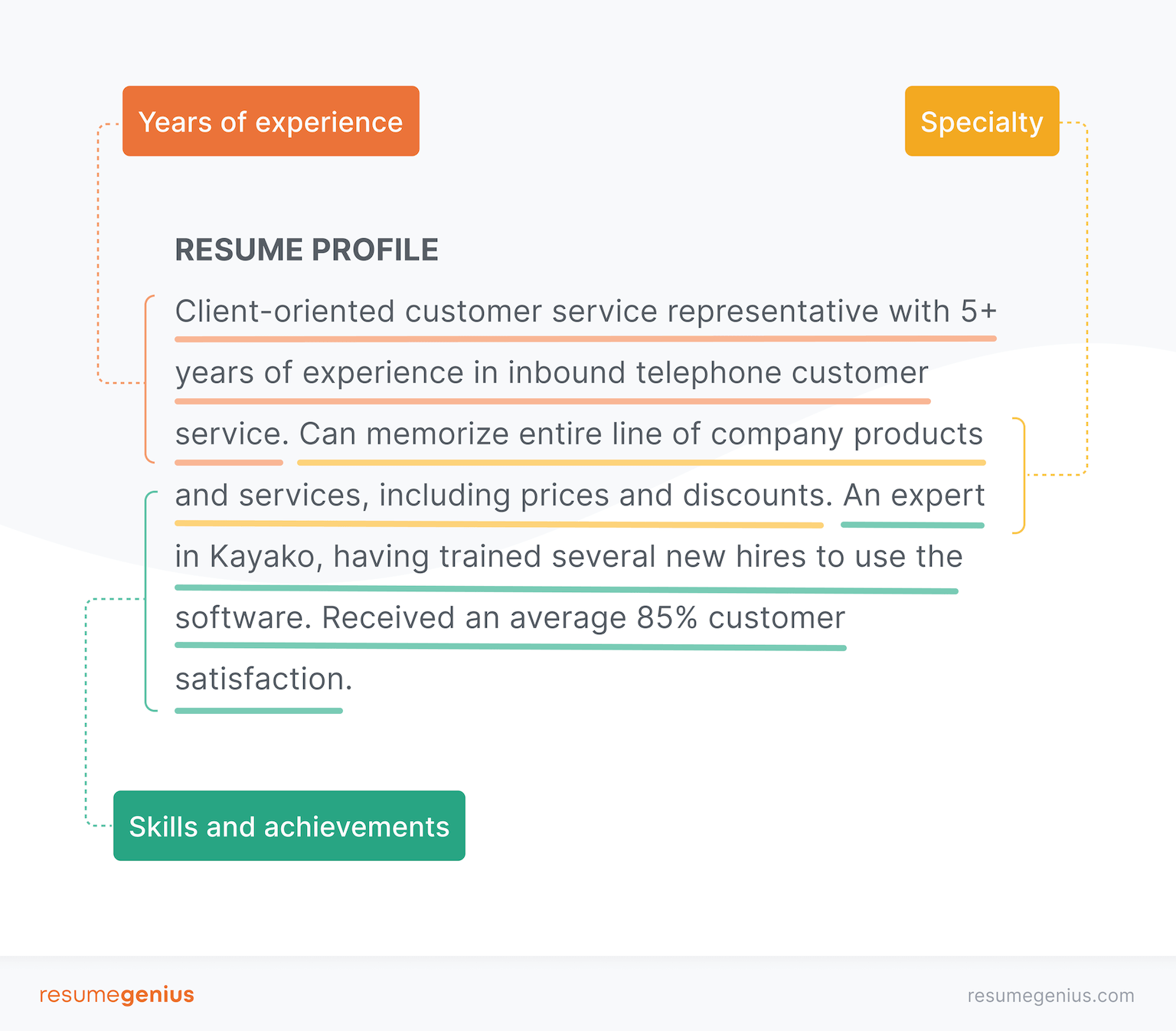 Resume profile example (text version)
Resume profile
Client-oriented customer service representative with 5+ years of experience in inbound telephone customer service. An expert in Kayako, having trained several new hires to use the software. Can memorize entire line of company products and services, including prices and discounts. Received an average 85% customer satisfaction rate.
A resume profile (also known as a professional profile), similarly to a personal statement, is a mix of the best of a career objective and qualifications summary. Your resume profile should include four main points:
Years of experience
Specialty or job duty you excel at
Transferable skills
Career achievements
If you need to write an introduction for your LinkedIn profile or website, check out our professional bio examples to get some ideas.