The waiting period after submitting a job application can feel excruciating, especially when you don't get any response for several days.
The best way to ensure your application didn't get overlooked — and to capture the hiring manager's attention — is to send a polite follow-up email.
We'll show you how to follow up on your job application the right way with some examples and tips.
Our free-to-use resume builder can make you a resume in as little as 5 minutes. Just pick the template you want, and our software will format everything for you.
When to follow up on your application
As a general rule, wait 1-2 weeks before following up on a job application.
But first, check the job listing to see if it provides any information about the application window or when applicants can expect to hear back.
Some hiring managers will suggest following up after a certain period of time has passed. Others will politely request that you don't follow up at all.
If you can't find any specific guidelines, use your best judgment, but wait at least one week before sending a follow up email to give the hiring manager some time to review your application.
Getting the timing right
If you're sending a follow-up email, avoid Mondays and Fridays for most jobs because these are often the busiest days of the week. You don't want your email to get buried under higher-priority tasks and forgotten about.
It's even more important to consider the timing when making a follow-up phone call. For example, you shouldn't call a restaurant manager during the busy lunch or dinner rush because they won't have much time or patience to answer your call.
Instead, call at the least busy time of day to increase your chances of getting in touch with the right person. You can also request a call back if they're not available to speak with you right away.
How to write a job application follow-up email
If you sent your resume by email, you should follow up by email too. If possible, contact the hiring manager directly as they're the one to review your application.
To follow up on your application, use this basic structure for your email:
Subject line that states the purpose of your email
Introductory paragraph requesting an update about your application
Body paragraph reiterating your interest
Conclusion thanking the hiring manager
Professional sign-off
Remember to keep your email brief and straightforward — your request should be simple and to the point, so there's no need to drag it out.
Follow-up email template
Here's a basic email template you can use to follow up with the hiring manager or recruiter about your application:
Dear [Hiring Manager's Name],
I hope your week is off to a great start. I'm writing to follow up on my application for the [Job Title] position that I submitted on [Date].
I'm very interested in the opportunity to contribute to [Company Name] and am eager to bring my [skills/qualifications/experience] to your team. If there's any additional information I can provide at this point, please don't hesitate to ask.
Thank you for your consideration, and I look forward to discussing my application further. 
Sincerely, 
[Your Name]
Sample follow-up email
To give you more inspiration, here's an example of a professional follow-up email: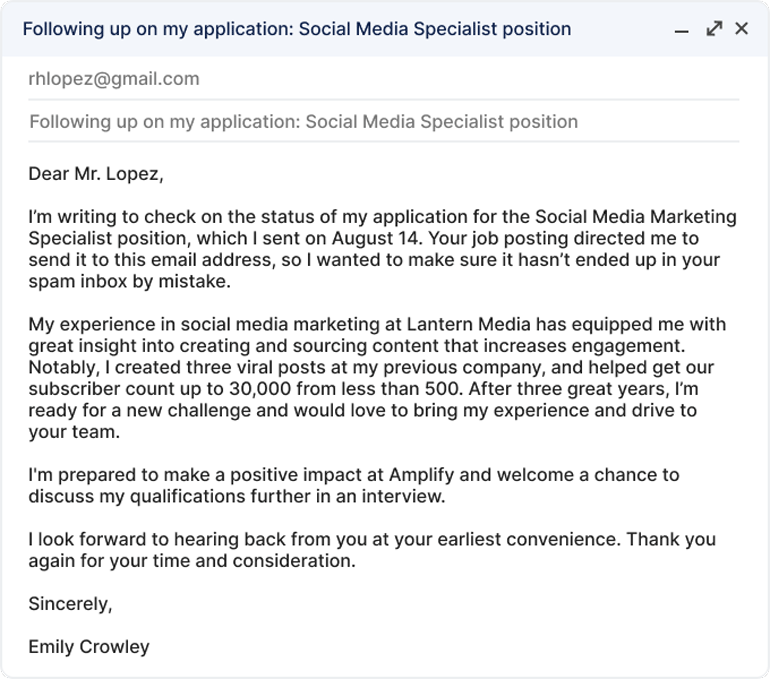 Tips for following up after a job application
Here are some tips for making your follow-up as effective as possible:
Choose an effective subject line
The subject line of your email should be professional yet attention-grabbing.
Summarize the purpose of your email with something like this:
Following up on application for [position title]
[your name] – application status for [position title]
Checking in: [position title] application status
Be courteous
The way you communicate with hiring managers and recruiters makes up a big piece of their first impression of you, so remember to be polite and professional. Thank the hiring manager for their time at the end of your email.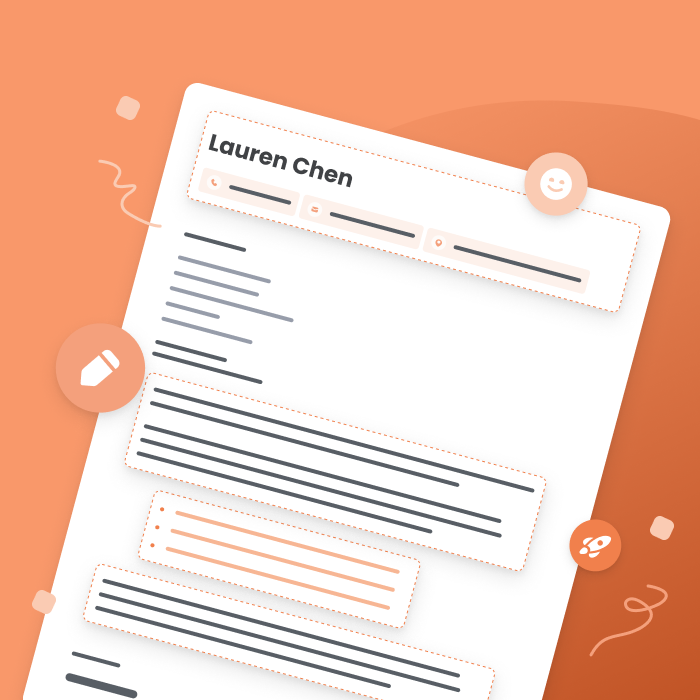 Dread writing cover letters? Read our guide to learn how to write a great cover letter that convinces hiring managers you're the ideal person for the job.
Restate your interest in the position
Part of the benefit of sending a follow-up email is that it lets hiring managers know you're especially interested in this position. So, take this opportunity to reiterate your enthusiasm and remind them why you're a great fit.
This step is essential because it personalizes your email. If possible, bring up one of your qualifications that really makes you stand out. If they already read your application, this will help refresh their memory and make them much more likely to get back to you.
Keep it brief
Now isn't the time to detail all of your qualifications. Hiring managers appreciate a concise email, so leave them with just enough information to direct them back to your application.
Don't be too pushy
Avoid contacting the employer more than twice, and space out your follow-up emails appropriately (typically two weeks between emails is safe).
Even though it's unprofessional of an employer to ignore your emails after polite attempts to check on the status of your application, there's not much more you can do.
Instead, put your energy into updating your resume and continuing your job hunt.
Consider following up with a phone call
For some jobs, (like food & beverage, construction, or retail) it's easier to get in touch with managers by phone. It's usually best to try contacting the hiring manager by email first, but you can also call to follow up if you feel it's appropriate in your industry.
Call at a time of day when the manager is likely the least busy. They'll be more likely to take your call and will appreciate the consideration.
You should also prepare what you want to say. Keep it simple, give them your name and the date you submitted your application, and let them know you want to check the status of your application. If possible, briefly restate your interest in the position.
Here's a sample phone script for calling to follow up on a job application:
"Hello, my name is [Your Name]. I recently applied for the [Job Title] position, and I was hoping to briefly speak with the hiring manager about my application, if possible."
(once connected with the hiring manager)
"Hi [Hiring Manager's Name], this is [Your Name]. I applied for the [Job Title] position a couple of weeks ago. I am really excited about this opportunity and I just wanted to follow up and see if there is any additional information you need from me at this time?"