First impressions count – and what you wear to work or what outfit you bring to a job fair matters.
Although business casual is a common dress code at many companies, it's difficult to strike a balance between formal and informal.
Thankfully, our career experts know how to dress to impress in the workplace. This comprehensive guide to business casual attire has you covered from head to toe.
Table of Contents
What is a Business Casual Dress Code Policy?
A mainstay in most office environments, a business casual dress code policy differs from the more formal dress code policies of environments like a law firm or financial institution. Business casual outfits are ideal for working in the office as well as the job interview process and are generally more comfortable clothing choices. Skirts, dresses, slacks, jeans, polos, and button-up collared shirts are all that's required to look professional without looking too formal.
When it comes to business casual attire, you can safely leave the pant suit and cufflinked three-piece at the dry cleaners, although the clothes you can wear should still be clean and wrinkle-free.
If you simply aren't sure exactly what's considered business casual, we've provided visual examples for both men and women that will fit each and every season.
Business Casual Attire for Women
Women have a seemingly limitless array of options when it comes to business casual attire. With so many choices, it can be difficult to narrow down exactly what you should wear to the office. Blazers, a button-down blouse and slacks, even a tweed jacket or a knitted sweater, all are acceptable business casual clothes.
However, not everything in your wardrobe will be workplace appropriate.
While yoga pants may be perfect for the gym, under no circumstances should you arrive to work in leggings. The same goes for clingy, tight-fitting or low-cut shirts. If you purchased an outfit to wear at the gym or the nightclub, leave it in the closet. Your professional self will thank you for it.
Consider the following when dressing for success.
Appropriate Business Casual Attire for Women
Below, we've outlined the dos and don'ts for the most common clothing types for women:
Coats
Yes:

One-button blazer, Knitted sweater, Trench coat

No:

Hoodies
Tops
Yes:

Button-down Blouse, Tunic top, Frock top

No:

Low-cut Shirt, Sequined Top, Off-shoulder Dress
Pants & Skirts
Yes:

Pencil Skirt, Wide-leg Trouser, Summer dress

No:

Mini-skirt, Leggings, Ripped Jeans
Shoes
Yes:

Flats, Kitten Heels, Heeled boots

No:

Sandals, High Heels, Pumps
Below are fashionable examples for each season.
Standard Business Casual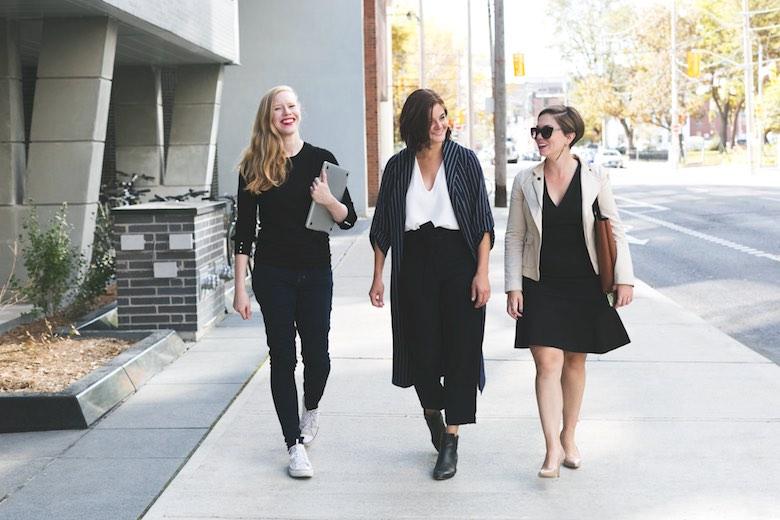 Some career fashionistas of a bygone era would have likely told you that jeans were absolutely not business casual appropriate, but that's no longer the case. You can definitely sport your denim while still looking professional, as long as you steer clear of the t-shirt. A simple patterned or solid color top is all it takes.
Additionally, a look that could be considered slightly more business than casual would be a silky blouse tucked into a solid color pencil skirt, or a summer dress (that isn't too revealing) paired with a blazer.
As for footwear, choose something along the lines of a sensible flat or a simple ankle boot. Sneakers aren't completely out of the question as long as they're presentable and don't have that dirty, worn-in look.
Spring Business Casual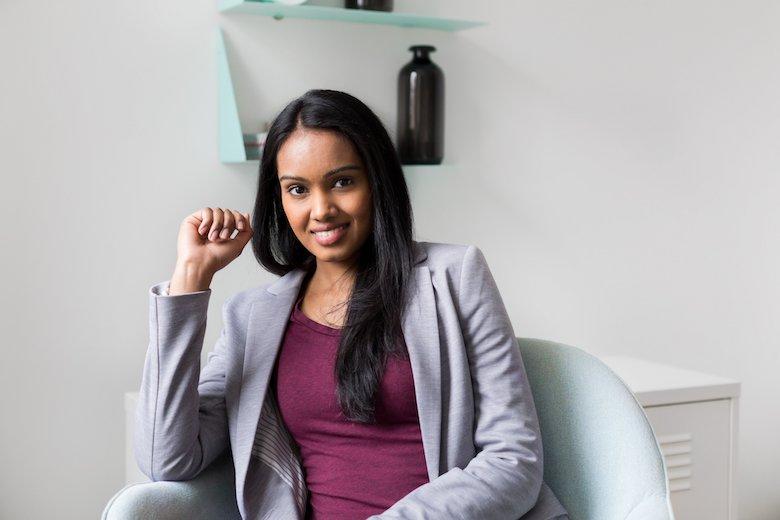 The flowers are blooming and the crisp winter air has finally turned into a swift, cool breeze. Spring weather is the perfect time to bust out your business blazer from the back of the closet. Be sure that your top is tasteful enough that you wouldn't feel embarrassed to lose the overcoat if the temperature gets too warm. A light fabric blouse or shirt are casual enough while maintaining that sense of professionalism. Soft or pastel colors are also an ideal choice for this season.
Summer Business Casual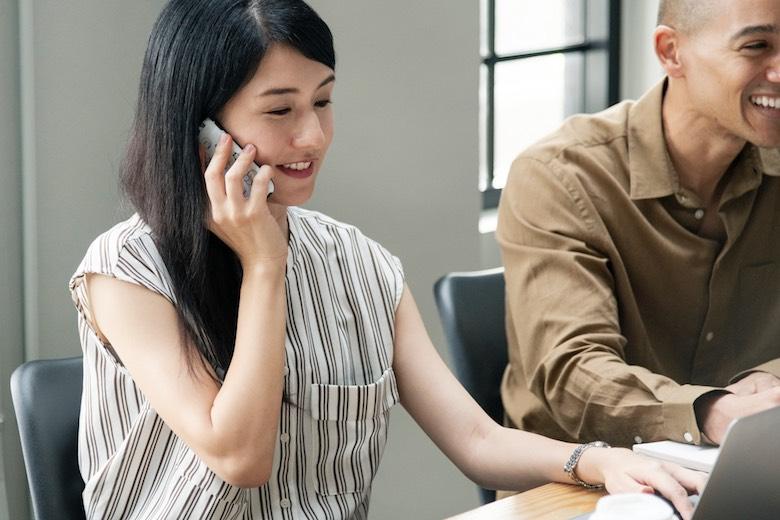 Beat the heat on your way to the office with a sleeveless blouse. Solid colors or simple patterns like this striped button-up tucked into a pleated knee-length skirt aren't overly flashy, and are light enough to still breathe in the warmer weather. Culotte pants are also a perfect business casual alternative to the skirt during the summer.
Fall Business Casual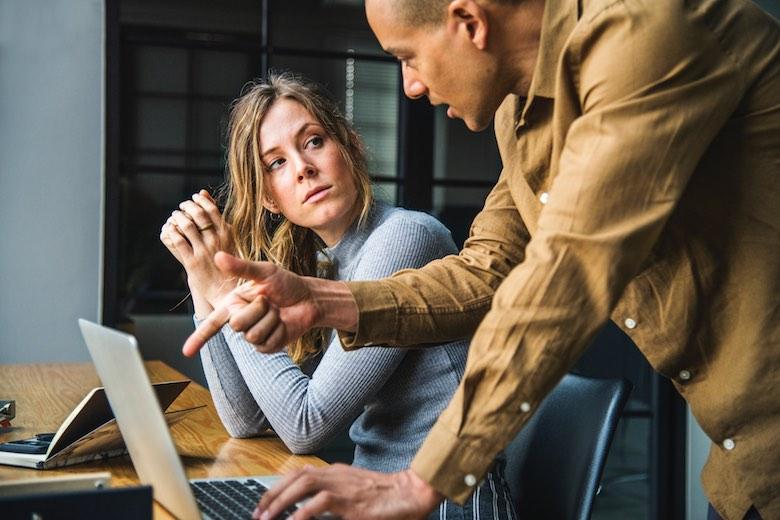 The changing colors and falling leaves of autumn signify that it's time for a wardrobe change. Business casual skirts just won't cut it with the dropping temperature, so consider packing those away for the year. Turtlenecks and sweaters are a great top option as they will keep you warm on your way to and from work, and you'll stay cozy if your office tends to run on the cooler side.
Winter Business Casual
The holiday season means layers, layers, and more layers. You can finally start wearing those heavy jackets and coats to the office.
Bundle up a chic sweater with a solid color peacoat. Wool trousers are your best friend during the winter season.
However, jeans are the premiere choice once snow begins to fall as they won't retain as much moisture as wool, and denim is likely one of the heavier pant fabrics already in your wardrobe.
Keep in mind that the office won't be nearly as chilly so you'll still want to be comfortable once you're at work.
Business Casual Attire for Men
Business casual work attire is a much more rigid concept for men. You likely won't be able to get as creative as your female coworkers when it comes to dressing casually for your job. However, that doesn't mean your wardrobe needs to be uniformly drab.
The classic slacks and button-down dress shirt will never go out of style. A tie and blazer may be too formal for a business casual dress code policy, but it's still a great, professional look for men. Sweaters, turtlenecks, fitted jeans and vests are also an appropriate alternative to the traditional business casual attire.
You likely already have a good idea of what not to wear to work. Sports fanatics and gym junkies should ditch the team jerseys or sweatpants when dressing for the office (even on leg or game day). That awesome leather jacket that you've been dying to wear? Best to leave it hanging on the coat rack.
Take a look at these do's and don'ts for business casual work clothes.
Appropriate Business Casual Attire for Men
Below, we've outlined the dos and don'ts for the most common clothing types for men:
Jackets
Yes:

Peacoat, Sports coat, Blazer

No:

Army Jacket, Biker Jacket, Denim Jacket
Shirts
Yes:

Button-down Shirt, Sweater, Vest

No:

Sports Jersey, Graphic Tee
Pants
Yes:

Slacks, Fitted Jeans

No:

Sweatpants, Gym Shorts, Cargo Pants
Shoes
Yes:

Loafers, Leather Boots, Boat Shoes

No:

Flip-flops, Tennis Shoes
Standard Business Casual
You don't need to pay for an expensive tailored suit when seeking a standard business casual outfit. A simple dress shirt with a tie is a classic, professional look for men.
A jacket isn't entirely out of the question, although it's possible that you'll look and feel overdressed depending on your colleague's fashion decisions.
Pressed slacks, or a straight-fit jean cut and a belt, are comfortable choices that are also reasonably casual for an office environment.
Lace up a nice dress or leather shoe, grab a cup of coffee, and head out the door.
Spring Business Casual
Your main concern when attempting to dress appropriately business casual during the warmer months is, of course, comfort. Ditch the tie if you want to avoid feeling too restricted once those humid spring showers begin. Rolling up your dress shirt sleeves allows you to stay relaxed while maintaining an authoritative image. As with the standard business casual outfit for men, slacks or jeans with a belt and a nice shoe top this look off.
Summer Business Casual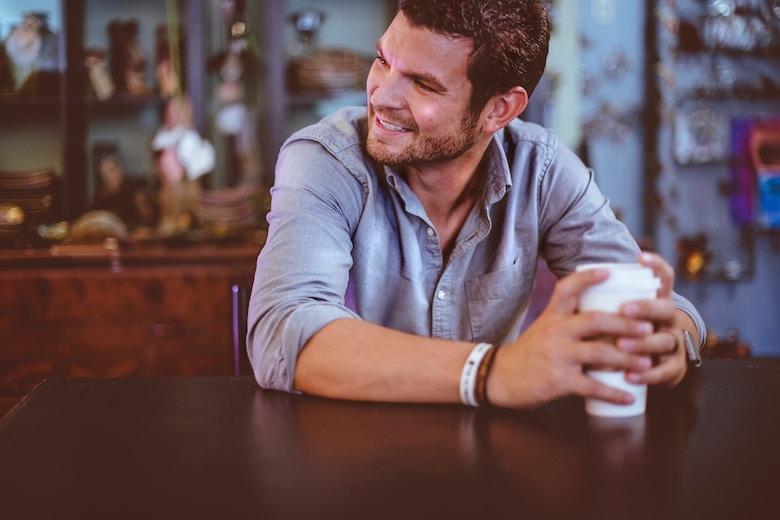 It's important to remember that no matter how hot it gets during summer, shorts are generally frowned upon when it comes to business casual dress codes. Leave the cargo and trunks in the drawer until the weekend, and show up to work in a freshly ironed pair of pants. A lighter fabric dress shirt will help you stay cool. Short sleeve polo shirts are also acceptable office attire for this time of year, and are a welcome alternative to the rolled-up dress shirt sleeve look.
Fall Business Casual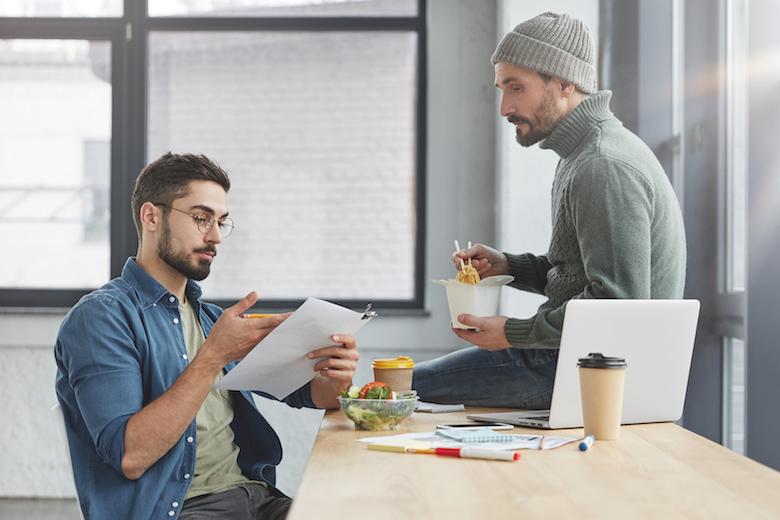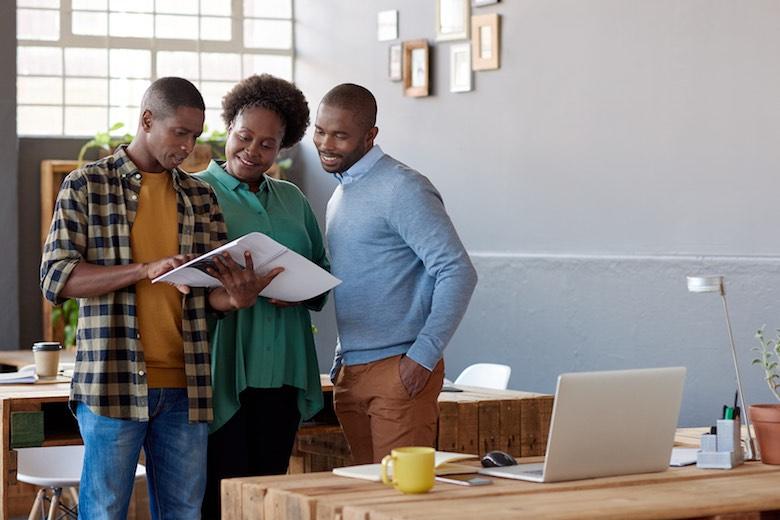 Those jackets and sweaters that have been hiding in the back of the closet? Dust those off just in time for the cooler fall temps. Those jeans that you've been wearing all year are finally practical (in addition to being perfect business casual work wear). Sport a solid color t-shirt and you can use a heavier dress shirt as a makeshift jacket – an easy to slip off layer for particularly sunny, warmer autumn days.
Winter Business Casual
The standard business casual outfit for men (slacks, dress shirt, and jacket) is likely the clothing option that will keep you most warm during the final months of the year. If you experience particularly cold winters in your neck of the woods, you can't go wrong with a wool overcoat – they're timeless and distinctly professional.
These examples are just the tip of the iceberg when it comes to appropriate workplace attire. Remember that there is such a thing as too casual; don't show up to work in sweatpants or spandex. For both men and women, dressing business casual throughout the year is simply a matter of comfort and presentability.