Why it's important to use professional resume adjectives
Using good, professional adjectives on your resume helps emphasize important information about your experience and skills.
Descriptive resume adjectives also help grab the hiring manager's attention and make your resume memorable (which is important when reviewing dozens of applications for a job).
This is why engaging descriptive professional adjectives are crucial to getting your application noticed and selected for an interview.
To help you get started, here's our list of the best adjectives to use when you write your resume:
Our free-to-use resume builder can make you a resume in as little as 5 minutes. Just pick the template you want, and our software will format everything for you.
List of strong resume adjectives
Here are 115+ resume adjectives you can use to highlight the skills on your resume and improve your application.
Each set of words is categorized according to the specific skill they describe.
Leadership adjectives
Candidates with strong leadership skills are essential for any company (especially if you're applying for a manager position). Use these 18 resume adjectives for leadership to demonstrate your ability to manage teams and guide others to success:
| | |
| --- | --- |
| Reliable | Determined |
| Constructive | Bold |
| Rousing | Competent |
| Ideal | Advanced |
| Influential | Productive |
| Honest | Adept |
| Instrumental | Passionate |
| Inspiring | Superior |
| Accountable | Decisive |
Here's an example of how a sales manager candidate uses powerful leadership adjectives to strengthen their resume objective (with the resume adjectives highlighted):
Decisive Sales Manager with 7+ years of experience driving profitability through strategic growth and passionate leadership. Presently seeking a suitable leadership position with a market-leading, high-growth company that offers opportunities for advancement.
This is a great example because the candidate quickly showcases their qualifications, using resume adjectives to emphasize the skills they'll bring to the company.
Used correctly, strong adjectives can reinforce your point and help you communicate more information with fewer words.
Work ethic adjectives
Resume adjectives that highlight your work ethic are great for conveying to the hiring manager you're dedicated to the job.
Here are 28 powerful work ethic adjectives that will grab the hiring manager's attention:
| | |
| --- | --- |
| Diligent | Purposeful |
| Tenacious | Superior |
| Ardent | Confident |
| Fast-learning | Zealous |
| Active | Relentless |
| Strong-willed | Passionate |
| Industrious | Keen |
| Spirited | Enthusiastic |
| Earnest | Sincere |
| Committed | Focused |
| Tireless | Energetic |
| Persistent | Enterprising |
| Driven | Concerted |
| Vigorous | Devoted |
Innovation adjectives
Employers are always looking for candidates who can think of creative solutions to problems. Demonstrate your talent for innovation with these 16 strong resume adjectives:
| | |
| --- | --- |
| Cutting-edge | Imaginative |
| Groundbreaking | Unprecedented |
| World-class | Vivid |
| Innovative | Robust |
| Unique | Progressive |
| Ingenious | First-class |
| Novel | Visionary |
| Revolutionary | Sophisticated |
Team player adjectives
Team players keep projects and teams running smoothly by collaborating with colleagues and making the work more enjoyable.
Here are 16 resume adjectives that emphasize your excellent teamwork skills to the hiring manager:
| | |
| --- | --- |
| Amiable | Amicable |
| Harmonious | Respectful |
| Courteous | Diplomatic |
| Cheerful | Cooperative |
| Calm | Supportive |
| Clear | Heedful |
| Collaborative | Tolerant |
| Team-minded | Conscientious |
Communication adjectives
From emailing clients, closing deals, and helping customers, nearly every employer values strong communication skills.
These 16 resume adjectives will highlight your ability to communicate effectively and keep clients happy:
| | |
| --- | --- |
| Articulate | Tactful |
| Positive | Personable |
| Persuasive | Eloquent |
| Cordial | Assertive |
| Proactive | Conscientious |
| Coherent | Cohesive |
| Thorough | Pleasant |
| Clear | Genuine |
Organizational skills adjectives
Regardless of your position, keeping your work organized is vital.
Are you the kind of worker who color codes files and never misses an appointment? Use these 16 professional adjectives to highlight your strong organizational skills:
| | |
| --- | --- |
| Methodical | Detailed |
| Thorough | Orderly |
| Structured | Precise |
| Accurate | Step-by-step |
| Exhaustive | Controlled |
| Systematic | Painstaking |
| Smooth | Timely |
| Purposeful | Exact |
Interpersonal skills adjectives
From working well with colleagues to knowing how to serve clients, employers value strong interpersonal skills because they mean the candidate possesses a high degree of emotional intelligence.
Use these ten good resume adjectives to show off your interpersonal skills and demonstrate that you're a good fit for any office:
| | |
| --- | --- |
| Sociable | Appreciative |
| Patient | Outgoing |
| Sensitive | Mindful |
| Receptive | Easygoing |
| Approachable | Responsive |
Interpersonal skills are one of the many soft skills employers value. These strengths are difficult to quantify, but hiring managers are always looking for them because they signal a strong employee who knows how to get along with people.
Adaptable adjectives
The modern workplace is changing faster than ever. How do businesses keep up? By hiring highly adaptable employees.
Show you're able to cope when a sale isn't successful or adapt when a new company-wide change is implemented with these 18 powerful resume adjectives:
| | |
| --- | --- |
| Agile | Capable |
| Dexterous | Deep |
| Diverse | Resourceful |
| Multifaceted | Comprehensive |
| Extensive | Flexible |
| Resourceful | Vast |
| Dynamic | Prompt |
| Open-minded | Broad-minded |
| Versatile | Quick-thinking |
Similar to resume adjectives, you can also give your job application an edge over other candidates by using buzzwords on your resume.
How to use resume adjectives
As long as you avoid generic, non-descriptive words commonly seen on bad resumes, strong adjectives are always an effective way to highlight and emphasize your skills and abilities on your job application.
Your resume has limited space to showcase your career achievements, so to make the best use of adjectives on your resume:
Avoid using big, long adjectives that don't compliment your skills and instead create fluff, making it seems like you're trying to "pack" in fancy, non-descriptive words
Use adjectives to enhance your experience, not replace it
Adjectives should be combined with actionable examples of accomplishments on your resume. All too often, candidates describe themselves as "detail-oriented" or "great" without providing examples or context.
Here are two examples, the first of how to effectively use professional adjectives on your resume, and the second a mistake to avoid:
My comprehensive background in SEO includes website auditing & servicing, keyword research, and performing top-tier Google data analysis.
I am skilled in a vast, interconnected array of SEO areas.
The first example works because the candidate provides specific details about their experience and uses adjectives to emphasize and complement their skills.
However, in the second example, the candidate neither uses resume adjectives nor mentions specifically what SEO areas they're skilled in. The result is a vague statement that the hiring manager won't be impressed with.
Here are another two examples, the first of how to properly use good adjectives on your resume, and the second another mistake to avoid:
Successfully implemented a more efficient inter-team communication technique, saving the company an average of $12,000 annually.
Successfully implemented efficient new cost-saving techniques.
In the first example, the candidate displays what they've accomplished through cost-saving techniques by providing dollar amounts. Then, they use professional adjectives to emphasize the impact of their achievements.
The second example doesn't tell the hiring manager anything, except that the candidate says they're able to save money for their employer. But, the applicant hasn't provided any context, examples, or statistics to prove their claims.
To enhance your resume experience section further, combine adjectives with strong resume action verbs to emphasize your qualifications.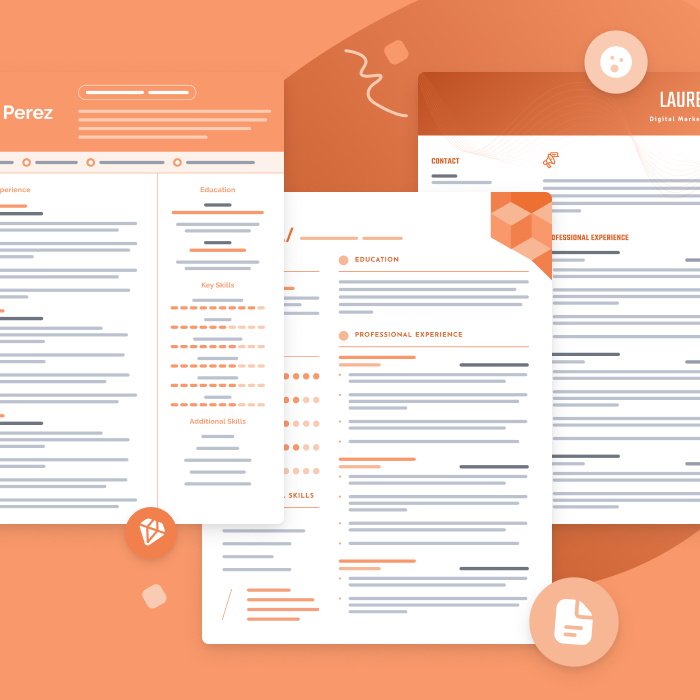 One of the best ways to make your resume is by filling out one of our free resume templates. All our templates are designed by experts and free to download for Microsoft Word or Google Docs.