The once radical concept of a four-day work week is gaining momentum and propelling businesses in the US and worldwide to investigate how they can make this concept a reality for their employees.
In early 2022, California proposed a new bill called AB 2932 that was poised to set a permanent four-day work week schedule for private sector companies.
However, the bill caused a massive rift between legislators, and its potential effects on California's work culture are still heavily debated to this day.
Below, we discuss the AB 2932 bill so you can understand what it entails, its pros and cons, and how implementing a four-day work week would transform California's job landscape.
Table of Contents
What is AB 2932?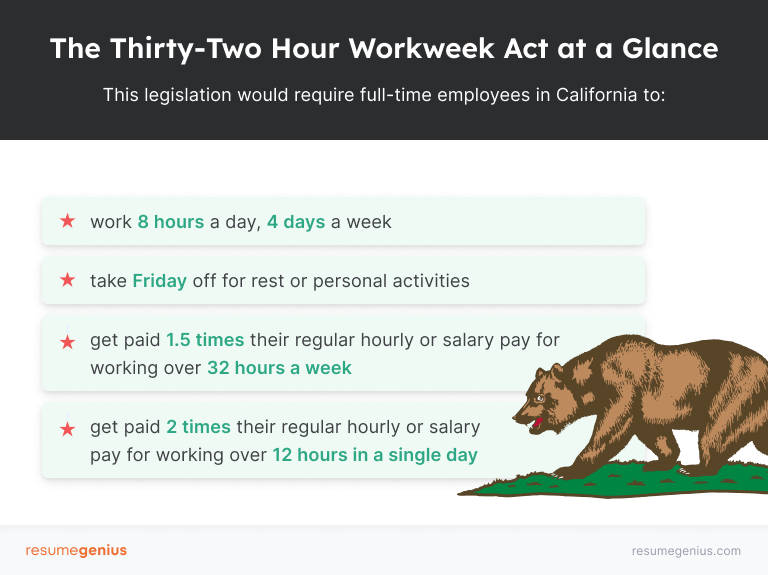 AB 2932 (Assembly Bill 2932) is a legislative bill that, if passed, would require employees in California to work four days instead of five. Under the bill, full-time workers could take the fifth day off for rest or personal activities and still receive their regular pay (whether salary or hourly).
As it's currently written, AB 2932 would only apply to private sector companies with over 500 employees.
First introduced into legislation in July 2021, the California four-day work week bill was officially proposed as AB 2932 in February 2022 by Assembly Members Evan Low (D) and Cristina Garcia (D).
According to Assemblywoman Garcia during a CBS news broadcast, COVID-19 forced US employees to reexamine their working environment and work-life balance, leading nearly 47 million Americans to search for new opportunities.
AB 2932's goals would be to increase the quality of life, working conditions, and wages for private sector employees, as well as stabilize the economy following the pandemic.
Under current regulations from Section 510 of the California Labor Code, a full work day is eight hours, and employees are paid overtime at 1.5 times their regular rate for working more than 40 hours a week.
While a full work day would still equal eight hours, AB 2932 states that the standard work week would be shortened to 32 hours and be considered overtime if employers work more than the allotted hours.
How the California work week bill could impact employers and employees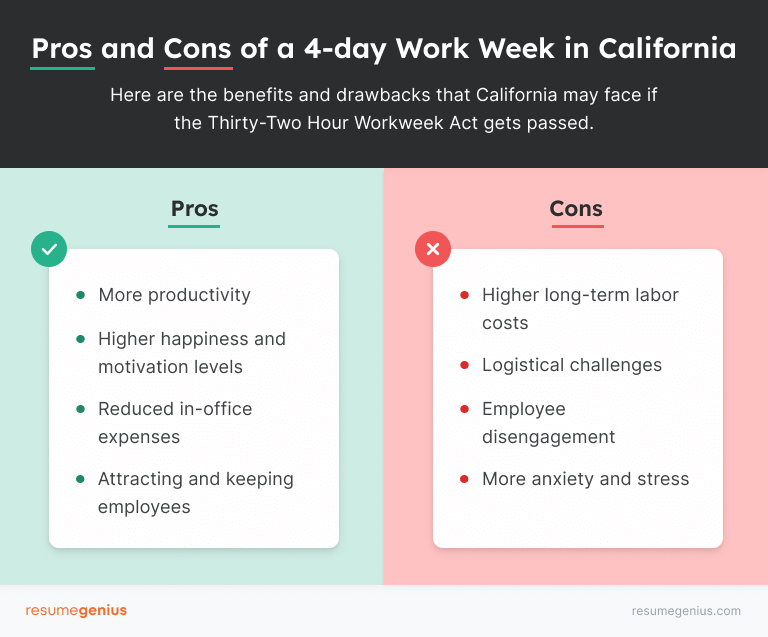 Would the four-day work week help or hurt the workforce in 2023? We explain the pros and cons of the AB 2932 bill and its potential effect on businesses and workers in California.
Benefits of the bill
Here are some of the benefits you might find if AB 2932 was implemented:
Higher employee productivity levels
A four-day work week has the potential to offer several benefits for employers. For instance, a direct result of working a shorter week is increased productivity and focus levels.
Employees may feel more rested and motivated with an extra day off each week, resulting in better performance and results for companies.
Attesting to the power of shorter work weeks in raising worker engagement and productivity levels, Microsoft Japan reported a 40% increase in employee productivity during their four-day work week trial.
Lower business expenses for physical office spaces
In addition to productivity, a four-day work week could lead to cost savings for companies, such as reducing office supply costs and utilities. 
For example, during the same trial, Microsoft Japan experienced a 23% reduction in electricity costs and a 60% reduction in the number of printouts. 
Drawbacks of the bill
A shorter work week may cause more harm than good. We break down the potential challenges of a four-day work week below:
Potential employee burnout
While some companies have experienced improved morale and retention rates with the four-day work week, others didn't have the same benefits. Alter Agents found that employee satisfaction decreased during the trial because of higher stress and anxiety levels.
Resume Genius also recently conducted a four-day work week burnout study to uncover why some businesses still struggle with burnout.
The study found that a four-day work week's benefits may decrease if workers feel more stressed from trying to fit their regular work duties into a shorter time frame.
Rising labor costs and organizational challenges
As appealing as the AB 2932 bill sounds, not everyone is on board with a shorter work week.
The Society for Human Resource Management (SHMR) opposed the bills by expressing concerns about the potential impact AB 2932 would have on businesses. According to the organization, the bill could create logistical difficulties for HR professionals, especially for companies with locations in several states.
SHMR also warns that the bill could lead to more issues such as staffing shortages, higher labor costs, and cause financial issues for businesses recovering from the COVID-19 pandemic.
Similarly, the California Chamber of Commerce included AB 2932 on its "Job Killers" list by stating the bill significantly increases labor costs by requiring overtime pay after 32 hours.
A poor fit for manual workers and customer-facing companies
A shorter work week doesn't necessarily fit all businesses and their requirements.
The four-day work week may not be possible for all companies, especially for manual workers (where time working is directly related to productivity) and customer-facing businesses.
With the same amount of work being done in four days instead of five, employers may need to pay overtime, hire additional staff, and spend extra time scheduling employees to cover the workload.
Disengaged employees and worse mental health
Another potential drawback for employees is feeling disengaged with their colleagues and their company.
During the pandemic, software platform Buffer shortened its work week as an experiment.
Although results were positive and the company has since switched to a permanent four-day work week policy, Buffer reported they would make teambuilding and in-person activities more of a priority after discovering that worker disengagement levels had increased during the trial.
Not only are disengaged employees unhelpful for a company's growth and success, but Gallup research found that trialing the four-day work week also took a hit on employees' mental health.
According to Gallup's study, working fewer days made disconnected employees even more likely to drift further away and especially dislike their employers.
Frequently asked questions about AB 2932 & California's plan for a 4-day work week
Below, we answer some commonly asked questions about the four-day work week:
California's potential transformation in 2023
By introducing AB 2932, the US took a significant step toward implementing the four-day work week on a larger, government-mandated level for the first time.
If passed in 2023, this bill would introduce a four-day work week differently than previous methods, which were applied on a company-by-company basis.
The government-mandated approach is similar to the successful Iceland trials and recent changes to Belgium's legislation. After their successful trials, both countries have adopted the four-day work week policy at a national level.
As the debates on the four-day work week continue, another introduction of AB 2932 will surely continue to influence future conversations and potentially serve as a new model for other states and even countries to follow.