The once radical concept of a four-day work week is gaining momentum and propelling businesses in the US and worldwide to investigate how they can make this concept a reality for their employees.
In early 2022, California proposed a bill called AB 2932 that was poised to set a permanent four-day work week schedule for private sector companies.
However, the bill caused a massive rift between legislators, and its potential effects on California's work culture are still heavily debated to this day.
Below, we discuss this bill in detail so you can understand what it entails and how implementing a four-day work week would transform California's job landscape.
April 2023 Update
In March 2023, Congressman Mark Takano reintroduced the bill, now called the Thirty-Two Hour Workweek Act, which would replace the current national standard of working 40 hours a week with a 32-hour work week in California.
Earlier in 2021, California State Assembly's Labor and Employment Committee declined to set a policy hearing for AB 2932, effectively halting any progress.
However, Takano's second push for a shorter work week follows a successful six-month pilot program in the UK that found 90% of participating companies deciding to continue with the shorter work week.
This time, the reintroduced bill is supported by organizations such as the Economic Policy Institute and the American Federation of Labor and Congress of Industrial Organizations.
Table of Contents
What is the Thirty-Two Hour Workweek Act?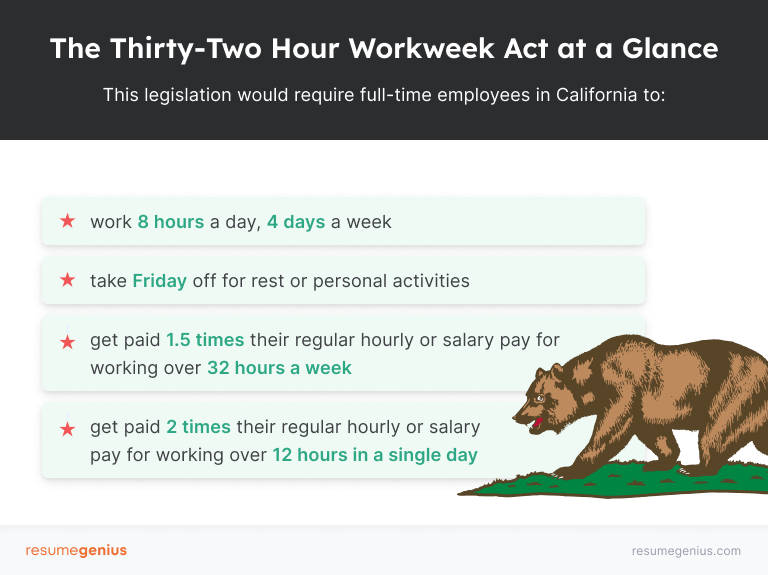 What is the Thirty-Two Hour Workweek Act and where did it come from?
The Thirty-Two Hour Workweek Act (originally known as AB 2932 or Assembly Bill 2932) was a legislative bill that, if passed, would require employees in California to work four days instead of five. Under the bill, full-time workers could take the fifth day off for rest or personal activities and still receive their regular pay (whether salary or hourly).
As it was currently written, the Thirty-Two Hour Workweek Act would only apply to private sector companies with over 500 employees.
First introduced into legislation in July 2021, the California four-day work week bill was officially proposed first as AB 2932 in February 2022 by Assembly Members Evan Low (D) and Cristina Garcia (D).
What is the purpose of the Thirty-Two Hour Workweek Act?
According to Assemblywoman Garcia during a CBS news broadcast, COVID-19 forced US employees to reexamine their working environment and work-life balance, leading nearly 47 million Americans to search for new opportunities.
The goals created through the Thirty-Two Hour Workweek Act are to increase the quality of life, working conditions, and wages for private sector employees, as well as stabilize the economy following the pandemic.
Under current regulations from Section 510 of the California Labor Code, a full work day is eight hours, and employees are paid overtime at 1.5 times their regular rate for working more than 40 hours a week.
While a full work day would still equal eight hours, the Thirty-Two Hour Workweek Act states that the standard work week would be shortened to 32 hours and be considered overtime if employers work more than the allotted hours.
How the California work week bill could impact employers and employees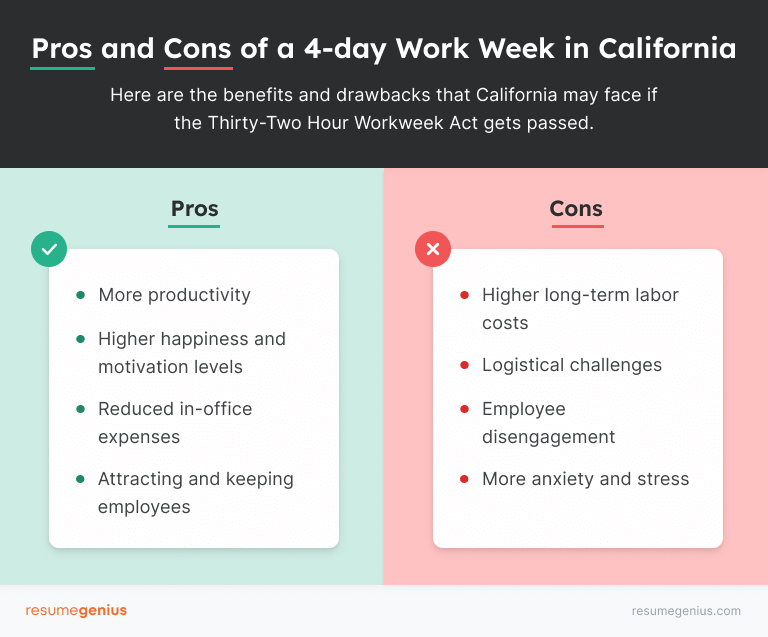 Would the four-day work week help or hurt the workforce in 2023? We explain the pros and cons of the Thirty-Two Hour Workweek Act and its potential effect on businesses and workers in California.
Benefits of the bill
Here are some of the benefits you might find if the Thirty-Two Hour Workweek Act was implemented:
Higher employee productivity levels
A four-day work week has the potential to offer several benefits for employers. For instance, a direct result of working a shorter week is increased productivity and focus levels.
Employees may feel more rested and motivated with an extra day off each week, resulting in better performance and results for companies.
Attesting to the power of shorter work weeks in raising worker engagement and productivity levels, Microsoft Japan reported a 40% increase in employee productivity during their four-day work week trial.
Lower business expenses for physical office spaces
In addition to productivity, a four-day work week could lead to cost savings for companies, such as reducing office supply costs and utilities. 
For example, during the same trial, Microsoft Japan experienced a 23% reduction in electricity costs and a 60% reduction in the number of printouts. 
Drawbacks of the bill
A shorter work week may cause more harm than good. We break down the potential challenges of a four-day work week below:
Potential employee burnout
While some companies have experienced improved morale and retention rates with the four-day work week, others didn't have the same benefits. Alter Agents found that employee satisfaction decreased during the trial because of higher stress and anxiety levels.
Resume Genius also recently conducted a four-day work week burnout study to uncover why some businesses still struggle with burnout.
The study found that a four-day work week's benefits may decrease if workers feel more stressed from trying to fit their regular work duties into a shorter time frame.
Rising labor costs and organizational challenges
As appealing as it might sound, not everyone is on board with a shorter work week.
The Society for Human Resource Management (SHMR) opposed the bill by expressing concerns about the potential impact AB 2932 would have on businesses. According to the organization, the bill could create logistical difficulties for HR professionals, especially for companies with locations in several states.
SHMR also warns that such a bill could lead to more issues such as staffing shortages, higher labor costs, and cause financial issues for businesses recovering from the COVID-19 pandemic.
Similarly, the California Chamber of Commerce included AB 2932 on its "Job Killers" list by stating the bill significantly increases labor costs by requiring overtime pay after 32 hours.
A poor fit for manual workers and customer-facing companies
A shorter work week doesn't necessarily fit all businesses and their requirements.
The four-day work week may not be possible for all companies, especially for manual workers (where time working is directly related to productivity) and customer-facing businesses.
With the same amount of work being done in four days instead of five, employers may need to pay overtime, hire additional staff, and spend extra time scheduling employees to cover the workload.
Disengaged employees and worse mental health
Another potential drawback for employees is feeling disengaged with their colleagues and their company.
During the pandemic, software platform Buffer shortened its work week as an experiment.
Although results were positive and the company has since switched to a permanent four-day work week policy, Buffer reported they would make teambuilding and in-person activities more of a priority after discovering that worker disengagement levels had increased during the trial.
Not only are disengaged employees unhelpful for a company's growth and success, but Gallup research found that trialing the four-day work week also took a hit on employees' mental health.
According to Gallup's study, working fewer days made disconnected employees even more likely to drift further away and especially dislike their employers.
What were the results of the different four-day work week trials?
Here are some of the major results that occurred from the shorter work week trials that happened worldwide:
The US 4 Day Week Pilot trial
Several US companies conducted trials to test out the shorter work week through a six-month pilot program called 4 Day Week Pilot.
These trials were coordinated by the nonprofit organization 4 Day Work Week Global and conducted by researchers at Boston College, University College Dublin, and Cambridge University.
According to CNN, after 33 companies and 903 employees tested the shorter work schedule at the end of 2022, the results were a "resounding success."
US companies tested out the shorter work week in earnest
For instance, crowdfunding platform Kickstarter began its four-day work week trial on April 2022.
After the pilot program finished, Kickstarter Chief Strategy Officer John Leland declared, "The 4-day week has been transformative for our business and our people. Staff are more focused, more engaged, and more dedicated, helping us hit our goals better than before."
In September 2021, fintech startup Bolt piloted a three-month trial and reported positive results, such as an 84% increase in both employee productivity and work-life balance improvements.
And on January 2022, Bolt announced a permanent shift to the 32-hour work week.
The largest trial in the UK was a huge success
In December 2022, the world's biggest trial of the four-day work week ended in the UK. Also run by 4 Day Week Global, the trial included 70 companies and 3,300 workers. These were the most notable results:
Tyler Grange, a UK-based environmental consultancy, reported their employees' productivity increased by 22%, job applications went up 88%, and absenteeism went down by 66%.
Of the 61 companies that took part in the trial, 56 said they would continue to implement four-day workweeks after the pilot ended, 18 of which said the shift would be permanent.
Two companies are extending the trial, and only three companies didn't plan to carry on with any element of the four-day workweek.
More than 90% of participating businesses have opted to continue with the four-day week, with 18 companies adopting it permanently.
Across all companies, 55% of employees reported an increase in their ability at work, and 15% said no amount of money would make them go back to a five-day schedule.
After the public release of these trial results, it's expected that more employers around the world will consider updating and modernizing their current work schedule policies in the coming years.
California's potential transformation in 2023
By first introducing AB 2932, the US took a significant step toward implementing the four-day work week on a larger, government-mandated level for the first time.
If passed in 2023, the newly proposed Thirty-Two Hour Workweek Act would introduce a four-day work week differently than previous methods, which were applied on a company-by-company basis.
The government-mandated approach is similar to the successful Iceland trials and recent changes to Belgium's legislation. After their successful trials, both countries have adopted the four-day work week policy at a national level.
As the debates on the four-day work week continue, the results of the Thirty-Two Hour Workweek Act will surely continue to influence future conversations and potentially serve as a new model for other states and even countries to follow.
Frequently asked questions about AB 2932 & California's plan for a 4-day work week
Below, we answer some commonly asked questions about the four-day work week:
1. What happened to the AB 2932 California bill?
The AB 2932 California bill was officially introduced on February 18, 2022. However, AB 2932 failed to advance as it missed a submission deadline on April 29 that would've sent it to fiscal committees for consideration.
AB 2932 also faced backlash from opponents accusing the bill of excepting unions, increasing the minimum wage for workers, cutting employee hours, and costing businesses more money.
Because the California State Assembly's Labor and Employment Committee declined to set it for a policy hearing, the bill didn't move forward in the current legislative session and was shelved for the year.
2. Is the 4-day work week a possibility for 2023?
Although AB 2932 wasn't passed in 2022, Mark Takano has reintroduced this bill again.
Whether or not the Thirty-Two Hour Workweek Act becomes law, AB 2932 and four-day work week trials around the world have already sparked debates about working fewer days and prompted companies to reconsider their labor policies and experiment with their own trials.
3. Are any other US states considering a 4-day work week?
Some US states, including California, Hawaii, Maryland, New York, Pennsylvania, and Washington, are interested in implementing a shorter work week after seeing its success in the UK trials.
In particular, Maryland introduced a bill in January 2023 that would create a trial program for employers. If approved, the program would provide state income tax credits of up to $750,000 annually to companies that transition 30 or more employees from a five-day work week to a four-day work week, without reducing pay or benefits.
However, Maryland lawmakers withdrew the bill due to cost concerns, but hope to revisit it after a feasibility study by the Maryland Department of Labor.
Despite this event, more employers are exploring shorter work weeks and greater flexibility after the pandemic and work week trials.
Finding a 4-day work week opportunity
While the 4-day work week still isn't the norm, companies around the world are opting for a shorter work week to attract top talent and increase employee engagement.
To search for a position that's adopted this new schedule, try using "4 day work week" as a keyword on any of the job search sites you'd normally use. You can also do some digging to find lists of companies with a 4-day work week.
These positions are highly competitive, so make sure your application is in the best possible shape using the resources below: