Our free-to-use cover letter builder can make you a cover letter in as little as 5 minutes. Just pick the template you want, and our software will format everything for you.
Motivation letter sample
Here's a sample motivation letter that was written for a volunteer job: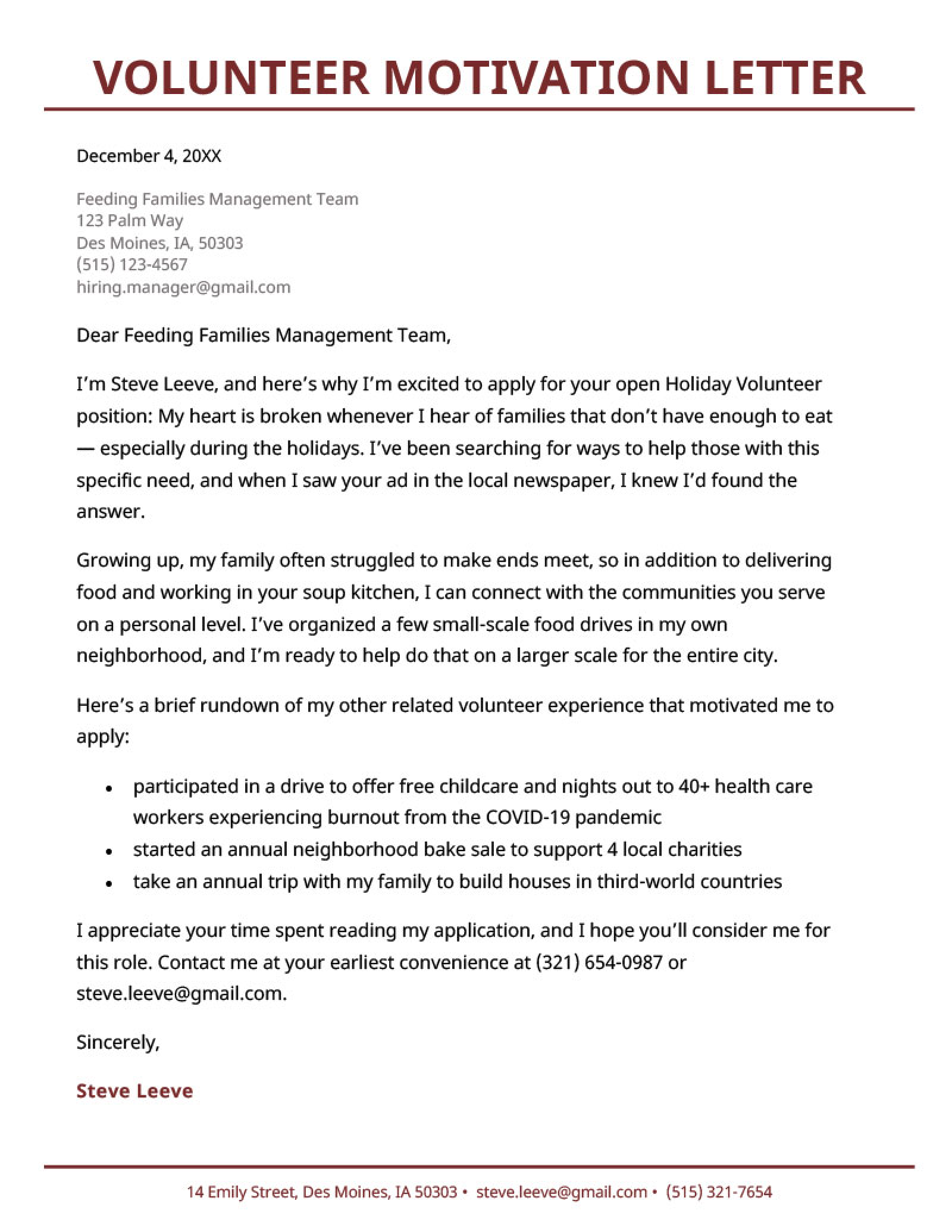 Download Volunteer Motivation Letter Sample
What is a motivation letter?
A motivation letter is a type of cover letter written to explain your reasons for making an application. Motivation letters (also known as letters of motivation, motivational letters, and motivational statements) may be requested when you apply for:
college admission or scholarships (but if the application requirements say to write an essay, follow instructions for writing a college essay or scholarship essay instructions instead of writing a motivation letter)
jobs (especially volunteer and internship positions)
research funding
loans (such as a mortgage)
visas to visit or study in another country
participation in conferences
Now that you know what a letter of motivation is, scroll down to view three motivational letter examples for university and career applications. If you don't see the type of letter you need for your specific application, you can still use them for inspiration (or skip to how to write a motivation letter for tips that apply to any type of motivational letter).
Letter of motivation examples & template
Below is a motivation letter template, and sample motivation letters for three different situations, including a:
Short motivational letter sample
Depending on what you're applying for, you may be asked to write a brief motivation statement. Here's an example of how to write a short motivation letter in an online application for a scholarship:
How does your background qualify you for this veterinary studies scholarship, and what do you plan to accomplish if you receive it (150 words or fewer)?
I grew up on a farm as part of a family that was fully dependent on animals for our livelihood. I've spent much of my free time playing with and caring for pet dogs, cats, rabbits, and ducks since I was a toddler. So I know from firsthand experience how important animal health is. And I've applied that understanding to volunteering at my local vet every weekend since I was in 6th grade.
My goal is to use this scholarship to help fund the undergraduate portion of my pursuit of a PhD in Veterinary Studies. I plan to spend the first part of my professional career building a successful private practice, and ultimately I hope to create a non-profit organization that provides free veterinary telemedicine access to rural communities around the world.
Thank you for taking the time to read my application. I'm looking forward to hearing from you soon!
Sample motivation letter for a university application
When you apply for college — whether you're applying for undergraduate admissions or a post-graduate program — you maybe be required to submit a letter explaining what motivated you to apply.
Here's a sample motivation letter for a graduate writing program admissions application: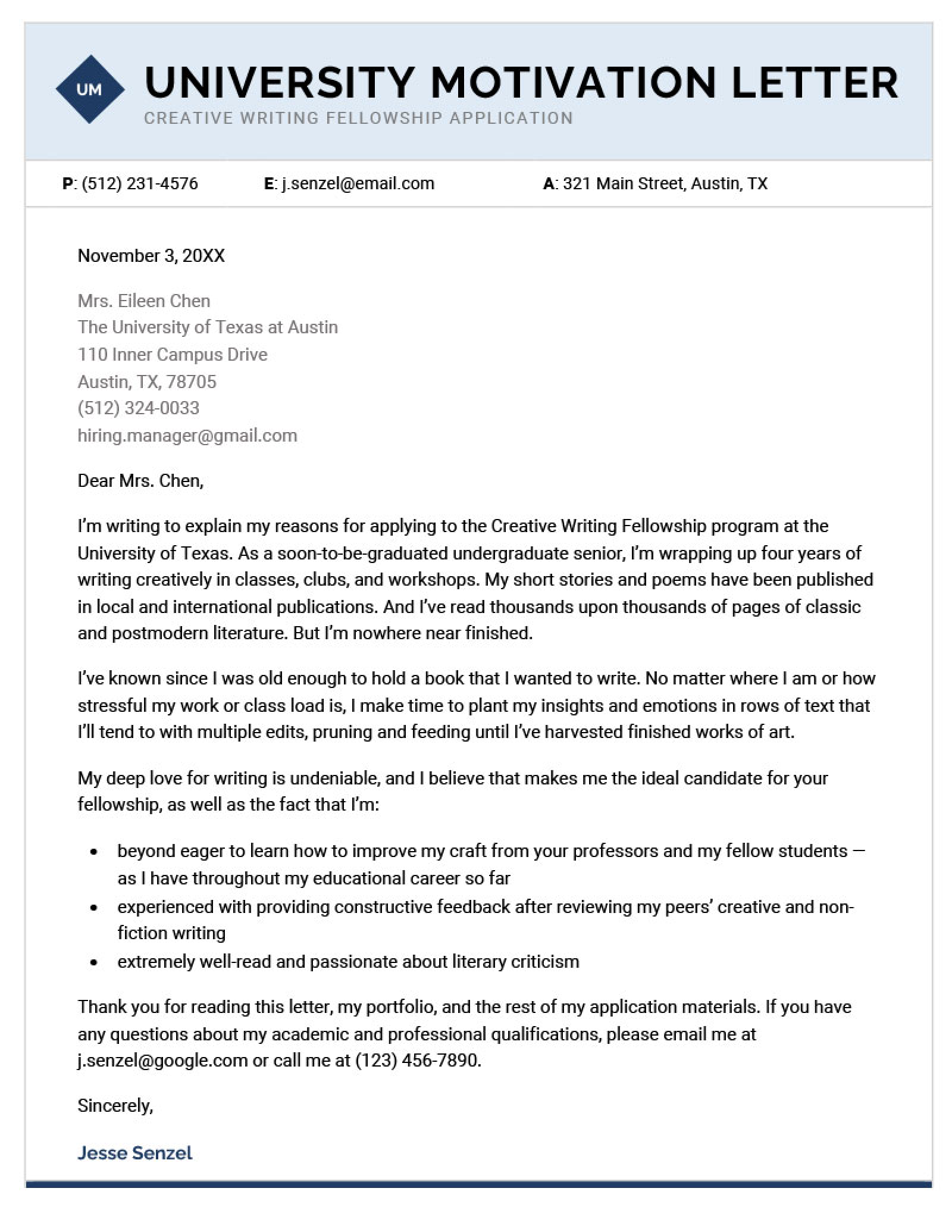 Download University Motivation Letter Sample
Example motivation letter for an internship
Employers seek highly motivated people to fill their internship roles because they hope to develop interns into full-time staff members. Here's an example of how to show why you're applying in a motivation letter for an internship: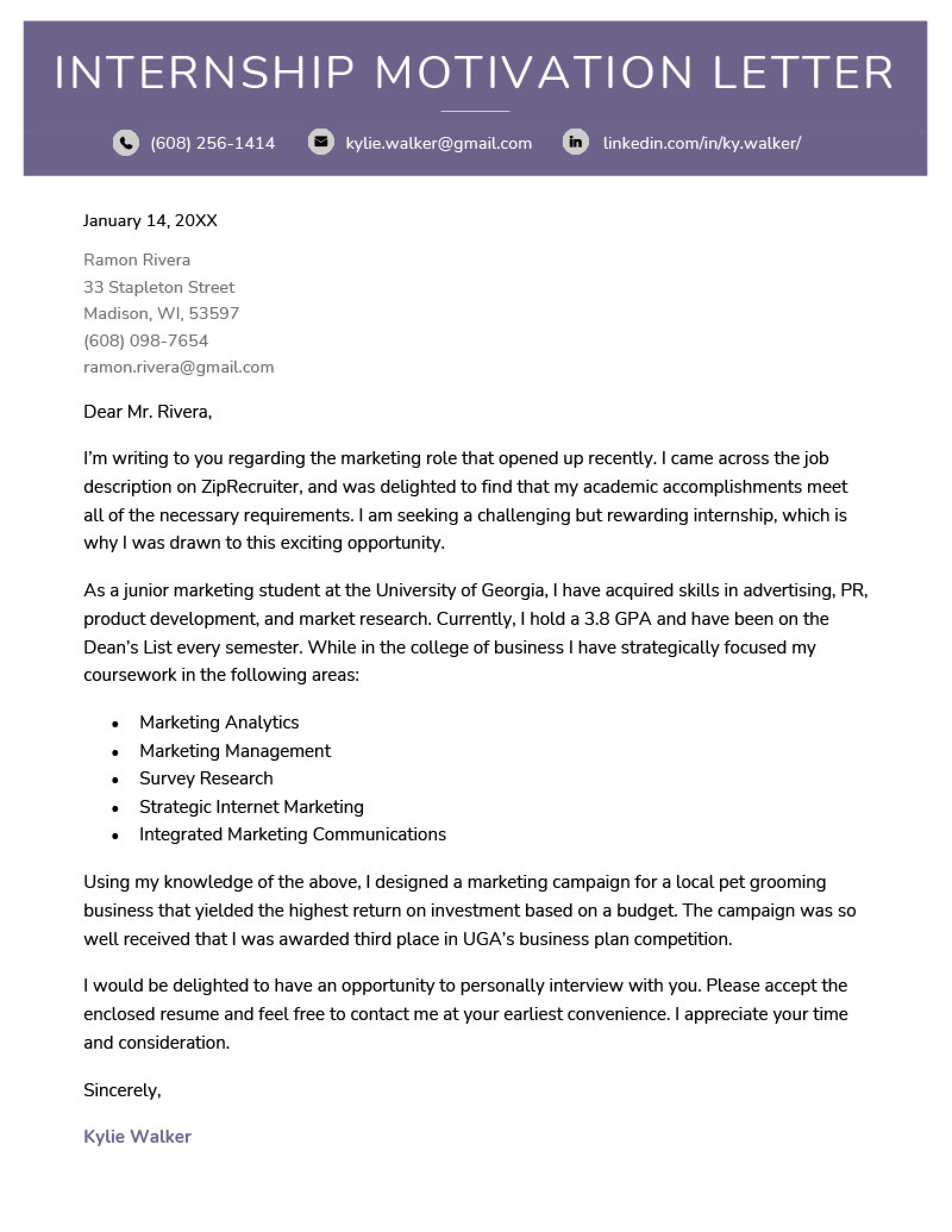 Download Internship Motivation Letter Sample
Motivation letter template
Download or copy/paste this motivation letter template into your preferred word processor, and replace the templated information with your own details:
[Your Name]
[Your Street, City, State xxxxx | your.email@gmail.com | (xxx) xxx–xxxx] [Today's Date] [Contact Person's Name] [Organization/School's Street Address] [Organization/School's City, State xxxxx] [(xxx) xxx–xxxx] [contact.person@gmail.com]
Dear [Mr./Mx./Ms.] [Contact Person's Last Name],
My name is [Your Name], and I'm writing to express my interest in your [opportunity you're applying for]. I'm excited to apply because [main reason you're applying].
I believe I'm an ideal candidate due to my [further explanation of the main reason you're applying]. Furthermore, my related areas of [interest/experience] include:
[interest or experience #1]
[interest or experience #2]
[interest or experience #3]
I'm truly grateful that you've taken the time to review my application. I look forward to [discussing this position further in an interview/hearing from you regarding your decision] soon. You can reach me at [your.email@gmail.com] or [your phone number].
Sincerely,
[
Your Name
]
How to write a motivation letter
Here's how to write a motivation letter that gets you accepted or hired:
1. Do your research
To be successful, your motivation letter has to convince the reader that you're the right type of person for the job or program you're applying to. The requirements in the position ad or application instructions might give you enough information to go on, but you can set yourself apart from other applicants by doing some extra research.
Here's how to research your target organization or program:
read its mission statement on its website
scroll through its social media feeds
look for blogs written by current/former participants/employees
Then, take the information you find and tailor your letter to show how your motivations match their goals.
2. Write a catchy opening paragraph
Unsure how to start a motivation letter? Open with an attention-grabbing first paragraph that convinces the recruiter or hiring manager to read to the end of your letter. To write a catchy first paragraph try to figure out what about you will stand out most to the reader, based on their application requirements.
For example, let's say you were responding to an internship ad that reads:
Seeking to fill a Journalist Intern role. Applicants must be undergraduate students who are majoring in broadcast journalism and are passionate about delivering local news in print and on camera.
Based on the above ad, a good opening paragraph for your letter of motivation would be:
I saw on LinkedIn that you're looking for a journalist Intern, and I'm the undergraduate broadcast journalism major for the job. Since I was a child, I've been recording mock news broadcasts on tape and camera, submitting letters to the editor and news tips to my local news stations, and participating in every school news production possible. Now I'm finally studying to be a professional journalist, and I couldn't be more excited to apply what I've learned so far in your open internship.
Whatever you're applying for, start your motivation letter with your most relevant information. If you bury your top selling point at the end of your letter, the reader may never even see it.
After you write a good opening statement, continue describing your motivations for applying in 2–3 more paragraphs. And consider adding a bulleted list to make your motivation letter easier to read.
3. Close strong
End your letter of motivation with a paragraph that:
thanks the reader for going through your letter
restates your desire to get the job, program acceptance, or scholarship
includes your phone number and email address (if applicable)
closes with a sentence about how you're looking forward to hearing from the reader regarding your application
Here's an example of how to end a motivation letter written for a volunteer opportunity at an animal shelter:
Thank you for taking the time to read through my motives for applying for your open Shelter Volunteer role. I relish the chance to discuss with you in person how my unconditional love for animals of all kinds makes me an ideal candidate. You can reach me at (123) 456-7890 or james.smythe@gmail.com, and I look forward to hearing from you soon.
How to format a motivation letter
Usually, you should use business letter formatting for your motivation letter, which includes:
your name and contact information in a cover letter header
the contact person's name and contact information in a left-aligned list
a salutation that addresses the contact person by name (e.g., "Dear Mrs. Johnson,")
3–4 paragraphs explaining your motivation
a polite sign-off (we suggest "Sincerely,")
your name (either typed or both typed and signed)
However, if you're writing your motivational letter in a box on an application form, you can just type a few paragraphs. The form you're filling out will have other areas for your name and contact information.