Whether you're a teacher or simply work in the education system, we have the education resume sample you need to help you write an impressive resume of your own. Additionally, we include a few essential writing tips that'll help you put together an A+ resume for an educational position.
1. Teacher
Why this example works
The best teachers instill discipline in their students, inspire them to learn, and communicate effectively with their parents.
This resume example does a great job of demonstrating these qualifications with a detailed work experience section and introduction.
Additionally, this education-focused resume showcases the teacher's certifications and relevant degrees toward the top of the page, which helps immediately prove to hiring managers that they're qualified for the position.
2. Elementary School Teacher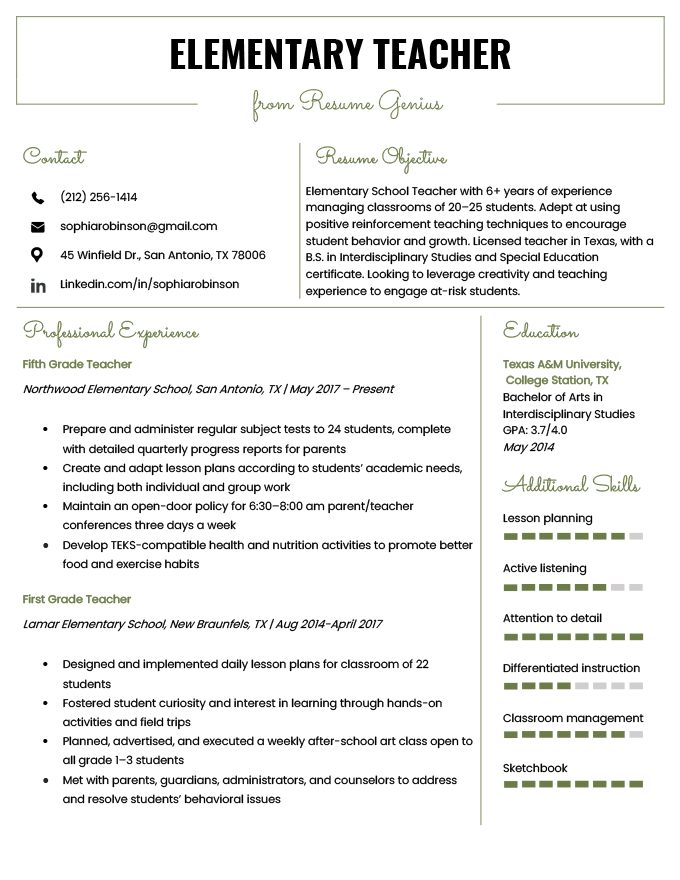 Why this example works
This elementary school resume example works well because it emphasizes the candidate's achievements as an educator using hard numbers.
Citing age groups, class sizes, and parental feedback, this teacher uses number-specific examples to prove to schools that they're more than capable of handling even the most difficult elementary school classes.
3. Preschool Teacher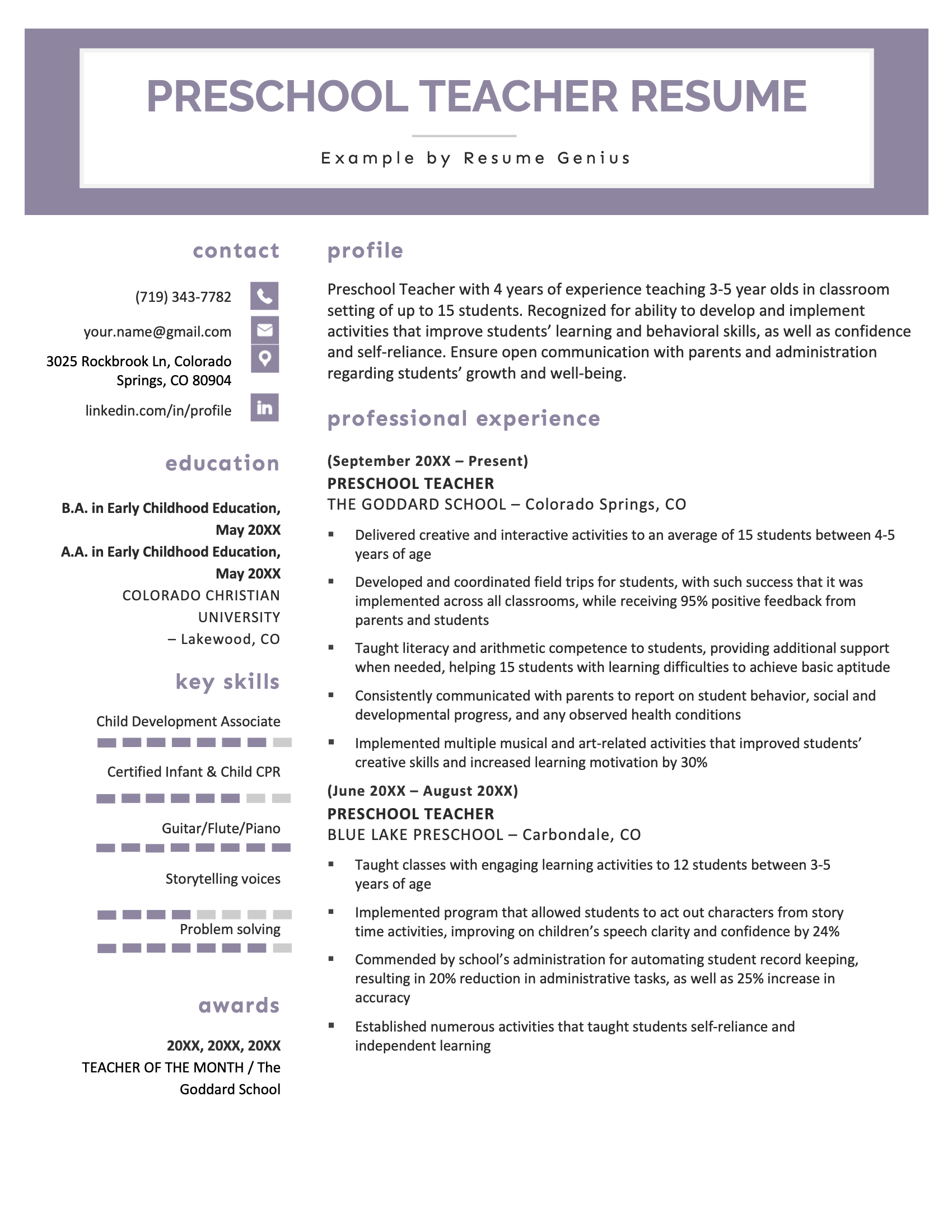 Why this example works
Right from the start, this preschool teacher resume example explains the class sizes that they're comfortable with, their relevant certifications, and how much teaching experience they have.
When you're working with small children, highlighting details like these on your resume is important. Schools need to be 100% sure you're qualified to fill the role.
The candidate also makes sure to emphasize their relevant soft skills like active listening and patience. Soft skills like these are especially important for preschool teachers because you need to be capable of handling frustrating situations while staying patient and understanding.
4. Substitute Teacher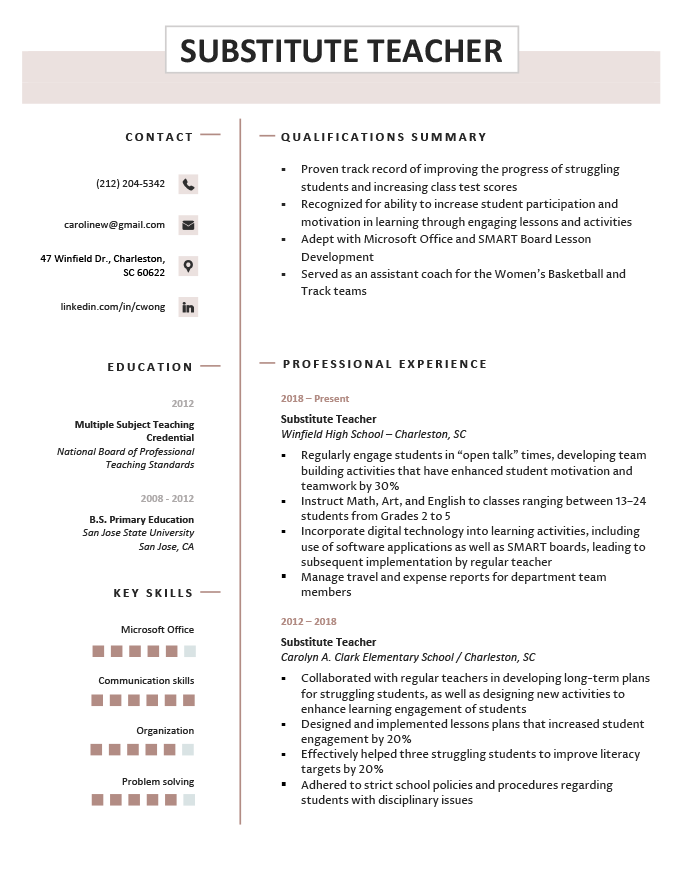 Why this example works
Being a substitute is just as stressful as being a regular teacher (or even moreso in some situations). You have to show up at a moment's notice, quickly prepare for each lesson, and manage a classroom of students you may have never met before.
Not only that, but your work history won't always follow a clean progression like other educators because you're not a full-time employee. The part-time nature of substitute work makes writing a convincing resume even harder.
This substitute teacher cleverly makes up for their inconsistent work experience by using a functional resume format. This format is unique because it focuses on the candidate's relevant skills instead of their chronological employment history.
5. Teacher Assistant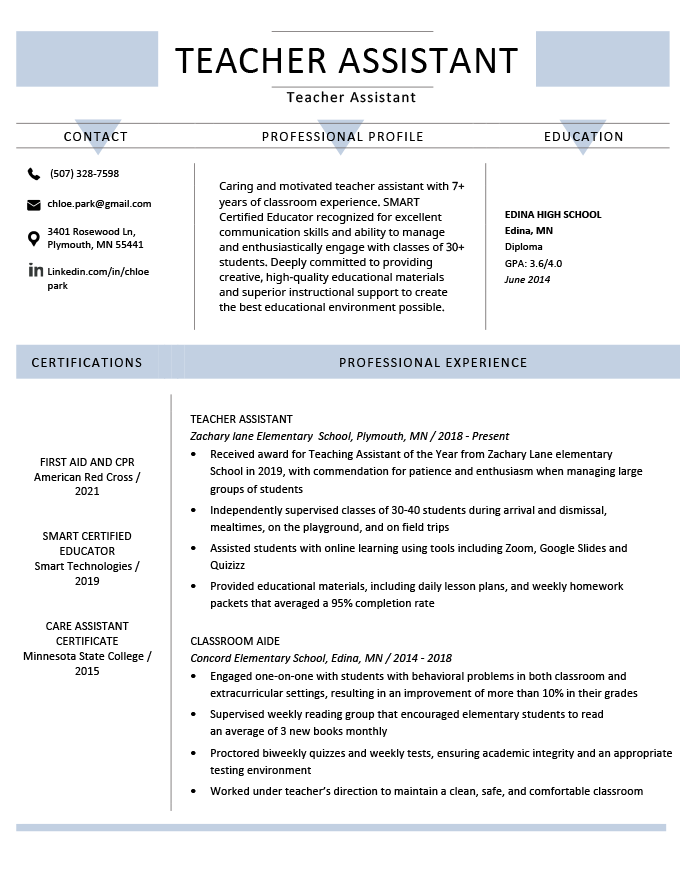 Why this example works
Assisting a teacher in the classroom is challenging. The job often requires you to support students with special needs, discipline unruly children, and lead groups of students.
This resume example excels because it showcases the candidate's ability to support teachers in their classes and help develop engaging lessons.
In particular, multitasking and classroom management are essential skills for teacher assistants. This candidate clearly highlights those skills by providing concrete examples of the class sizes they've handled and various tasks they helped teachers complete.
6. Tutor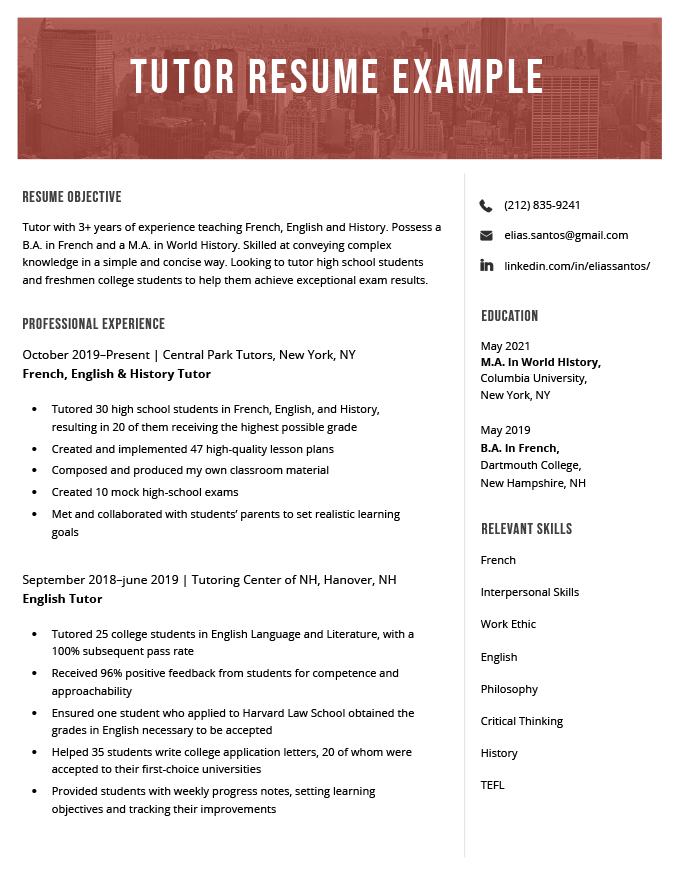 Why this example works
This example quickly communicates the candidate's area of expertise, which is their most important qualification as a tutor. Between their introduction and their work experience section, they make it clear that they're more than qualified to teach people about French and English language, as well as history.
Additionally, this candidate's resume emphasizes their interpersonal skills, which is an important skill for connecting one-on-one with students.
7. School Counselor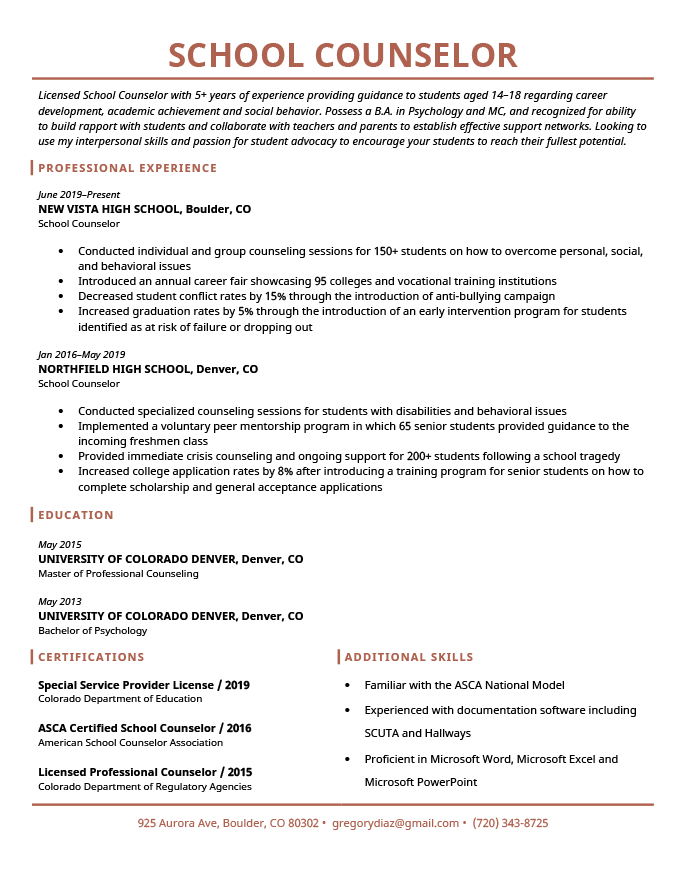 Why this example works
School counselors give students the tools they need to achieve their goals, offer guidance for students applying to universities, and provide support for struggling kids to ensure they graduate on time.
This candidate quickly demonstrates all these qualities on their resume by providing concrete examples of their successes. Additionally, they list a variety of soft skills that are essential for counselors to have.
8. Librarian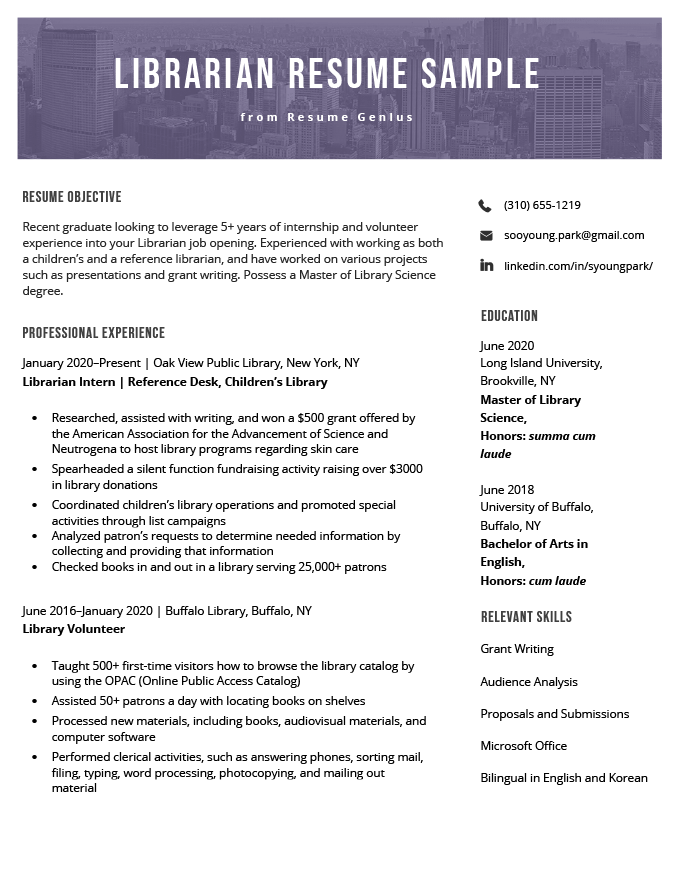 Why this example works
Although this candidate only recently graduated from their master's program, they're still able to put together an impressive resume by highlighting their organizational skills and internship experience.
As a librarian, you need strong organizational skills to effectively catalogue books and keep everything in its proper place. Additionally, you should highlight your people skills on your resume like the candidate above to show that you're able to work with students and address their questions.
9. Coach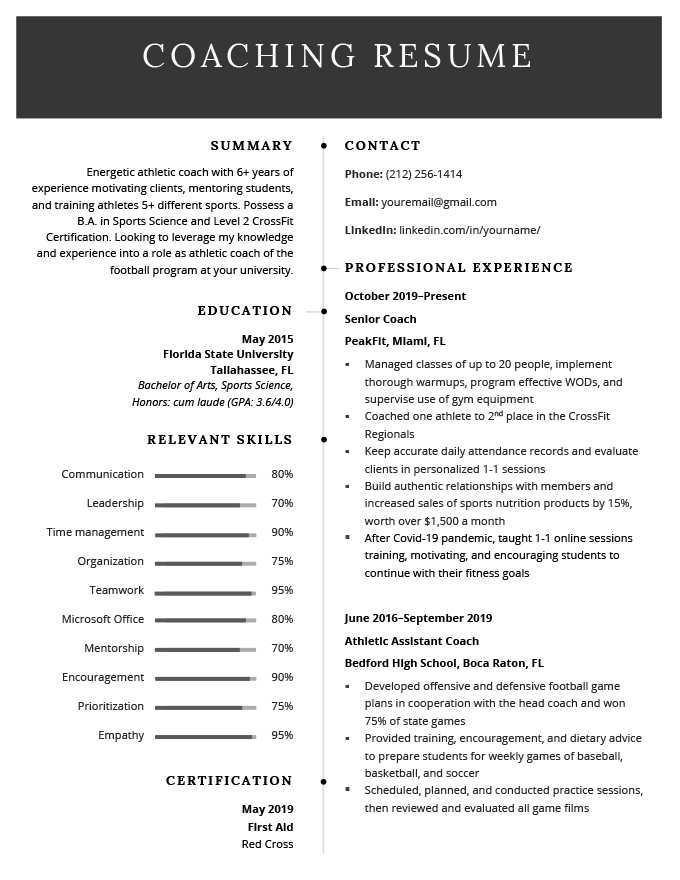 Why this example works
This resume example leads with the candidate's certifications and their passion for athletics, which are exactly the qualifications schools are looking for when hiring a coach.
This education-centric resume also includes plenty of examples of the candidate's coaching accomplishments.
If you work in competitive athletics, you should have plenty of examples of things you've helped your students accomplish. For instance, that could be winning a regional championship or just how much you improved their rankings.
You should include details like these while writing your own resume to show employers that you're an effective coach capable of getting results from your students.
Additional Education Resume Examples
Don't see the type of job you're looking for above? Here are some more education resume examples to check out:
5 tips for writing a resume for an educational role
Now that you've seen some useful education-related resume examples, it's time to make your own resume.
To help you get started, here are five tips for writing an education resume that highlights your most valuable qualifications.
1. Open with a resume summary
A resume summary is a type of resume introduction that focuses on your job-related achievements and what you can do for the school or institution.
Starting your resume with a summary also helps grab the attention of schools and immediately explains why you're the best candidate for the position.
Each sentence or bullet point of your summary should focus on an achievement, and include numbers that support your ability to handle the work. Here's an example from our tutor resume:
Created and implemented 47 high-quality lesson plans over a 9-month period.
Numbers give employers insight into what you can achieve as a professional. Including them makes your application more believable (and compelling).
2. Highlight your teaching certifications
One of the first things schools look for when reviewing your education resume is whether you have the proper certifications to teach. Give them exactly what they're looking for by listing your certifications clearly and prominently near the top of your application.
Just remember that the exact qualifications you need depend on your state and local regulations.
Find out which certifications you need to teach in each of the 50 states (and D.C.) to make sure you're ready to apply for teaching work. Then, list these certifications in a dedicated section or include them in the education section of your resume.
3. Use strong teaching action verbs
When you write your work experience section, remember to use action verbs that emphasize your skills as a teacher.
Action verbs are more interesting than the standard "Responsible for …" that job seekers use all the time on their resumes. Instead, starting each bullet point with an action verb gives your experience section more weight and focuses on what you actually achieved at work.
Here's an example of how to include action verbs in your resume when describing your experience as an educator:
Constructed 5 comprehensive lesson plans on the history of US environmental initiatives
4. Pick an appropriate template
Positions at popular or well-paying schools attract many qualified applicants and can be highly competitive. To get the position you want, you need to do more than just list your qualifications – your resume needs to look good too.
The easiest way to make an attractive resume is by using a pre-made resume template that you can fill out with your information.
However, education is a relatively formal industry, so you should stick to templates with a basic design. You want to come across as formal but approachable, so avoid templates with flashy graphics or harsh color schemes.
5. Showcase your education skills
Whatever education-related role you're applying for, you need to include skills on your resume to show your abilities align with the requirements of the job.
Be sure to highlight the hard skills required for your specific position clearly in the skills section of your resume, and mention them when describing your experience.
Additionally, include a variety of soft skills to show that you're patient and can work well with children or a range of different students.