Education Resume Templates for Teachers
Whether you're a teacher or simply work in the education system in a supporting role, you'll find the education resume sample you need below:
Teacher Resume Sample
An effective teaching resume should show that you have the skills needed to manage a classroom full of kids. The best teachers instill discipline in students, inspire them to learn, and communicate effectively with their parents. Learn how to showcase these key teacher skills by checking out our teacher resume sample.
Elementary School Teacher Resume Sample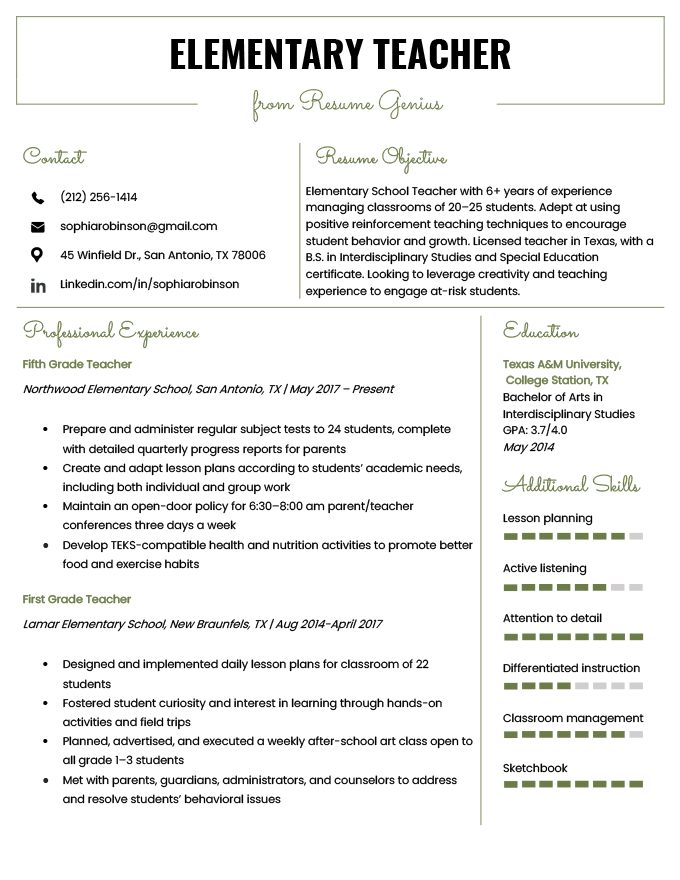 As an elementary school teacher, you're responsible for shaping young minds, filling them with curiosity, and giving them the self-confidence to fulfill their ambitions. This effective elementary teacher resume sample provides everything you need to convey your passion for teaching to principals.
Preschool Teacher Resume Sample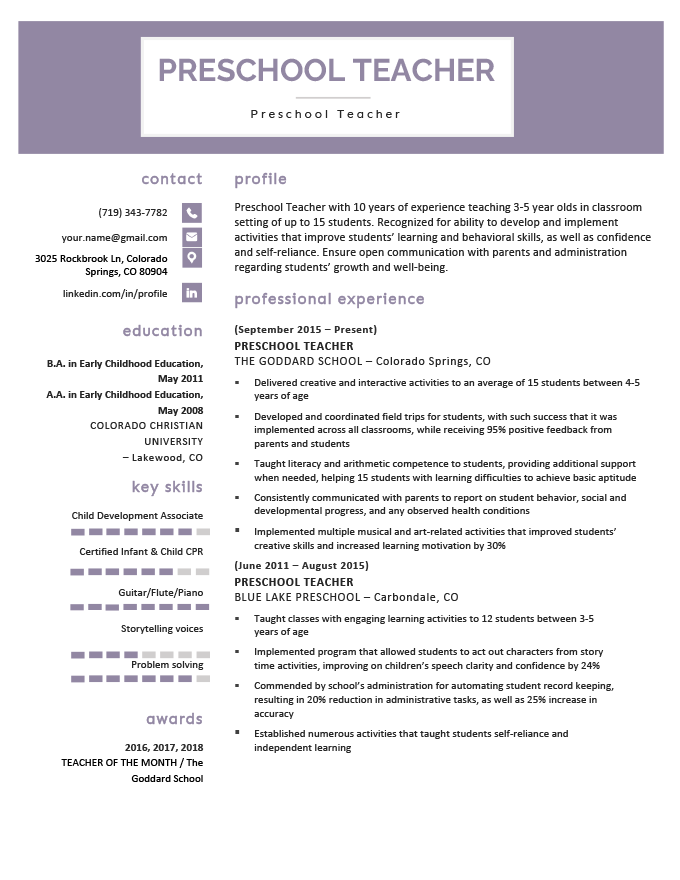 Being a preschool teacher is more than playing with adorable kids all day. You need suitable training, certifications, and experience. Show you have everything you need with our professional preschool teacher resume sample.
Substitute Teacher Resume Sample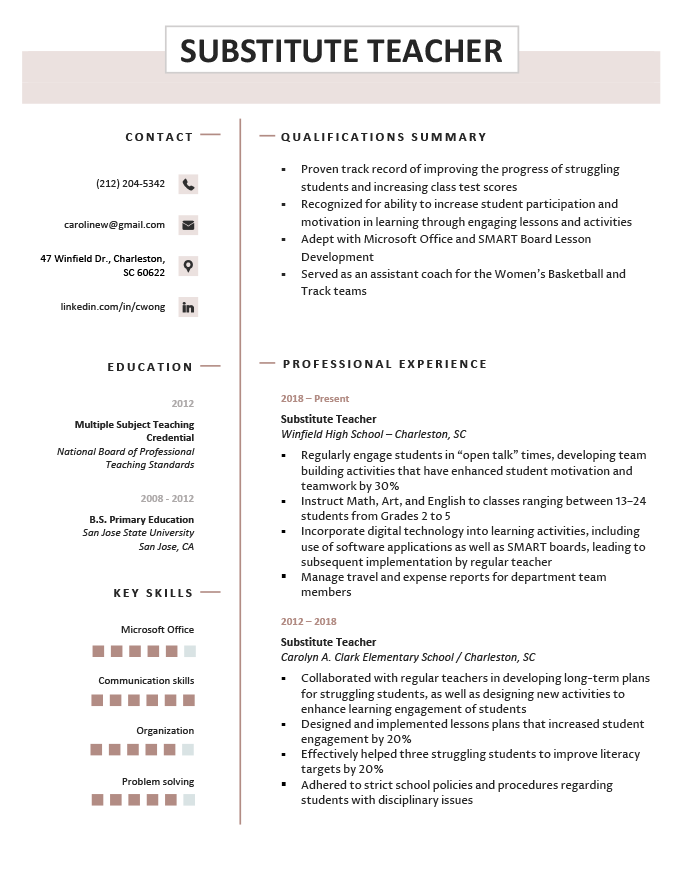 Being a substitute is even more stressful than being a regular teacher. You have to show up at a moment's notice, quickly prepare for each lesson, and manage a classroom of children you've never met before. Show principals you're up for the challenge with our substitute teacher resume sample.
Teacher Assistant Resume Sample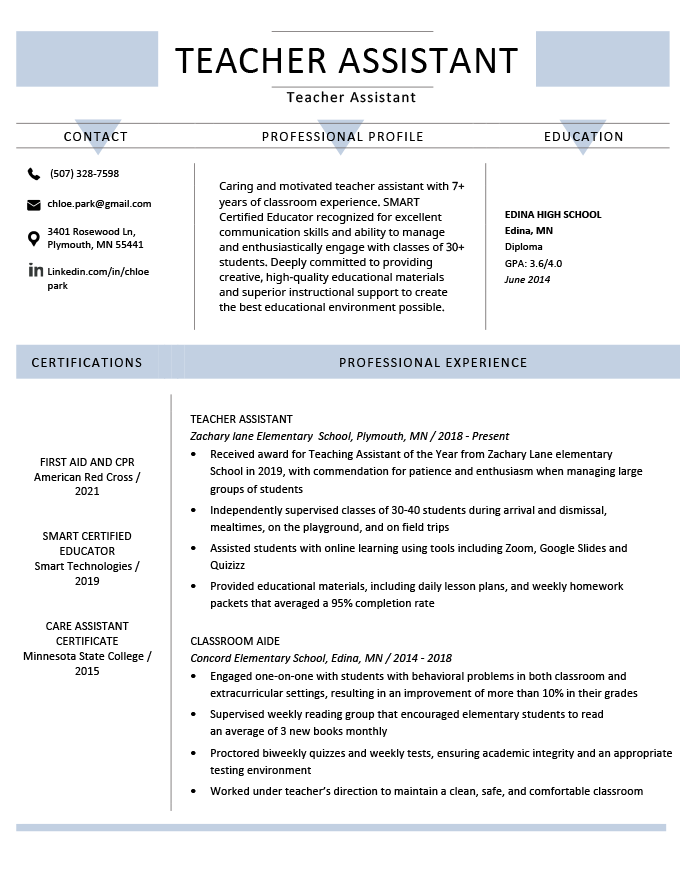 Assisting a teacher in the classroom is challenging. You might need to support students with special needs, keep an eye on unruly children, and lead smaller groups of students independently. It's imperative to show you can be a dependable teaching assistant in your resume — learn how with our teacher assistant resume sample.
Tutor Resume Sample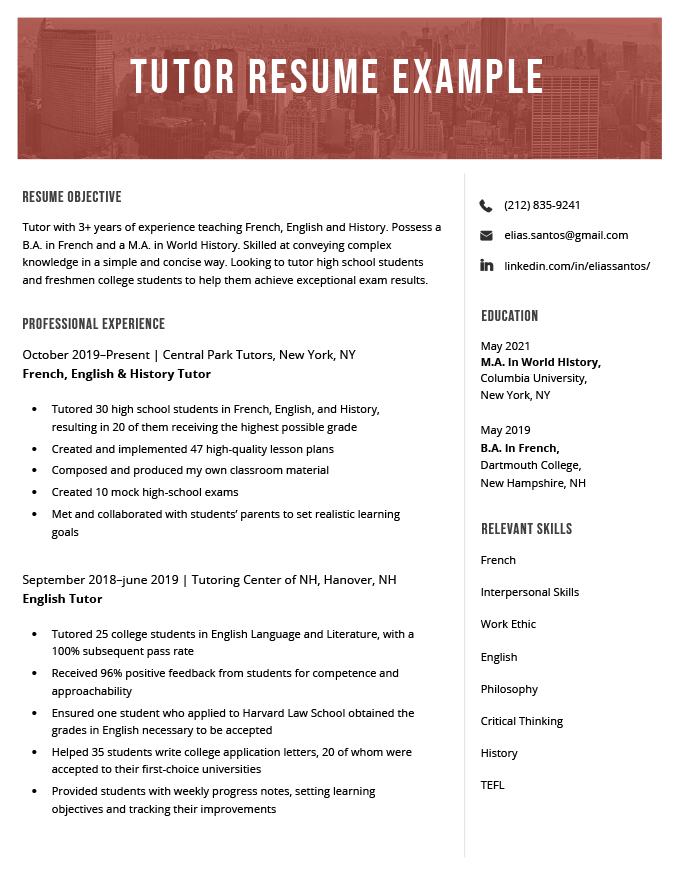 A successful tutor needs to not only be an excellent educator, but also to have top-tier interpersonal skills to build rapport with their students. Build an effective resume that showcases your qualifications — our tutor resume sample teaches you how.
School Counselor Resume Sample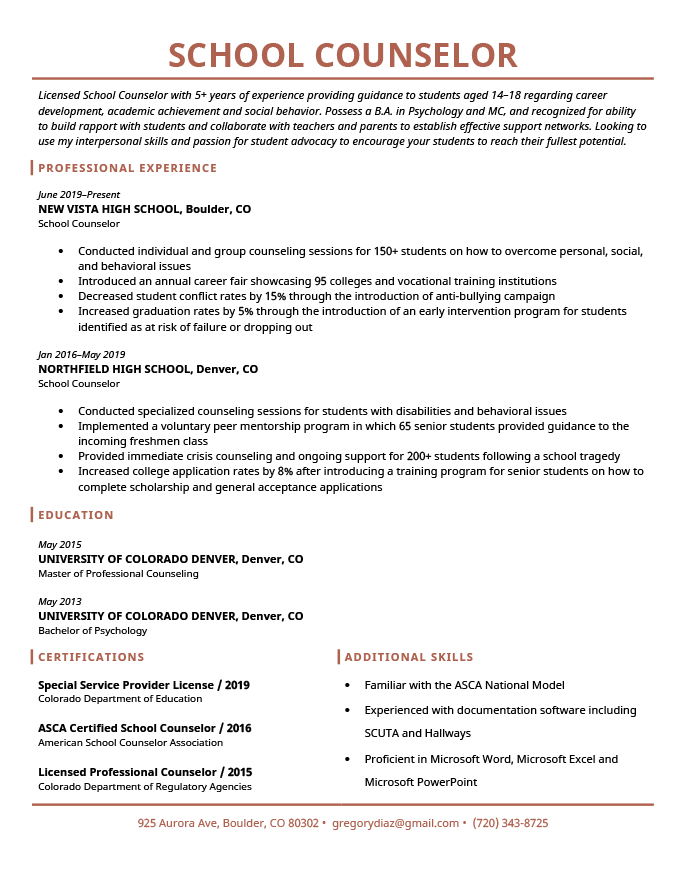 School counselors give students the tools they need to achieve their ambitions, offer guidance for high achievers looking to make it into top-tier universities, and provide support for struggling kids to ensure they graduate on time. Use our school counselor resume sample to prove you can thrive in this challenging yet rewarding role.
Librarian Resume Sample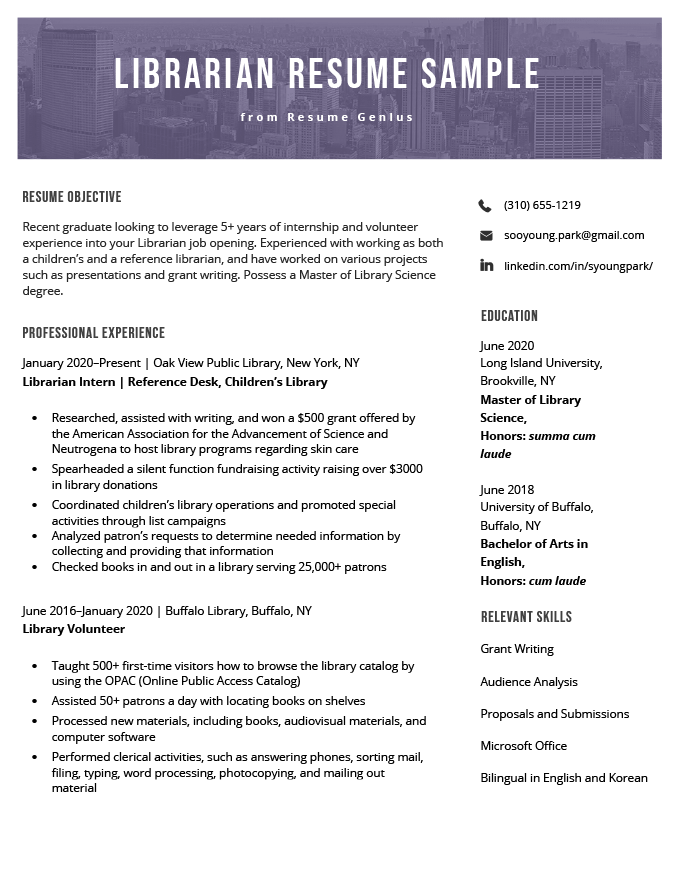 As a librarian, you need good organizational skills to effectively catalogue books, but you also must have strong people skills to work with students and address their questions. Showcase your ability to handle these tasks — and other responsibilities like maintaining a calm, studious environment — on your resume. Learn how by using our librarian resume sample.
Coaching Resume Sample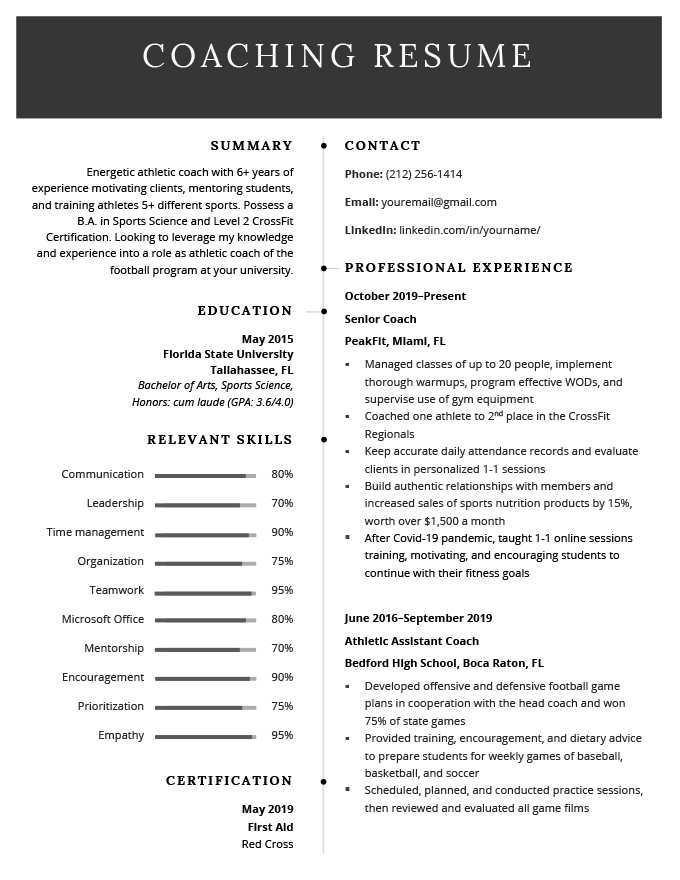 Applying for a coaching position? Use your resume to demonstrate your ability to improve students' physical performance and athletic techniques. Our coaching resume sample shows you how. You can also use it to showcase your success at encouraging kids to have healthy bodies and pick nutritious food options.
Education Resume Writing Tips
Now that you've looked at nine education-related resume examples, let's go through what you must include on your education resume to ensure you land the job.
Use a Resume Summary
Unlike a resume objective which describes your own ambitions, a resume summary focuses on your job-related achievements and what you can do for the school.
Each sentence or bullet point focuses on one achievement, and ideally includes quantifiable data — numbers or percentages — that backs up your ability to handle the work. Here's an example from our tutor resume:
Created and implemented 47 high-quality lesson plans over a 9-month period.
These numbers give employers insight into what the candidate has already achieved as a professional, which makes their application more believable (and compelling).
Include Your Teaching Certifications
Add your teaching qualifications to your resume. Note that the exact qualifications depend on your state and local regulations.
Because certifications are hugely important for teachers, you need to include all those relevant to the position you're applying for. The principal doesn't have the time to contact you if you don't list them on your resume, so don't neglect any.
Find out which certifications you need to teach in each of the 50 states (and D.C.) and include them on your resume.
Use Strong Action Verbs to Describe Your Responsibilities
When you're writing about your duties in previous positions (or even when adding relevant coursework to your resume if you don't have much work experience yet), use strong action verbs. Action verbs boost your resume because they're more interesting than the standard "Responsible for …" that hiring managers see all the time:
Responsible for green initiative that reduced plastic waste by 47% over 2 years.
The hiring manager has doubtlessly seen similar sentences. Enhance your sentence with a powerful action verb instead:
Spearheaded green initiative that reduced plastic waste by 47% over 2 years.
Using numbers give employers insight into what you've achieved as a professional educator. If you can add such numbers to your resume, it will make your application more believable (and compelling).
Using action verbs and other similar resume words will ensure your resume has a greater impact — so use plenty of them!
Pick the Right Resume Format for You
There are three resume formats you can use as a teacher, and the one you pick depends on your professional background:
Chronological resumes are best suited for you if you're a new teacher, or have had a long, uninterrupted career in the classroom. On this type of resume, your work experience is the focus.
A functional resume is effective if you have employment gaps or are changing to education after working in an unrelated field, because it allows you to make your transferable skills and achievements the key parts of your resume. Although your work history is less prominent, you should still list your previous positions and schools (or companies).
A combination resume is a good balance between chronological and functional resumes, and has a sizeable space for your work experience. This kind of resume is suitable if you have minimal experience teaching, but have technical skills you want to showcase on your resume.
Education Resume Skills
Whatever education-related role you're applying for, you need to include skills on your resume to show your abilities align with the requirements of the job.
Communication Skills
As an educator, effective communication skills are the most important tool in your arsenal of skills. You'll need to break down complex subjects into bitesize, digestible chunks of knowledge for students of all skill levels.
Additionally, you're responsible for reporting on student progress to your department head, principal, and their parents. Reporting on their progress requires tact when students aren't making the most of their potential.
Written communication skills are also key whenever you need to provide detailed feedback on coursework, homework, and other projects.
Time Management Skills
Making time to create lesson plans is a trying task for most teachers, and you'll further need to allot time to grade homework, tests, and coursework. So time management skills are vital for you — no matter the kind of educator you are.
Particularly essential is ensuring your lessons stick to the scheduled time. If classes in your school are 50 minutes long, you need to make sure you don't finish early or run over time.
Another key aspect of time management is dividing your time fairly between your students. Your top-performing students need some of your focus if they finish tasks earlier and want to explore a topic deeper. However, you need to give students time if they're having difficulty grasping a concept.
More Skills for Your Education Resume
Here are four additional skills vital to teaching you can list on your resume:
Remember that an effective resume skills section contains a good balance of soft skills and hard skills. Including examples of both shows principals you're a rounded candidate who's developed competencies in every area.
Takeaways
You've seen our professional education resume samples — now it's time to write yours.
Not sure how to get started? Learn how to write a resume that boosts your chances of impressing the principal (or a kid's parents).
Once you've got a handle on that, download one of our beautifully crafted resume templates, or create a comprehensive resume in under 5 minutes with our resume builder.