Thinking of leaving your job? Writing a resignation letter can be an intimidating task, but it's an important part of the process of quitting a job professionally.
Whether you're moving on to a new role or taking a break from your career, a well-written resignation letter will ensure you leave your current position with grace.
Do you need a resignation letter when you quit your job?
While not all employers require you to submit a formal resignation letter, it's always a good idea to do so.
Submitting a resignation letter is the most professional way to resign and gives you the chance to express that you're grateful for the opportunities you've been given while working at the company.
How to write a proper letter of resignation
Here's how to write a resignation letter that helps you smoothly exit your current job:
1. Put your name and address at the top
To follow proper business letter formatting, place your name and address in a centered list at the top of the page.
2. Include the date
Left-align the date you submit the letter under your address. Listing the date is important because your company's HR department will use it to officially begin your notice period.
3. List the company address
Use professional business letter formatting to list your company's address. When drafting your resignation letter, put the company name on the first line, followed by the street address, city, and ZIP code.
4. Address your boss by name
Unsure how to address your resignation letter? Typically, you should address your manager, but if necessary you can address a whole unit, team, department, or company.
If you're on a first-name basis with your boss, use their first name. Otherwise, use their formal title and last name (for example, "Ms. Chen" or "Dr. Jones").
Here are two examples of how to address a resignation letter:
Dear Mr. Jacobsen,
Dear GenTech Finance Team,
5. Say that you want to resign
Don't worry about how to start your resignation letter. Just make it clear that you're resigning from the first sentence. Your manager will appreciate your straightforward approach.
6. Set your final workday
Tell your employer the exact date you want to quit. Doing so lets them immediately begin planning to fill your role and gives all your coworkers an idea of when you're leaving so they can say their goodbyes.
7. Give your reasons for leaving (optional)
In the body paragraphs of your resignation letter, provide your reasons for leaving your company. Acceptable reasons range from general health concerns, relocation, career change, or just accepting a different position.
But if you don't want to share your reason for resigning, you don't have to. Just like when writing a goodbye email to your coworkers, it's best to keep a positive tone. A resignation letter isn't the best place to say that you're unhappy with poor management.
8. Offer to help with the transition
It's polite to offer to help with the transition process when you resign from your position. This can involve training your replacement, or bringing other team members up to speed on what you've been working on so they can take over your responsibilities when you leave.
9. End by thanking your employer
At the end of your resignation letter, you should:
Thank your manager
If you feel grateful, acknowledge the opportunity your employer gave you
Optionally, note your desire to keep in touch
Even if you hated your job, try to remain courteous in your resignation letter. This way, your employer is more likely to be willing to give you a positive reference for your next job.
10. Sign off
If you submit a hard copy of your resignation letter, sign above your typed name. But your typed name is all you need for a letter of resignation attached to or written in the body of an email.
Resignation letter example
Here's a resignation letter example for you to copy and adjust to fit your own circumstances: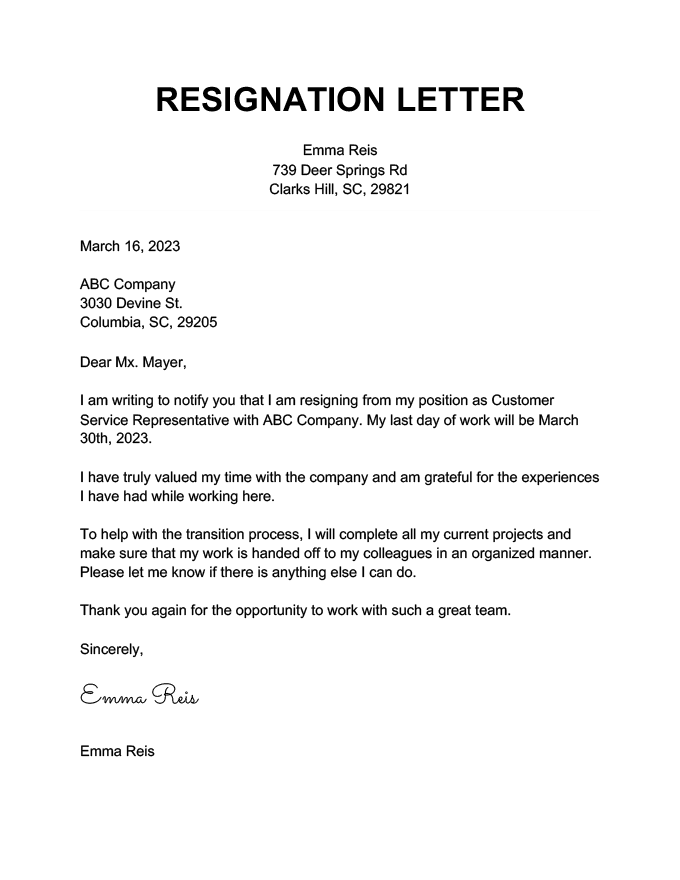 Resignation Letter Example (Text Version)
August 25, 2022
East Coast Marketing
123 Beach View Street
Charleston, SC, 12345
Dear Ms. Chen,
I am writing to inform you of my intention to resign from my job as Marketing Manager at East Coast Marketing, effective two weeks from today, August 25, 2022.
My career goals have changed since I started working here, and I feel that the time has come for me to pursue another opportunity that is more aligned with my new aspirations.
I appreciate the opportunities you gave me during my time at East Coast Marketing. Please let me know what assistance I can offer as I transition out of my current role during the next two weeks. I hope we can stay in touch going forward.
Thank you,
Natalie Jenkins