A concise, well written resume summary is your ticket to an exciting new job. Learn how to write one with our comprehensive guide, and model your own after one of our examples.
Table of Contents:
1. What is a Resume Summary?
Resume summaries are one of the four types of resume introductions, in addition to the conventional career objective, achievements-based qualifications summary, and concise professional profile.
This particular introduction, sometimes referred to as a "resume summary statement" or a "professional summary," is a visually striking way to start your CV, and is sure to capture the attention of any hiring manager who reads it.
To be specific, the lengthy sentences of career objectives are replaced by 4 or 5 concise bullet points in a resume summary statement.
Furthermore, subheadings come before each bullet point, allowing the hiring manager's eye to glide to your relevant accomplishments and skills.
Also, each bullet point is no longer than one line for maximum reader impact.
Then, each and every bullet point contains at least one piece of quantifiable data, such as a statistic or number.
Check out this resume summary containing quantifiable data throughout: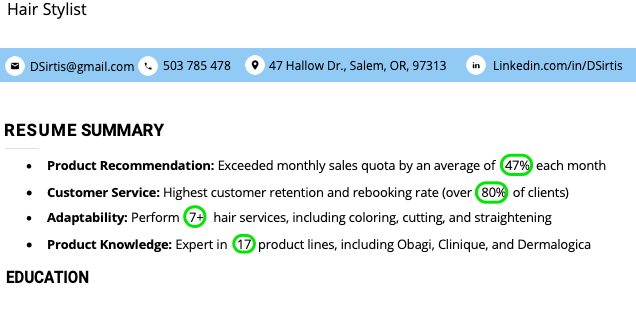 If quantifiable data wasn't included, how is the hiring manager supposed to know how skilled this candidate is?
There are many reasons to include quantifiable data in your bullet points:
It proves that you delivered on your responsibilities in your previous posts
It gives the hiring manager an idea of how you'll perform if you're given the job
Using it immediately sets you apart from other candidates who didn't bother to include any concrete information
This data, when inserted into your resume summary, strengthens your candidacy because numbers attract attention, which means that hiring managers will read your bullet points.
They'll find themselves referring to the other parts of your resume, such as your skills section or work experience section.
For all of the above reasons, resume summaries are the most effective way to start a resume. What's more, because they're so concise, they're incredibly easy to write. Just summarize your key skills in list form, and then find past achievements that substantiate them.
2. Anatomy of a Resume Summary
Let's take a look at an example resume-summary bullet point:
Part #1.

The Bullet Point

The bullet point serves to differentiate each sentence from the next.
Part #2.

The Subheading

The subheading is one or two words long, and is simply the name of a skill or characteristic that you want to advertise. It is presented in bold and segmented from the rest of the sentence by a colon. Because it's short and eye-catching, it draws the hiring manager's attention.
Part #3.

The Sentence

The main part of each sentence in your resume summary statement describes an achievement connected to the subheading skill. Thus, if the subheading is "management," the sentence must explain why you're an excellent manager using an actual achievement or quantifiable data to prove your point (see part #4).
Part #4.

Quantifiable Data

Add numbers to prove each statement you make.

For instance, you could prove that you're an excellent (or at least experienced) manager by mentioning you've had 47 people working under you at various points in your career.
3. Clarifying the Different Resume Introductions
Now that you know exactly what a resume summary is, let's compare it with the other types of resume introductions, namely resume objectives, qualifications summaries, and professional profiles.
Resume Summary

vs.

Resume Objective

A resume objective (also known as a career objective) is the traditional opener to a resume. It's a three-sentence introduction that allows candidates to outline their experience, skills, and aspirations, and can be written by people of all experience levels.

The resume objective lets candidates discuss their ambitions, but job seekers have realized that every inch of resume real estate is valuable and must be geared toward advertising themselves.

Thus, in a resume summary, each bullet point is carefully crafted to advertise the candidate's skills and achievements.
Another key difference between the resume objective and resume summary is presentation. Resume objectives are written in paragraph form, which means that they are less scannable since it's harder to see where each sentence starts and ends.
By contrast, resume summaries are written in bullet-point format, so they are much more digestible for the average reader (in this case, recruiters or hiring managers).
Hiring managers can easily see where each sentence starts (i.e., at the left of the page), which makes picking out the key details much easier, especially when they're sifting through resumes at high speed (which they will be doing).
Resume Summary

vs.

Qualifications Summary

Resume summaries have a lot in common with qualifications summaries, but they're not exactly the same.

Both share a bullet-point format, and both include quantifiable data for maximum effectiveness.

However, resume summaries feature a subheading, which turbocharges your resume, since it makes the skills you bring to the table immediately clear.

By contrast, qualifications summaries don't use subheadings, which means hiring managers have to spend valuable extra seconds figuring out what you're offering.

Qualifications summaries also don't necessarily include quantifiable data, so there's always a chance that you won't get your point across in quite the same way.
Resume Summary

vs.

Professional Profile

The professional profile is another alternative to the resume summary.

In one respect professional profiles are versatile, since they can be composed in either paragraph or bullet-point form.

However, they're also pretty rigid because they contain a fixed number of sentences (four) or bullets (four), each of which has a particular role to play.

To recap, the first sentence outlines your years of experience, and the second sentence describes your expertise. Then, sentence number three mentions your industry-specific skills, and you list your proudest achievement in sentence four.

While the professional profile has been constructed to only mention a single achievement, you can insert an accomplishment in every line of a resume summary. What's more, in a resume summary, each achievement is backed up by quantifiable data.
4. How to Write a Resume Summary in 4 Steps
Resume summaries are easy to write. Simply follow these 4 steps to create your own powerful resume summary and impress hiring managers far and wide.
Step #1.

Pick Your Top Skills

First, you'll need to decide which skills and character traits you want to list in your professional summary.

Regardless of the position, a key rule of crafting an effective resume summary is to include a diverse range of attributes. Doing this shows that you have a balanced skill-set, and have worked on developing an array of transferable skills.

To ensure you achieve this balance, try including a mix of hard and soft skills.
Step #2.

Come Up With Examples to Prove Your Point

Each point is fleshed out with an example of an achievement that proves your ability. You can reflect on your professional experience and come up with the best example for each one.

Let's say you want to showcase your mastery of foreign languages. You can generate ideas about which specific achievements or events deserve to be shown off. A hypothetical candidate who's fluent in Spanish might write down these ideas:
Step #3.

Produce Supporting Data

Once you have a handful of examples of cases when you excelled, you need to add data to give your achievements weight.

You don't need to be especially organized to get your hands on some insightful data, either.

For instance, our foreign language specialist receives an email for each assignment she's offered, so she used the search function of her email inbox to work out how many assignments she's completed to date.

Alternatively, she can check the invoices she's sent out.
Translated 1000+ documents from Spanish into English.
Step #4.

Pick the Example That Shows You in the Best Light

Now that you've gathered several examples, pick the one that illustrates your talents in the best possible light.

If you're applying to multiple jobs, it's probable that you'll find that a particular example fits one job better than another.

For example, if our example candidate was applying to a slightly different role, say as a conference interpreter, she might instead use this bullet:
Provided simultaneous interpretation between English and Spanish at 50+ conferences, including for the governor of Iowa.
Thus, it's worth holding onto your examples. Remember to keep tally of  them while working at your new job, since you might want to seek a new challenge in a couple of years! You can even keep them organized in the same folder as your resume.
5. Who Should Use a Resume Summary?
Resume summaries are an ideal option for job seekers who have a lot of experience under their belts since they're used to showcase skills, experience, and achievements.
Specifically, they're most effective when leveraged by candidates who have:
Stayed in the same job for several years
Held several roles in the same industry
Worked in multiple industries over the years
Because resume summaries suit people with some experience, they may not be appropriate for students. A traditional career objective is best for most high-school and college students because it provides more space for them to talk about their aspirations, and puts less pressure on them to come up with quantifiable achievements.
However, students who've held leadership roles—maybe in student government, fraternities, or social groups—could benefit from using a resume summary as these experiences provide several transferable skills.
For example, student government experience will strengthen your leadership skills, a turn in the theater society will enhance your public speaking, and joining the soccer team will boost your team-player credentials.
Just remember, metrics and hard data are essential for a resume summary, even for students, so make sure you add a neat statistic to each bullet point.
Served term on University of Chicago College Council, winning 4700 votes.
6. Resume Summary Examples
Here are some examples of resume summaries that we hope will inspire you when you come to create your own:
Example #1: Translator
This translator candidate's use of a resume summary will translate into job interviews galore:
Translator Professional Summary (Text Format)
Spanish: Translated 1000+ documents from Spanish into English
Communication: Collaborate with ever-growing portfolio of clients (currently 47)
Time Management: Complete 99+% of assigned translation projects within agreed deadlines
Accuracy: Low rate (<5%) of customer requests for revision of completed translation projects
Example #2: Mechanic
Our mechanic candidate's inclusion of a resume summary means that she'll coast through the resume-sifting stage.
Mechanic Professional Summary (Text Format)
Vehicle repair: Repaired and serviced 2000+ vehicles
Upselling: Upsold parts and labor by an average of 47%
Customer service: Greeted an average of 52 customers a week
Meticulousness: Test drove 1470 vehicles to ensure work quality
Example #3: Property Manager
This property manager job seeker knows that a resume summary will bring the house down.

Property Manager Professional Summary (Text Format)
Negotiation: Negotiated average 4.7% discount from suppliers
Leadership: Managed 39 staff members, including security team
Organization: Oversaw portfolio of 85 luxury properties
Trustworthiness: Handled $50m in monthly rent and fees
Have any questions? Feel free to leave a comment below, or check whether your question is answered in our guide to writing a resume.
If you're ready to write your resume, take a gander at our resume samples or generate a tailored resume in mere minutes using our new, improved (and free!) resume builder.