What is a cover page for a resume?
A cover page for a resume is a one-page letter that explains why you're qualified for your target job, and that you'd like to interview for the role. Also known as a cover letter or a cover sheet for a resume, a resume cover page includes 3–4 paragraphs (or 250-400 words) and sometimes uses a bulleted list to highlight achievements not mentioned in your resume.
If you're unsure about how to start, get inspired by looking at a professional cover letter sample first, and remember to make a different cover page for every job you apply to. We'll show you how.
Our free-to-use cover letter builder can make you a cover letter in as little as 5 minutes. Just pick the template you want, and our software will format everything for you.
How to make a cover page for a resume
Follow these eight steps to write a resume cover page that convinces hiring managers to read your resume and then call you in for an interview:
1. Make your name stand out
Write your name in a header at the top using big, bold letters to help the hiring manager remember your application. And place your contact information either beside or below your name so they have no trouble contacting you later on.
2. Add the hiring manager's contact information
Follow business letter etiquette by putting the hiring manager's name with the company contact information in a left-aligned list under your header.
If you don't know the hiring manager's name, write the department you're applying to.
3. Address the hiring manager or company department by name
Use the "Dear [Mr./Ms./Mx.][Hiring Manager/Department's Name]," format for your cover letter salutation. Never write "To Whom It May Concern," or "Dear Sir/Madam," because these greetings are impersonal and make you seem less interested in the job.
4. Craft a catchy opening paragraph
Start your cover letter by expressing passion for your work, describing a relevant skill or achievement, or using a little industry-specific humor to get the hiring manager's attention.
5. Expand on the details on your resume
Continue explaining the qualifications you highlighted on your resume in one or two paragraphs and a bulleted list. Your bullet points should highlight your most notable professional achievements, and if you have examples you didn't include on your resume yet then include them in this section.
6. Close with a call to action
Thank the hiring manager for reading your cover page, and request an interview via a short closing paragraph that formally ends your cover letter. Include your phone number and email address here for their convenience, even though you already listed these details in your header.
7. Sign off politely
Close your cover page with a customary sign-off like "Sincerely," or "Best regards,".
8. Put your name at the end
Place your typed or handwritten name at the bottom of the page to officially sign your cover letter and finalize your application so you can send it out.
And if you're unsure whether you've got the correct cover letter format by this point, use a creative template that comes pre-formatted (it's a lot easier).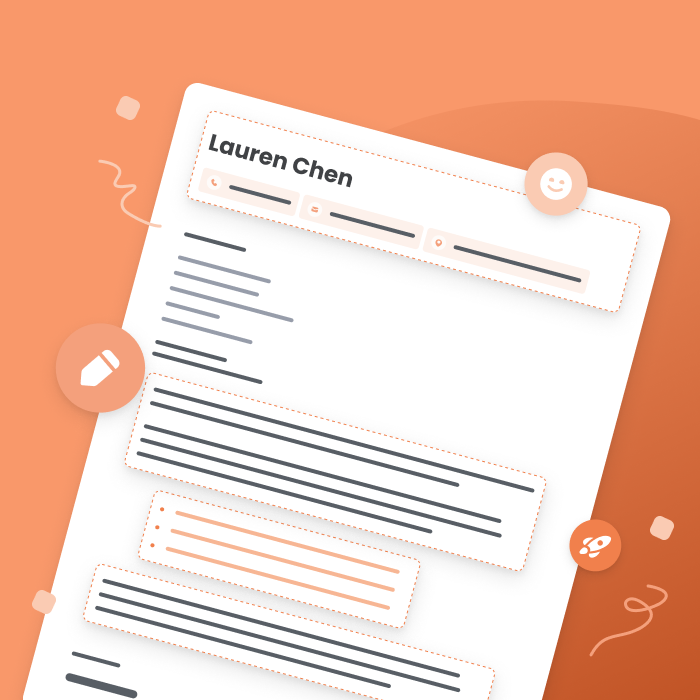 Dread writing cover letters? Read our guide to learn how to write a great cover letter that convinces hiring managers you're the ideal person for the job.
Resume cover page examples
Viewing resume cover page examples is a great way to learn how to make your own, and we've got two good samples you can download for free.
Here are examples of cover pages for a resume with no experience and a resume with a full work experience section:
1. Resume cover page example without work experience
The below cover page example was written to accompany a college student's resume for an internship: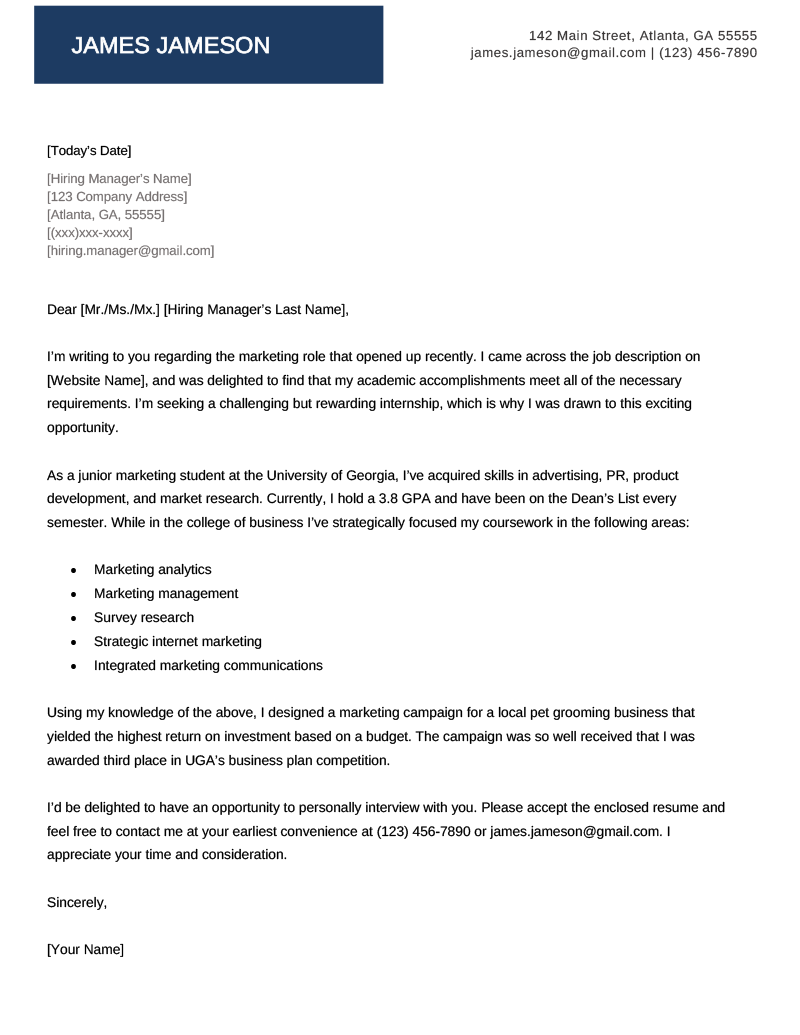 2. Resume cover page example with work experience
This example of a cover page is for an experienced teacher's resume: