Budtenders (also known as bud tenders) are recreational and medical cannabis dispensary workers — and the face of the modern marijuana industry.
To find a fulfilling job as a budtender in the lucrative cannabis industry, you need to write a resume that proves you're knowledgeable about different marijuana products and excellent at working with customers.
We explain how to use our customizable template, budtender resume sample, and guided tips to help you launch your career as a weed expert.
Cannabis resume template
If you're writing a budtender resume with no experience or looking for inspiration on what to put on your resume for a dispensary, feel free to copy, paste, and customize this cannabis resume template with your information.
1.
Resume Header
FIRST AND LAST NAME
Email: youremail@gmail.com | Phone: 303 809 7377 | Address: 2382 McKinley Avenue, Denver, CO 80202 | Linkedin: linkedin.com/in/yourprofile
2.
Resume Objective
Responsible professional with [Number of years] years of experience in the cannabis industry. Seek to leverage my [Relevant skills] to fill your Budtender position. Dependable individual looking to achieve [Company's name]'s goals by providing customers and patients with helpful service and insights.
3.
Work History
Most Recent Job Title
Employer Name | Location | Start Year–End Year
Use 3–5 bullet points for each work experience entry to describe your responsibilities and

resume accomplishments

 

Add hard numbers and details to your bullet points to communicate your achievements (For example, the types of marijuana strains you sold, the number of sales you made per week)

Start each bullet point with powerful

resume action verbs

to provide helpful context and make more of an impact on employers (For instance, enhanced, maximized, improved)  
Earlier Job Title
Employer Name | Location | Start Year–End Year
Use past tense verbs to describe your

work experiences on your resume

if you're no longer working in a role

Be as specific as possible (For example, list the actual names of cannabis products you sold, the weights you worked with, or the software you used to track inventory)
4.
Education
Certification Name
Certifying Association, Location | Date of Certification
Degree Name
University, Location | Start Year–End Year
Mention relevant certifications or licenses and your highest level of education in your resume education section, such as a master's or bachelor's degree. 
If you don't have a degree, include the name of your high school, graduation date (if applicable), your GPA (if it's 3.5 or higher), and relevant coursework on your resume. 
For example, Liberty Smith High School, Aurora, CO
Graduation: 2021
GPA: 3.7/4.0
5.
Skills Section
List 3–6

hard and soft skills

as bullet points that relate to the position you're applying for (For instance, bud trimming, knowledge of marijuana strains and products,

people skills

)
6.
Additional Experience
Bud tender resume sample
We've provided a budtender resume sample below to guide you in your job search: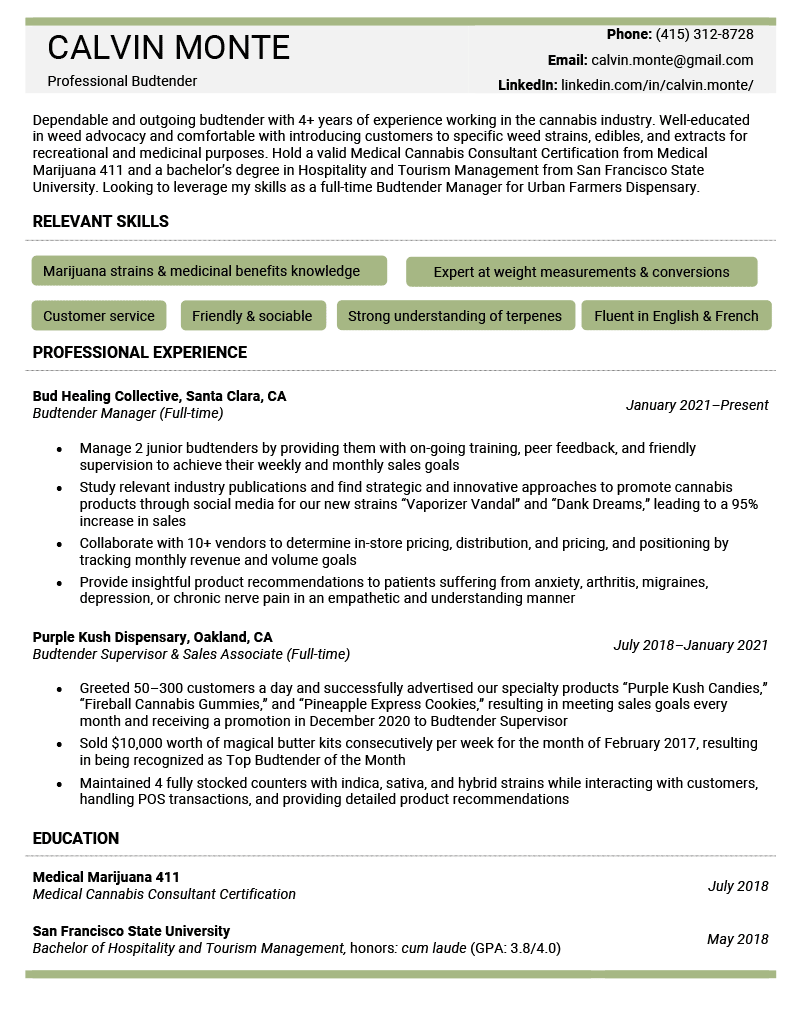 Budtender Resume Sample (Text Version)
Resume Objective
Dependable and outgoing budtender with 4+ years of experience working in the cannabis industry. Well-educated in weed advocacy and comfortable with introducing customers to specific weed strains, edibles, and extracts for recreational and medicinal purposes. Hold a valid Medical Cannabis Consultant Certification from Medical Marijuana 411 and a bachelor's degree in Hospitality and Tourism Management from San Francisco State University. Looking to leverage my skills as a full-time Budtender Manager for Urban Farmers Dispensary.
Relevant Skills
Marijuana strains and medicinal benefits knowledge
Expert at weight measurements and conversions
Customer service
Friendly and sociable
Strong understanding of terpenes
Fluent in English and French
Professional Experience
Bud Healing Collective, Santa Clara, CA
Budtender Manager (Full-time) | January 2021–Present
Manage 2 junior budtenders by providing them with on-going training, peer feedback, and friendly supervision to achieve their weekly and monthly sales goals
Study relevant industry publications and find strategic and innovative approaches to promote cannabis products through social media for our new strains "Vaporizer Vandal" and "Dank Dreams," leading to a 95% increase in sales
Collaborate with 10+ vendors to determine in-store pricing, distribution, and pricing, and positioning by tracking monthly revenue and volume goals
Provide insightful product recommendations to patients suffering from anxiety, arthritis, migraines, depression, or chronic nerve pain in an empathetic and understanding manner
Purple Kush Dispensary, Oakland, CA
Budtender Supervisor & Sales Associate (Full-time) | July 2018–January 2021
Greeted 50–300 customers a day and successfully advertised our specialty products "Purple Kush Candies," "Fireball Cannabis Gummies," and "Pineapple Express Cookies," resulting in meeting sales goals every month and receiving a promotion in December 2020 to Budtender Supervisor
Sold $10,000 worth of magical butter kits consecutively per week for the month of February 2017, resulting in being recognized as Top Budtender of the Month
Maintained 4 fully stocked counters with indica, sativa, and hybrid strains while interacting with customers, handling POS transactions, and providing detailed product recommendations
Education
Medical Marijuana 411
Medical Cannabis Consultant Certification | July 2018
San Francisco State University
Bachelor of Hospitality and Tourism Management | May 2018
honors: cum laude (GPA: 3.8/4.0)
Download This Free Budtender Resume Sample
4 tips for writing a high-quality cannabis resume
Budtender jobs are growing in demand as more states legalize medical and recreational marijuana.
So check out these four tips when writing your budtender resume to increase your chances of getting interviews at dispensaries and standing out from other applicants:
1. Mention your top budtender skills
Cannabis workers have a wide range of hard and soft skills, so include them in the skills section of your resume.
Hard skills
Budtenders can learn hard skills from practical experience, such as taking budtender certification courses or receiving in-house training at a dispensary.
As a budtender, you're responsible for the day-to-day operations of dispensaries and operating point-of-sale (POS) systems, so list your basic math skills and cash handling skills on your cannabis resume.
Additionally, showcase your understanding of weed measurements and conversions because budtenders need to know these standards when weighing weed products.
Finally, weed knowledge and sales skills are necessary so that you can recommend the right products for your customers and patients. 
Even though you're not legally providing medical advice, patients will count on you to recommend specific products that suit their tolerance levels and preferences. 
We've listed some hard skills for your budtender resume:
Soft skills
By contrast, soft skills relate to your personality, work ethic, and how you interact with colleagues and customers in the workplace.
As a budtender, your job is to foster positive relationships with your clients and patients, so having exceptional customer service skills is a must.
Employers also seek flexible applicants who can adapt to changing marijuana laws, COVID-19 restrictions, and work with clients of all backgrounds. 
Finally, list your management skills and leadership skills to show hiring managers you're looking to advance your career in the cannabis industry.
Here are other soft skills you can add to your cannabis resume:
Adaptability
Active listening skills
Communication skills
Empathy
Integrity and trustworthiness
Multitasking skills
Patience
Problem solving skills
Professionalism
Stress management
Teamwork skills
Our free-to-use resume builder can make you a resume in as little as 5 minutes. Just pick the template you want, and our software will format everything for you.
2. Format your cannabis resume efficiently
Formatting your resume correctly is essential if you want to land a job as a budtender. To help present yourself professionally in your job application, we've listed some guidelines to follow when writing your cannabis resume:
If you don't have much work experience or are coming back from an employment gap, you could consider writing a hybrid resume or functional resume that focuses on your relevant skills rather than formal work experience.
Keep your resume on one page

: Hiring managers have many applications to read, so keep your cannabis resume on one page.
If your content doesn't quite fit, try adjusting your font size down to a minimum of 10.5 points and reducing your resume margins down to a minimum of ½".
Proofread your budtender resume

: Presenting an error-free resume tells employers that you're a meticulous professional.
So before saving and submitting your cannabis resume, check for spelling, grammar, and punctuation errors. Use a tool such as Grammarly or ask a friend or family member to look over your application.
3. Write a compelling resume introduction
Your resume objective sits at the top of your resume and consists of 2–4 sentences that:
introduce your relevant qualifications to employers
reveal why you're applying as a budtender
summarize why you're the best candidate for the job
Try to include the following information in your resume objective (using our colored underlines as a guide):
Components of a good resume objective
1. years of relevant experience
2. related licenses, degrees, and certifications
3. examples of your passion or skills relevant to the budtender role
4. the specific position you want to fill and the name of the company (if applicable)
Here's an example of a budtender resume objective written by an experienced budtender in Colorado:
Experienced budtender applicant
Professional budtender with 6+ years of management experience in medical and recreational dispensaries. Possess a 2020 Marijuana Enforcement Division (MED) badge, Centennial State Certification from Cannabis Training University, and a Bachelor's degree in Ecology and Human Biology. Passionate about providing holistic care and optimal health and wellness to patients through marijuana use. An empathetic and skilled manager seeking a responsible position as the Lead Budtender and Sales Manager at OBOC Cannabis Dispensary.
This applicant from Los Angeles has no budtender experience but has written an engaging budtender resume objective using their most relevant qualifications:
Inexperienced budtender applicant
Self-motivated and friendly aspiring budtender with 3+ years of sales and customer service experience in retail environments. Conscious cannabis advocate who keeps up to date with marijuana regulations and industry trends. Possess a high school diploma from San Merino High School and a Green CulturEd Dispensary Technician Certification. Eager to apply my people skills to cultivate positive, long-term relationships with customers and patients as a Budtender at LA Bulldogs Dispensary.