We've put together a list of tips and tricks to help you write a sorority resume that maximizes your chances of receiving a bid from your top choice.
Our free-to-use resume builder can make you a resume in as little as 5 minutes. Just pick the template you want, and our software will format everything for you.
What is a sorority resume?
A sorority resume is a resume you provide for alumna to help them write you a recommendation letter for admission into a sorority.
The recommendation letter they write for you will eventually give your potential future sisters a better idea of how you can contribute to the sorority if you're selected during recruitment.
Writing a sorority resume, also known as a social resume, is similar to writing a resume for a job. It should give an overview of your work experience, education, and achievements.
However, a sorority resume also includes information about your family and places more emphasis on your hobbies. The purpose of a social resume is to give the alumna writing your recommendation letter insight into who you are as a person.
Sorority resume example
Here's a free sorority resume template for you to download and use when you write your own resume: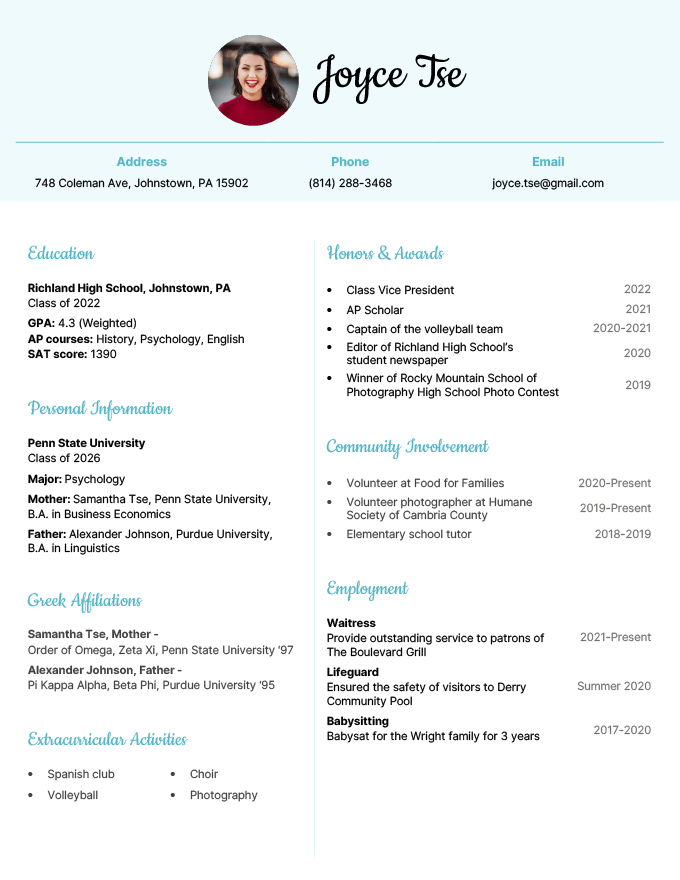 What to include on a sorority resume
Writing a sorority resume can be a bit different from a regular professional resume. To help you nail it, here's an outline of exactly what information you need to include:
Contact information
Below your name in the header of your sorority resume, write down your contact details, including:
Address
Phone number
Email address
Here's a good example of what a contact information section should look like:
Education
Sororities expect members to perform well academically throughout their time in the sorority, and different chapters have different GPA requirements for PNMs (Potential New Members). Check the website of each chapter for more details.
List the following information in the education section of your resume:
High school
Graduating class
GPA
AP or dual credit courses
ACT or SAT score
Below is an example of how to format your education section:
Personal information
The personal information section should include your:
University
Graduating class
Major
Mother and father's name, university and degree (optional)
Check out this example from a professionally written sorority resume: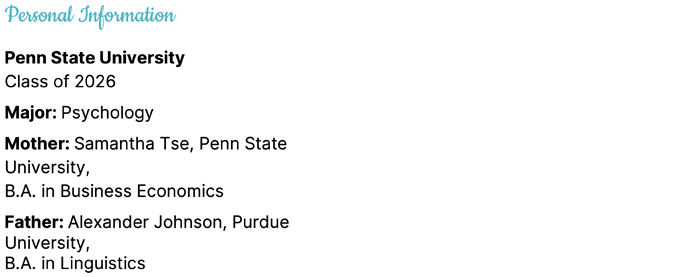 Honors & awards
Under honors and awards, highlight academic and non-academic achievements from your time in high school. You can leave out accomplishments from your elementary and middle school days.
Here are a few examples of achievements to highlight:
Leadership roles
Awards earned
Events organized
Student council positions
On your resume, the honors and awards section should look like this:

Extracurricular activities
If you're interested in joining a sorority, chances are you're someone who loves to have a full schedule at all times.
Sororities look for women with a diverse range of interests, so make sure to highlight all your extracurricular activities and skills on your resume to show that you're a well-rounded individual who'll be a great addition to your university's chapter.
Here's an example of what this looks like in action:

Community involvement
The best sorority resume examples include a section for community involvement. Sororities pride themselves on their philanthropy, and so should you. Demonstrating that you're an active member of your community and dedicate your time and skills to benefit others will improve your chances of receiving an offer from your dream sorority.
List each activity in bullet point format and write down the year next to it, like in this example:

Employment
Internships and teen jobs like babysitting and landscaping absolutely belong on a sorority resume. They show that you're trustworthy, responsible, and know how to work with others.
However, while the experience section of a traditional resume includes 4-5 bullet points which highlight the candidate's most impressive achievements, your sorority resume's employment section doesn't need to be as in-depth.
Limit each entry to one or two sentences and briefly mention what your main duties were as well as any particularly noteworthy accomplishments.
Here's a good example: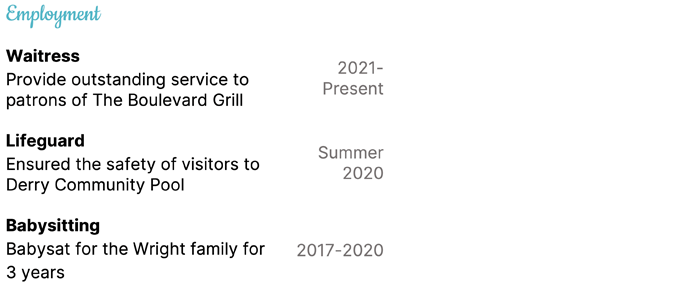 Greek affiliations
This section is especially important if you're a legacy, meaning one or more of the women in your immediate family is or was a member of a sorority, and you want to join the same sorority.
Not all chapters give priority to legacies, but it'll never hurt your chances to mention that your sister or grandmother used to be a member.
Here's how to list greek affiliations on your sorority resume:
Family member's first and last name
Relationship to you
Sorority/fraternity
Chapter
University
Graduating class
Below is an example of what it should look like when you list a legacy on your resume:

Why do you need a sorority resume?
If you're reaching out to an alumna for a rec letter, you'll need to provide her with your sorority resume to ensure she has all the information she needs to write you a stellar recommendation.
Submitting a recommendation letter isn't a requirement to participate in recruitment. But, it could give you a valuable advantage over other PNMs, and it gives you the opportunity to introduce yourself to a chapter before rush begins.
Additionally, if you're a legacy, this is your chance to let your potential future sorority sisters know to make sure they'll take that into consideration when deciding whether to extend a bid to you or not.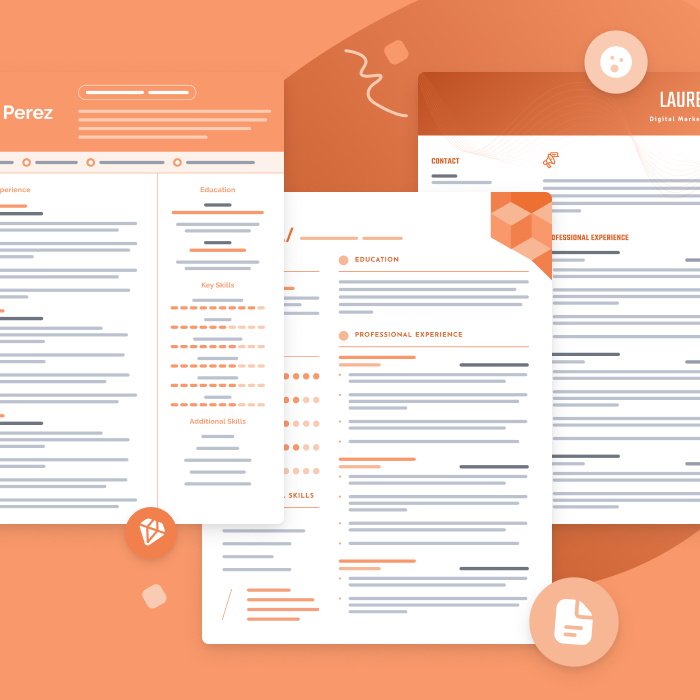 One of the best ways to make your resume is by filling out one of our free resume templates. All our templates are designed by experts and free to download for Microsoft Word or Google Docs.