Being a stay-at-home mom or dad is rewarding – you get to watch your kids grow up and take an active role in their lives. However, landing a job while juggling the many responsibilities of a parent can be hard.
Thankfully, the rise of remote work and flexible job opportunities provides a world of possibilities for stay-at-home parents who want to pursue careers.
We've put together a list of the best stay-at-home mom jobs you can get in 2023:
Top work from home jobs for moms
Here are some of the top remote jobs you can get as a stay-at-home mom (or dad):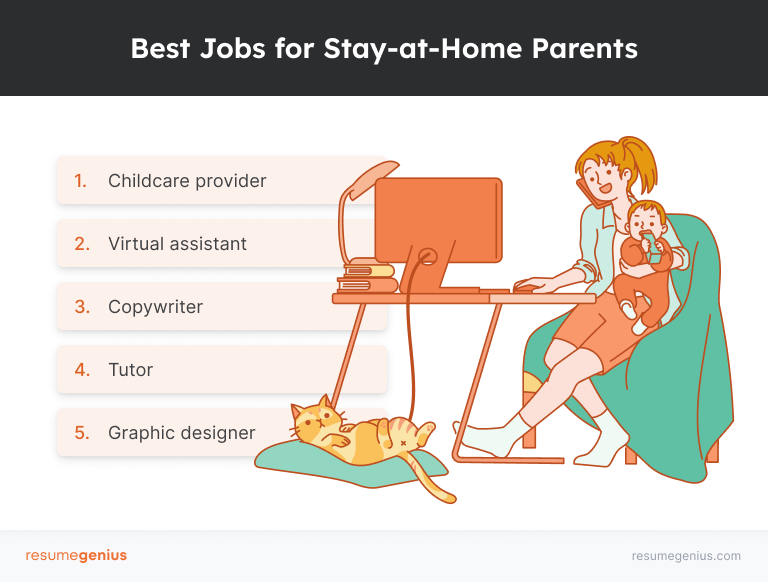 1. Childcare provider
You already know what it takes to look after a child, so why not put those skills to use and offer to take care of other people's kids? Being a childcare provider allows you to work at home and keep an eye on your children at the same time.
Whether you choose to offer in-home daycare, babysitting services, or after-school care, you have the ability to customize your services to meet the needs of both your own kids and the children you look after.
Average pay: How much you charge is up to you, but babysitters, for example, make an average of $17 per hour.
2. Customer service representative
Working in customer service can often be taxing, but you're probably used to dealing with stressful situations at home. The patience you've developed as a parent will help you succeed in a customer service role.
Additionally, customer service jobs can often be done remotely so many companies let their employees work from home full-time.
Average pay: The mean hourly rate for a customer service representative in the United States is just below $20.
3. Nutritionist
Passionate about healthy eating? With some education, becoming a nutritionist is a great flexible job for moms looking for remote work opportunities.
You can schedule appointments for days and times that work best for you. This way, you can be present for your children's activities and daily routines.
Additionally, working as a remote nutritionist allows you to easily access resources online to stay updated on the latest health trends. Take an online course and earn a certification to show clients that you're the right person to help them improve their health.
Average pay: Most nutritionists make close to $30 per hour.
4. Translator
If you're multilingual, use your language skills to become a freelance translator. This job offers opportunities across various industries, so you can pick and choose the projects that interest you, whether it's translating written documents, websites, or contracts.
Because translators work independently, you'll have autonomy and control over your workload.
This flexibility allows you to accept projects that align best with your schedule.
Average pay: Expect to earn about 24$ per hour as a translator.
5. Editor
Got excellent written communication skills and a keen eye for grammar and spelling? Put your skills to use by polishing and refining written content as an editor.
Editors are needed in a wide range of industries, including publishing, media, marketing, and even tech. You're sure to be able to find an area that matches your interests and expertise. Most editors specialize in one or two types of writing, so picking a niche can help you find work and start building your client base.
Average pay: Editors in the US typically make $30+ per hour.
6. Etsy shop owner
Have a creative streak? Opening an Etsy shop can be the ideal way to combine family time with business. Crocheting, painting, making pins — the options are endless. Involve your kids in the creation process by giving them age-appropriate tasks to work on.
One of the benefits of opening an Etsy shop is that it requires minimal financial investment compared to traditional brick-and-mortar businesses. Begin with a small inventory, and as your business grows, reinvest your profits to expand your product offerings.
Average pay: As an Etsy shop owner, how much you make depends on how many products you have listed, how much you charge for each item, and how popular your products are.
7. Data entry specialist
Data entry tasks involve inputting information into spreadsheets, databases, and other systems.  This type of work often doesn't require any qualifications except for excellent attention to detail.
So, if you're looking for a stay-at-home mom job with no experience, consider freelance data entry. As long as you possess basic computer skills and can type quickly, you'll be able to land a data entry job.
Average pay: Expect to make about $24 per hour as a data entry specialist.
8. Proofreader
Proofreading is another job that can easily be done remotely and that doesn't require previous experience. As a proofreader, you will meticulously review and correct written content, catching grammar, spelling, punctuation, and formatting errors.
All you need is a laptop, good attention to detail, and a solid grasp of the intricacies of the English language (or any other language you're fluent in).
Average pay: On average, proofreaders are paid $23 per hour.
9. Transcriptionist
Transcriptionists listen to audio recordings and transcribe them into written form. If you're a quick typer and have no trouble focusing for extended periods of time, you're well-suited for a career as a transcriptionist.
Transcriptionists can often choose when and how much they want to work, allowing you to be there for your children while still pursuing a fulfilling career.
Average pay: If you get a job as a transcriptionist, you'll likely be making somewhere around $17 per hour.
10. Bookkeeper
As a stay-at-home parent, you likely already have many of the skills needed to excel as a bookkeeper. If you've been in charge of your home finances, you'll have developed organizational skills and will be familiar with budgeting and tracking expenses, all key skills for a bookkeeper.
While certifications or previous experience as a bookkeeper aren't necessary to land a job, consider at least taking an online course in Quickbooks so you can show clients that you have the technical skills necessary to help them manage their finances.
Average pay: Charging $22 per hour is common for bookkeepers.
11. Virtual assistant
A virtual assistant is someone who specializes in providing remote administrative support to individuals and businesses. They perform a range of tasks to help clients manage their workload and streamline operations, including answering emails, scheduling appointments, and making travel arrangements.
Depending on your employer, a virtual assistant job might offer less flexibility when it comes to working hours than other jobs on this list. However, you still get the benefit of being able to work from home and avoid commuting, meaning you'll have more time to spend with your family.
Average pay: Virtual assistant is one of the most well-paid jobs on this list. Expect to earn $34 per hour.
12. Interior decorator
If you have a passion for home decor and enjoy staying up-to-date with the latest trends, why not turn your passion into a career? Express your artistic vision while helping clients create beautiful and functional spaces as an interior decorator.
These days, technology makes it easy to communicate with clients, create design plans, and source materials from home. Design tools like SketchUp and floor planner enable you to create 3D mock-ups that you can then send to clients.
Average pay: The average hourly wage of an interior designer is $32.
13. Event planner
Baby showers, birthday parties, play dates — as a stay-at-home mom, you likely have a lot of experience planning events.
With virtual communication tools, you can collaborate with clients from home, sharing ideas, event proposals, and updates through video calls, emails, and project management platforms. This allows for seamless communication and efficient coordination, regardless of location.
Average pay: As an event planner, you can charge about $24 per hour.
14. Travel consultant
Are you an experienced globetrotter and want to help others expand their horizons? If so, a job as a remote travel consultant could be the perfect fit. Use your knowledge to help clients plan their dream vacations, providing destination recommendations and organizing travel itineraries.
Many travel consultants work on a commission basis, earning a percentage of the travel bookings they make. This means your earnings are directly tied to your performance and the success of your bookings. With dedication and excellent customer service, you have the potential to earn a competitive income while maintaining the flexibility of a remote job.
The easiest way to get started as an at-home travel agent is to get hired by a travel agency that offers remote work opportunities.
Average pay: Most travel consultants make about $25 per hour.
Best part-time jobs for stay-at-home moms
If you prefer to work part-time, here are some jobs you should consider:
1. Tutor
Are you a former teacher, or simply enthusiastic about learning? Whether it's teaching math, languages, or specialized subjects, tutoring lets you share your passion for learning and contribute to the educational growth of students, all from the comfort of your own home.
Leveraging your knowledge to help students reach their goals a few evenings a week can be both a rewarding experience and a way to earn some extra money as a stay-at-home mom or dad. An additional benefit is that you can take on as few or as many students as your schedule allows.
Average pay: The average pay for a tutor in the US is $24.18 per hour.
2. Usability tester
Usability testing offers both flexibility and convenience. As a usability tester, you'll be evaluating websites and apps to ensure they're intuitive for users to navigate. This job is ideal for parents who need a flexible schedule to look after their kids.
And you don't need to worry about not having any background in tech or web and app development either. There aren't any prerequisites for usability testing — companies look for regular people without a computer science background to report on their experiences using the app or website.
Average pay: Usability testers typically make between $10-$11 per hour.
3. Copywriter
Copywriters may work on a range of projects, including social media posts, blog articles, website copy, advertisements, and more. If you're looking for a role that offers versatility, consider applying for a job as a copywriter.
Copywriting requires little equipment, meaning it can easily be done from home. Also, you can work on a project basis and set your own hours.
Average pay: The median pay for a copywriter in the US is $33 per hour.
4. Online yoga instructor
Got an interest in health and wellness? Then a career as an online yoga instructor might be a good fit fo you. If you're a new parent, you could even get your baby involved by teaching baby yoga.
Online fitness programs have grown in popularity in recent years, so there are many potential customers out there. Depending on how much time and effort you're willing to put in you could either find a company looking for part-time instructors on traditional job boards, or you could start a YouTube channel or even your own business.
Average pay: Yoga instructors usually make about $28 per hour teaching online.
5. Graphic designer
As a freelance graphic designer, you can take on new projects whenever you have time and set your own daily schedule. If you don't have any previous experience, it's a good opportunity to add a new skill to your resume. There are plenty of online courses you can take to help you get started as a graphic designer.
Average pay: Freelance graphic designers usually get paid per project, but according to the Bureau of Labor Statistics, a typical hourly wage for a graphic designer is $24.38.
6. Blogger
Blogging is another stay-at-home mom job that doesn't require you to have any previous experience. Anyone can start a blog, and you can write about whatever topic you like. Write about your experience as a stay-at-home mom and provide advice for other parents, or blog about your interests.
When you're just starting out as a blogger, making money off your blog might be difficult. However, if making money fast isn't your top priority and you're mostly interested in developing some new skills, blogging can be a great hobby with the potential to turn into an income stream.
Average pay: Many established bloggers charge $100 for a sponsored post, but the price usually varies depending on the number of visitors a blog has.
7. Fitness coach
Not all fitness coaches work in a gym. Many fitness coaching services can be provided remotely, allowing you to work from home and eliminating the need for a physical gym or studio. And don't worry if you lack previous experience, there are many certification programs available online.
Depending on your family's needs and how much time you're willing to spend on your coaching, you can adjust your coaching approach. If your time is limited, accept only a couple of clients and create customized workout plans for them to follow. If you have more time to spare, take on additional clients and offer live video coaching sessions.
Average pay: Fitness coaches make $19 per hour on average. If you get certified, you can charge more.
How to find stay-at-home mom jobs
After you've identified your skills and interests and decided on a career path, it's time to start looking for work in your chosen field. There are several ways to find stay-at-home mom jobs, including:
Check LinkedIn – Look at job search websites such as LinkedIn to find stay-at-home mom job opportunities that match your expertise and fit your schedule. Then, write a compelling resume and cover letter and submit your application.
Use your network – It's possible your neighbor, friend, or family member could be your ticket to a stay-at-home job. Ask around to see if anyone knows of a company hiring, or if they're interested in becoming your clients.
Register on a freelancing platform – Platforms like UpWork and PeoplePerHour make it easy to find work-from-home jobs and allow you to register for free. Create a profile that explains what services you provide and start looking for clients.
Join online communities – If you're active on social media or online forums, look for groups that help stay-at-home parents connect with employers. Or, search for flexible work from home jobs.