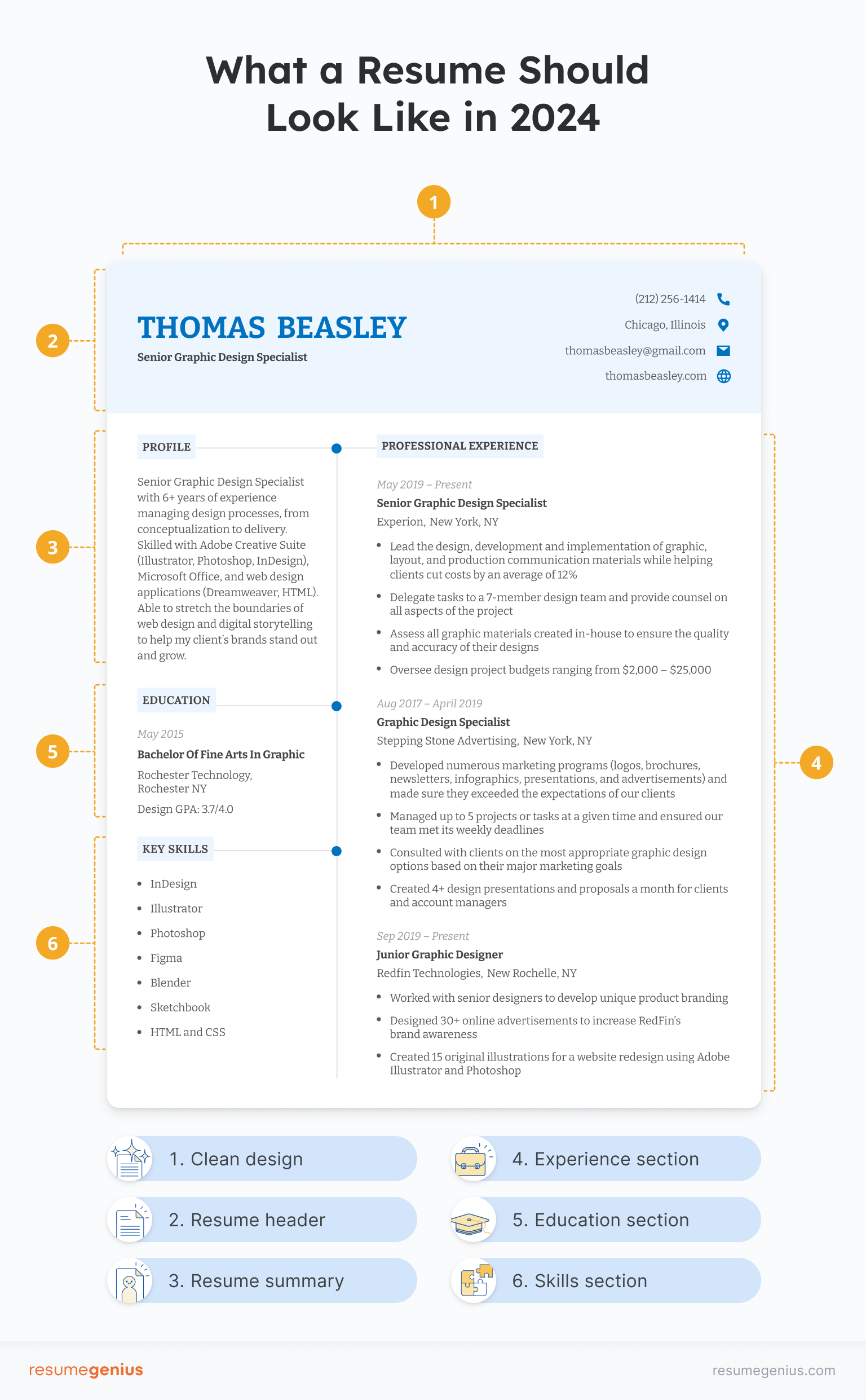 The example in this infographic shows you what a resume should look like. If you're still unsure how to transform your resume into one that looks like this, Eva Chan, CPRW explains what the three different types of resume look like at the 16-second point of this video:
And to expand on what she mentions, here are 6 tips to make sure your resume looks good:
1. Use a header to present your contact details
Begin your resume with an eye-catching resume header to ensure the hiring manager notices your application and can quickly find your contact details. For example:
Just having your name in bold at the top was acceptable in the early 2000s, but resumes should look more stylish nowadays to increase their chances of success.
Your resume header should include your phone number and a professional email address. However, there's no need to include your mailing address on your resume. Hiring managers today contact candidates exclusively by phone and email.
Only add a local mailing address if your previous jobs were in other cities, and you want to reassure the hiring manager that you've moved permanently to your new location. In that case, pair your resume with a relocation cover letter.
2. Start with a resume summary
A good-looking resume always starts with a summary section. A resume summary is a short section at the top of your resume highlighting your career and your key qualifications. It can be formatted either as a paragraph of three to four sentences or as four to five bullet points.
Use it to showcase your skills and achievements, and how you can use them in a new work environment:
Courteous server with 7+ years of experience of food preparation and service in 150+ seat restaurants. Generated additional daily wine sales of $150. Certificate in Food Handling and Safety. 
3. Keep the layout and design simple
Most employers use an applicant tracking system (ATS) to scan resumes and check whether those resumes meet their needs.
If your resume can't pass the ATS, the software will automatically reject it before the hiring manager sees it.
Resume layouts with graphics or excessive design elements are too confusing for the software to process, so keep your resume simple.
These elements make for a less ATS-friendly resume:
Infographics: An ATS can't read images, only words.
Uncommon fonts: The best fonts for your resume are easy to read and professional, like Calibri, Cambria, and Times New Roman. The ATS might not understand uncommon fonts.
Graphics/tables: Just like infographics, most ATS software can't read graphics and tables.
Unclear section titles: If the ATS is looking for your education section, it won't recognize that a section titled "Stuff I've Learned" is the same thing.
Uncommon file types: Most types of ATS software are programmed to read PDFs and DOCXs, but will reject an OTT file.
4. List work experience starting with your most recent job
Many hiring managers prefer chronological resumes because they present them with a timeline showing your career progression.
A chronological resume works for all industries and experience levels, is conventional and easy to understand, and clearly demonstrates a vertical career progression. Unless you've had long periods of time out of work or are switching to a different industry, stick to the chronological resume format.
5. Write a work history section with numbers and action verbs
Use numbers when listing your accomplishments on your resume. They're eye-catching and show you have a history of delivering results.
Even if you didn't work in a data-driven field, you can still find numbers in:
how many customers you served
what percentage increase in sales or efficiency you achieved
how much money you saved your company
Here's how that should look on a resume:
Customer Service Representative
Acme Inc., Hilo, HI  /  July 2016—April 2020
Provided basic technical support for clients on a wide range of company products, resolving issues at a 90% rate
Received an average 85% customer satisfaction rating to date, 15% higher than company average
Handle 90+ calls daily, with duties including signing up new customers, retrieving customer data, presenting relevant product information, and canceling services
Suggested a new tactic to persuade canceling customers to stay with the company, resulting in a 5% decrease in cancellations
Also, focus on achievements rather than responsibilities. Bullet points that begin "responsible for" don't tell the hiring manager much about what you achieved for your previous employer.
Instead, use powerful action verbs that describe why you excelled in the position. Here's an example of work experience with the actions verbs (in bold):
Green & Lopez Ltd., Broken Arrow, OK  /  September 2010–July 2014
Spearheaded new 10-minute stand-up meetings initiative that increased productivity and reduced wasted time
Organized transportation to 47 conferences, seminars, and conventions per quarter
Liaised between CEO and subordinates/clients to ensure optimal use of her time
6. Add resume keywords to each resume section
Resume keywords are the skills and qualities hiring managers say they're looking for in the job posting.
Use them as exactly as they appear in the job listing because the ATS is programmed to search for exact matches.
Once you've found some, they can go in your skills section, work history, and resume summary. While you should use them wherever appropriate, don't stuff your resume with keywords.
If you use keywords too frequently or in ways they don't make sense, the hiring manager can tell that you tried to stuff your resume to trick the ATS.
Now you know what it should look like, start writing your resume (just don't forget to write a cover letter too). Happy job hunting!