Using action verbs on a resume makes you seem much more qualified compared to applicants that use passive and boring phrases like "responsible for", "tasked with", and "handled".
We'll show you how to use powerful action words to highlight what you're capable of, emphasize your most notable accomplishments, and write a resume that catches hiring managers' attention — helping you land more interviews.
But first, check out our video where our in-house career expert, Eva Chan, breaks down the best way to include impactful action verbs in your resume's experience section (starting at the 1:19 mark).
Resume action verbs list & examples
To help you strengthen your resume, we've compiled lists of powerful verbs that give hiring managers a clear idea of what you contributed in previous roles. Scroll down to find the appropriate action verb lists for your skills and experience level.
Our free-to-use resume builder can make you a resume in as little as 5 minutes. Just pick the template you want, and our software will format everything for you.
Action words that show creativity & innovation
Creativity and innovation are some of the most valuable soft skills in the modern workplace.
If you regularly bring creative new ideas to your work, use this resume word list to get ideas for how to show hiring managers exactly what your process looks like.
Designed
Illustrated
Wrote
Built
Reimagined
Improvised
Formulated
Constructed
Invented
Fashioned
Planned
Modeled
Brainstormed
Conceptualized
Innovated
Pioneered
Developed
Engineered
Visualized
Crafted
Devised
Experimented
Composed
Transformed
Envisioned
Conceived
Customized
Integrated
Examples on a resume
Here are two examples showing how to work creativity and innovation-focused action verbs into resume bullet points:
Reimagined the company's visual identity to conceptualize a refreshed brand image in preparation for a website redesign, resulting in increased overall market appeal and a 15% boost in online sales
Transformed the company's social media strategy by creating engaging, original content that doubled follower count on Youtube within six months
Action words that show leadership & management
Whether you supervised a team or took charge of a project, management skills are essential for many jobs — even non-managerial positions.
The following verbs on your resume help show employers that you're prepared to lead people and/or tasks at work.
Appointed
Lead
Directed
Delegated
Coordinated
Oversaw
Supervised
Coached
Advised
Encouraged
Guided
Individualized
Mentored
Managed
Trained
Developed
Motivated
Spearheaded
Inspired
Empowered
Established
Cultivated
Implemented
Initiated
Streamlined
Strategized
Monitored
Examples on a resume
These bullet point examples show how to use leadership action verbs on your resume:
Implemented a new employee training program that improved team skills, increased retention by 35%, and boosted overall job satisfaction
Mentored and developed high-potential employees, leading to 5 individuals receiving promotions to leadership roles in a 2-year period
Action words that show research & analysis
Many employers are looking for capable researchers with solid analytical skills. Choose the right action verbs to show you can effectively collect, analyze, and draw conclusions from data.
Estimated
Formulated
Summarized
Researched
Extracted
Synthesized
Analyzed
Clarified
Inspected
Interpreted
Measured
Reviewed
Surveyed
Investigated
Evaluated
Calculated
Identified
Compiled
Dissected
Assessed
Collected
Explored
Compared
Delineated
Quantified
Discovered
Categorized
Examples on a resume
Here are two examples of how to demonstrate your research prowess with action words in a resume:
Assessed employee performance data to identify skill gaps and implement targeted training programs that improved overall productivity by 12%
Collected and synthesized industry data to produce a detailed report that informed marketing strategy and contributed to a 15% growth in market share
Action words that show teamwork & communication
The ability to work well on a team is essential to many jobs, but it's not enough to say "great communicator" or "possess excellent interpersonal skills".
You should also work some of the following action verbs into your resume to show hiring managers how you applied interpersonal abilities in your role.
Clarified
Facilitated
Contributed
Cultivated
Discussed
Unified
Aided
Translated
Supported
Listened
Contextualized
Cooperated
Collaborated
Fostered
Provided
Encouraged
Contacted
Briefed
Resolved
Assisted
Participated
Mediated
Presented
Shared
Coordinated
Conveyed
Reported
Explained
Corresponded
Examples on a resume
Use these examples to show how you used communication skills and worked effectively on a team in your resume bullet points:
Supported colleagues during a high-pressure period, sharing workload to ensure project deadlines were met without compromising quality
Coordinated team efforts into an inter-departmental project that streamlined processes that increased productivity by 10%
Action words that show organization & problem solving
From keeping files organized to improving an outdated system or process, problem-solving skills and organizational abilities are some of the most in-demand soft skills because of their universal value in the workplace.
Use descriptive action verbs on your resume that highlight how you can keep things organized and make your workplace better.
Reduced
Measured
Revised
Reconciled
Combined
Adapted
Allocated
Overhauled
Documented
Prioritized
Enhanced
Amplified
Boosted
Maximized
Labeled
Streamlined
Organized
Standardized
Integrated
Listed
Resolved
Divided
Compiled
Classified
Reorganized
Merged
Improved
Examples on a resume
Here's how to put organizational and problem-solving action verbs on your resume:
Reorganized inventory system, leading to a 10% reduction in discrepancies and $10,000 in annual storage costs saved
Streamlined internal processes by implementing a new project management system to resolve operational bottlenecks and improve project completion time
Action words that show sales & customer service
In client-facing roles, you need superior people skills to meet sales targets while maintaining positive relationships with customers.
When describing your relevant experience on a resume, use the action verbs listed below to show hiring managers you have excellent customer service and sales skills.
Engaged
Retained
Persuaded
Responded
Promoted
Negotiated
Cultivated
Connected
Networked
Recommended
Outperformed
Upsold
Resolved
Communicated
Listened
Followed up
Exceeded
Assisted
Surpassed
Overcame
Raised
Achieved
Explained
Boosted
Memorized
Closed
Ensured
Built
Liaised
Provided
Acquired
Examples on a resume
Here are some examples demonstrating how to use sales and customer service-oriented action verbs on your resume:
Resolved customer inquiries and complaints with a 95% satisfaction rate, ensuring positive brand image and long-term client relationships
Listened to client concerns and recommended personalized skin care packages based on their needs and preferences, contributing to a 20% increase in repeat business
How to improve your resume with action verbs and power words
To add more action verbs to your resume, identify places where you used passive language such as "responsible for" or boring phrases like "worked on".
Hiring managers lose interest quickly when they see the same dull resume words over and over. And passive phrasing that focuses on the task rather than the action you took to achieve results might give the impression you simply showed up and did the bare minimum at your last job.
This kind of writing can be easily improved using action verbs.
Think about what you accomplished at your job, rather than what you were responsible for. Start each bullet point or sentence with a strong verb that illustrates the actions you took to achieve that particular goal.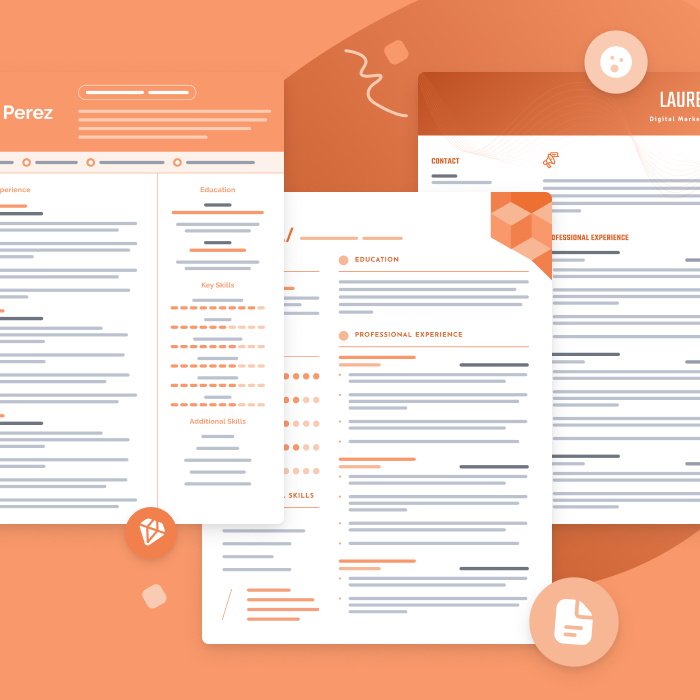 One of the best ways to make your resume is by filling out one of our free resume templates. All our templates are designed by experts and free to download for Microsoft Word or Google Docs.
Trade generic buzzwords for power words
Using buzzwords appropriately on your resume can be tricky. Sometimes, a carefully-placed resume buzzword that's common in your industry works well, but it's important to avoid cliches that have lost their meaning due to overuse.
Instead, opt for power words on your resume. Unlike buzzwords, power words have a clear meaning, and are highly relevant to your skills and experience.
To best avoid eye roll-inducing buzzwords, the table below provides helpful resume synonyms to consider:
| Overused Buzzword | Power Verbs | Power Adjectives |
| --- | --- | --- |
| Fast learner | Adapt, Learn | Capable, Adept |
| Self-starter | Take initiative, Launch | Proactive, Ambitious |
| Team player | Coordinate, Assist | Collaborative, Supportive |
| Critical thinker | Analyze, Assess | Insightful, Decisive |
| Expert | Explain, Educate | Specialist, Knowledgeable |
| Highly motivated | Exceed, Boost | Driven, Ambitious |
| People person | Motivate, Engage | Approachable, Trustworthy |
| Seasoned professional | Facilitate, Coach | Experienced, Skilled |
Use more action words than adjectives on your resume
A few good resume adjectives can provide additional context to your skills and experience. But too many adjectives on a resume can make you seem insincere, because adjectives alone don't give insight to how you applied key skills.
To strengthen your resume, replace unnecessary adjectives with action verbs. In particular, look for phrasing like "Used empathy and listening skills…" that can easily be changed to "empathized" and "listened".
Use the following table to give you ideas for replacing some of your resume adjectives with more impactful action words:
| Common Resume Adjective | Action Verbs to Use Instead |
| --- | --- |
| Detail oriented | Fact checked, Inspected, Scrutinized |
| Results driven | Delivered, Surpassed, Achieved |
| Proactive | Anticipated, Prevented, Initiated |
| Innovative | Conceptualized, Transformed, Launched |
| Passionate | Invested, Devoted, Dedicated |
| Diligent | Sustained, Upheld, Tackled |
| Expert | Taught, Mastered, Demonstrated |
| Patient | Listened, Accommodated, Followed up |
| Collaborative | Communicated, Cooperated, Unified |
| Dynamic | Adapted, Reoriented, Revitalized |
| Enthusiastic | Engaged, Motivated, Bolstered |
| Organized | Consolidated, Refocused, Streamlined |
| Adaptable | Modified, Studied, Revised |
| Personable | Liaised, Networked, Connected |
Where to use strong action verbs on your resume
Using action verbs when talking about your experience improves your resume in the following places:
In your experience section bullet points
Your resume's work experience section is one of the best places to incorporate action verbs.  This section of your resume should show what you achieved in previous roles, so using powerful action verbs helps make a stronger case for you as an applicant.
Take a look at these examples to get a better idea of how to use strong action words in your resume's experience section:
"Used a customer-retention program to make sure clients returned to use our services"
While this example does mention an accomplishment (customer retention), it's not a very impactful bullet point. Here's how to improve this example using action verbs:
"Implemented a customer-retention program to ensure clients returned to use our services and boost annual revenue"
This revised bullet point is much more effective because it uses strong resume words to emphasize:
the role this applicant played in introducing a customer retention program
the impact of their achievement on the company
In your resume summary
A resume summary covers your most important experience, achievements, and skills to serve as an introduction and give hiring managers a quick overview of your qualifications.
However, using vague or passive language like "responsible for" or "experienced with" can make your resume summary fall flat.
To make your summary more effective, incorporate a few action verbs when discussing your achievements. This will clarify for hiring managers how your contributions have made a difference in past roles and can potentially make a difference in your next role.
Here's an example of a high-quality resume summary that uses powerful verbs throughout:
"Retail sales associate with 5+ years of experience communicating with and retaining clients. Achieved an average of 140% of sales goals for 3 consecutive months and provided recommendations that generated $8K in additional revenue. Bilingual in English and Spanish."