What is a resume title?
A resume title (also known as a resume headline or resume tagline) is a catchy line at the top of your resume that summarizes your most impressive and relevant achievements. Successful resume titles are written in a way that makes the hiring manager want to read the rest of your resume's sections.
Here are 19 examples of good resume titles, followed by writing tips to help you create the perfect headline:
Our free-to-use resume builder can make you a resume in as little as 5 minutes. Just pick the template you want, and our software will format everything for you.
19 resume title examples
Your resume title is unique to you, based on your qualifications and the job you're targeting when you write your resume. Here's a screenshot example of a resume title in context, followed by 18 examples of titles written for various industries and levels of experience: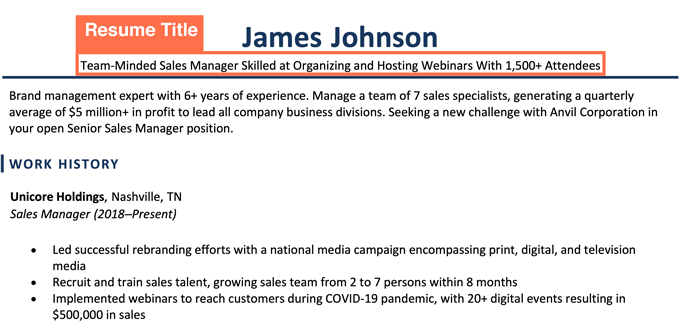 For college students
Criminology Major With 40+ Hours of Police Intern and Ride-along Experience
NCAA Scholarship Athlete and Championship-Winning Volunteer Coach
University Senior Pursuing a BFA in Graphic Design and Proficient in Photoshop
For entry-level job seekers
Recent Graduate With 80+ Hours' German–English Simultaneous Interpretation 
Avid Reader with a BS in Library Science and 2+ Years as a Library Intern
Certified Personal Trainer Obsessed With Designing Diet and Exercise Regimens
For experienced candidates
Talent Manager With 10+ Years' Experience and $18 Million+ Yearly Revenue
Campaign Manager Who's Guided 4 Politicians to the NY State Senate in 7+ Years
Financial Analyst Responsible for Savings of $10 Million Over an 8-Year Career
For managers
Senior Manager With a Passion for Developing Young Talent
Factory Manager Leading Production of 3 Million Units Per Day
Project Manager With a Talent for Implementing Efficient Workflows
For customer service specialists
Senior Customer Care Agent With 8+ Years' Experience Resolving Conflict
Live Chat Specialist With Proven Multitasking Skills and 73 WPM Typing Speed
Cheerful Customer Service Representative Comfortable Handling 80+ Calls Daily
For engineers
Network Engineer Passionate About Building and Troubleshooting Systems
Software Engineer Responsible for Programming 3 AAA Video Games
Civil Engineer Specializing in Waste Management Infrastructure
How to write a title for your resume
Here's an example that shows five tips for writing a resume title: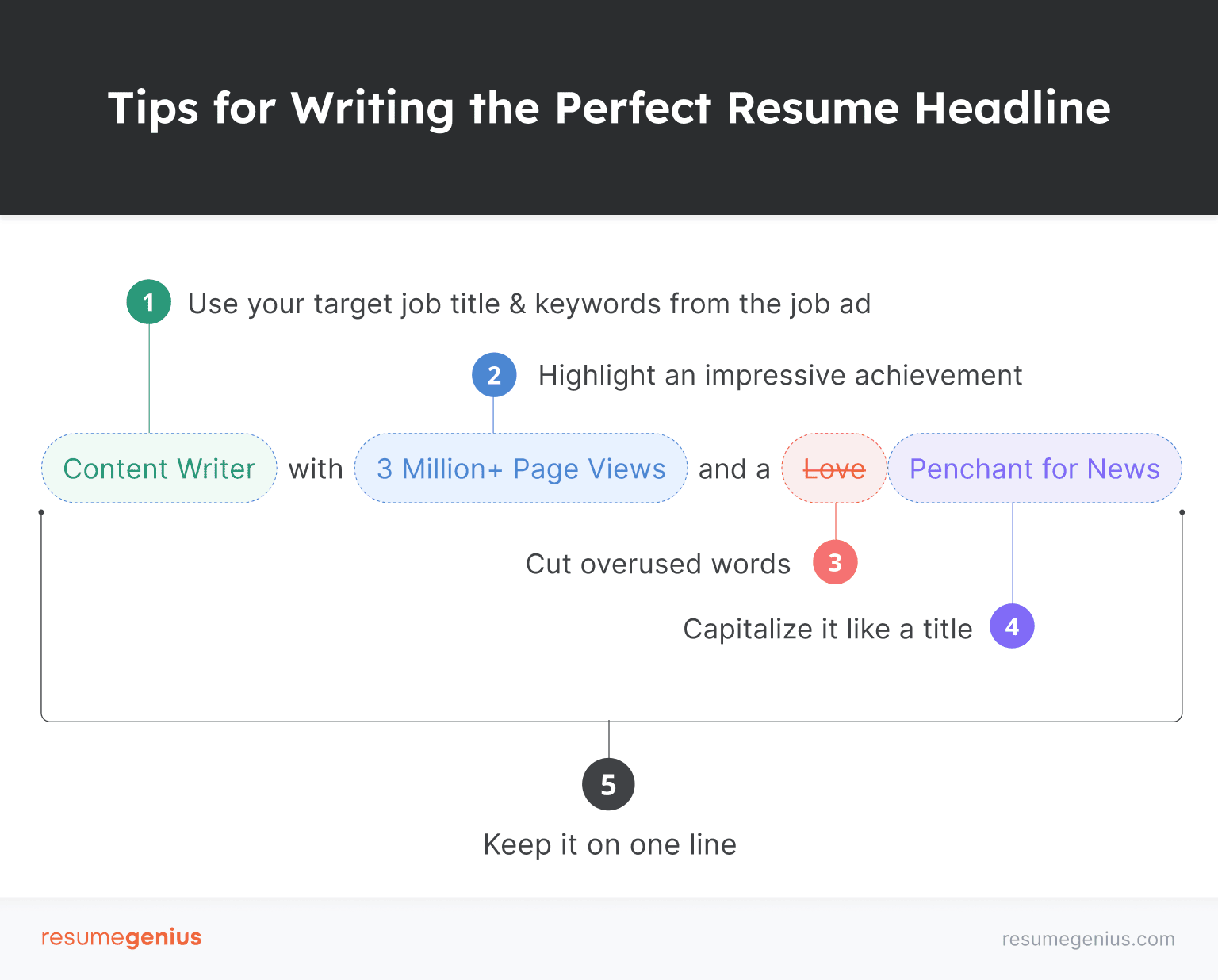 Keep reading for more in-depth information about the five tips above so you can write a fitting title on the resume template you use:
1. Include keywords from the job ad
The purpose of your title is to quickly convince the hiring manager that you're qualified for the job they're trying to fill. The best way to accomplish that goal is by using keywords from the job ad that describe your target company's ideal candidate.
When you read the job description, look for resume keywords that describe:
experience requirements
education expectations
hard and soft skills needed to do the job
certification and training preferences
2. Show your best skills and achievements
Your resume title is more of an elevator pitch than an introduction, so build it around the most impressive, job-relevant accomplishment on your resume.
But merely saying you've achieved greatness isn't enough. Instead, show how you produced results using hard numbers, including:
percentages of profit increased
conversion or click-through rates
number of employees supervised
amounts of money managed, generated, or saved
years of experience
Using data gives the hiring manager a clear understanding of your skill level and your potential impact in your target role.
3. Make your resume title unique
When you write the first draft of your resume title, you may naturally slip in cliches like "hardworking" or "highly motivated." Replace those overused words and phrases with stronger, more engaging action verbs and powerful adjectives.
Here are a few examples of resume adjectives and verbs that give your resume title unique flair:
Inspire
Construct
Amplify
Outpace
Diverse
Open-minded
Quick-thinking
Multifaceted
4. Capitalize your title
Your resume headline is a title, so capitalize it as such to help it catch the reader's eye.
The easiest way to capitalize your headline is by using this automatic title tool. But if you prefer the do-it-yourself route, follow these capitalization rules:
Capitalize all verbs, adjectives, adverbs, nouns, and any word with more than three letters
Lowercase prepositions, articles, and conjunctions with less than four letters
Capitalize the first and last word regardless of their length or part of speech
5. Keep your title on one line
Your resume title should be no longer than one line. If your title exceeds one line, hiring managers might skip it completely.
They scan many resumes each day, so your title should quickly capture their attention and invite them to read on.
If you want to highlight relevant skills and accomplishments that don't fit on one line, place a resume introduction below your title. To break up the text even more and make it easier to read, use a bulleted summary of qualifications, like this: