Our experts found the best LaTeX cover letter templates available, including:
Our free-to-use cover letter builder can make you a cover letter in as little as 5 minutes. Just pick the template you want, and our software will format everything for you.
4 LaTeX templates for any cover letter
These are the 4 best LateX cover letter templates for all types of job applications:
1. Entry-Level LaTeX cover letter template from Overleaf
Despite its name, with Overleaf's Entry-Level Cover Letter Template, you can simply add an extra paragraph or a bulleted list of qualifications if you're an experienced applicant. And here's the template: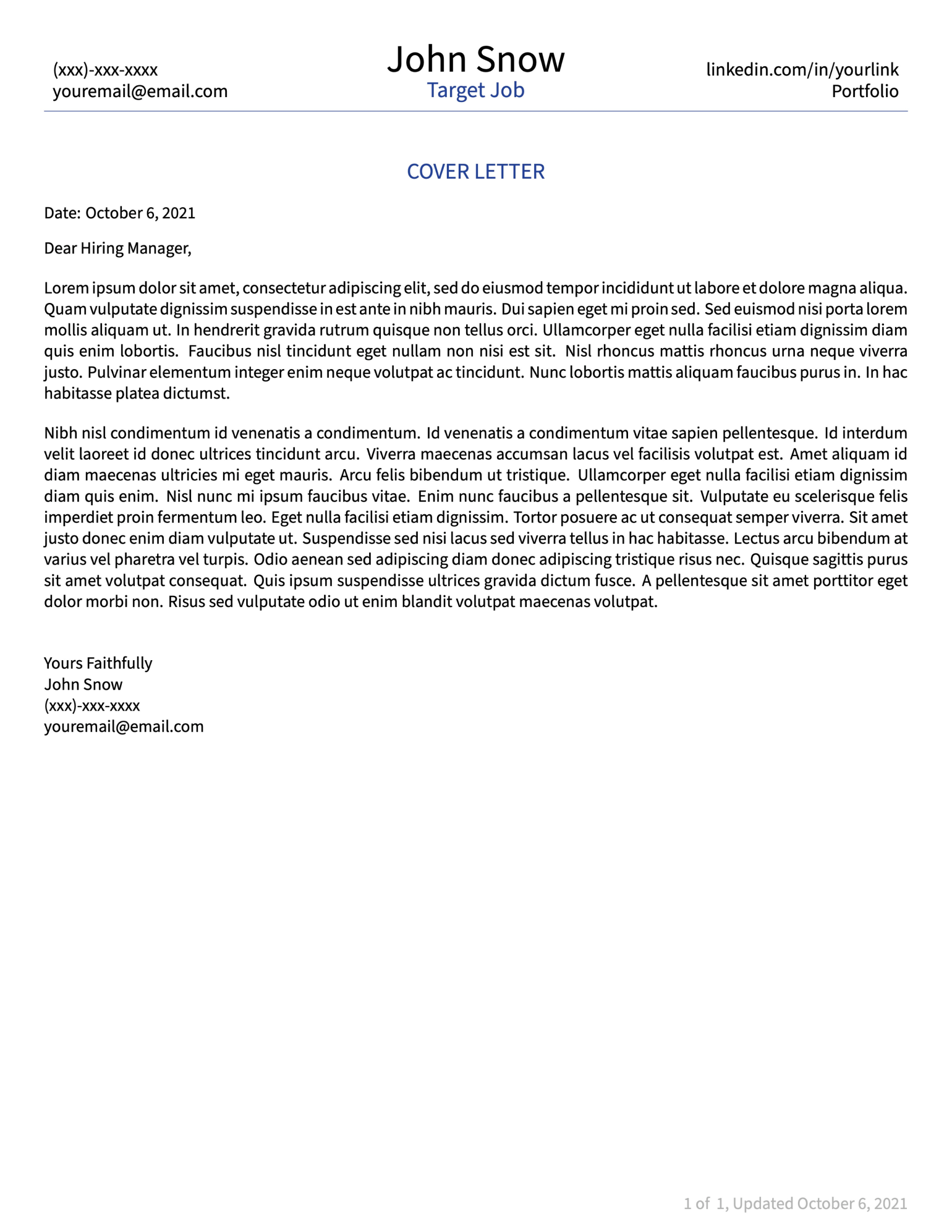 This template works no matter what your experience level is because it has:
a well-formatted cover letter header that makes your name and contact information stand out to the hiring manager
a splash of color with blue subheadings and a separation line at the top that make your cover letter visually appealing
repeated contact information in the cover letter signature so the hiring manager doesn't have to search for it when they get to the end of your cover letter
2. Overleaf's Deedy LaTeX cover letter template
This is the Deedy Cover Letter template: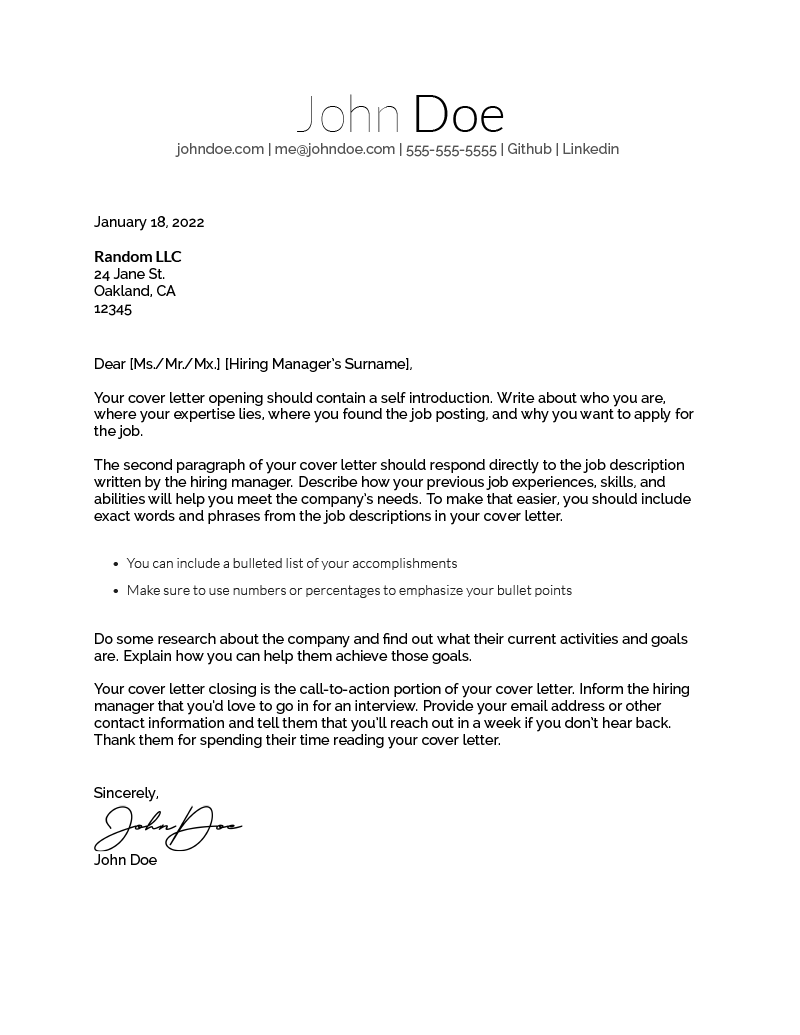 The Deedy Cover Letter template is great for any type of job you apply for because it uses:
alternating gray and black text for your name to add some style
an easy-to-read sans serif cover letter font
even spacing between headers and paragraphs to create an ideal mix of white space and text
3. Long Lined LaTeX cover letter template
Here's the Long Lined Cover Letter template: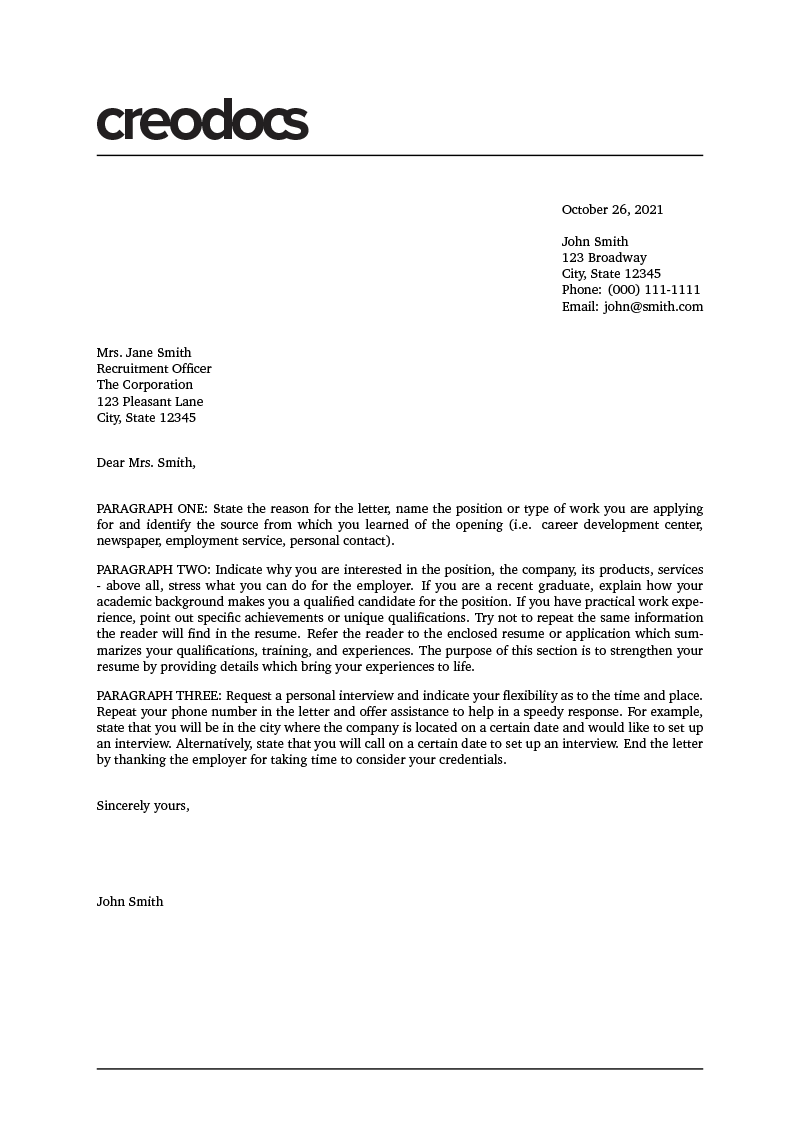 The Long Lined cover letter template is an excellent option for your job application because it features:
horizontal lines at the top and bottom of the page that draw the hiring manager's eye to your qualifications in the middle
extra-bold text for your name that differentiates your application from others
balanced spacing in the margins and between paragraphs
4. Awesome Cover Letter template from Overleaf
Another beautiful Overleaf LaTeX cover letter is the Awesome Cover Letter template: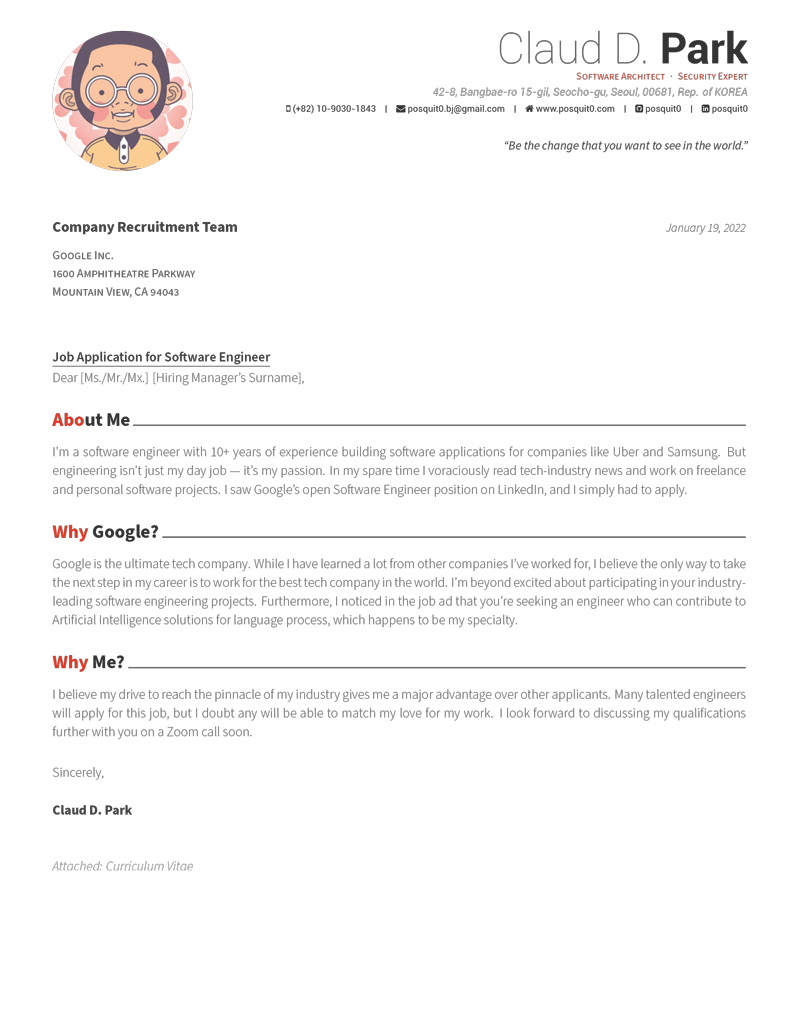 What makes this template so awesome is that it:
has colorful headings that you can use to emphasize your top skills and achievements (but remember to change all the letters of the word "About" in the first header to red for consistency)
draws the hiring manager's eye to your contact information with resume icons
includes a spot for the title of the position you're applying for above the cover letter salutation, which helps the hiring manager view your qualifications in the right context
4 LaTeX cover letter templates for academic CVs
If you're writing a cover letter to pair with your academic CV, these 4 formal LaTeX cover letter templates will work well:
1. Modern LaTeX cover letter template from Overleaf
Here's a preview of the Modern cover letter template: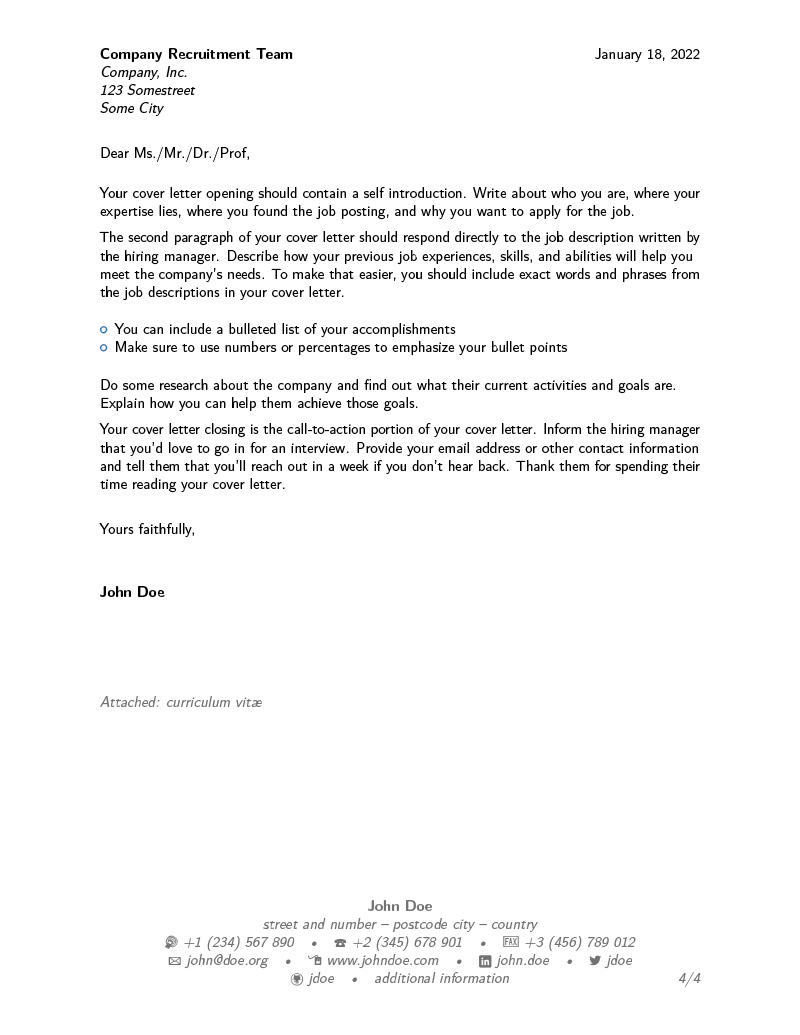 The Modern template goes well with academic applications because it:
has simple formatting with gray, bold, and italic text clearly separating each section
offers a unique twist by placing your name and contact information in a footer
2. Plain LaTeX cover letter template
Here's the Plain LaTeX cover letter template: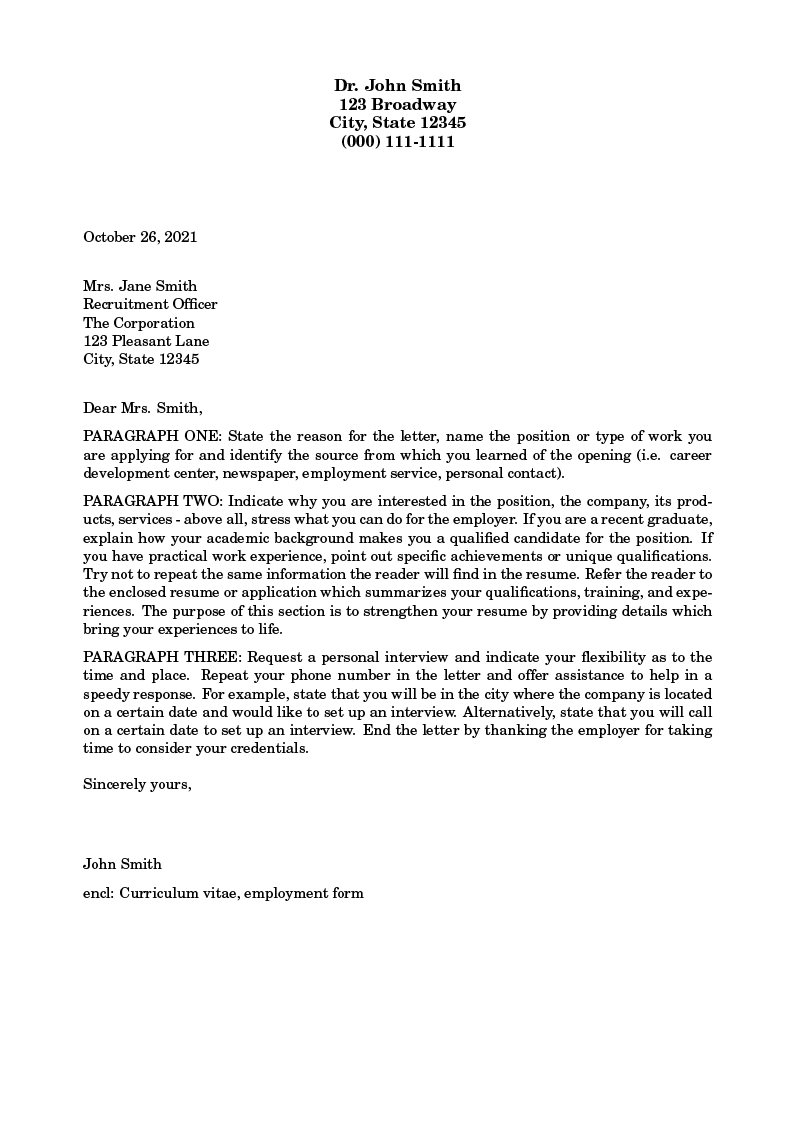 The Plain cover letter template is perfect for pairing with academic and research CVs because it:
uses plain cover letter formatting and a traditional serif font
has a no-frills header that still stands out with bold text and centered alignment
leaves plenty of room between the salutation and your typed name for your signature
3. Short Stylish LaTeX cover letter template
Here's what the Short Stylish LaTeX cover letter template looks like: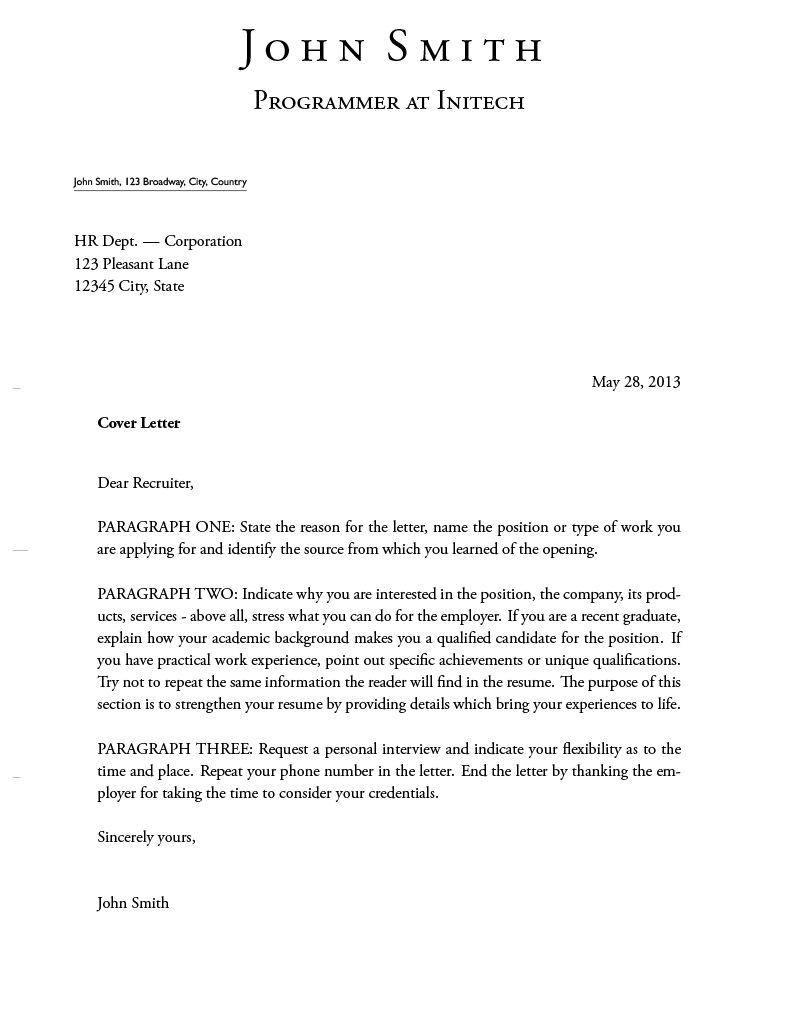 This template is ideal for academic job applications because it:
showcases your name in a simple yet confidently formatted header with large serif text
offers a subtitle in the header that you can use to list your degree title
has a "cover letter" label to differentiate your cover letter from your letters of recommendation that use similar formatting
4. Carta de Motivacion
The Carta de Motivacion template is presented in Spanish, but you can easily customize it in English (like we did below) and submit it to a hiring manager in the US: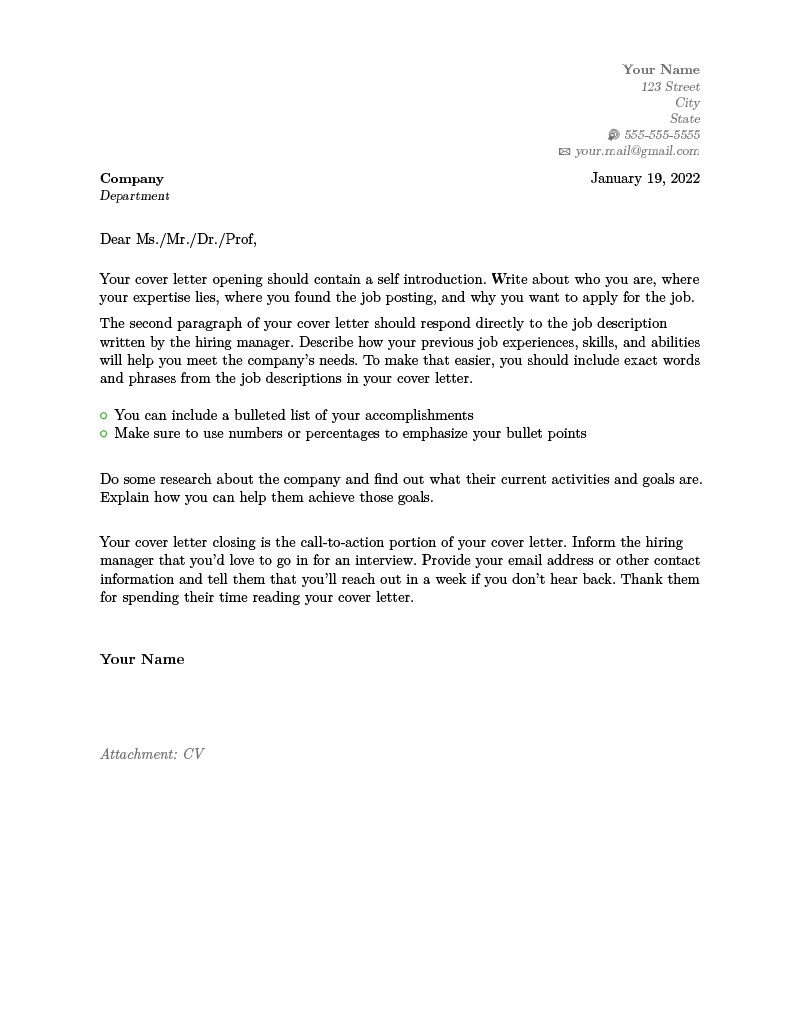 What makes the Carta de Motivacion so great is its:
classic serif font that's ideal for printing
use of italic and bold text to create a clear structure
icons that accent your contact information
How to use LaTeX cover letter templates
We suggest you only use a LaTeX template for your cover letter if you're submitting a hard copy of your application to your target company. Why?
Because the coding in LaTeX templates can confuse automated applicant tracking systems (ATS) that hiring managers use to sort applications.
Also, use a matching LaTeX resume template to help the hiring manager keep your application organized.