This page features three nursing resume samples. Nurse RN (Registered Nurse), Certified Nursing Assistant, and Experienced Mid-Level Nurse.
Table of Contents:
Nursing Resume Samples
Click the images to expand the resumes to a larger size.
Want to write a professional resume fast? Use our state-of-the-art resume builder to quickly write a nursing resume in minutes.
Related Cover Letters
Click the images below to learn how to write and download a nursing cover letter:
Nurse Resumes By Experience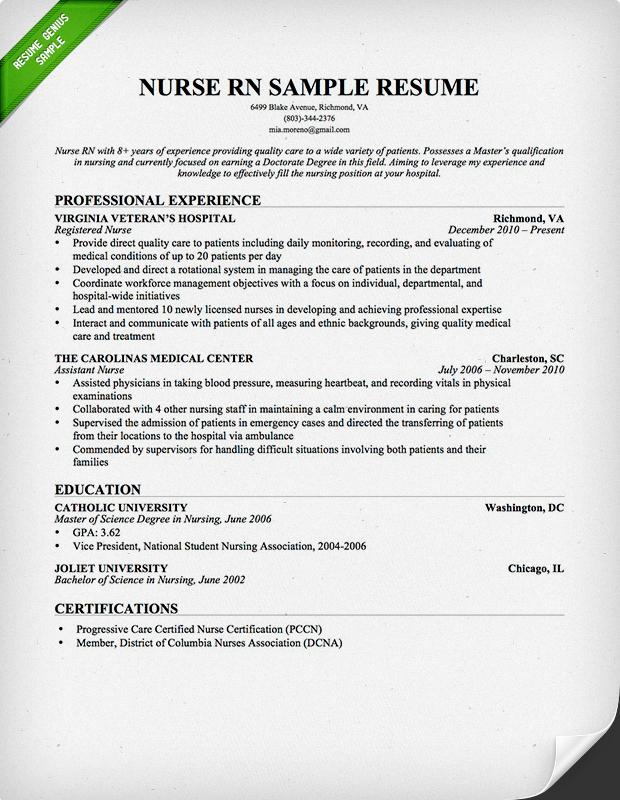 Mia Moreno
6499 Blake Avenue, Richmond, VA
(803)-344-2376
mia.moreno@gmail.com
Nurse RN with 8+ years of experience providing quality care to a wide variety of patients. Possesses a Master's qualification in nursing and currently focused on earning a Doctorate Degree in this field. Aiming to leverage my experience and knowledge to effectively fill the nursing position at your hospital.
PROFESSIONAL EXPERIENCE
VIRGINIA VETERAN'S HOSPITAL Richmond, VA
Registered Nurse December 2010 – Present
Provide direct quality care to patients including daily monitoring, recording, and evaluating of medical conditions of up to 20 patients per day
Developed and direct a rotational system in managing the care of patients in the department
Coordinate workforce management objectives with a focus on individual, departmental, and hospital-wide initiatives
Lead and mentored 10 newly licensed nurses in developing and achieving professional expertise
Interact and communicate with patients of all ages and ethnic backgrounds, giving quality medical care and treatment
THE CAROLINAS MEDICAL CENTER Charleston, SC
Assistant Nurse July 2006 – November 2010
Assisted physicians in taking blood pressure, measuring heartbeat, and recording vitals in physical examinations
Collaborated with 4 other nursing staff in maintaining a calm environment in caring for patients
Supervised the admission of patients in emergency cases and directed the transferring of patients from their locations to the hospital via ambulance
Commended by supervisors for handling difficult situations involving both patients and their families
EDUCATION
CATHOLIC UNIVERSITY Washington, DC
Master of Science Degree in Nursing, June 2006
GPA: 3.62
Vice President, National Student Nursing Association, 2004-2006
JOLIET UNIVERSITY Chicago, IL
Bachelor of Science in Nursing, June 2002
CERTIFICATIONS
Progressive Care Certified Nurse Certification (PCCN)
Member, District of Columbia Nurses Association (DCNA)
Click Here to Download This
MS Word Nurse Resume
Christina Black
11 North Street, Baltimore, MD 49706 cblack@ymail.com Cell: 410-842-0002
Professional Summary
Reliable, caring certified nursing assistant with several years experience caring for elderly and vulnerable adults. Excellent client care; work well with bedridden, physically challenged and memory-impaired residents. Friendly and compassionate, with excellent interpersonal communication skills. Flexible: available days, evenings, weekends and holidays. Discreet and confidential in all dealings with patients and staff.
Current Licenses and Certifications
● Maryland Certified Nursing Assistant License ● CPR Certified
Qualifications
Comfort and motivate patients
Assist with personal hygiene & meals
Monitor patient vital signs
Follow direction of nurses
Work with minimal supervision
Maintain residential rooms
Provide safe & compassionate care
Comply with OSHA and HIPPA
Able to pass physical and TB tests
Sound knowledge of medical terminology & electronic record-keeping
Manage pericare routine and cleanup for coroner
Excellent attendance record
Communication and Interpersonal Skills/Accomplishments
Offered conversation and companionship to long-term care residents, establishing and maintaining positive patient relationships.
Responded to up to 15 patient calls per shift in a timely and efficient manner. Determined need and provided for care of individuals.
Established rapport with team members, residents and families.
Provided social and emotional support to improve residents' morale
Observed physical and emotional changes; reported patient conditions to nurses.
Care and Support
Assisted approximately 15 residents each shift with activities of daily living ; ensured they were on time for all meals and activities
Helped residents with daily hygiene, including showering, oral and pericare, incontinence care, minimizing rashes, sores and soiling
Transferred individuals from bed to chair, bed to commode, chair to commode, using Gait Belts, Hoyer Lifts and EasyStands as needed, ensuring patient safety and comfort.
Organizational Skills
Visited and evaluated patients daily to determine which patients needed more time to prepare for the day and to respect the needs of each individual.
Inventoried housekeeping and personal supplies of residents. Replaced or had supplies ordered as needed.
Recreation & Physical Therapy
Supported residents with field trips, arts and crafts, music, games and reading activities. Ensured participants arrived on time, had needed accommodations and positive experiences.
Followed LPN or RN instructions for range of motion activities for patients
Helped maintain patients' physical well being by encouraging and supporting a daily exercise regimen for each patient, according to doctor's orders.
Professional Experience
Certified Nursing Assistant, Sunrise Senior Home, Baltimore, MD 2009–2011
Certified Nursing Assistant, Providence Hospital, Baltimore, MD 2008–2009
Certified Nursing Assistant, Maryland Health Clinic, Baltimore, MD 2008
Education
Certified Nursing Assistant Training, Healthcare, Inc., Baltimore, MD 2007
High School Diploma, Baltimore Central High School, Baltimore, MD 2007
FELICIA MCKNIGHT
209 Fanning Way, Louisville, KY 29010
(556) 823-5676
feliciamk@gmail.com
PROFILE
Four years experience as a Certified Emergency Nurse in ER/Trauma Care Unit.
Positive performance reviews, with specific commendation for delivering patient-centered, quality care.
Dedicated to the multidisciplinary team, including mentoring and education of new nurses.
Able to remain calm under pressure, perform necessary tasks quickly and correctly, and make difficult decisions swiftly in emergency situations.
PROFESSIONAL EXPERIENCE
Registered Nurse (RN), Emergency/Trauma
Wayne Medical Center, Louisville, KY
2012-Present
Provide nursing care to Level 1 Trauma Unit patients, handling multiple medical emergencies, including stroke, cardiac arrest, car accidents, head injuries, poisoning, burns, and sexual assaults.
Assess patients and provide necessary and prescribed treatments for stabilization.
Supervise 2 LPNs and 8 CNAs each shift, directing daily duties, managing schedules, answering questions, and assisting other staff, when needed.
Represented Trauma Unit as member of JCAHO task force to bring unit into compliance for safety.
Developed and contributed strategic plans to advance standards on the unit, improve overall patient care, and outcomes.
Mentored a cohort of 25 First Year Nursing Students each semester, educating and guiding in both clinical skills and workplace competencies.
Dedham Medical Center, Dedham, KY 2010-2012
Performed lifesaving interventions as part of the multidisciplinary team in the Emergency Department.
Handled intubations, defibrillations, auto transfusions, IVs, splinting, suturing, and other necessary clinical procedures as part of patient care plan.
Built trust and working rapport with staff, patients, and family members to enable effective communication of instructions and other information pertinent to the patient's well being and care.
EDUCATION
University of Kentucky , Bachelor of Science in Nursing (BSN) 2012
Dean's List
Community Scholarship in Nursing
Registered Nurse
Certified Emergency Nurse (CEN) 2010
ADDITIONAL CERTIFICATIONS
Advanced Cardiac Life Support, Adult and Pediatric
Sexual Assault Examiner
Cardiopulmonary Resuscitation
VOLUNTEER EXPERIENCE AND PROFESSIONAL MEMBERSHIP
Annual Blood Drive, American Red Cross
Board Member, Community Health Matters
American Nurse Association
Candidate has finished practicum and preceptorship
Candidate mentions having BS in Nursing in the Career Objective
Candidate has a section to display Licenses & Certifications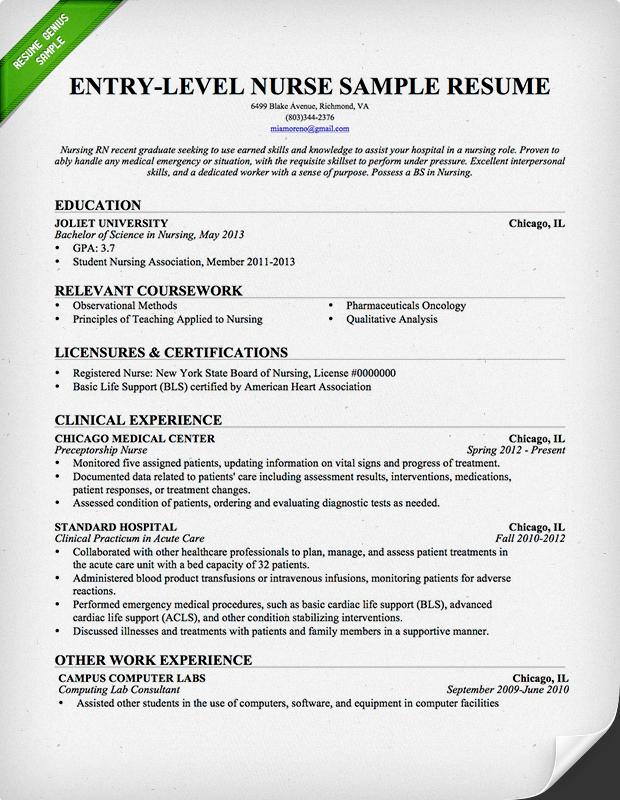 To get the best tips on how to enhance an entry-level nurse resume, click here.
Nursing Resume Advice
According to the National Association of Healthcare Recruiters, the word recruitment is defined as, "the search for the best candidate for a vacant position". Best, in this case, would be the candidate who is most qualified, is most competent, and fits well within the organization.
So, in order to convince the hiring manager that you are the best candidate, you must communicate your value through your resume. Writing an attention-getting, interview-capturing resume is a daunting task, but one that pays off in the long run with a job offer.
This article will help you understand the basics of resume writing and provide education-level specific tips on how to make your resume stand out to healthcare recruiters.
SEE ALSO › Caregiver Resume Sample
The Basics: What is a Resume?
A resume is a 1-2 page document, covering 10-12 years, which a job seeker uses to market his/her specific skills, experience, and qualifications to an employer in application to a job opening.
The resume serves as the first impression you make on an employer.
The resume serves as the first impression you make on an employer. It should look professional, be error-free, well organized, and easy to read.
Nine Possible Resume Sections
1. Contact Information: Name, Address, Phone, Email
2. Objective: Optional, should be specific and state what you are applying to
3. Qualifications Summary: Provides key points related to the position
4. Relevant Nursing/Clinical Experience: Shows the employer what you've done, if possible, include more than the clinical experience required by your school
5. Other Employment Experience: Includes employment outside of healthcare, but is important for the employer to know about
6. Skills Summary/Key Skills: Incorporates keywords from the job posting and your specific skill set
7. Education/Licenses/Certifications/Relevant Coursework/Training: List any professional development that better prepared you to work in the healthcare field
8. Professional Affiliations: Relevant to healthcare, shows awareness of trends & desire to interact with other professionals in the field
9. Volunteer Work: Indicates a desire to provide care outside of paid opportunities
Nursing Resumes Must Include The Following Information
The locations you've been registered as a nurse (if more than one place)
The location and GPA where you studied (if above a 3.5)
Medical volunteer work (clinics, hospitals, blood drives, etc.)
A list of where you did placements in school (and for how long you did them)
List your clinical rotations and the hours you worked in each one
ALL previous nursing job roles you filled, and a summary of what your duties were in that role. Be very specific to your line of work (Intensive Care Unit, clinic work, nephrology, maternal care unit, thoracic head and neck unit, pediatrics, oncology etc.)
Don't just be general. Hiring managers need to know your exact skills and abilities. Are you particularly skilled in locating veins for blood samples and IV's? Do you have a knack for dealing with irritable patients? List your special talents on your resume as they'll help you stand out and contrast nicely from your other educational and technical based skills.
Highlight Accomplishments, Not Just Duties
Under your experience section, you may be tempted to copy and paste the list of duties you performed as detailed in your job description. The drawback to doing this, though, is that you won't stand out from the other applicants with similar experience.
Your goal is to think about what sets you apart, what you are most proud of, or what you accomplished in your previous roles, and communicate these through action-packed statements that are compelling.
Use action verbs, quantities, qualities, and details to describe not only what you did, but also how you did it.
Example:
Boring, Simple Duty:

Provided patient care to children in the pediatric wing.
Accomplishment Statement:

Delivered responsive, compassionate, patient-centered care daily to pediatric caseload of up to 50 patients per shift.
Quantifying Your Resume
When writing your resume, if you can answer the questions, "How much?" or "How many?", you should try to include that number.
When writing your resume, if you can answer the questions, "How much?" or "How many?", you should try to include that number. For instance:
How many patients did you take care of in your unit?
How many hours did you work per rotation?
How many beds are there in your hospital?
How many nurses did you work with, or train?
Quantification will give the hiring manager a clearer picture of your skills and abilities because of the scope it provides.
Here is an example of a statement written as a simple duty:
Supervised unit of a large psychiatric facility.
Here is the same duty with more details added, which tells the employer how you did your work:
Supervised the adolescent unit of a large psychiatric facility, specializing in eating disorders.
This certainly is an improvement, but leaves the employer wondering how many patients and how often?
Here is the statement written with quantification added (in bold):
Supervised up to 10 staff in the 200-bed adolescent unit of a large psychiatric facility, specializing in eating disorders.
Additional Example:
Updated the electronic medical records of up to 100 patients per day, following office procedures and a focus on confidentiality.
Action Verbs for your Resume
| | | |
| --- | --- | --- |
| Adhered | Displayed | Planned |
| Administered | Educated | Preserved |
| Applied | Ensured | Provided |
| Assessed | Evaluated | Reacted |
| Assisted | Executed | Reported |
| Built | Explained | Responded |
| Collaborated | Followed | Scheduled |
| Communicated | Helped | Shared |
| Contributed | Led | Supervised |
| Decided | Listened | Taught |
| Delegated | Managed | Tracked |
| Delivered | Measured | Trained |
| Demonstrated | Negotiated | Treated |
| Developed | Observed | Updated |
| Directed | Performed | Wrote |
The Specifics: What Employers Want
Employers want to see that a nursing candidate has previous experience in a healthcare setting, has learned and applied the necessary technical skills involved in nursing, and has the key transferable skills that make that candidate perform well at work.
Cinnamon Desgres, a Nurse Education Specialist at Baystate Health in Springfield, Massachusetts, emphasized the importance of noting clinical experience within the resume, both that which is required by schools, and other clinical experience sought out by the candidate to enhance his/her experience.
If you have worked as a volunteer, this should be noted as it indicates additional working knowledge outside of the classroom that provided experience in a healthcare setting, providing an understanding of the language, communication practices, and how what is being learned applies to the actual workplace.
"In addition to clinical experience," says Ms. Desgres, "nursing candidates should highlight teamwork, language, advocacy, and critical thinking." These soft skills are crucial in the healthcare environment; describing these within the resume gives the employer a sense of how that candidate will perform as an employee.
Lastly, as an RN, with both a Master's degree and a Certificate in Staff Development, Desgres noted the importance of education to employers, with many hospitals working toward increasing the amount of nurses who have earned Bachelor's degrees. She encourages job seekers to include current education level, additional training and coursework, along with future educational goals.
Tailor Your Resume to the Job Posting
Key Words: Each time a job seeker finds a posting of interest, he/she should scan the resume for key words that can be incorporated into the resume. This process of tailoring to the job posting is key to making sure an employer sees exactly how the candidate fits the position that is being advertised.
Here is an excerpt from a job posting for a Licensed Practical Nurse with key words in bold:
Provides nursing services and assumes responsibility for the care and well being of assigned patients. Performs assigned tasks and educates the patient and caregiver to promote self-care within the patient's functional limitations. Participates as an active member of the care team and collaborates with other members to assure a high quality of patient care.
Skill Sets and Educational Level
An employer would expect to see the following foundational skill sets within an applicant's resume, dependent on educational level.
A nurse at the entry level may:
Provide basic nursing comfort and care to patients
Monitor patient health and maintain health records electronically
Communicate with other staff to provide care under the prescribed treatment plan
A nurse at the Associate's Degree (ADN) level may:
Observe patient and report on well-being
Keep a thorough record of patients' medical histories and symptoms
Perform diagnostic tests and analyze results
Operate medical equipment
Administer medicines and treatments to patients
Teach patients how to manage their illness or injury
A nurse at the Bachelor's Degree (BSN) level may:
Develop nursing care treatment plans
Treat patients for illness or injury and perform routine lab work
Educate patients
Supervise other staff, including other nurses
Administer medications and injections
Assist doctors
A nurse with an Advanced Degree may:
Assess patient conditions
Manage lower level nurses and department
Develop treatment plans and discuss and explain conditions to patient
Oversee patient records
Research and write publications relevant to specialization
Educate patients or teach other nurses in a college or university
The Importance of Soft Skills
Although the nursing field requires specific technical skills, employers look for other skills, called soft skills-the type of skills that make you a good employee. Incorporate these into your summary, or profile, and into your accomplishment statements.
Critical thinking
Communication
Interpersonal skills
Customer service
Teamwork
Reliability
Dependability
Problem-solving
Attention to Detail
Language skills
Able to multitask
Organized
What if you're not getting interviews?
You'll need to be very proactive. In some places, the job market for nurses can be quite tough. You'll need to apply continuously, even if you get interviews, because it's possible that you may not pass the interview stage. Apply to every and all positions that you can — sometimes you'll be surprised by who calls back.
Engage your Networks
Generally speaking, nursing units will prefer to hire internally rather than externally. This means that they prefer to choose candidates recommended by current employees, or friends of employees. In other words, connections are everything.
Do you have any friends, family, or former classmates currently in the healthcare industry? Be sure to contact them — they may be able to pull some strings for you and get your resume front and center.
Be Aggressive
Above all, nursing units value experience. If you're a new grad, or lacking in experience, your resume may fail to stand out. We recommend that you contact nurse managers directly, and tell them that you'd like to gain experience in their specific nursing unit. Ask if you can shadow the unit, ask questions, and gain experience. Aim to make a good impression — this will help boost your resume, and give you the connections you need to get your foot in the door.
SEE ALSO> Nursing Cover Letter Samples
Other Good Nursing Samples
Registered Nurse – jhu.edu (Note: This example depicts a lot of experience, jumping from job to job.)
John Hopkins School of Nursing – John Hopkins also provides some very high quality nursing resume samples for RNs, NPs and other specializations.
Didn't get the specific answers you wanted from this page? Please leave a comment with your question or visit Resume Genius on 
Facebook
, 
Twitter
, 
Google Plus
, or 
Linkedin
 to ask. And if you really liked the sample, don't forget to pin it on 
Pinterest
!