When you know how to use it well, LinkedIn can be one of your most powerful job search tools. It offers not only a job board but a way to connect with other professionals and, in particular, recruiters.
But it's intimidating to reach out to recruiters on LinkedIn, especially if you've never done it before.
In this article, we'll go over:
4 steps to take before reaching out to recruiters
Like with any professional engagement, there's etiquette to follow, and if you want to ask for help or connections, it's crucial to be respectful in your approach. So before you go ahead and start cold messaging recruiters with your requests, it's important to lay the groundwork for a meaningful interaction first.
Here are four simple steps to set yourself up for success:
1. Update your profile
The very first step before connecting with a recruiter is to make sure your LinkedIn profile is up-to-date and accurately reflects your relevant skills and qualifications.
If you don't update your profile, recruiters you reach out to could visit your profile only to decide that you're not the qualified candidate they're looking for.
Make sure your LinkedIn profile:
Includes a professional-looking profile photo
Has a descriptive headline
Includes your job preferences and what type of work you're open to
Has a professional bio in the "About" section that describes your professional accomplishments and goals
Details your work experience using action verbs and quantifiable metrics
Includes key job skills
Highlights your education
Includes any extras, such as courses, certifications and licenses, or associations
Your LinkedIn profile is essentially a more extensive resume. To go the extra mile and really impress recruiters, your LinkedIn profile should:
Make use of the "Featured" section to highlight relevant achievements
Show regular activity (posting, re-posting, or interacting with content)
While you're at it, make sure your target company is one you follow. Being engaged on the platform will show recruiters that you're motivated and proactive about your professional growth.
2. Identify recruiters you want to connect with
Once you're profile is up-to-date, the next step is to figure out who to reach out to.
If there are specific companies you're interested in working for, start by checking LinkedIn to see if they have in-house recruiters. You can easily do this by going to a company's page and searching for "recruiter" or "talent acquisition" under the "People" tab.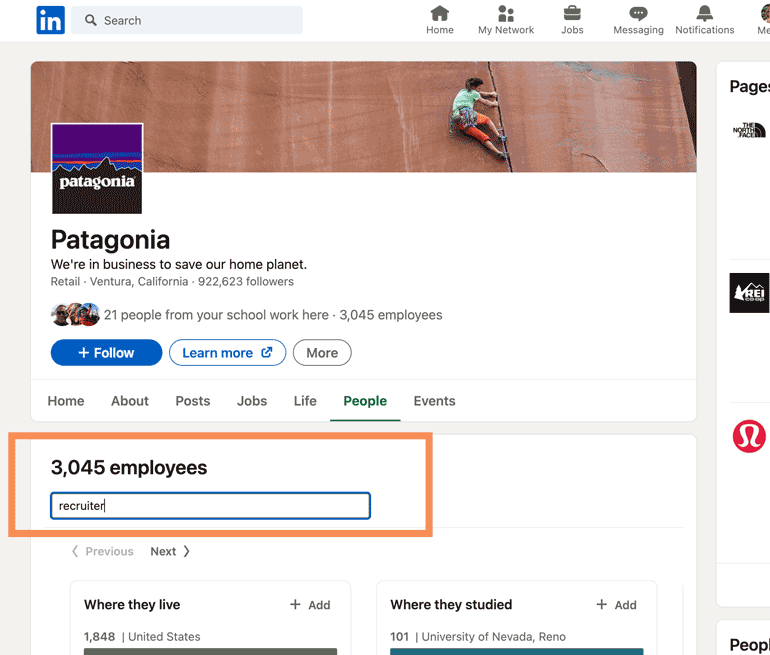 If you want to do a more general search for recruiters in your area, search "recruiter" and select the "People" option. You'll see a list of recruiters near you and where they work.
You can also search for recruitment agencies and firms, and find specific recruiters on the company pages. Finding an agency that works within your industry will help you find opportunities you're interested in.
3. Follow them and familiarize yourself with their posts and articles
Once you've found the recruiters you want to connect with, follow them. If they're active on LinkedIn and posting articles or engaging with content, you'll get a chance to see who they are as a professional. If they post something you find interesting, this could be a great opener for a connection request.
4. Send a connection invitation with a note
When you feel ready to send a connection invitation, make sure to do so with a personalized note. Recruiters will be far more likely to accept your invitation if you include a note about who you're and why you're interested in connecting.
Your note can only be 300 characters, so keep it short and be clear about why you want to connect. Something like this:
Hi [Name],
I really enjoyed your insights in the article 'Top Technical Skills Employers Are Looking For in Engineers in 2023'. As an aspiring software developer, I'd love to connect and learn more about what upcoming trends you see in the job market. Thanks for your time,
[Name]
Alternatively, if you have a premium account or InMail credits, you can skip the connection request and message a recruiter directly via InMail.
If your connection requests get accepted, congratulations! It's time to start preparing your pitch!
Good and bad examples of messages to recruiters
To get an idea of what makes a LinkedIn message response-worthy, we asked three recruiters for the best and worst messages they've received, along with an explanation of what makes them good or bad. Below are the examples they sent, edited for privacy.
3 examples of good messages to recruiters on LinkedIn
Recruiters singled out these messages as some of the best they've received:
Hi [Recruiter name],
Thank you for your invitation! I just read your article yesterday and it's super helpful, thank you so much for sharing your thoughts!! It would be my pleasure to talk to you, please let me know when you will be available and arrange a call at your convenience.
Regards,
(Name)
What makes this a good example: It's kind, polite, and accommodating. The recipient of the message, Alan McIvor of Paul Wright Group, said that these qualities make it a simple but effective message.
Hi [Recruiter name],
I saw that you're recruiting for the position of [job title] and if you have a minute, I'd love to discuss how my editing skills and studies in [subject] might match up with the position you're recruiting for. Please feel free to reach out to me via email at [email address]!
What makes this a good example: This pitch is specific but brief. It states what the candidate is looking for as well as their current situation. Carl Yoong of reesmarx says that while it may be surprising, many pitches lack these simple elements.
Dear [Recruiter name],
I hope you are well, I want to enquire whether you recruit for [industry] internships, I am a 2nd year [subject] student who is very willing to do any sort of internship, if need be please let me know and I can attach my CV.
What makes this a good example: The candidate uses a polite greeting and makes a straightforward inquiry, keeping their message short and to the point. This is an effective way to reach out to recruiters, according to Carl Yoong and Kayla Nicholas of reesmarx.
3 examples of bad messages to recruiters on LinkedIn
Here are three of the worst messages received by the recruiters we spoke to:
[Recruiter name], Fully Remote [job title + lots of skills listed in bullet points] looking to connect. Back on the market and looking for a new contract. Available Immediately. Must be fully remote and outside of IR35 if it is based in the UK. Will work internationally, as based in Southeast Asia. Lines and email open 24/7
What makes this a bad example: This message includes no personalization other than the recruiter's name, is very curt and abrupt in tone, and gives the recruiter a long list of unsolicited information rather than asking a question nicely.
According to Carl and Kayla, it's easy to tell that this is a mass message the candidate is sending out to many recruiters, rather than taking the time to tailor it to the company and recruiter.
Hi [Recruiter name] Im really interesting join with [Company], arround next week could u have available time to discuss ? thanks before
What makes this a bad example: This message is riddled with spelling and grammar errors. The candidate clearly didn't take any time to proofread or edit the message. Alan says messages like this will raise red flags for recruiters and ruin any chance of a response.
Saw job you posted on FB, can you send me more details?
What makes this a bad example: In this example, the candidate doesn't make any effort to introduce themself or provide the recruiter with any kind of information. Alan says recruiters definitely won't take the time to respond to rude messages like this one.
It's almost hard to believe that some of these are actual messages that were sent expecting a helpful response. Hopefully after seeing them you're feeling reassured about your own ability to write a compelling message to a recruiter.
Here are some extra tips to help you craft a message that gets recruiters on your side.
Tips for reaching out to recruiters on LinkedIn
Here's what you can do to increase your chances of getting a response, based on the feedback we got from recruiters:
1. Tailor your message
Recruiters are busy and don't have a lot of time to field inquiries from people they've never met. If you don't show them that you're taking the time and effort to write a thoughtful message, what incentive do they have to write one back?
Rather than sending out generic messages to recruiters, take the time to tailor each message to the recruiter, the job, and the company or industry you're applying for work in.
2. Be genuine
Adding a personal touch can go a long way towards inspiring a recruiter to write you back. Do you and the recruiter share a connection or an alma mater? Have you learned something valuable from an article they've written or shared? What are your professional goals and why are they important to you?
Being genuine in your message gives the recruiter a sense of who you are and allows them to relate to you on a personal level, making it more likely that they'll want to do what they can to help.
3. Be brief
Keeping your message short not only makes it more likely that it will get read, but also shows that you're respectful of the recruiter's time. If they're open to more information or have follow-up questions, they'll let you know.
4. Be reasonable in your requests
Make sure you're not asking a massive favor, like "Please find me a job." What you ask for should be specific and reasonable – perhaps a bit of a recruiter's time to discuss a company's expectations, or whether they know of any job openings that match your particular skill set.
5. Be polite
Always be polite in your messages. Nothing will turn a recruiter off as fast as a rude message. Take the time (and the characters) to write a proper salutation and sign-off, introduce yourself, and say something kind and complimentary about their work.
Templates for messaging recruiters on LinkedIn
To make it easy, here are three situation-specific templates you can use to message recruiters:
Template for a connection invitation
Hi [Name],
I'm really interested in learning more about [industry] hiring trends, and I know you have expertise in this area. I'd love to connect and learn more about how I can best position myself to be a competitive candidate in the [industry] space. Thanks for your time,
[Name]
Inquiring about job opportunities
Hi [Name],
I'm a professional in [industry] and wanted to reach out to inquire if you know of any available positions relating to [industry niche]. I have a strong background in [professional experience] and would love to discuss how my skill set makes me a great fit for positions in [career field].
Please reach out to schedule a time at your convenience,
[Name]
Regarding a specific job opening
Hi [Name],
I noticed that you're recruiting for [job position], and wanted to inquire to see if you'd had a chance to review my application. I believe my background in [professional experience], and expertise in [skills #1 and #2] make me the perfect candidate for this position. I'd love the opportunity to further discuss how I'd make a great addition to [company].
You can reach me at [email address] or [phone number]. I look forward to hearing from you soon.
Sincerely,
[Name]
Following up with a recruiter
If you've reached out to a recruiter on LinkedIn without a response, it's okay to send one quick follow-up asking if they've had a chance to look over your last message. If they still don't respond, move on to the next.
If you have received a response, congratulations! Now you just need to know how to keep it going. Here are a few tips to make sure you stay on the right track: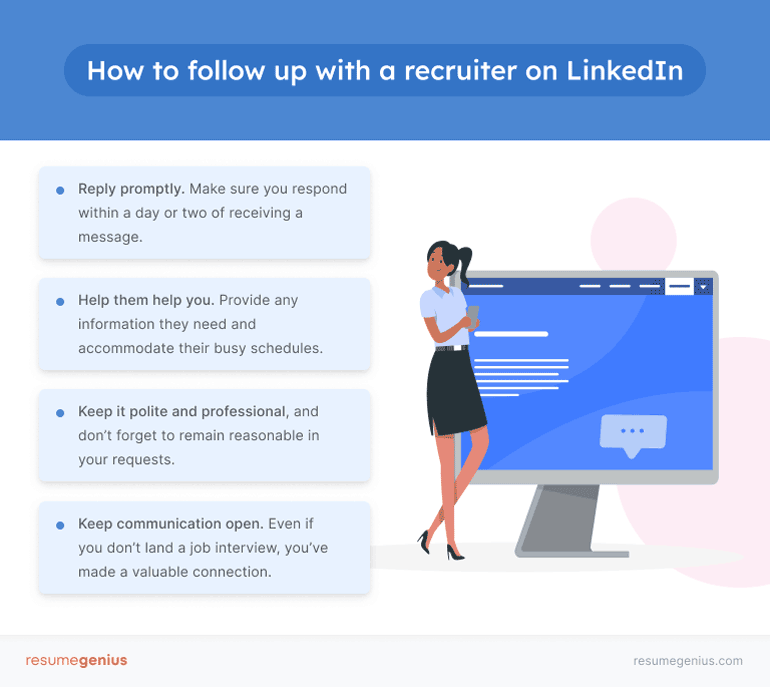 Frequently asked questions about contacting recruiters
Here are some commonly asked questions related to contacting recruiters on LinkedIn:
Should I give my resume to a recruiter?
Yes, you should give your resume to a recruiter. Recruiters can help you find jobs that aren't posted, and fast-track your application as well. However, you should consider the following before you give your resume to a recruiter:
If the recruiter works in-house for a company, find out what role you're being considered for so you can tailor your resume to the job's requirements.
If the recruiter works for an agency, make sure they're reputable before you send any document that includes your personal information.
How do I find recruiters to connect with on LinkedIn?
You can find recruiters to connect with on LinkedIn by simply typing "recruiter" or "headhunter" in the search bar and setting your search to "People".
You can also modify your search by adding keywords like your industry, job title, or geographical location.
Should I message recruiters on LinkedIn after an interview?
No, it's best to send an email to follow up after an interview.
However, if you don't have a contact email for your interviewer, it's fine to message them on LinkedIn after your interview to express your gratitude for the chance to interview.