When you know how to use it well, LinkedIn can be one of your most powerful job search tools. It offers not only a job board but a way to connect with other professionals and, in particular, recruiters.
But it's intimidating to reach out to recruiters on LinkedIn, especially if you've never done it before. Recruiters get tons of messages from job seekers, and like with any professional engagement, there's etiquette you need to follow.
If you want your message to be successful, it needs to hit all the right notes, but don't worry – we'll show you how.
Here are four simple steps for reaching out to recruiters on LinkedIn:
1. Update your profile
The very first step before connecting with a recruiter is to make sure your LinkedIn profile is up-to-date and accurately reflects your relevant skills and qualifications.
If you don't update your profile, recruiters you reach out to could visit your profile only to decide that you're not the qualified candidate they're looking for.
Make sure your LinkedIn profile:
Includes a professional-looking profile photo
Has a descriptive headline
Includes your job preferences and what type of work you're open to
Has a professional bio in the "About" section that describes your professional accomplishments and goals
Details your work experience using action verbs and quantifiable metrics
Includes key job skills
Highlights your education
Includes any extras, such as courses, certifications and licenses, or associations
Your LinkedIn profile is essentially a more extensive resume. To go the extra mile and really impress recruiters, your LinkedIn profile should:
Make use of the "Featured" section to highlight relevant achievements
Show regular activity (posting, re-posting, or interacting with content)
While you're at it, make sure your target company is one you follow. Being engaged on the platform will show recruiters that you're motivated and proactive about your professional growth.
2. Identify recruiters you want to connect with
Once you're profile is up-to-date, the next step is to figure out who to reach out to.
If there are specific companies you're interested in working for, start by checking LinkedIn to see if they have in-house recruiters. You can easily do this by going to a company's page and searching for "recruiter" or "talent acquisition" under the "People" tab.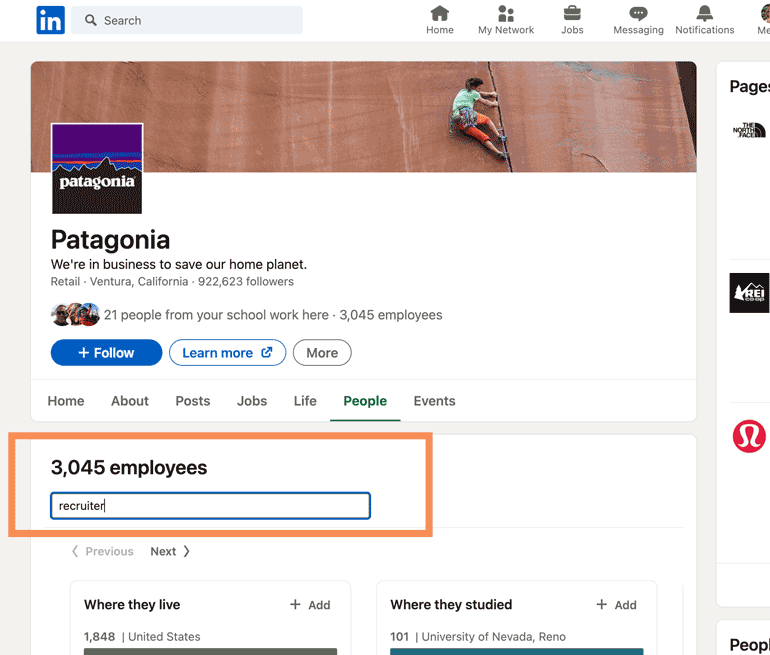 If you want to do a more general search for recruiters in your area, search "recruiter" and select the "People" option. You'll see a list of recruiters near you and where they work.
You can also search for recruitment agencies and firms, and find specific recruiters on the company pages. Finding an agency that works within your industry will help you find opportunities you're interested in.
3. Follow them and familiarize yourself with their posts and articles
Once you've found the recruiters you want to connect with, follow them. If they're active on LinkedIn and posting articles or engaging with content, you'll get a chance to see who they are as a professional. If they post something you find interesting, this could be a great opener for a connection request.
4. Send a connection invitation with a note
When you feel ready to send a connection invitation, make sure to do so with a personalized note. Recruiters will be far more likely to accept your invitation if you include a note about who you're and why you're interested in connecting.
Your note can only be 300 characters, so keep it short and be clear about why you want to connect. Something like this:
Hi [Name],
I really enjoyed your insights in the article 'Top Technical Skills Employers Are Looking For in Engineers in 2023'. As an aspiring software developer, I'd love to connect and learn more about what upcoming trends you see in the job market. Thanks for your time,
[Name]
Alternatively, if you have a premium account or InMail credits, you can skip the connection request and message a recruiter directly via InMail.
If your connection requests get accepted, congratulations! It's time to write your LinkedIn message for recruiters!