What's Different About a Resume for a Government Job?
Jobs in the federal government have specific requirements that require your resume to differ significantly from standard resume formats.
For work in the private sector, most resumes are one page long, and only provide a brief overview of your qualifications. In contrast, a federal resume ranges from two to five pages or more depending on your level of experience, and requires a comprehensive summary of your previous jobs, skills, and achievements.
Read on to learn how to write a federal government resume that highlights your strengths and gets you called in for interviews. We also provide a free federal resume template and example for your reference.
Federal Resume Template
Here's a template to build off of while creating your federal resume. It includes the standard government-required resume sections, and what information you must include to be considered a viable candidate.
1. Resume Heading
FIRST AND LAST NAME
Email: youremail@gmail.com | Phone: 895 555 555 | Address: 4397 Aaron Smith Drive Harrisburg, PA 17101 | Linkedin: linkedin.com/in/yourprofile
Citizenship:
Veteran's Preference:
Highest GS (General Schedule) Grade:
Security Clearance:
Desired Location:
Availability:
---
2. Resume Introduction
[Industry] professional with [# of years] years of experience in the public sector. Seeking to leverage my competence in [relevant skills] to fill the [position name] position at [Agency Name]. A fast-learning worker aiming to contribute to [Agency Name]'s goals and take on more responsibility as quickly as possible.
---
3. Work or Relevant Experience
Company/Organization Name (Most Recent Employer)
Employer Address
Start Date — End Date
(Optional) Salary: $ per year
Hours per week: # of hours
Series: # / Pay Plan: GS / Grade: 2
Position and Job Title
Duties and Related Skills:
In this section, provide a comprehensive summary of your duties and responsibilities. Mention any skills associated with the work you performed, and provide descriptions of what you were responsible for. Write as if the person reading your resume has no prior knowledge of the job you performed.
List some of your primary responsibilities.
Include resume keywords in your descriptions to demonstrate relevant skills.
Accomplishments:
Include a bulleted list of your key work-related accomplishments while at this job — especially any area where you exceeded expectations.
This section should be separate from your general duties section.
Be sure to quantify (add numbers to) your examples.
Here is where you can include contact information for your supervisor if you'd like.
Company/Organization Name (2nd Most Recent Employer)
Simply repeat the above sections for every relevant position you've held.
---
4. Education
Degree Name / Major
University, Location | Start Date – End Date
---
5. Additional Resume Section
Here's where you can add any other information relevant to your professional background.
This section could include any of the following: publications, languages, volunteer experience, community service, professional associations you belong to, or any training or certifications.
Federal Resume Example
This federal resume sample was written by an administrative assistant with more than four years of experience working in various government agencies:
Federal Resume Sample

Federal Resume Sample (Text Version)
Chandra Banerjee
1600 S Hayes St
Arlington, VA 22202 Unites States
Mobile: +10925531010
Email: cbanerjee@gmail.com
Citizenship: U.S. Citizen
Veterans' Preference: No
Highest GS Grade: GS-0303-2
Security Clearance: N/A
Desired Location: US-VA-Arlington County
RESUME OBJECTIVE
Administrative Assistant with 4+ years of experience in the federal sector. Experienced in organizing presentations, preparing reports, and maintaining standard office procedure. Implemented cost-saving practices at my previous job, reducing expenses by $5,000 annually. Looking to leverage my expertise to secure a position as an Administrative Assistant at the Centers for Medicare and Medicaid Services.
EXPERIENCE
Office of Community Services
2525 Mt Vernon Ave
Alexandria, VA 22301 United States
01/2018 – Present
Salary: 2,500.00 USD Per Month
Hours per week: 40
Series: 0303 Pay Plan: GS Grade: 2
Administration Assistant (This is a federal job)
Duties and Related Skills:
As an Administration Assistant I manage and organize bookings, reports, and appointments for an office of over 100 federal employees, ensuring that the everyday operations of the department run as smoothly as possible. My duties include preparing presentations, assembling facility reports, and maintaining strict confidentiality regarding sensitive information.
• Schedule and coordinate meetings, appointments, and travel arrangements for employees.
• Manage an average of $10,000 in monthly expense reports for department members.
• Answer and redirect directed phone calls and emails to the appropriate departments using a multi-line system.
Accomplishments:
• Implemented new organizational practices, cutting contracted labor costs by approximately $5,000 annually.
• Trained and supervised 3 new administrative assistants, ensuring that they adhere to best practices.
• Spearheaded an initiative to improve the department's environmental footprint, reducing paper waste by 40% over a period of 4 months.
Supervisor: Gam Sackheim (9061128405585)
Okay to contact this Supervisor: Yes
Office for Civil Rights
200 Independence Ave., SW
Washington DC, DC 20201 United States
06/2016 – 11/2017
Salary: 2,000.00 USD Per Month
Hours per week: 40
Series: 0303 Pay Plan: GS Grade: 2
Secretary (This is a federal job)
Duties and Related Skills:
As a secretary I supported an office of 80 employees through meticulous record-keeping and excellent organizational skills. My duties included ensuring all appointments were booked and accounted for, keeping a strict record of all guests and office-related transactions, and maintaining supplies such as paper, printer ink, and writing utensils.
• Maintained schedules for 4 different office managers, ensuring that meetings started punctually.
• Upheld high standards of confidentiality while managing sensitive financial or legal information.
• Prepared and delivered bi-weekly status reports for managers.
• Managed bookings for venues and department outings.
Accomplishments:
• Automated workflow in various areas, increasing efficiency of response-time by 30% on average.
• Saved the department $1,000 in booking expenses by researching new venues.
Supervisor: June Hamsack (7028829104)
Okay to contact this Supervisor: Contact me first
EDUCATION
University of Maryland
College Park, MD Unites States
Bachelor's Degree, Communications, magna cum laude – 05/2016
GPA: 3.7/4.0
How to Write a Federal Resume
Now that you know what a proper federal job resume looks like, how do you start writing one? It's not as complicated as it looks. Just follow these guidelines:
1. Follow the proper federal resume format
You can have decades of relevant work experience, but if you don't know how to properly format your resume for a federal job, you'll never land the position you want.
Federal agencies have large hiring departments, and can afford to take an extensive look at your qualifications. So when formatting your federal resume, include as much detail as possible.
This means that your resume should be a minimum of two pages long if you're applying for an entry-level position, and closer to four to six pages if you're a mid-level candidate.
Additionally, what you include on a resume for a government job differs from what you would put on a standard resume.
Apart from the basic things you should put on your resume — like your work experience, education, and contact information — you should also include your:
Security clearance (if applicable)
For more information about these additions, read on below:
2. Add your citizenship status
Include your citizenship and visa status in order to speed up the vetting process. You can list this as either "yes," "no," or simply write your work visa status.
Many positions in the federal government have specific requirements regarding citizenship, so this information is often required for job applications. Additionally, many jobs list the required citizenship status in the job description, so make sure you check that you qualify before applying.
3. Include your veteran status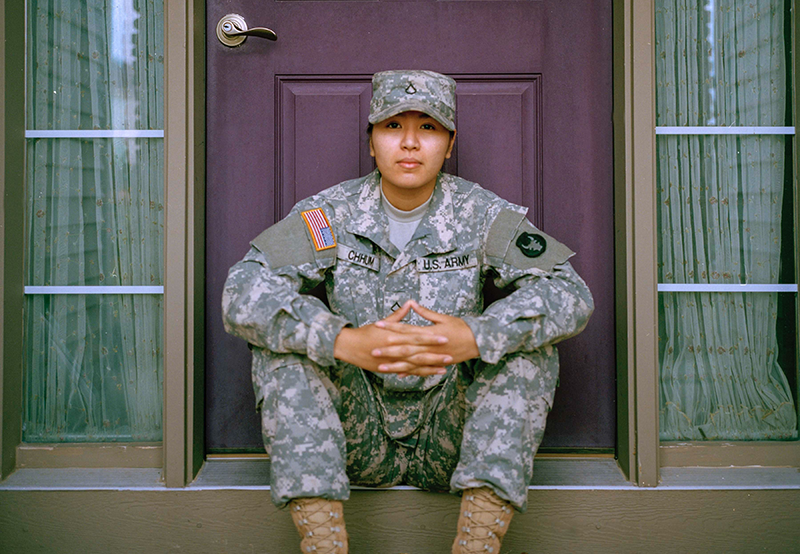 The federal government gives certain hiring preferences to veterans under the The Vietnam Era Veterans' Readjustment Assistance Act of 1974. So if you served in the US military, you should include your veterans' preference on your resume.
You should either list your veteran's status as "none" (if you were never a member of the military), or your point preference eligibility (for example: 5-Point, 10-Point, etc).
4. Add your GS grade
The US civil service uses a unique payscale, referred to as the General Schedule (or GS). All jobs in the federal government are graded using a GS that identifies salary and level of responsibility associated with the position.
If you're currently working for the federal government (or have worked for it in the past), include your highest GS grade and salary range on your resume.
How to list your work experience on a federal government resume
The work experience section is one of the most important parts of a federal resume.
Unlike the resume you might use to apply for a job in the private sector, a government resume includes a highly detailed experience section, and each position can run a full page or more depending on your responsibilities.
For every position listed on your resume, you should include the following information:
Employer's name and location
Job title
Start date and end date
Number of weekly hours worked
Summary of your responsibilities
Bulleted list of job duties
Any exceptional things you accomplished
Awards you received (if applicable)
Supervisor's contact information
Every job you decide to include should also have a section for your resume accomplishments — one that's separate from the list of your broader job responsibilities. This helps hiring managers see how you went beyond the expectations of the role, and where your strengths lie.
Additionally, when writing about your experience, make sure to use numbers to emphasize and clarify your accomplishments. This provides the hiring manager a clearer picture of what you're capable of.
Federal resume example: experience section
Wondering what all this looks like on paper? Here's how one candidate formatted an entry on their work experience section: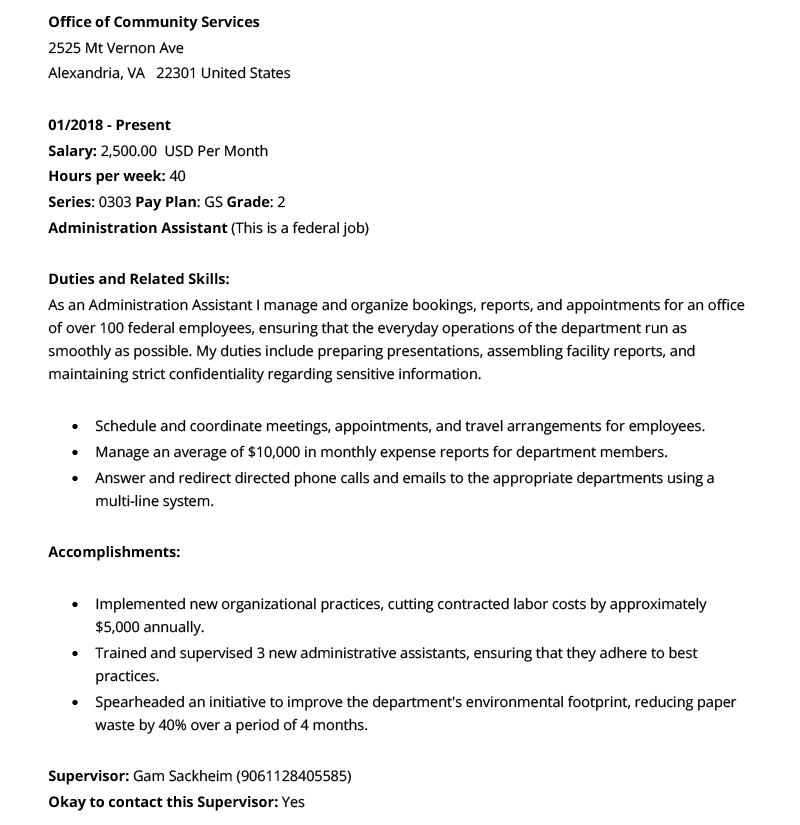 How to list your education on a federal resume
Does all this writing seem like a lot? Well we have good news: the education section of your resume is much simpler than the experience section.
To properly list your education, include the following information:
Years attended
Degree earned (minors included)
Awards or special recognition received
Membership to educational organizations or clubs
Additionally, if you're a recent college graduate, you can include the following optional information:
You can also include relevant coursework on your resume to round out your work experience section.
Federal resume example: education section
For reference, here's how another applicant formatted their education section:
Building a Federal Resume
Now that you know what you need to include on your federal job resume, it's time to get to work. However, there's more than one way to make your federal resume.
Depending on how much time you want to save and the amount of money you're willing to spend, you can create a federal resume using any of the following methods:
Any of the following options are great ways to make your resume, and some of them can save you a significant amount of time and effort.
Need more help writing the nitty-gritty of your resume? Have a look at some of our additional resume-writing resources below: