Our free-to-use cover letter builder can make you a cover letter in as little as 5 minutes. Just pick the template you want, and our software will format everything for you.
What does a cover letter for a federal job look like?
A federal cover letter is a one-page document consisting of 3–4 paragraphs that describe why you're applying for a government role and what hard and soft skills you'll bring to the position.
A cover letter's purpose is to showcase more of your personality and prove why you're the best candidate for the job. And because government jobs are competitive, a generic cover letter won't be enough to land an interview.
The required qualifications will depend on the agency or the job. For instance, most agencies group their federal hiring requirements into three categories: general experience, specialized experience, and education.
So write a strong federal job cover letter by carefully researching the government agency you want to work for. After understanding their requirements, you can begin writing your cover letter.
Government hiring managers are looking for a candidate who can accurately:
So if you follow these guidelines in your cover letter, you'll be a step closer to receiving an interview.
Now let's take a closer look at what to include in a federal cover letter.
Federal cover letter template
These are the key cover letter components that government agencies require:
We've made a federal job cover letter template below for you to copy, paste, and customize.
1.
Cover letter header
FIRST AND LAST NAME
Email: youremail@gmail.com | Phone: 937 426 199 | Address: 13674 Pursglove Court Rossberg, OH 45362 | Linkedin: linkedin.com/in/yourprofile
2.
Date
October 21, 2021
3.
Hiring manager's name and agency address
Ms. Charlotte Appen
Administration for Native Americans
2nd Floor, West Aerospace Center
370 L'Enfant Promenade, SW
Washington, DC 20447-0002
4.
Salutation
Dear Ms. Appen,
5.
Opening paragraph
After greeting the hiring manager with an appropriate cover letter salutation (from above), introduce yourself by explaining how you found out about the job posting. You can also use the opening paragraph to briefly:
state your USAJOBS job announcement identification number and prospective job title

mention any

contacts

you have at the agency

list your educational background and years of professional experience

express your enthusiasm and interest in applying for the role

share an impressive piece of information about your previous experience or accomplishments
6.
Body paragraphs
Write 1–2 body paragraphs explaining your relevant work history. Use hard numbers to make an impact and provide more context to the hiring manager.
For example, write "5+ years of law enforcement experience" instead of "experienced in law enforcement."
Additionally, because companies use applicant tracking systems (ATS) to filter through applications, make sure you use the exact job-related keywords from the job announcement.
If you have years of relevant work experience, mention your hard skills. If you're writing an entry-level cover letter, focus on your soft skills, emphasize your education, and tailor your experience to the agency's goals, values, and challenges.
7.
Closing paragraph
End your cover letter by thanking the employer for their time. Include a call to action (CTA) with your phone number and email address to display confidence and invite the hiring manager to contact you directly.
8.
Professional sign-off
Use an appropriate cover letter sign-off such as "Sincerely" or "Warm Regards" to convey a professional tone. Signing your cover letter is optional, but make sure you leave a space and write your typed name.
Federal cover letter example
If you're unsure how to format a federal cover letter or want to save time, try using a cover letter template or browse through cover letter examples to get some ideas.
Here's an example of a cover letter for a government job: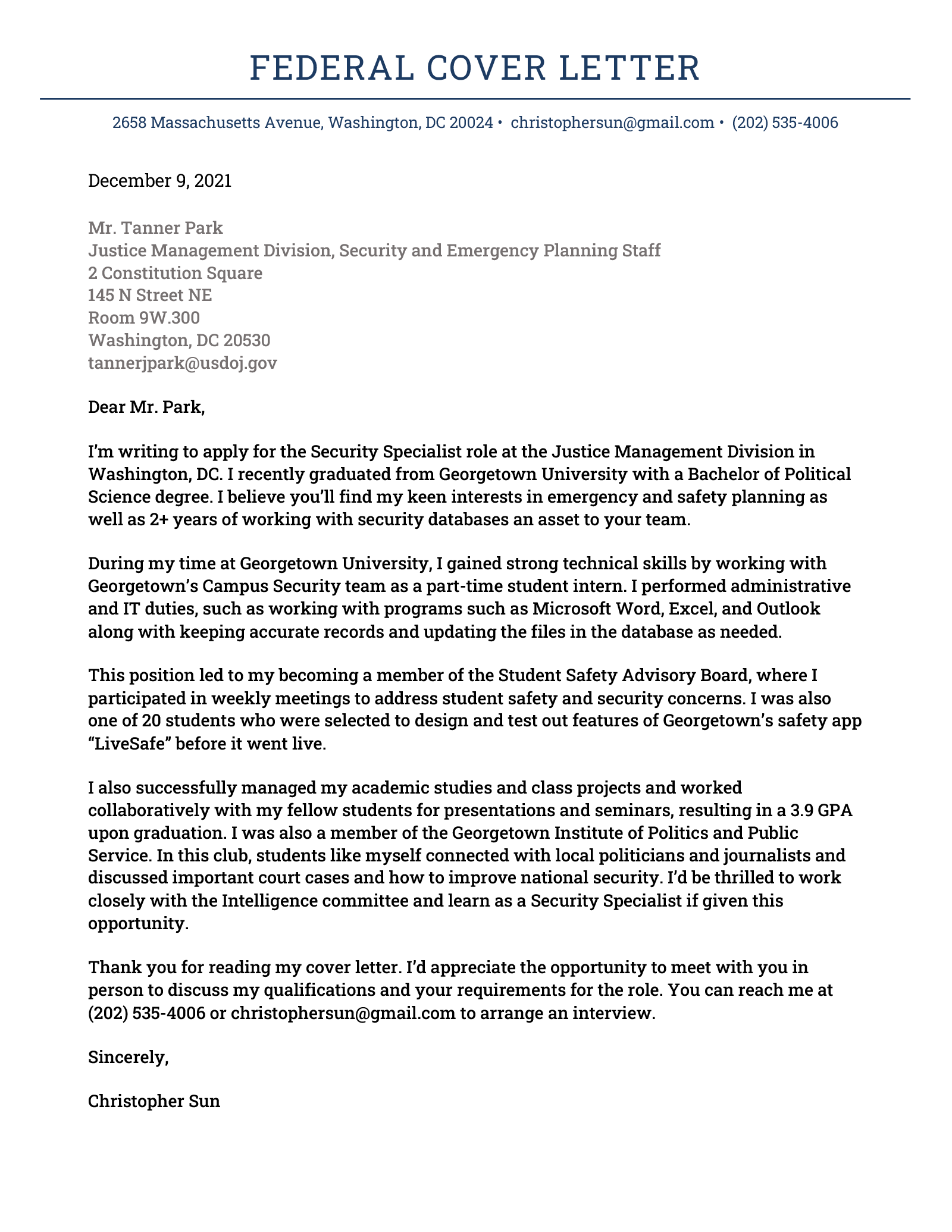 Federal Cover Letter Example (Text Version)
December 9, 2021
Dear Mr. Park,
I'm writing to apply for the Security Specialist role at the Justice Management Division in Washington, DC. I recently graduated from Georgetown University with a Bachelor of Political Science degree. I have a valid driver's license and am also fully vaccinated against COVID-19. I believe you'll find my keen interests in emergency and safety planning as well as 2+ years of working with security databases an asset to your team.
During my time at Georgetown University, I gained strong technical skills by working with Georgetown's Campus Security team as a part-time student intern. I performed administrative and IT duties, such as working with programs such as Microsoft Word, Excel, and Outlook along with keeping accurate records and updating the files in the database as needed.
This position led to my becoming a member of the Student Safety Advisory Board, where I participated in weekly meetings to address student safety and security concerns. I was also one of 20 students who were selected to design and test out features of Georgetown's safety app "LiveSafe" before it went live.
I've also successfully managed my academic studies and class projects and worked collaboratively with my fellow students for presentations and seminars, resulting in a 3.9 GPA upon graduation. I was also a member of the Georgetown Institute of Politics and Public Service. In this club, students like myself connected with local politicians and journalists and discussed important court cases and how to improve national security. I'd be thrilled to work closely with the Intelligence committee and learn as a Security Specialist if given this opportunity.
Thank you for reading my cover letter. I would appreciate the opportunity to meet with you in person to discuss my qualifications and your requirements for the role.
You can reach me at (202) 535-406 or christophersun@gmail.com to arrange an interview.
Sincerely,
Christopher Sun
Download This Federal Cover Letter Example
5 tips on formatting a cover letter for a government job
Formatting your cover letter correctly is essential for a government job. Have a look at these five tips for formatting a federal cover letter:
1. Follow the job ad's instructions
Working for a federal agency means you need to follow clearly established procedures compared to other companies.
To get on the shortlist of applicants, carefully read the job description and criteria before sending your federal cover letter.
For example, federal agencies commonly require you to disclose your salary details and say whether you worked full-time or part-time hours.
Check out the Federal Jobs and USA Jobs websites for more information on different federal and public sector positions, the exact qualifications you'll need, and detailed formatting requirements for your application.
2. Save your cover letter as a PDF
Hiring managers have many federal job applications to choose from, so keep their attention by sending your cover letter as a .docx or .pdf file (depending on their instructions).
Saving your federal cover letter as a PDF preserves your formatting and ensures employers can open your cover letter without any issues.
3. Use a professional font and appropriate cover letter spacing
Because federal agencies have such formal hiring procedures, you need to convey that you've paid close attention to your cover letter's appearance by using an appropriate cover letter font such as Times New Roman, Arial, or Georgia.
Additionally, space your cover letter by using 1" margins so employers won't strain their eyes reading your cover letter.
If you're having trouble fitting all of your content on one page, you can reduce your margins to a minimum of ½" to maintain the ideal cover letter length and still look professional.
4. Name your file correctly
Writing your file name accurately is important because it makes your file identifiable for hiring managers and shows you've paid attention to details.
Use your full name and the job title separated by dashes or underscores to name your federal cover letter:
How to correctly write your file name for a cover letter
"First-Name-Last-Name-Target-Job-Title-Cover-Letter.pdf"
Here's an example of an applicant's file name for their cover letter:
Robert-Wu-Budget-Analyst-Cover-Letter.pdf
5. Proofread your federal cover letter
Finally, don't forget to proofread your cover letter before sending it by reading through it carefully.
Working in a government agency requires responsibilities such as dealing with sensitive information or handling large amounts of paperwork. So, communicate to employers you've got what it takes by presenting them with an error-free cover letter.
If possible, ask a friend or family member to help proofread your federal cover letter for spelling, punctuation, and grammar mistakes before you submit it.