A common misconception about functional resumes is that they are used to hide your work experience gaps. While they do mask them to an extent, that's not the primary goal.
Instead, they allow job seekers from all backgrounds to put their best foot forward for every application they send out.
We're going to show you exactly how to assemble your own functional resume, step by step. There are also free downloadable templates at the bottom of the page.
Table of Contents
1. What is a Functional Resume?
A functional resume uses a skills-based resume format. Similar to its chronological and hybrid/combination cousins, it is a popular resume format used by job seekers worldwide.
While sharing certain similarities with other resume styles, there are certain attributes that set it apart. Specifically:
The resume introduction and skills section are more substantial than usual
Work experience is de-emphasized 
Anatomy of the Functional Resume Template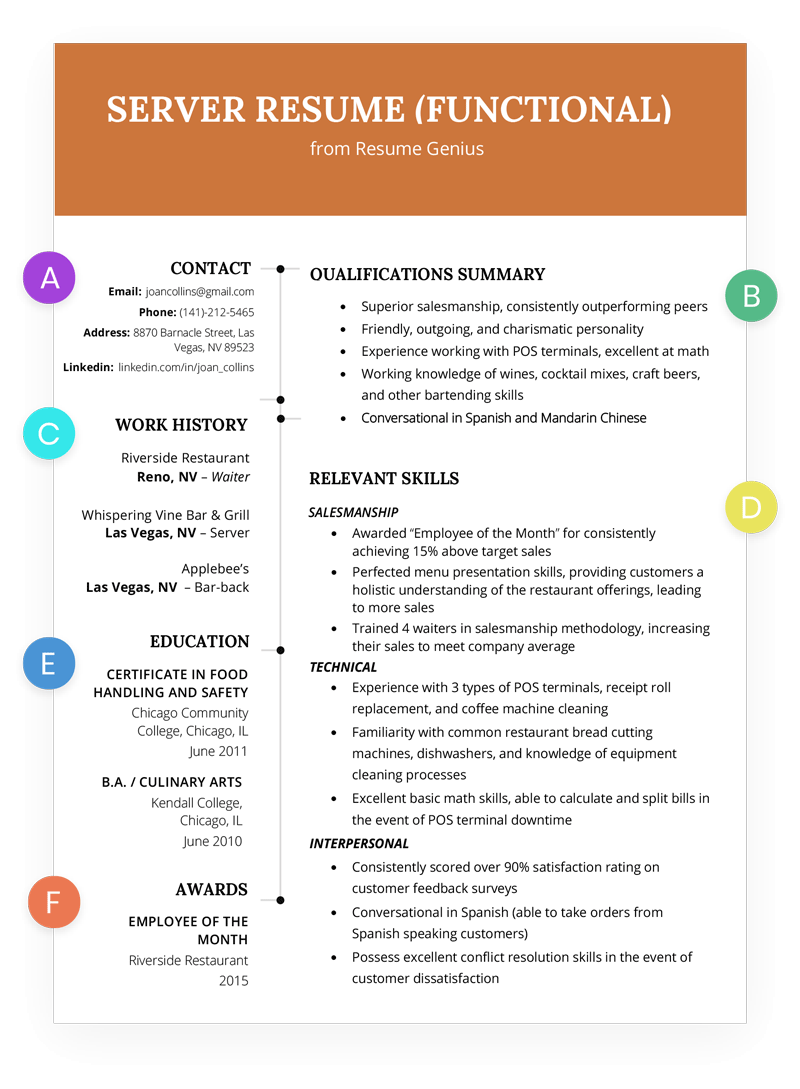 A
Contact Information – Regardless of format, contact info goes at the top.
C
Work Experience – This section can be smaller, and if necessary timeframes can be omitted as well. This is to de-emphasize experience (but not ignore it).
D
Relevant Skills – Functional resumes are great for anyone who hopes to highlight their skills over experience. This section should be larger.
E
Education – Your highest degree and relevant certifications should be mentioned here.
F
Awards & Honors – A nice relevant award or honor can help tie things together nicely.
Emphasizing your strongest abilities and experiences in your resume gives you the best shot at landing interviews.
For many people, their work history helps make their case for employment. Such people tend to use the reverse chronological resume format. However, this not the case for everyone.
For someone using a functional resume, skills happen to fall under that umbrella.
And when elements of both (strong, industry-relevant abilities and a successful history of employment) seem equally critical to your application, the balanced combination resume format is the best choice.
Should I use a functional resume or not?
Since you're here already, there's a good chance you should. There are three main reasons you may want to use this particular resume format:
You have long periods of unemployment mixed into your work history (so a timeline-type style like the chronological resume format isn't suitable)
You're switching industries – in particular, you're leaving one that comprises most of your work experience
You'd like to highlight your specific skills rather than your experience
If that doesn't sound like you, you may want to jump back to our resume format mega-guide to evaluate which style fits your career trajectory best.
2. The Functional Format: Six Sections
If our "Anatomy of a Functional Resume" section didn't cover the essentials in-depth enough, here are the six main sections of this vitally important resume format explained in detail:
Section #1:

Contact Information

Adding your contact information is by far the easiest part of the resume writing process. Simply include your name, phone number, E-mail, and address, then you're ready to move on. In regards to styling, your name should be the largest text on the page (20-24pt font is a safe range).

Finally, if you have a personal website that you believe will help your case, then be sure to add it in this section.
Section #2:

Qualifications Summary

For those of you with spotty employment records and periods of unemployment, the Qualifications Summary is an ideal way to begin your resume. It allows you to de-emphasize the specific dates that you've worked professionally, because your record may reveal gaps in employment.

A Qualifications Summary also has the added benefit of letting you put your best traits and achievements from your work history (and educational history) right at the top of your resume.

Therefore, in this section you should should include 4-5 examples of your most relevant personal achievements. By "relevant", we mean that they should be relevant to the job you're applying for.

Read our in-depth guide about writing a Qualifications Summary here, so that you have the highest chance of impressing the hiring manager.
Section #3:

Skills Section

Similar to a combination resume format, the candidate's skills are more important than their work history in a functional format. If you check out the samples below, you will notice that this section looks similar to a traditional Professional Experience section.

Again, this is due to the fact that the applicant has a spotty work history or wants to change their career path.
As you can see above, the key to the skills section for a functional format is to first choose at least three skills that are applicable to the job you are applying for. For each skill, come up with 3-4 bullet points that help provide evidence of your abilities.
Remember that adding numbers to your resume instills confidence in the employer that are able to fulfill the requirements of the position. Aim to include at least one quantified bullet point for each skill and you will be sure to catch the attention of the hiring manager.
Section #4:

Professional Experience (dates optional)
Missing Work Experience Concealer Tip #1: Label Your Period of Unemployment
You may have legitimate reasons for being unemployed — taking care of an ill relative, being a parent, doing an independent study, or being a full-time student. Use these to label your period of unemployment — here are some examples:
Full-Time Student

Independent Study

Full-Time Parent

Family Management (or Home Management)

Adventure Travel (or Travels to…)

Personal Travel

You must show on your resume that you did something during those gaps of unemployment. However, they must not be explained as a result of:
Medical issues like rehab, or

Unemployment due to a recession.
If you reveal these causes, hiring managers will think that you are a "high risk" hire.
Missing Work Experience Concealer Tip #2: Do Not Include Months
In the resumes samples on this page, you'll notice that the candidates have left off the periods of employment in the Work History section. Therefore, even if they had an employment gap during the middle of the year 2014, it appears as though they've been consistently working.
This is also an acceptable way of "fudging" your resume, which you can explain later during your interview.
Section #5:

Education

For a functional style, the Education section is all about the basics. Unless your educational experience directly relates to the job you are applying for, all you need to include is the name of the university or organization, city and state, the degree you received, date you graduated, and your GPA.
Section #6:

Awards & Honors (if relevant)

Albeit not as important as other sections, if you have a nice award or honor in something related to your target position, it's a nice addition to your resume. It shows you've been able to stand out amongst your peers, and could very well make your application stand out as well.
3. Four Functional Resume Examples + Text Formats
The functional resume template can be adapted to any of our various chronological templates with a bit of tweaking. However, we've put together four examples to illustrate exactly how to accomplish this.
You can download the following four functional resume examples and change them to your exact specifications. Click the images to enlarge the samples, or press the button below to download the files – it's all free. We've also provided the text versions for your convenience.
Functional Resume Template Examples x 4
Downloadable Functional Resume Templates
Functional Resume Example Text Versions
Copy and paste the following text versions of our four primary functional resume examples, and mold them to your own specifications. Good luck on the job hunt!
Server Resume (Text Format)
CONTACT
Email: joancollins@gmail.com
Phone: (141)-212-5465
Address: 8870 Barnacle Street, Las Vegas, NV 89523
Linkedin: linkedin.com/in/joan_collins
QUALIFICATIONS SUMMARY
Superior salesmanship, consistently outperforming peers
Friendly, outgoing, and charismatic personality
Experience working with POS terminals, excellent at math
Working knowledge of wines, cocktail mixes, craft beers, and other bartending skills
Conversational in Spanish and Mandarin Chinese
RELEVANT SKILLS
SALESMANSHIP
Awarded "Employee of the Month" for consistently achieving 15% above target sales
Perfected menu presentation skills, providing customers a holistic understanding of the restaurant offerings, leading to more sales
Trained 4 waiters in salesmanship methodology, increasing their sales to meet company average
TECHNICAL
Experience with 3 types of POS terminals, receipt roll replacement, and coffee machine cleaning
Familiarity with common restaurant bread cutting machines, dishwashers, and knowledge of equipment cleaning processes
Excellent basic math skills, able to calculate and split bills in the event of POS terminal downtime
INTERPERSONAL
Consistently scored over 90% satisfaction rating on customer feedback surveys
Conversational in Spanish (able to take orders from Spanish speaking customers)
Possess excellent conflict resolution skills in the event of customer dissatisfaction
WORK HISTORY
Riverside Restaurant, Reno NV – Waiter
Whispering Vine Bar & Grill, Las Vegas, NV – Server
Applebee's, Las Vegas, NV – Bar-back
EDUCATION
CERTIFICATE IN FOOD HANDLING AND SAFETY
Chicago Community College, Chicago, IL, June 2011
B.A. / CULINARY ARTS
Kendall College, Chicago, IL, June 2010
AWARDS
EMPLOYEE OF THE MONTH
Riverside Restaurant, 2015
Welder Resume (Text Format)
CONTACT
Email: Rbecca_johnson@gmail.com
Phone: 1-(406)-343-4523
Address: 23 Street South, Great Falls, MT, 24542
QUALIFICATIONS SUMMARY
5 years of experience in layout, fabrication, installation, and repair of industrial and commercial equipment
Obtained strong management skills by training and leading a team of 10 junior welders
Recognized for ability to expertly complete welding projects with efficiency and high quality standards
Technically-savvy welder, with knowledge of SMAW, FCAW, and GMAW processes
Adhere to industry safety guidelines and standards, resulting in a 34% decrease in onsite accidents
RELEVANT SKILLS
MANAGEMENT
Trained over 10 junior welders in intermediate welding processes, improving overall work quality by 26%
Inspected and identified issues, troubleshooting problems and saving $20k in potential costs
Communicated with clients regarding complex job orders, maximizing clarity and work instructions
TECHNICAL
Consistently complete welding projects 23% faster than average welder, while maintaining high standards
Completed three large welding projects valued at $300K each, 3 hours ahead of schedule and $1.5K under budget
In-depth knowledge of SMAW, FCAW, and GMAW welding processes
ORGANIZATION
Efficiently organized and prepared tools and equipment prior to welding job, streamlining processes consistently completing projects ahead of deadlines
Maintained tools and equipment, ensuring proper function, and minimizing repair costs
Implemented strict safety procedures, reducing work related accidents by 34%
EDUCATION
B.A. WELDING TECHNOLOGY
Great Falls College,
Great Falls, MT
2005 – 2008
WORK HISTORY
Gamma Precision,
Great Falls, MT, 2015-2017
Senior Welder
ADF International,
Great Falls, MT, 2013-2013
Welder
Loenbro INC,
Great Falls, MT, 2010-2011
Junior Welder
AWARDS
GOLD STAR MANAGER / 2017 / Gamma Precision
EMPLOYEE OF THE MONTH / 2011 / Loenbro, Inc
Sales Clerk Resume (Text Format)
CONTACT
Email: jmanszt@gmail.com
Phone: (895)-555-5555
Address: 4397 Shelby Avenue, Los Angeles, CA 24542
Linkedin: linkedin.com/in/mansztjin
QUALIFICATIONS SUMMARY
Proven Track Record of boosting month-to-month sales figures by +10%
Strong customer service skills: Predict, evaluate, and meet the specific needs of customers
Interpersonal skills: Expert at getting product from the backroom to the floor in a cost-effective and timely manner
Awarded "Employee of the Month" for consistently receiving positive customer feedback
RELEVANT SKILLS
CUSTOMER SERVICE
Receive a +95% on customer service feedback surveys on a consistent basis by providing a friendly in-store environment
Enhance the customer experience by providing quality assistance and in-depth product knowledge
Educate customers on up-and-coming brands and the latest fashion trends
SALES
Exceeded sales goals an average of 10% for 5 straight months
Upsell customers through the recommendation of products that meet their specific needs
Process 30+ customer transactions a day and factored sales, discounts, and promotions into the final price
MERCHANDISING
Restock and organize new shipments of inventory in a timely manner, cutting average of 2 days off the merchandising process
Develop and create unique displays that attract customers to a desired product
Team worker who is able to adapt in highly dynamic and changing situations in the office
WORK HISTORY
Ulta, Manhattan, NY
(2016-2017)
Sales Clerk
GAP, Albany, NY
(2014-2015)
Sales Representative 
The North Face, Albany, NY
(2012)
Retail Clerk
EDUCATION
Associates Degree / Fine Arts
Nassau Community College, Garden City, NY
– 3.77 GPA
AWARDS & HONORS
Employee of the Month
GAP, August 2014
Substitute Teacher Resume (Text Format)
CONTACT
Email: Olivia.john@gmail.com
Phone: (877)-623-6234
Address: 34 North San Pedro, San Jose, CA 95542
Linkedin: linkedin.com/oliviaaaj
QUALIFICATIONS SUMMARY
Proven track record of improving the progress of struggling students and increasing class text scores
Recognized for ability to increase student participation and motivation in learning through engaging lessons and activities
Certifications: Possess a Multiple Subject Teaching Credential
Technical skills: Adept with Microsoft Office and SMART Board Lesson Development
After-school Programs: Served as the assistant coach for the Women's Basketball and Track teams
RELEVANT SKILLS
LESSON PLANNING
Write comprehensive reports to regular teachers regarding lessons and student progress
Collaborate with regular teachers in developing long-term plans for struggling students, as well as designing new activities to enhance learning engagement of students
Designed and implemented lesson plans that increased student engagement by 20%
STUDENT DEVELOPMENT
Regularly engaged students in open discussions and other team building activities that increased class morale and created a more energized learning environment
Effectively helped three struggling students to improve their reading ability – all three achieved grade-level targets within the first year
TEACHING
Instruct Math, Art, and English to classes ranging between 13 and 24 students, Grades 2 to 5
Incorporate digital technology for learning activities, including software applications and a SMART board – leading to implementation by the full-time teacher
Adhered to strict school policies and procedures regarding students with disciplinary issues
EDUCATION
B.A. / Primary Education
San Jose State University, May 2012

National Board of Professional Teaching Standards
Multiple Subject Teaching Credential,  March 2013

SOFT SKILLS
Communication (6/6)
Organization (5/6)
Problem Solving (5/6)
Patience (6/6)
Time Management (5/6)
AWARDS
SUBSTITUTE OF THE YEAR
Bradford School District, Pleasantville, CA, 2014