Writing a cover letter for a management position can help convince employers that you're prepared to step in and take charge in a managerial role.
By showcasing your leadership qualifications and elaborating on your professional achievements, you can give yourself an edge over other candidates applying for the same position.
In this article, we'll provide you with several manager cover letter examples as well as the tips you need to be confident in writing a strong management cover letter.
Our free-to-use cover letter builder can make you a cover letter in as little as 5 minutes. Just pick the template you want, and our software will format everything for you.
Manager cover letter examples
A good cover letter for a manager should support and complement your resume by explaining your professional interest in the role and highlighting some of your most relevant skills and achievements.
Here's an example of a cover letter from a candidate applying for a retail management position: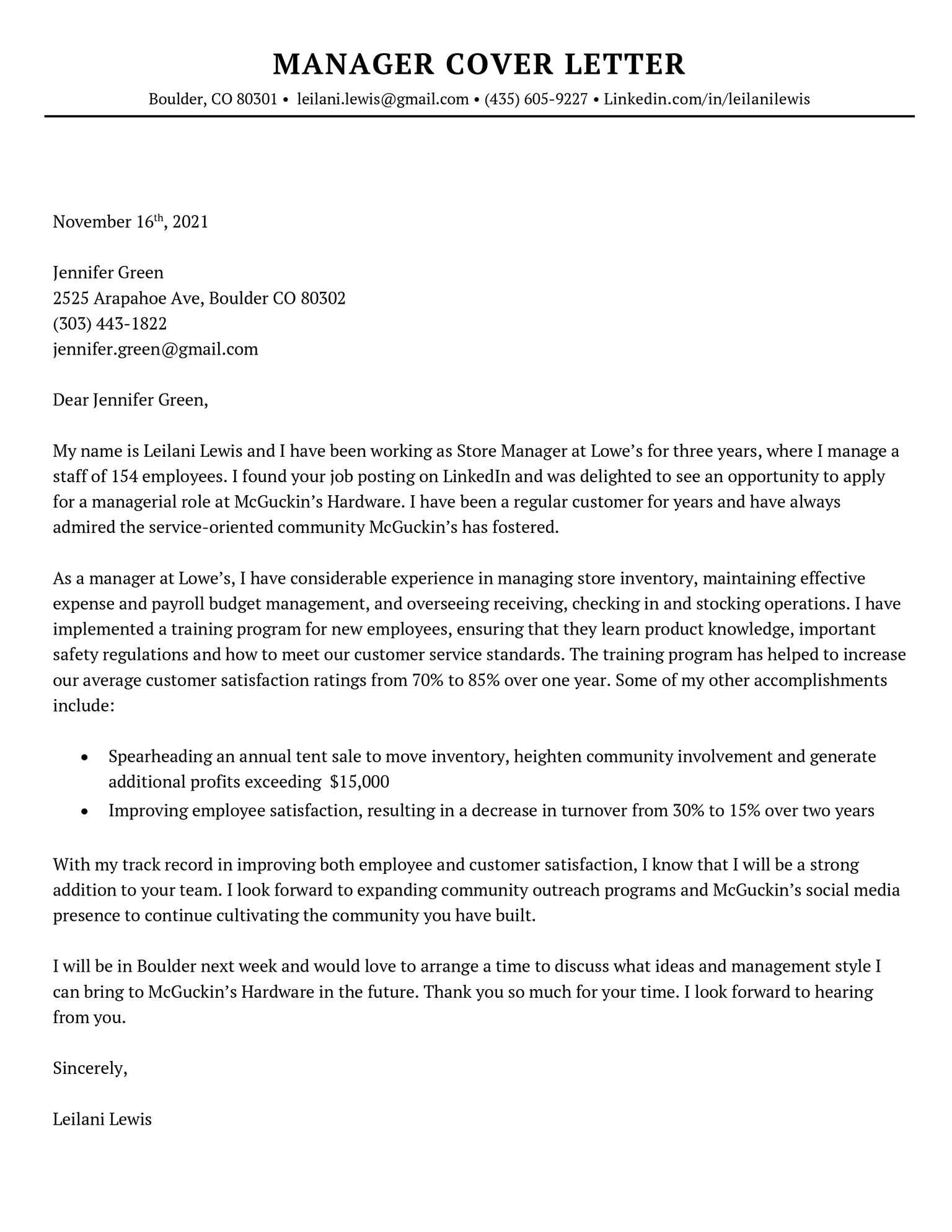 This candidate's cover letter is effective because it does a good job of explaining her interest in the role, her relevant experience and accomplishments, and what she can offer the company.
Here's an example of a cover letter from a candidate with extensive management experience: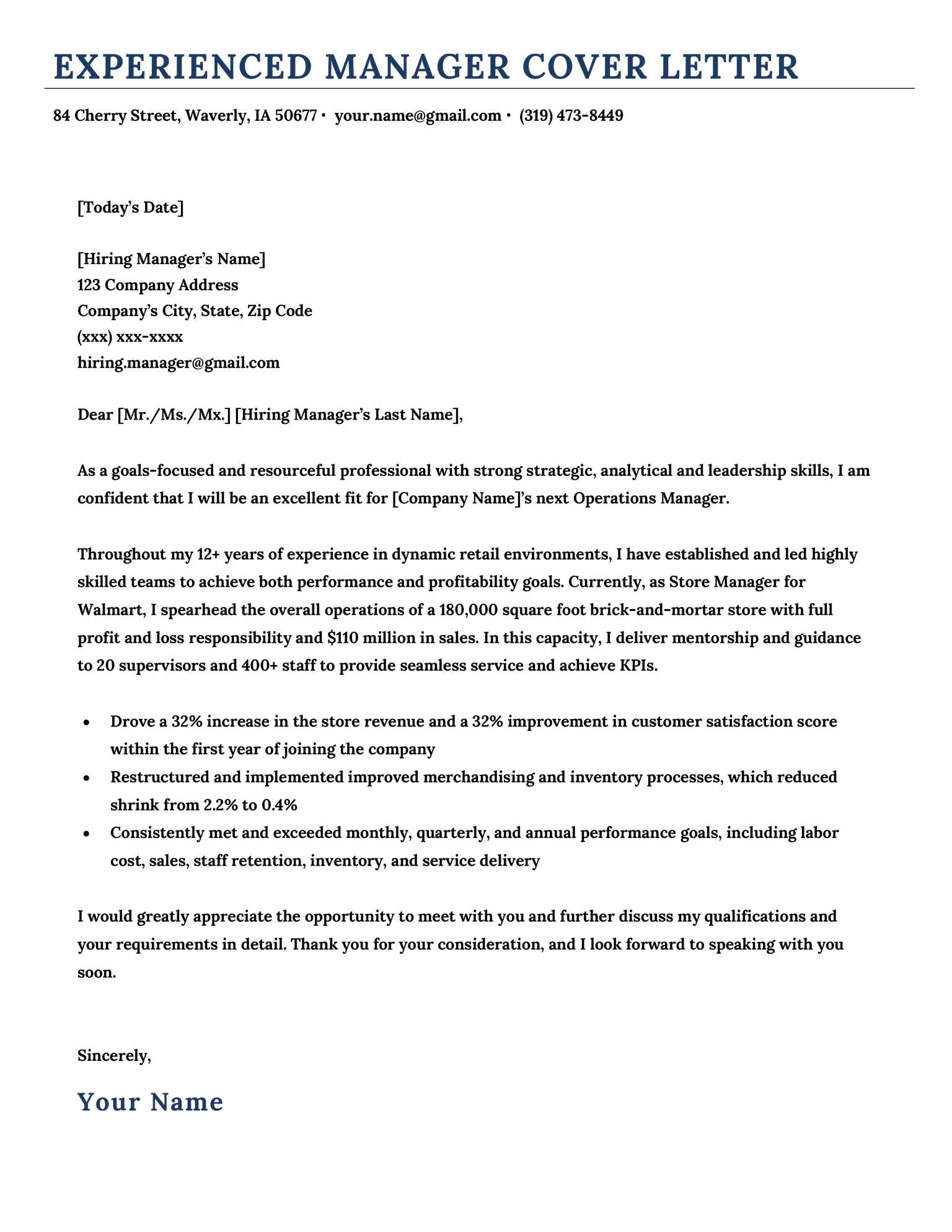 Here are more manager cover letter examples:

How to write a cover letter for a management position
Now that you know what a great manager cover letter looks like, let's dive into how to write your own.
Your cover letter should address these key questions:
Who are you?
Why are you interested in this management position?
What makes you uniquely qualified for the role?
Why should the employer hire you?
Your cover letter also provides an opportunity to give employers some insight into the context of your work and who you are as an individual.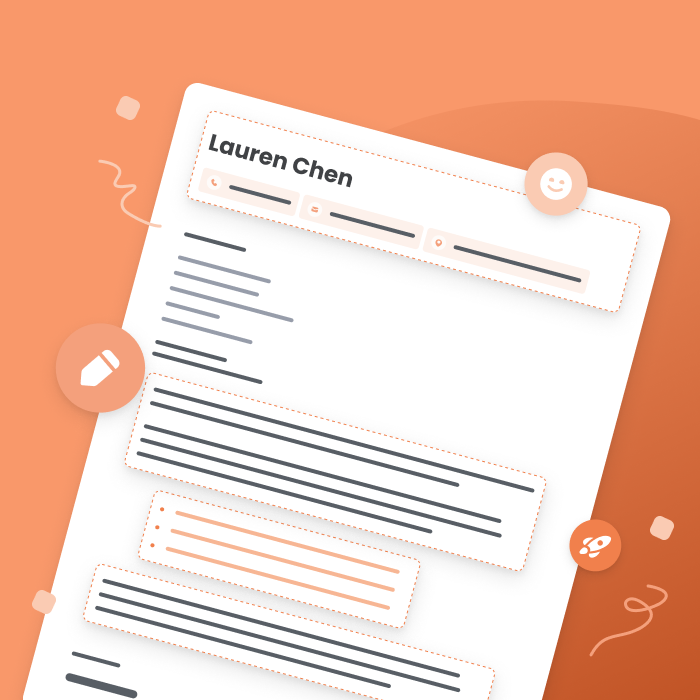 Dread writing cover letters? Read our guide to learn how to write a great cover letter that convinces hiring managers you're the ideal person for the job.
If you're not sure how to write a cover letter for a management position, these three cover letter tips will guide you through the process:
Get the format and structure right
When writing a cover letter, you should follow traditional letter writing structure, starting with the date and closing with the sign off .
Here's how to structure your cover letter:
1. Header and contact information
At a minimum, include your name, the date, your phone number and email address. You can also include your LinkedIn profile or any other social media accounts that help showcase your management experience.
2. A salutation
Knowing how to address a cover letter might not seem too important, but using an unprofessional salutation can undermine your efforts to make a good impression, especially for candidates applying for a management position.
It's always best to personalize your greeting as much as possible. Use "Dear", followed by your hiring manager's first and last (or just last) name.
If you can't find your hiring manager's name, you should still avoid using "To Whom It May Concern" and opt for an appropriate alternative.
3. An opening paragraph
In your opening paragraph, you should introduce yourself along with your management experience, how you became aware of the job opening, and why you're interested.
Use your opening paragraph to customize your cover letter to each job you apply for by using the company name and including something you know and admire about their work.
4. Body paragraphs
Your body paragraphs should be used to illustrate your managerial experience, leadership expertise and accomplishments to employers. Tell them why you're a good fit for the company and what benefits you can bring by joining them as a manager.
5. A closing paragraph
In the closing paragraph, thank your hiring manager for their time and reiterate why you'd make an excellent manager.
Let the hiring manager know that you're interested in scheduling an interview to further discuss your qualifications.
6. A professional sign-off
End your manager cover letter with "Sincerely," followed by your name or signature.
Highlight your management skills
As a current (or aspiring) manager, you need to demonstrate to employers that you have the skills it takes to lead and inspire others.
Management demands a well-developed, diverse skill set.
You need to have great multitasking skills and switch gears quickly to address matters ranging in scope and subject as they arise. You must be able to maintain a clear idea of both larger goals and small details simultaneously, ensuring that your team is working together towards a collective goal. Additionally, you must be a great organizer and communicator.
When writing your cover letter, keep in mind what management skills employers are looking for and incorporate those. One good way to do this is to carefully scan the job listing for any special skills and abilities that employers list.
Here are some examples of soft skills to include in your manager cover letter:
Management Soft Skills
| | | | |
| --- | --- | --- | --- |
| Organizational skills | Interpersonal skills | Leadership skills | Communication skills |
| Goal setting | Perceptivity | Presenting | Active listening |
| Time management | Empathy | Problem-solving | Verbal communication |
| Attention to detail | Positivity | Delegation | Conflict resolution |
| Streamlining processes | Motivation | Receptivity to feedback | Mediation |
In addition to highlighting your soft skills, you should also include any management hard skills relevant to your industry.
Quantify your achievements
When writing about your management experience, you want to impress hiring managers with accomplishments that set you apart from the other candidates.
Two great ways to highlight your achievements are to:
Use powerful action verbs to describe how you performed your role
Quantify your achievements with hard numbers
Establishing your experience in terms of the tangible results you've achieved shows potential employers the benefits you can bring to the company.
Include quantified achievements in your body paragraphs, or break up the text by including them as bullet points.
Take a look at this example, with quantified achievements underlined: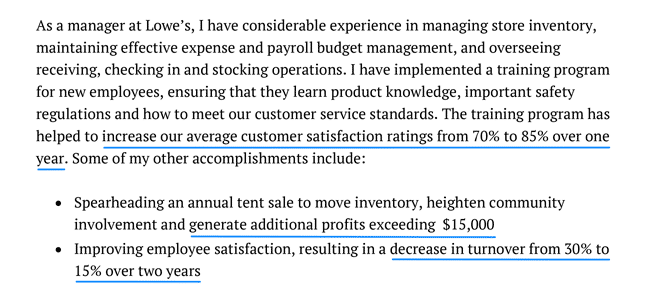 In this section of her cover letter, the candidate relates her professional management experience and then uses three quantifiable points to demonstrate what she was able to achieve in a managerial role.
The numbers she uses reflect an impressive improvement across customer satisfaction, sales and inventory management, and employee satisfaction, all of which are critical aspects of running any retail business.
If you don't know what accomplishments to quantify in your cover letter, it's a great idea to look closely at the job posting to identify what skills employers are looking for and incorporate these in your cover letter.