Not quite sure what a cover letter is, or what it should look like? Here's an example of a well-written cover letter:
Our free-to-use cover letter builder can make you a cover letter in as little as 5 minutes. Just pick the template you want, and our software will format everything for you.
What should go on a cover letter?
Ready to write your cover letter? Here are the main things to include:
1. Your contact information
Make your contact information stand out in a cover letter header. Use large, bold text to help the hiring manager remember your name when they put together a shortlist of candidates to interview.
Here's how your cover letter's header should look:
If you're not a graphic designer, making a professional header for your cover letter may not be an option — but that's okay. Just plug your information into a preformatted header on a professionally designed cover letter template.
2. Today's date
Left-align today's date under your header, using this format:
December 30, 2021
Don't include the date if you write your cover letter in the body of an email. Adding the date is redundant because the email automatically adds the date.
3. The employer's contact information
List the employer's contact information on the left side of your cover letter, under the date. Include the hiring manager's name, email address, phone number, and company mailing address.
Here's an example of a properly formatted employer contact information section:
James Johnson
123 Gill St.
Tallahassee, FL 12345
(555) 555-5555
james.johnson@gmail.com
4. A greeting
Start your cover letter with a formal greeting. Address the hiring manager or another contact person by name if you know it.
If you don't have a name, find an alternative to generic openings like "To Whom It May Concern," — for example, your cover letter salutation can address the name of the department you're applying to, like this:
Dear SQeeL Engineering Team,
5. Paragraphs and a bulleted list
Format the body of your cover letter like a formal business letter, explaining your qualifications in 3–4 paragraphs. You can also include a bulleted list of accomplishments to make your letter easier to read. Keep in mind that your cover letter should complement your resume, not just repeat it.
6. Sign-off and signature
Here's how to sign your cover letter:
Choose a polite sign-off phrase like "Sincerely," or "Regards,"
Hit "Enter" twice to insert two lines of blank space
Type your name
Printing your cover letter? Add extra space between your cover letter's sign-off and your typed name, and then sign your name in that space.
How to make your cover letter look good
Follow standard cover letter formatting to make the best-looking cover letter possible:
1. Choose a great font
Pick a cover letter font that's easy on the eyes. We suggest you use a sans-serif font like Arial or Helvetica for cover letters you send digitally. If you submit a hard copy of your cover letter, use a serif font designed for printed documents (Cambria and Garamond are good choices).
Also, set your font size to between 10.5 and 12 points. If you use text that's too small, your cover letter will be hard to read, and if you choose an oversized font your information won't fit on the page.
2. Set standard margins
Your cover letter's margins should be set between ½" and 1" because:
margins larger than 1" make your cover letter look bad by cramming your information into the center of the page
margins smaller than ½" create too much empty space, which indicates you don't have many qualifications to list
3. Use proper spacing between sections
Ensure your cover letter sections are evenly spaced. You won't find exact rules for spacing between sections, paragraphs, and sentences, so use your best judgment.
If you have trouble deciding whether your cover letter's spacing is appropriate:
print it out so you can easily view it from different angles
ask a friend to look at your cover letter and let you know if they notice any strange spacing
4. Fill at least 2/3 of the page
Even if you're writing a short cover letter, it should fill at least 2/3 of the page. A cover letter that takes up less than 2/3 of a page appears empty and makes you look unqualified.
Additional examples of what your cover letter should look like
Looking for more cover letter inspiration? Here are three additional cover letter examples so you can see what a killer cover letter looks like: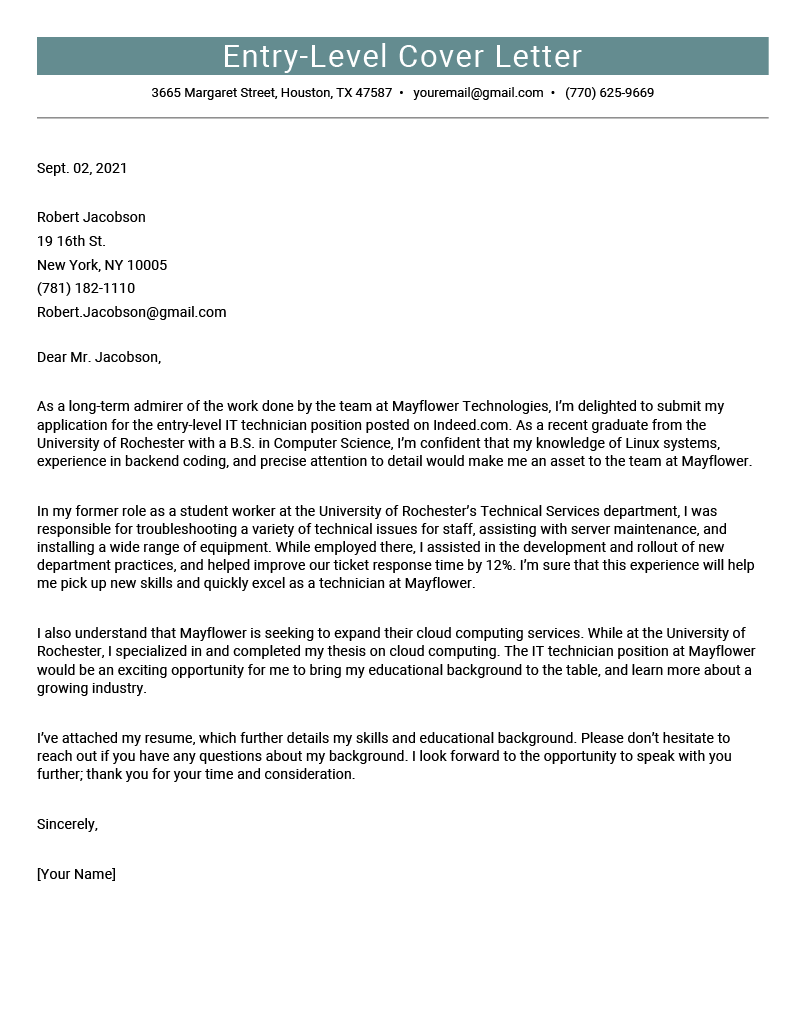 Entry-Level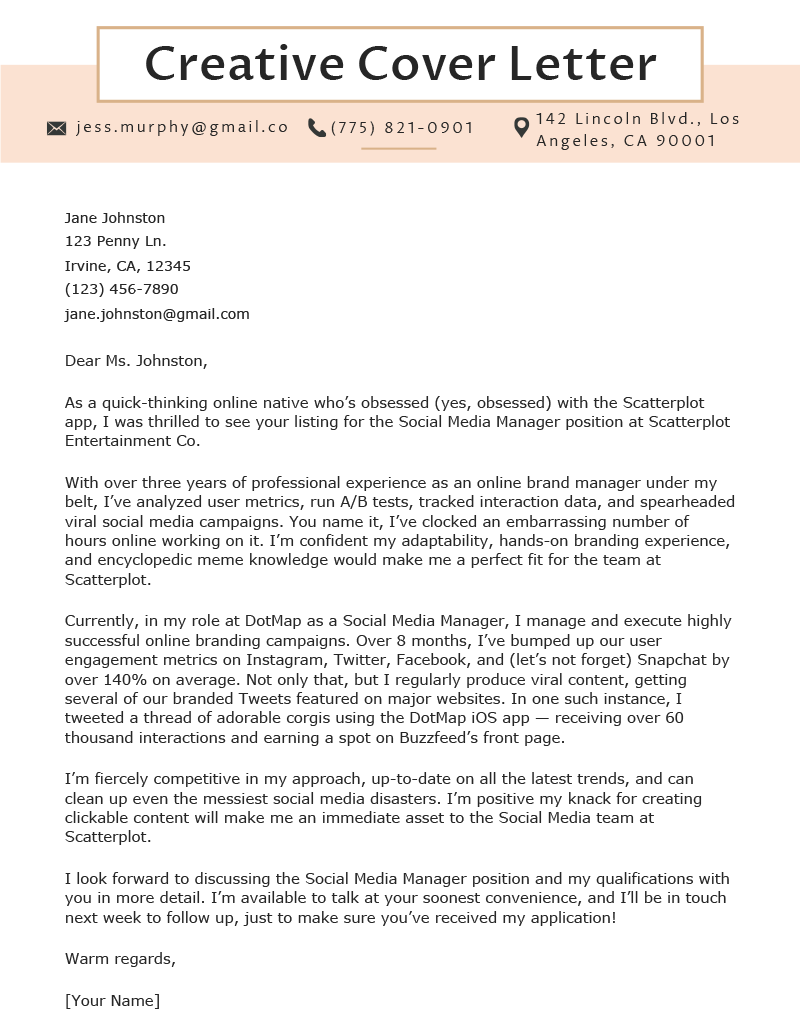 Creative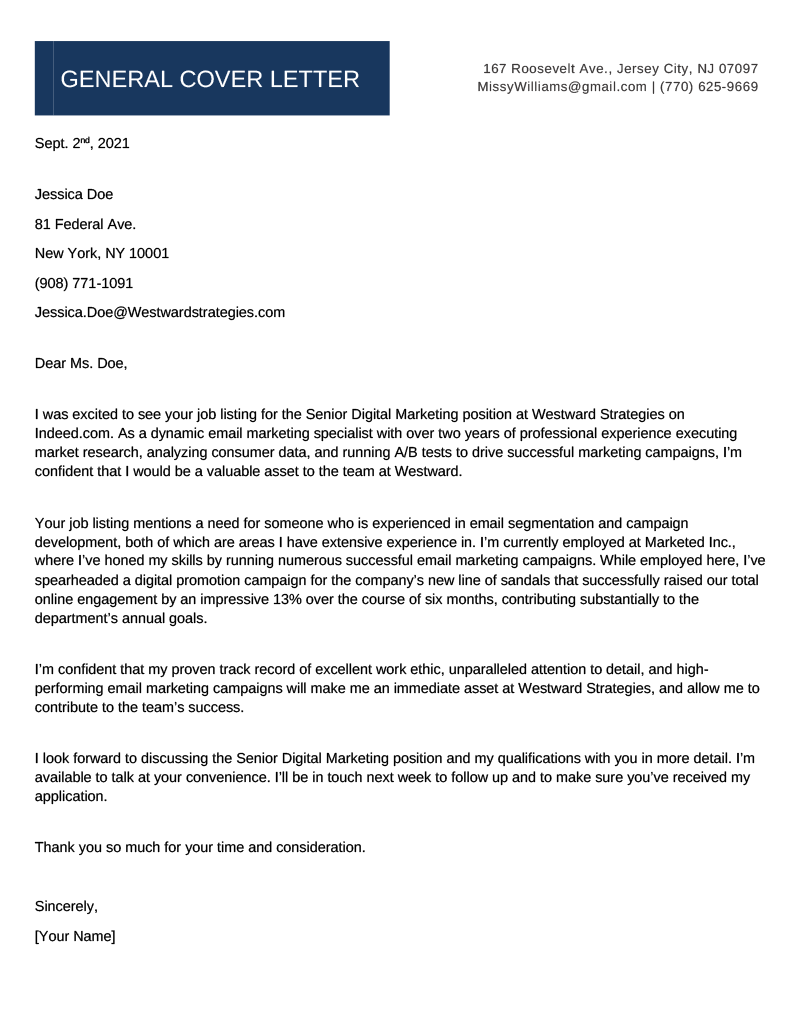 General