If you want to make a lasting impression on Canadian employers and land a job, you'll need a well-written resume.
Discover the key components of the Canadian resume format with our expert tips, example, and FAQs, whether you're writing your first Canadian resume or just need a refresher on best practices.
Our free-to-use resume builder can make you a resume in as little as 5 minutes. Just pick the template you want, and our software will format everything for you.
What's the difference between the American and Canadian resume formats?
The American and Canadian resume formats are structured the same, with the only difference being the number of pages.
American resumes tend to use the one-page format, while Canadian resumes often include 1-2 pages (depending on the individual's experience and qualifications).
But whether you're applying for work in the US or Canada, remember to carefully format your resume by adjusting it to the:
industry you're applying for
current job market's standards
requirements from the job description
What's the best format for a Canadian style resume?
The best format for a Canadian style resume is the chronological resume.
The chronological resume format is the ideal choice for job seekers in Canada because it clearly presents your work history by:
starting with your most recent job
listing your previous positions in descending order
presenting your qualifications in a logical, time-ordered fashion
demonstrating to hiring managers how your skills have developed over time
Although not as common in Canada, another resume format you can use is the functional resume format. This resume structure is suitable for applicants who:
have gaps in their work history
are changing careers
want to highlight their skills and abilities instead of their work experience
Just keep in mind that while the functional resume highlights your transferable skills, it won't show your career progression like the chronological format does.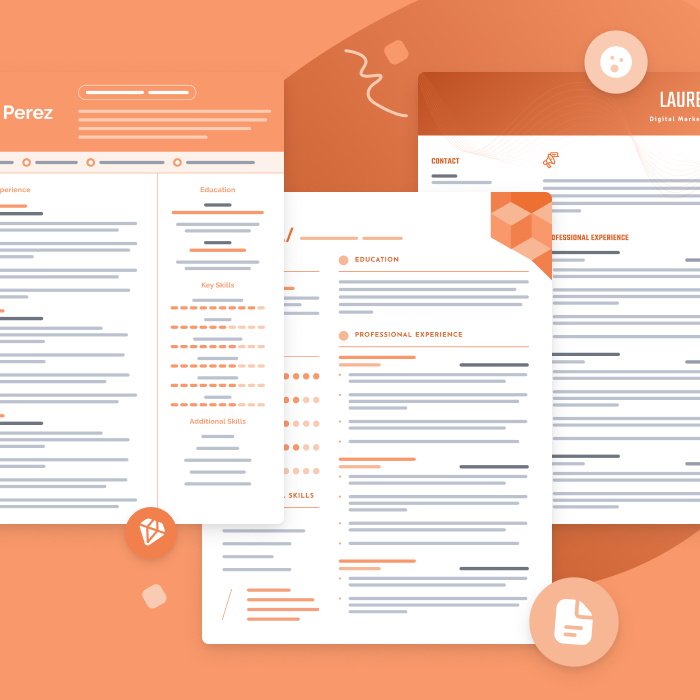 One of the best ways to make your resume is by filling out one of our free resume templates. All our templates are designed by experts and free to download for Microsoft Word or Google Docs.
Free Canadian resume template
Excited to find job opportunities in Canada but unsure where to start?
Use this downloadable Canadian resume example to give you a headstart on the resume writing process: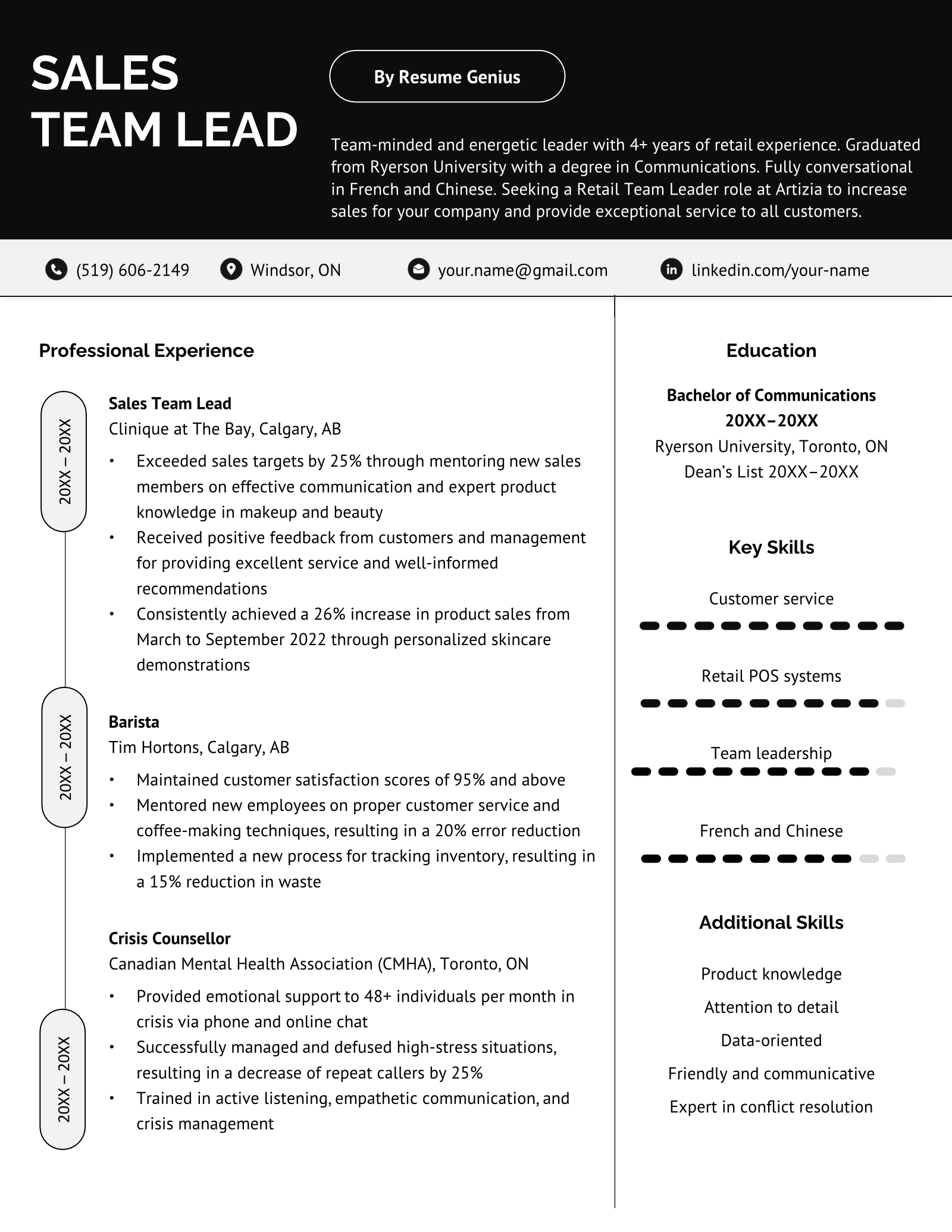 Download This Free Canadian Resume Template
How to write a Canadian resume in 6 steps
Whether you're applying for your first job at Tim Hortons or one of the Big 4s, here are six key steps for highlighting your resume and standing out as a candidate:
1. Begin by listing your contact details on your resume header
Start your resume with an attention-grabbing resume header that quickly showcases your contact information to potential employers.
Include these essential contact details on the header of your resume:
Key contact information for your Canadian resume's header
name (which should be the largest text on your resume)
email address (use a professional one)
phone number
You can also add these optional details:
Optional information for your Canadian resume's header
an online portfolio/website (if relevant)
your LinkedIn URL
your city and province or territory
a mailing address (to show you're local)
a short resume headline describing your experience
Here's an example of an applicant's resume header: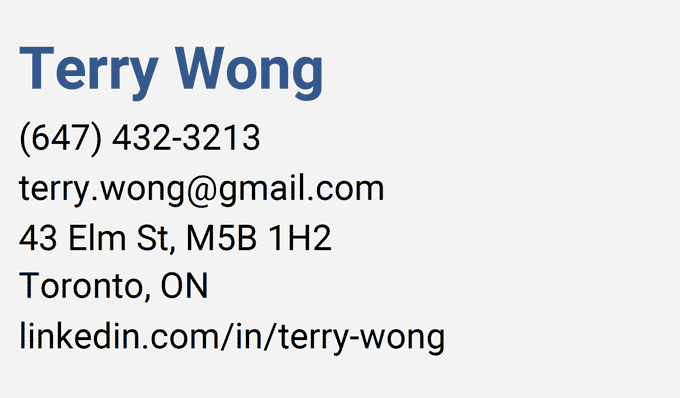 2. Write a compelling resume objective
Your resume objective (or career objective) is an important section that comes up after your resume header and is your opportunity to explain why you're a top candidate for your target role.
Keep your resume objective between 3–4 sentences so it concisely:
summarizes your relevant experience (if you have any)
highlights your key skills
lays out your education details and career goals
This is an example of a resume objective from a Canadian applicant: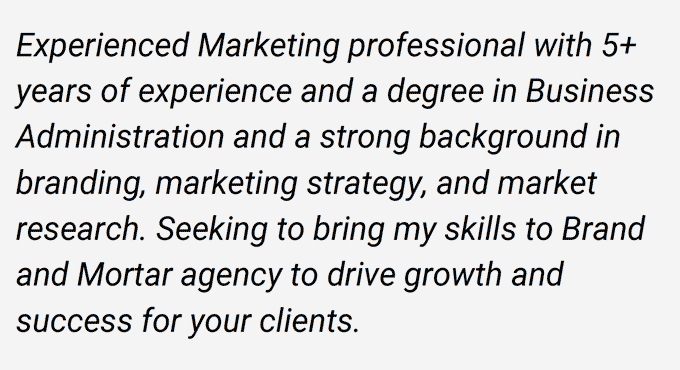 In addition to traditional work experience, the relevant experience you include can be something you've accomplished through education or other activities — just as long as it's related to the job.
3. Add numbers and accomplishments to your work experience section
The work experience section of your resume is a crucial element that Canadian recruiters and employers will pay close attention to, so ensure you get it right.
If you have multiple jobs in your work highlights section, list your most recent position first and older positions afterward.
For each work experience, list the following information:
job title and the dates of employment
company name, location, and province or territory (e.g., ON or BC)
3–5 bullet points describing your top achievements and responsibilities
Don't forget to quantify your resume with numbers (e.g., percentages, dollar amounts) and specific accomplishments to provide employers with context and showcase the impact you made in your previous roles.
And to even further highlight your resume achievements (also known as accomplishment statements), start each bullet point on your resume with an action verb. Action-oriented words like "Produced" or "Led" give hiring managers a positive impression of your work ethic and initiative.
For instance, our applicant's achievements in their work experience section include action verbs and numbers (highlighted in bold):
Example of an applicant's well-written work bullet points
Marketing Coordinator | Zync, Toronto, ON
Feb 2020–Mar 2022
Coordinated and executed various marketing campaigns for Zync, resulting in a 10% increase in website traffic and a 15% increase in sales
Maintained relationships with 12 key partners and vendors to ensure successful execution of marketing initiatives
Collaborated with 3 cross-functional teams to analyze market trends and consumer insights to inform and adjust marketing strategies as needed
4. Describe your educational background
You should always include your education details on a Canadian resume, but the placement depends on your level of experience:
If you have limited work experience or are currently a student, list your education section closer to the top of your resume
If you have several years of work experience, list your education details after your work history section
When listing your education, you should only include your highest degree. If you didn't attend college, include your high school diploma instead.
Here's what to include in the education section of your resume:
degree name
institution name, location, and province
graduation date (if within the last 15 years)
relevant coursework (if it pertains to the job or the company's needs)
Have a look at our Canadian applicant's education details: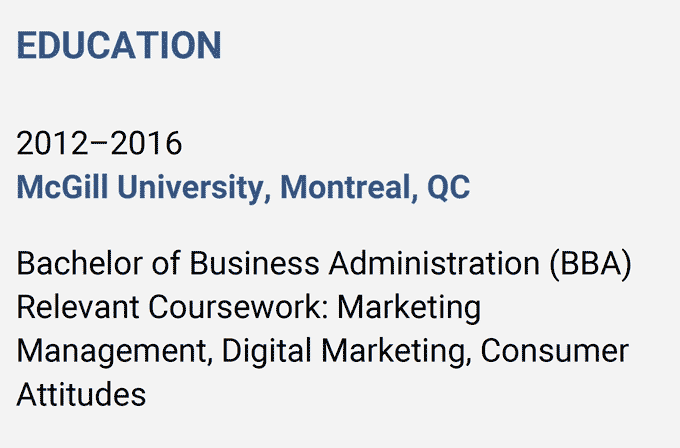 5. Emphasize your top hard and soft skills
When preparing your Canadian resume, consider the various job-specific skills you've acquired through work, classes, extracurricular activities, clubs, and sports — and then include the most relevant ones in your resume's skills section.
You should highlight both hard skills, such as proficiency in specific software or technical abilities, as well as soft skills, like communication and problem-solving abilities, that are highly valued by employers.
Here's a list of the top hard and soft job-related abilities for a Canadian resume in 2023:
6. Finish by adding any other relevant resume sections
To enhance your Canadian job application, consider including additional sections that highlight your relevant experiences and skills.
Here are some optional resume parts you can include on your resume:
Internships and co-op programs
An internship on your resume is a great way to prove that you can work in a professional environment, even if you have limited or no work experience.
Listing any paid or unpaid internships you've completed can be especially beneficial if you're writing a resume for Canada as an entry-level candidate.
Also, don't forget to include any co-op programs you've completed. Co-op programs in Canada provide students with paid, hands-on work experience in their field of study.
If the job you're applying for requires job-specific certifications, make sure to highlight them prominently on your resume.
For instance, if you're applying for a job in healthcare, highlighting your certification as a Registered Nurse in Canada (RN) conveys to employers that you meet the job requirements.
If you've completed any personal projects that are relevant to the job you're applying for, including them on your resume can show potential employers your self-motivation and passion for your target role.
For example, building a website for a Canadian small business or developing an app tells tech employers you've developed some relevant technical abilities that they look for in their ideal applicants.
Frequently asked questions and answers about Canada style resumes
Interested in learning more about Canadian resumes? We've got you covered.
Here are three commonly asked questions and answers related to Canada's resume writing process:
1. Which fonts and margins are the best for Canadian resumes?
When it comes to the best resume font choices for your Canadian job application, use a font that's easy to read, professional, and consistent throughout your document.
Some popular font choices for Canadian style resumes include Arial, Calibri, Times New Roman, Georgia, and Verdana.
Generally, stick to a font size between 10–12 and avoid using overly fancy or decorative fonts that might make your resume difficult for employers to read.
Finally, use 1" resume margins to distribute your information evenly throughout the page.
If necessary though, you can adjust your margins within a range of ½"–1″.
2. What shouldn't be included on a Canadian resume?
Here's what shouldn't be included on a Canadian resume:
a photo of yourself
personal information such as your age, birth date, passport information, SIN number, marital status, race, and religion
your salary requirements
your references (put them on a separate page instead and submit them later if you make it further in the job process)
3. Does Canada use the terms resume or CV?
Canada uses both the terms resume and CV, but for different purposes.
To clarify the answer — in Canada, a "resume" is a brief document that's used for entry-level or mid-career positions and contains your most recent experiences and qualifications.
By contrast, a Canadian "CV" is a lengthy, detailed document used for academic or research positions and contains information about your education, work experience, publications, and other academic accomplishments.