Not sure which skills to put on a resume for your industry? Having trouble deciding what skills are right for your resume? Our resume skills section guide shows you how to list, re-iterate, and expand upon your abilities that are relevant to your target job.
This guide will cover all the best skills for resumes, as well as exactly how to properly showcase them on your resume.
If you wish to save time, our resume builder automatically generates specific skills for your industry.
Table of Contents
1. The Best Skills to Put on Your Resume – Soft Skills & Hard Skills
When trying to figure out which skills to put on your resume, you need to focus on both hard and soft skills. A good list of soft skills will show you work well with others, while a solid hard skills list will prove you have the specific skills to do the job.
Almost every job requires a mixture of the two to perform at peak levels. It's important that you show the hiring manager you're more than just a computer wizard or fast talker by including both types of abilities on your resume.
Check out some of the most important types of hard and soft skills below:
| Hard Skills | Soft Skills |
| --- | --- |
| Accounting | Adaptability |
| Copywriting | Amiability |
| Data Presentation | Collaboration |
| Foreign Languages | Communication |
| Mobile Development | Creativity |
| SEO/SEM Marketing | Critical Thinking |
| Software Development | Emotional Intelligence |
| Statistical Analysis | Leadership |
| UX/UI Design | Organization |
| Web Development | Time Management |
What's the difference between hard vs. soft skills?
Hard skills are job-specific or technical skills that must be learned through education or training, whereas soft skills are innate abilities usually related to how we interact with those around us.
Since almost all jobs require some level of interpersonal relations, soft skills are useful in all industries. Hard skills, on the other hand, are often a basic requirement when applying to a specific position.
The following chart highlights some of the key differences between hard skills and soft skills:
| Key Traits of Soft Skills | Key Traits of Hard Skills |
| --- | --- |
| Useful Across All Industries | Industry Specific |
| Natural Abilities | Learned Through Training |
| Relate to Emotional Intelligence | Based on Technical Knowledge |
2. The Ultimate List of Skills for Resumes
Below is the largest list of skills for resumes in the universe.  We've organized hard and soft skills into all their important categories. Click the categories that best suit your experience to get a complete list of suggestions for your resume.
We've also compiled a list of 2018's most in demand skills according to a recent LinkedIn study.
Soft Skills for Resumes:
Hard Skills for Resumes
The Four Most In-Demand Soft Skills for 2018
Leadership

Communication

Collaboration

Time Management
The 25 Most In-Demand Hard Skills for 2018
Cloud and Distributed Computing

Statistical Analysis and Data Mining

Middleware and Integration Software

Web Architecture and Development Framework

User Interface Design

Software Revision Control Systems

Data Presentation

SEO/SEM Marketing

Mobile Development

Network and Information Security

Marketing Campaign Management

Data Engineering and Data Warehousing

Storage Systems and Management

Electronic and Electrical Engineering

Algorithm Design

Perl/Python/Ruby

Shell Scripting Languages

Mac, Linux and Unix Systems

Java Development

Business Intelligence

Software QA and User Testing

Virtualization

Automotive Services, Parts and Design

Economics

Database Management and Software
Soft Skills to Put on Your Resume – Organized by Category:
Below is our full list of soft skills for resumes organized by category. Find the categories most suitable to your industry and browse the various skills to get an idea of what you can put on your resume. You'll notice that some categories contain the same (or similar) – this is because the nature of soft skills often makes them hard to categorize under one single umbrella.
Adaptability & Flexibility
| | | | |
| --- | --- | --- | --- |
| Analysis | Open-Mindedness | Quick Thinking | Self-Motivation |
| Calmness | Optimism | Self-Confidence | Stress Management |
| Decision-making | Organization | Self-Managment | |
Attention to Detail
| | | | |
| --- | --- | --- | --- |
| Acuity | Introspection | Organization | Recall |
| Active Listening | Listening | Perception | Scheduling |
| Critical Observation | Memory | Questioning | |
Collaboration & Teamwork
| | | | |
| --- | --- | --- | --- |
| Active Listening | Coordination | Idea Exchange | Open to Feedback |
| Conflict Management | Delegation | Mediation | Persuasion |
| Cooperation | Facilitation | Negotiation | |
Communication
| | | | |
| --- | --- | --- | --- |
| Clarity | Empathy | Non-Verbal Communication | Summarizing |
| Confidence | Friendliness | Providing Feedback | Verbal Communication |
| Constructive Feedback | Listening | Respect | Written Communication |
Creativity & Innovation
| | | | |
| --- | --- | --- | --- |
| Brainstorming | Divergent Thinking | Insight | Questioning |
| Creative Writing | Experimentation | Inspiration | Reframing |
| Design | Imagination | Mind Mapping | Storytelling |
Independence
| | | | |
| --- | --- | --- | --- |
| Confidence | Initiative | Self-Discipline | Trustworthiness |
| Dependability | Self-Motivation | Self-Management | Time Management |
Interpersonal Skills
| | | | |
| --- | --- | --- | --- |
| Diplomacy | Humor | Networking | Public Speaking |
| Emotional Intelligence | Interpersonal Communication | Patience | Sensitivity |
| Empathy | Mentoring | Positive Reinforcement | Tolerance |
Leadership & Management
| | | | |
| --- | --- | --- | --- |
| Agility | Delegation | Giving Feedback | Selflessness |
| Authenticity | Empathy | Humility | Trust |
| Cultural Intelligence | Generosity | Listening | Versatility |
Problem Solving & Analytical Thinking
| | | | |
| --- | --- | --- | --- |
| Analysis | Initiative | Observation | Research |
| Brainstorming | Lateral Thinking | Optimization | Streamlining Processes |
| Decision Making | Logical Reasoning | Persistance | Troubleshooting |
Professionalism
| | | | |
| --- | --- | --- | --- |
| Accountability | Dedication | Patience | Responsibility |
| Business Etiquette | Focus | Positive Attitude | Strong Ethics |
| Conflict Resolution | Integrity | Reliability | Tact |
Time Management
| | | | |
| --- | --- | --- | --- |
| Coping | Focus | Organization | Self-starter |
| Decision Making | Goal Setting | Planning | Stress Management |
| Delegating | Multi-tasking | Prioritizing | |
Work Ethic
| | | | |
| --- | --- | --- | --- |
| Commitment | Initiative | Professionalism | Team-minded |
| Dependability | Integrity | Responsibility | Time Management |
| Discipline | Organization | Self-motivation | |
Hard Skills to Put on Your Resume – Organized by Category:
Below is the full list of hard skills for resumes organized by category. To find the best skills to put on your resume, find the categories that best match your target job and consult the list.
Accounting & Finance
| | | | |
| --- | --- | --- | --- |
| Account Tools (SAP, Oracle, etc.) | Bookkeeping | Cost & Trend Analysis | GAAP/FASB Knowledge |
| Auditing | Budget Management | ERP Systems | Mathematics |
Business & Data Analysis
| | | | |
| --- | --- | --- | --- |
| BI Tools & Apps | Data Engineering | Data Presentation | Resource Management |
| Data Modeling | Data Mining | Database Management | |
Cloud Computing
| | | | |
| --- | --- | --- | --- |
| Cloud Apps (JSON, Rest, etc.) | Information Security | Middleware Technologies | MySQL |
| Cloud Architecture | Linux | Networking Communication | Storage & Data Management |
Computer Technology
| | | | |
| --- | --- | --- | --- |
| Analytics | HTML | Pivot Tables | Spreadsheets |
| Google Search | Microsoft Office Suite | Social Media | Typing |
Design
| | | | |
| --- | --- | --- | --- |
| Adobe Creative Suite (Photoshop, etc.) | Digital Product Design Software (InVision, etc.) | Print Design & Typography | User Interface (UI) Design |
| CSS | Flash | User Experience (UX) Design | |
Hard Communication Skills
| | | | |
| --- | --- | --- | --- |
| Copywriting | Foreign Languages | Public Speaking | Technical Writing |
| Digital Communication | Legal Writing | Sign Language | Legal Writing |
Marketing
| | | | |
| --- | --- | --- | --- |
| Branding | Content Management Systems (CMS) | Digital Advertising | Search Engine Marketing (SEM) |
| Campaign Management | Copywriting | Google Analytics | Search Engine Optimization (SEO) |
Mobile & Web Development
| | | | |
| --- | --- | --- | --- |
| Android Development | Back-end Development | Software Revision Control Systems | Development Framework |
| Angular and Node Apps | Front-end Development | Web Architecture | iOS App Development |
Network Structure & Security
| | | | |
| --- | --- | --- | --- |
| Authentication Systems | Data Loss Prevention (DLP) | Risk Assessment | Virtual & Host-based Firewalls |
| Cryptography | Encryption Algorithms | Security Engineering | Vulnerability Analysis |
Nursing
| | | | |
| --- | --- | --- | --- |
| Advanced Lifesaving (ACLS) | Diabetic Care | Neonatal Care | Surgery Assistance |
| Catheterization | Dialysis | Phlebotomy | Traction Management |
| Chemotherapy Administration | Geriatric Care | Prenatal Care | Wound Monitoring |
Project Management
| | | | |
| --- | --- | --- | --- |
| Agile Methodologies (Scrum) | Inter-departmental Communication | Project Performance Metrics | Scheduling |
| Budgeting | Project Management Software | Risk Management | Technical Reporting |
Social Media
| | | | |
| --- | --- | --- | --- |
| Adobe Sparks | Canva | Hypetext | Social Media Analytics |
| Buffer | Hootsuite | Photography | Social Media Literacy |
Teaching
| | | | |
| --- | --- | --- | --- |
| Blackboard | Creating PLNs | Lesson Planning | Web Design |
| Blog Creation | Digital Portfolio Creation | Video Content Development | Wiki Creation |
3. Finding the Right Skills for Your Resume Using the Job Description
Find the right skills for your resume can often be simplified by using the job description itself. By matching the resume skills you list to the job description, you show the hiring manager exactly what they're looking for, so you're much more likely to land an interview.
Read through the description for your target job and highlight all the skills emphasized by the hiring manager. Let's take a look at an example job description from LinkedIn that a front-end developer might see: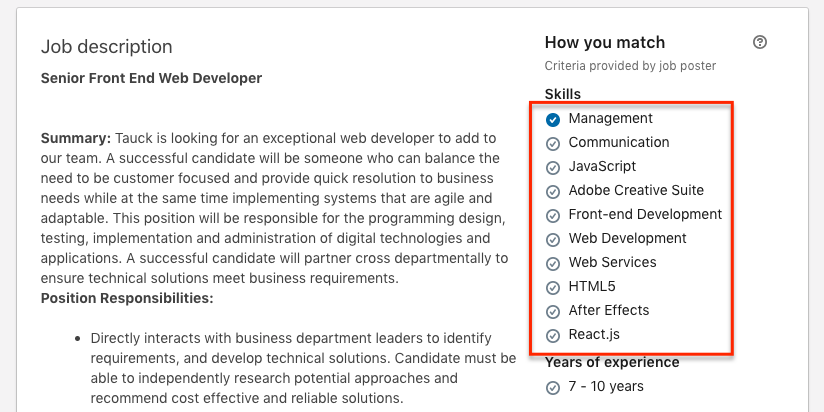 As you can see above, job search sites like LinkedIn usually have a dedicated skills section within the job description. But this should only be used as a rough guide of the skills you should actually include on your resume.
To really get an idea of the skills you should focus on, you need to take a detailed look at the description itself. Take a look a the following excerpt from the same job listing:
The job description itself has a much more detailed list of the skills required for the position. It also provides clues as to which skills are more important to the employer. For instance, in the example above the job requires a "solid understanding" of core engineering principles, but a "thorough understanding" of ES6 and modern JavaScript frameworks.
This tells you that this employer values experience with JavaScript frameworks over an understanding of core engineering principles. While it would still be important for the candidate to include both on their resume, it would be wise to place more effort on highlighting the former.
When trying to figure out which skills to focus on for your own resume, pay particular attention to the specific words and phrasing used by the hiring manager and highlight the abilities more overtly emphasized.
4. How to Put Skills on Your Resume Part 1: Skills Section
There are two chief ways to showcase skills on your resume, one is through your professional experience section and the other is writing a stellar resume skills section. In this part, we'll teach you everything you need to know about resume skills sections, as well as how to utilize yours to properly showcase your abilities.
What is a resume skills section?
Sometimes referenced as "Additional Skills" or "Technical Skills" , this section of your resume is where you can list all of your useful abilities that are not overtly mentioned in the bullet points of the Work History. Here are some resume samples showing what they look like:
As you can see, these all tend to be brief and to the point. Yet, there is a right way and a wrong way to writing them.
Formatting: Additional vs. Technical / Computer Skills for Resumes
Most job seekers end up choosing a resume template that places their relevant skills closer to the bottom, but for some specific industries listing them at the top is very effective. Take a look at the sample resume for an applicant searching for an IT job: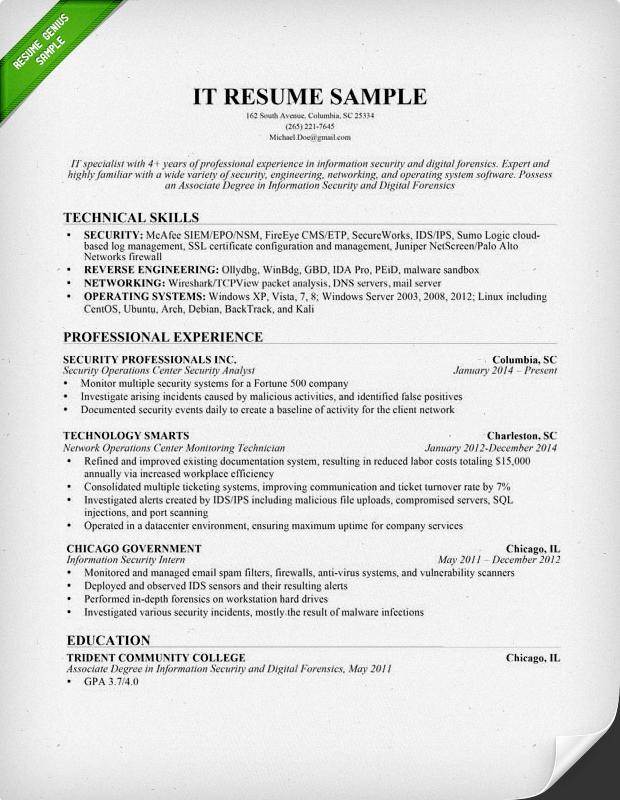 Because an IT job requires an employee to have a base set of abilities, the applicant starts off by listing his Technical Skills instead of adding them as Additional Skills towards the end.
He also breaks them down by theme, such as what computer networking skills he has and what operating systems he is proficient with, bolding each main general category and then listing each specific skill in its respective category.
Some jobs where using a Technical Skills section instead of an Additional Skills section could be beneficial are:
Information Technology
Graphic Design
Manufacturing
Technical Writing
Engineering
Regardless of which style of Skills Section you use on your resume, as long as you use relevant, clear, well organized bullet points, you're sure to impress.
Tips for Putting Additional Skills on your Resume
In the above examples, there are a few similarities to the types of skills that the job seekers listed even though they are going after different positions.
Relevancy is King
A hiring manager is interested in what relevant skills you have. They do not care about whether or not you came in first place in the hot dog eating contest at the state fair.
An IT Industry job seeker should not do this:

Leader of a 70 member guild in World of Warcraft for 3 years.
Instead he or she should do this:

Maintained a self-hosted VoIP chat server for 3 years.
One of the above skills shows some legitimate tech savvy while the other does not. That's something that might catch a hiring manager's eye.
Keep your resume skills targeted toward the job you are applying for. Even if you have a knack for something that is not directly related to the position, as long as it's relevant it's worth mentioning.
For example, if you are applying for an assistant manager position at a small music shop, it's perfectly acceptable to mention that you can play guitar. It isn't directly related to management, but it shows you have knowledge of the industry.
Quantify When Possible
Just like discussed in all of the Resume Genius resume samples, replace nonspecific adjectives with hard numbers. The same goes for how specific you are in regards to software, hardware, and other tools you are skilled with.
Don't Say: Excellent with foreign languages

Do Say: Fluent in English and Spanish, and proficient in French
Don't Say: Skilled typist

Do Say: 70WPM typist
You don't need to get overzealous with the specifics, but a couple of details go a long way.
Organize Your Bullets
If you're only listing 2 or 3 bullet points, this isn't that big of a deal, but once you start listing more, you want to keep things sensible.
For example, keep your computer skills with your technical abilities and your speaking and language skills with your communication abilities.
These skills are scattered:

Experienced graphic artist well versed with Adobe Photoshop and Adobe Illustrator
Bilingual – Fluent in English and French
Proficient with MS Word, Excel, and PowerPoint
Charismatic and confident public speaker
These skills are organized:

Experienced graphic artist well versed with Adobe Photoshop and Adobe Illustrator
Proficient with MS Word, Excel, and PowerPoint
Charismatic and confident public speaker
Bilingual – Fluent in English and French
Also, when possible list the group of skills that are more important to the position that you're applying for first. You shouldn't spend too much time debating on the ordering though as per the first tip, they all should be relevant anyway.
5. How to Put Skills on Your Resume Part 2: Professional Experience
One of the best ways to showcase your skills is by crafting an achievement-oriented professional experience section. It allows you to not only show you possess certain skills, but also prove you have used them to produce results for previous employers.
Simply follow the steps below and you'll have a resume that enables your skills to shine.
Step 1. Make a List of All Your Relevant Skills
Compile a list of all your abilities that you feel are most relevant to your target position. If you're struggling to think of them on your own, it might help to consult our comprehensive list of skills for resumes above, or to utilize the job description.
Once you've created your list, go through it and circle all the skills you have used to have a signifiant impact at previous jobs – these will be your focus.
Step 2. Create Achievement-Oriented Bullet Points
Once you have your list, the next step is to convert those basic skills into bullet points that prove you can use them to effectively produce results. The easiest way to do this is by using the Problem, Action, Result (PAR) method.
The PAR method is done by breaking your bullets into three parts:
Problem

: Identify an issue or responsibility at work

Action

: How you used the skill you want to showcase to address the "

Problem

"

Result

: The positive result of your "

Action

"
For example, let's take a look at how a project manager could use this method to showcase their communication skills:
Problem

: Ensuring all departments understand all aspects of a project

Action

: Communicating with departments

Result

: Smooth completion of project
Converted into a bullet point it would look like this:
Communicated

the

needs and problems of 3 different departments

to department heads,

ensuring the smooth and timely completion of projects

.
In this bullet, the candidate uses their communication skills to produce real, significant results that benefited their employer – thereby proving they have strong, valuable communication abilities.
Step 3. Quantify, Quantify, Quantify
While this step is optional, you should still quantify your bullets whenever possible. Adding numbers makes your bullet points carry more weight and gives the hiring manager a clearer picture of your abilities.
Take a look at some examples of how using quantification can help emphasize various abilities:
SEO/SEM Marketing:
Increased conversion rates by 10% on a client's web-based service offering through SEO/SEM campaigns
Data Analysis:
Conducted a data regression analysis of the relationship between company stock prices and industry trends, achieving a 15% more accurate prediction of performance than previous years
Leadership & Management:
Hired, trained, and coached 50+ staff members on customer service skills, food & beverage knowledge, and health & safety standards in preparation for the July 2015 restaurant grand opening
Conflict Resolution:
Implementing a three-step conflict resolution protocol for children displaying unruly behavior resulting in a 15% decrease in conflicts
Example Bullet Points Showcasing Skills for Resumes
For more ideas of how to include skills in your professional experience section, take a look at the comprehensive list of examples categorized by skill type below.
Achievement and Effort
Approach all work activities with deliberate focus to ensure that each task is completed correctly, efficiently, and effectively.

Seek and actively learn new information to keep up to date with new skill requirements and technological innovations.

Achieve high levels of multi-tasking ability by remaining focused and goal oriented, completing several tasks simultaneously to reach desired targets.

Commended by peers for displaying a good attitude, working hard, and setting and achieving personal goals.

Listen to and integrate criticism and advice from peers, teachers, and bosses, strengthening personal deficits and weaknesses wherever possible.

Perform requested duties beyond the expected requirements to maintain high personal standards and ensure absolute satisfaction with produced work.
Adaptability and Flexibility
Adapt to all arising situations, and able to develop solutions to problems as they appear to the satisfaction of any client.

Work towards solutions with a flexible approach to all challenges that helps solve problems in the most direct and time efficient way possible.

Respond and adapt to developing challenges and obstacles when under pressure calmly and logically to develop working solutions in a timely manner.

Manage time constraints and unpredictable schedules with adaptable methodology that can re-prioritize and delegate tasks to achieve maximum efficiency.

Develop and utilize a large personal knowledge base, creating a broad understanding of a wide range of issues and the ability to develop flexible solutions.

Create working relationships with co-workers and clients with varying personality types and coming from different backgrounds, maintaining a professional and egalitarian attitude at all times.

Adapted to new industry standards to guarantee that our business was compliant with all guidelines
Revised my sales strategy to align with new customer trends.
Analytical Thinking
Evaluate and dilute complex work processes into series of manageable tasks to increase efficiency and reduce waste.

Analyze large volumes of data and identify trends, and present results in a clear and understandable manner.

Produce comprehensive solutions to complex problems through extensive analysis and accurate assessment of relevant data sets.

Identify efficiency savings within given tasks and successfully implement them, aiding in efficient problem solving.

Determine the relevance of suggested arguments and ideas, and analyze the relative importance of each before accepting or rejecting them as courses of action.

Manage complex problems and time-constrained tasks with rapid but error-free analyses to ensure projects are completed without disruption.

Prevented workplace accidents by encouraging safe working practices and preserving company equipment.
Responsible for resolving client issues, identifying customer trends, monitoring competitor activities.
Attention to Detail
Plan strategically and maintain awareness of attention to details to overcome challenges, meet deadlines and achieve objectives without sacrificing quality.

Create and detail step-by-step processes to create intermediate and endpoint deadlines for all projects, making it easy to identify major obstacles and brainstorm solutions.

Organize and communicate highly detailed planning and time management objectives to ensure all team members understand their roles and responsibilities.

Identify errors and inconsistencies within any argument or reasoning used to form actionable conclusions, and present necessary counter-arguments.

Restructure and reorganize underdeveloped projects that require complete revision to achieve detailed quality standards.

Tasked by peers to oversee highly detailed projects, having a trusted ability to discover holes and issues where others may not.
Communication
Foster strong relationships with customers and strategic partners to strengthen our brand awareness
Facilitate monthly meetings with employees to ensure there is a mutual understanding of a project's directives

High levels of confidence when speaking either to groups or individuals that allows the conveyance of ideas or instructions in a clear, easily understood manner.

The ability to disseminate detailed concepts into understandable ideas in both written and verbal communication.

Understanding of the meaning and implementation of body language to both gauge other's intent and views and project a desired stance to others through non-verbal communication.

Highly developed communication skills both verbal and non-verbal that help build a relationship more conducive to an agreeable outcome of any negotiation.
Computer/Tech
Outstanding Typing Skills (WPM: 90).
Sound knowledge of troubleshooting techniques for Microsoft Office Suite

High levels of analytical ability means that problems can be understood and overcome quickly and efficiently.

Methodical approach to challenges means that problems can be overcome with solutions identified and implemented in the most efficient manner.

Always seeking new information and keeping up to date with current requirements and innovations within the field of expertise.
Concern for Others
Exercise empathy with others to assist in all aspects of communication, creating higher chances of successful outcomes and compromises.

Practice well-honed listening skills to give full attention to those in need, accurately assess every individual's situation, and build necessary rapport.

Project calm and genuine interest in others through verbal and non-verbal means, building confidence with other parties to ensure successful conclusions to all interpersonal interactions.

Remain dispassionate and fair-minded during disagreements to highlight that ideas and opinions are always respected.

Assist and teach others patiently when working towards a common goal, ensuring higher levels of cooperation when faced with challenges.

Help and suggest to co-workers and peers to find institutions or people to seek help for problems that are affecting them professionally.
Cooperation
Integrate into all team situations easily and comfortably, possessing a personable nature that is open to teamwork and cooperation.

Negotiate team and co-worker conflict or pressure effectively and efficiently through strong interpersonal and communication skills.

Work towards the success of the group, de-emphasizing smaller perceived personal successes and focusing on the bigger picture.

Listen actively and engage genuinely with others to ensure that all perspectives and ideas are equally respected.

Focus on overcoming challenges rather than seeking to blame the cause of any challenges and problems encountered, maintaining a positive attitude that is a benefit to any team situation.

Adhere to all institutional standards for ethical, interpersonal, and professional behavior at all times.
Dependability
Finish all tasks and projects on time with a reliably high level of quality.

Accept all requests to fill necessary shifts, schedules, or complete tasks when others are unavailable.

Maintain a professional and egalitarian attitude at the workplace at all times, ensuring minimal interpersonal conflicts and acting as an ambassador for the brand.

Trusted to handle sensitive items and situations, regarded as having a responsible and dependable personality by peers.

Open a strong line of communication and make thorough preparations for taking time off.

Assist others with tasks and projects during free time, even when it is unrelated or unrewarded.
Independence
Seek answers to questions personally without needing excessive guidance, asking only when it is obvious the information cannot be found.

Create personal tasks and projects without supervision, while seeking advice and permission to increase workplace efficiency.

Learn new skills actively to avoid over-reliance on co-workers and team members

Operate independently of team members and management, submit comprehensive reports and feedback to keep projects on track.

Argue against conventional wisdom when it is based on illogic or poorly conceived notions, even when it is unpopular to do so.

Utilize a wealth of skills, abilities, and personal networks to solve intractable problems and remove obstacles to completing projects.
Initiative
Display a thirst for knowledge, becoming an expert on any product or subject required quickly, and able to convey that knowledge clearly to others.

Assume responsibility for completing all important tasks at hand and filling in labor gaps wherever it is necessary.

Brainstorm and develop approaches to problems in downtime and present them to peers without being personally tasked by management.

Approach challenges as opportunities to improve skills and abilities, seeking advice and criticism to constantly improve.

Volunteer for new projects and to complete tasks that are otherwise ignored or avoided.

Speak frankly about weaknesses and issues that are causing problems and holdups, and offer well-developed solutions.

Received award for outstanding work ethic 2 years in a row.
Set challenging benchmarks of success and plan by which to achieve them each month
Innovation & Creative Thinking
Suggest and promote ideas for analysis and judgement without ego or personal issues should they be rejected by others.

Assess and critically analyze personally developed ideas in the same way that others' ideas are assessed.

Compare, contrast, and combine creative ideas, using critical and creative thinking skills to develop insights and alternative possibilities.

Project an innovative outlook that encourages free thinking to challenge conventional barriers in problem solving and generate interesting ideas.

Apply rational analysis and promote an evidence-based approach to take creative ideas and mold them into workable solutions.

Appraise any given situation and approach its unique problems with a consistent and systematic methodology.

Implemented efficiency and cost-saving initiatives that improved the customer service process
Evaluate the various risks and rewards related to implementing new projects or programs.
Integrity
Maintain an "honesty is the best policy" philosophy in the workplace, while being tactful about giving constructive criticism.

Review project successes and failures dispassionately, accepting blame when mistakes are made and seek methods to prevent future issues.

Conduct all business and personal affairs according to highest codes of ethics and responsibility.

Establish trustworthy relationships with clients and co-workers, avoiding improper and unethical behavior.

Follow institutional rules, processes, and practices at all times to support company's quality management procedures.

Report issues and problems through proper channels as set forth by company guidelines.
Leadership & Management
Maintain a visionary outlook and the ability to see each challenge in the context of the broader scope of the project, while acting towards that desired end goal at all times.

Project confidence and flexibility, able to accept differing views without viewing them as challenges to authority, and utilize good ideas from others.

Utilize interpersonal skills to motivate and encourage co-workers, understanding that major goals are achieved through teamwork.

Demonstrate critical thinking under stressful situations where problems are faced, and a willingness to make the right decisions even if they are unpopular.

Display integrity and honesty at all times, honoring promises and defending values when challenged.

Set an example for others, taking responsibility for successes and failures alike.

Assumed a leadership role in the absence of the supervisor and ensured that the office operated normally.
Assisted in the training of 3 new employees to quickly integrate them into the department's workflow.
Organization
Schedule meetings, appointments, and travel arrangements for managers.
Compiled, prioritized, and processed all new purchasing orders

Keep organized at all times, understanding that efficiency is achieved by being mindful of future and often unanticipated needs

Accurately estimate the work involved in any task to provide both a timetable and the effort required for successful completion.

Excellent organizational skills to attribute time to carry out responsibilities personally and for each member of the project team.

Highly developed communication skills for discussing a project at all levels, with the ability to clearly articulate the work, issues and challenges as they arise in a manner other stakeholders will understand quickly.
Persistence and Persuasion
Overcome obstacles to project completion by being forward thinking and positive, rather than adhering to the accepted limits.

Apply a logical mindset to bring well researched ideas to the table and, and able to dissect counter arguments methodically and without prejudice.

Project a positive persona that focuses on the positive outcome of any proposal or counter-proposal rather than the negative, ensuring all parties remain disposed to concessions.

Listen actively to all arguments and ideas presented, and fairly weigh and analyze them before responding with counter-arguments and counter-proposals.

Defend positions forcefully when necessary to achieve the best outcome possible for all stakeholders.

Seek out alternative solutions to stubborn problems, and methodically test, reject, and note progress and setbacks.
Research
Demonstrates the ability to analyze large volumes of data to find the required information within, efficiently and accurately.

Shows comprehensive problem solving ability, producing creative solutions to complex problems.

Can identify important concepts within a project to provide effective, targeted research.

Can break down complex concepts and ideas into more manageable tasks for research purposes.

Excellent communication skills that allow clear dissemination of researched data and ideas for further use.

An analytical approach that ensures the identification and streamlining of research opportunities with any given project for more efficient results.
Self Control
Maintain high levels of self-awareness that enables analysis of one's own assumptions and values about any given subject.

Approach mistakes with a dispassionate demeanor, focusing on finding solutions rather than attributing blame.

Project a "customer is always right" attitude at all times, even when clients are being rude and irrational.

Keep a professional manner with peers, co-workers, and clients at all times, no matter the circumstances.

Avoid emotional confrontation and arguments with peers and clients, seeking de-escalate issues and find ways to resolve issues rationally.

Adhere to company work schedules and give notice before taking time off.
Stress Tolerance
Remain calm under pressure, delivering workable problems during crisis scenarios in a timely manner.

Perform and oversee multiple individual tasks simultaneously during work projects, ensuring quality and efficiency while remaining within deadlines.

Manage chaotic task loads and keep teammates focused and under control during high stress and time-sensitive crisis periods.

Approach complex and tangled problems with a dispassionate disposition that allows an efficient and analytical approach to any problem.

Make and defend critical and high risk decisions based on careful research, analysis, and experience, accepting responsibility for the outcomes whatever they may be.

Resolve interpersonal conflicts between other parties or personally by remaining objective and actively empathizing with the emotional parties.
Teamwork
View every situation in the context of the broader picture to predict how the team may benefit overall from any given action.

Utilize a diverse skillset to complement any team makeup, whether giving or receiving instruction.

Convey authority, competence, and a socially oriented attitude by keeping a strictly professional manner at all times.

Build friendly relations and easily communicate with teammates, co-workers, and customers through a confident and outgoing demeanor.

Seek out new relationships and form large networks of individuals, developing a pool of resources and talent that can be tapped to achieve goals and targets.

Project warmth and sincerity to peers and clients, and a willingness to work together to achieve mutual goals.

Team worker who is able to adapt in highly dynamic and changing situations.
Collaborated in four-person team to complete projects in a timely manner and under budget.
Willingness to learn
Tech savvy, with the ability to quickly learn and apply new software applications to the position.
Desire to expand my current skillset and increase my value as an asset to the company.
Writing
Broad knowledge base that aids in writing from a position of authority on a wide range of subjects.

Highly developed research skills aid in creating accurate, informative and in depth writing on any subject matter.

Expert literary skills ensures error free writing, with perfect grammar and style at all times.

Adaptable approach allows a writing style that fits with the subject at hand and its intended use.

Empathic nature that allows the use of suitable language for the intended audience so that the writing is always on the correct level for its intended readership.

Focused and driven to always meet deadlines and targets as required.
More Examples of Industry-Specific Skills for Resumes