Regardless of background, everyone deserves a chance to put their best foot forward when hunting for jobs. Picking a professional resume format will help you do so by highlighting your marketable traits and downplaying areas of weakness.
Table of Contents
1. The Three Best Resume Formats
There isn't a clearcut best resume format — but professional recruiters and HR professionals have narrowed it down to three styles. Which one works for you depends on your background and work history.
The three main resume formats used by jobseekers today are the:
Chronological (or "Reverse-Chronological") Format
Functional Format
Combination (or "Hybrid") Format
Each modern resume format has its own unique characteristics, and highlights different areas of strength. Depending on your particular background, one will be more suitable for you than the others.
#1. Chronological Resumes
A chronological resume (sometimes referred to as a "reverse-chronological" resume) is the format where your most recent work experience is listed at the top of your experience section.
This means that the hiring manager will first read your current (or most recent) job, and continue down the page until they reach your oldest piece of relevant experience.
This structure allows you to present yourself in terms of your promotions and upward career mobility. It is therefore particularly useful for entry to mid level applicants looking to boost their careers.
Anatomy of the
Chronological Format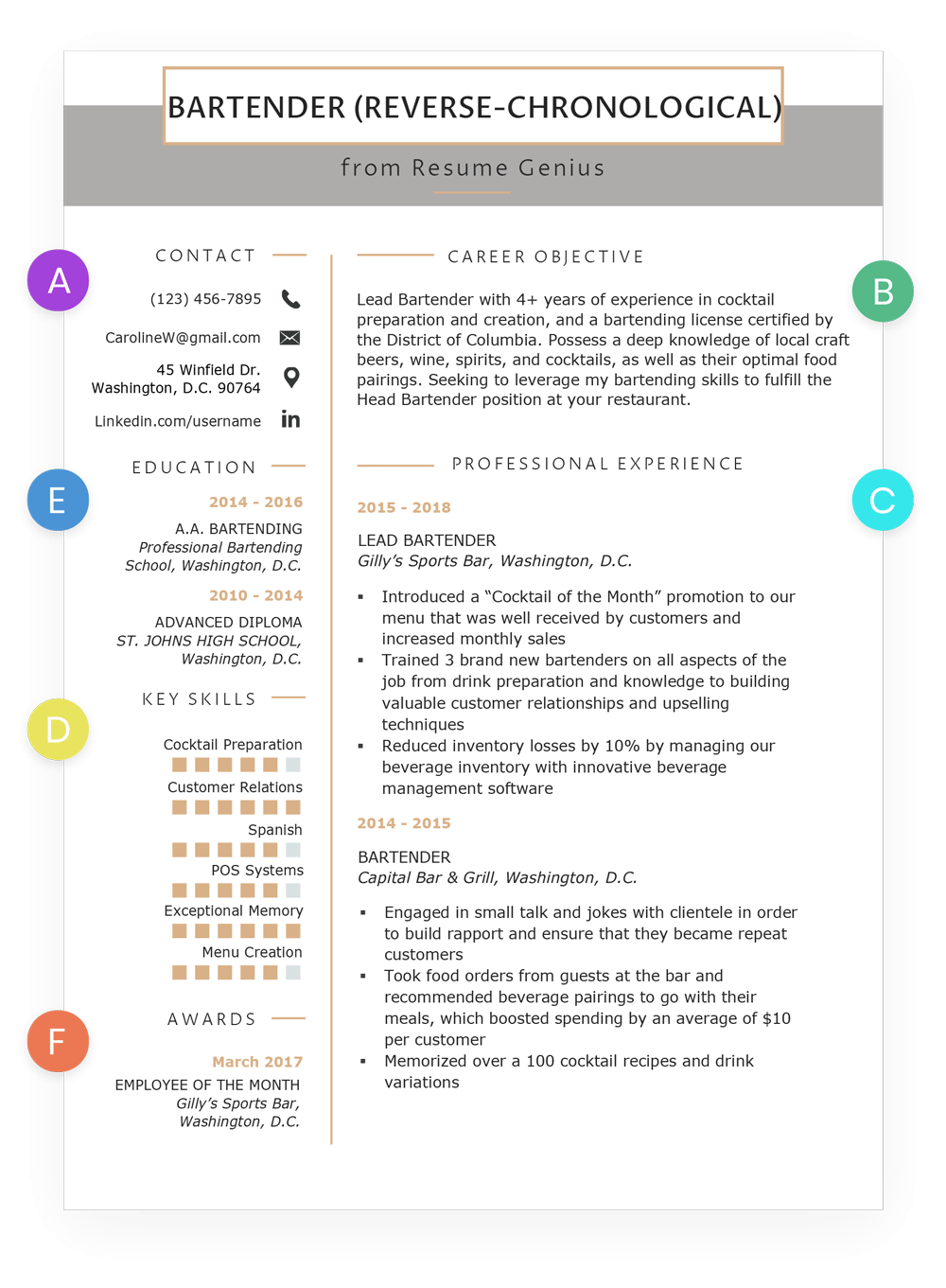 A
Contact Information – Consistent across all three resume formats, your contact details should be outlined near the top.
B
Resume Introduction – The resume objective is often employed on chronological resumes because of its flexibility (anyone can use it).
C
Work Experience – Central section of this format. It should reveal your positive development as a young professional.
D
Additional Skills – Your skills section highlights relevant professional abilities. Nothing fancy here.
E
Education – Less crucial than work experience.
F
Awards & Honors – The finishing touches on what's sure to be a great resume.
#2. Functional Resumes
The functional resume format frames a candidate in terms of the skills and abilities they believe are most relevant to the job opening.
Unlike the reverse chronological resume, the functional format ignores when and where the candidate learned or performed those skills. Instead, it simply lists them at the top of the resume in order of most relevant to least relevant.
Even the "least relevant" skill, however, should still be relevant to the position. In reality, "least relevant" here means "the least relevant of your most relevant skills."
Anatomy of the
Functional Format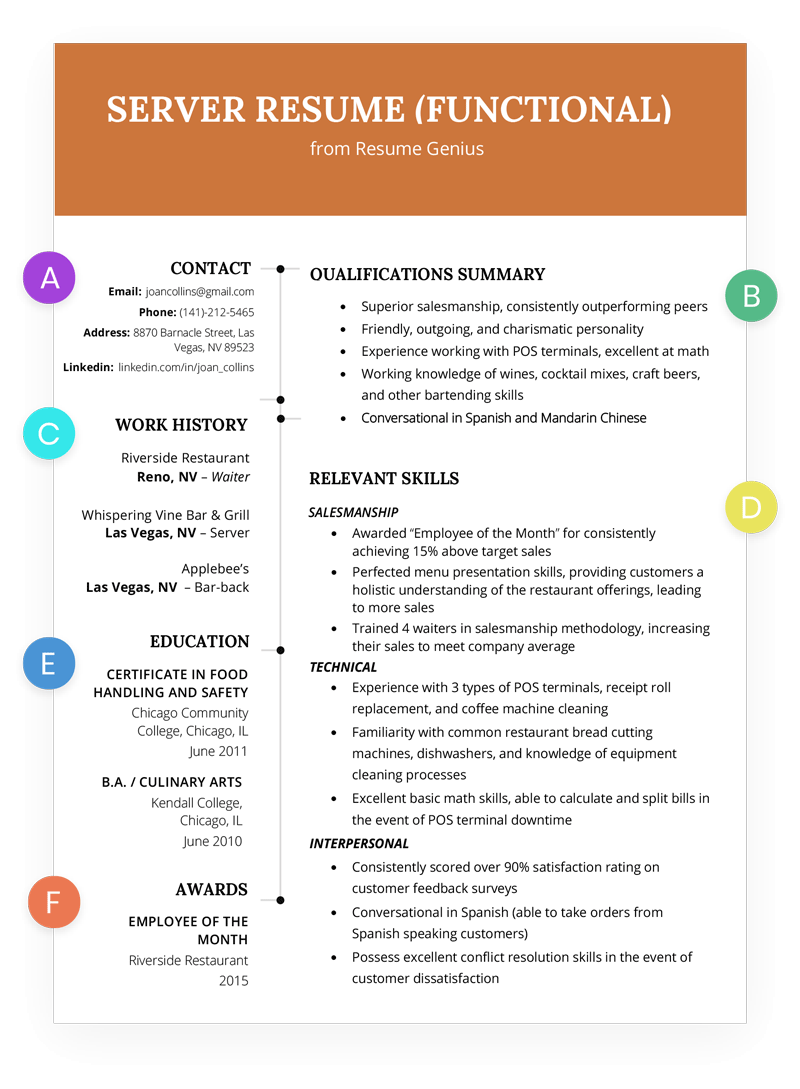 A
Contact Information – An important part of all resumes (double // triple check for accuracy).
B
Resume Introduction – For a functional resume, a summary of qualifications allows you to emphasize your skills if you lack consistent work experience.
C
Work Experience – Note how small this section is, and how timeframes are omitted.
D
Relevant Skills – Skills are crucial for someone without a clear work history, so try and fine-tune this section. It will be key to your success.
E
Education – Include your highest degree, and list a key (relevant) certification if you possess one.
F
Awards & Honors – Have any notable work-related awards? List the most significant here.
#3. Combination Resumes
A combination resume combines elements from the reverse-chronological and functional formats.
It begins with a resume profile, resume summary, or summary of qualifications that quantifies a candidate's professional achievements and abilities, and is then followed by a 'core skills' section.
Job seekers who use this format generally want to market their impressive skill-set.
Anatomy of the
Combination Format
A
Contact Information – Somewhere near the top.
B
Resume Introduction – If you use a combination format, you're most likely a highly skilled job applicant. Using a resume profile is a good way to quickly convey those skills to a hiring manager.
C
Work Experience – Important, but you have the flexibility to emphasize your skills over experience if needed.
D
Skills Sections – With your arsenal of work-related skills, you can divide them into two sections based on which are more important to the job.
E
Education – This section is more of a formality if you're using a combination format. Your skills and work history should hold the spotlight.
2. Resume Format Examples
To help you better understand the types of resume formats above, we've provided an example of each format below. Click the desired image to enlarge it, and scroll through the others to assess key differences.
If these samples don't suit you, we have many more on our new and improved resume templates mega-page. Check them out if you're looking to get started!
3. Infographic: How to Choose the Best Resume Format
As we've already touched upon, job seekers have three proven resume formats to choose from when hunting for jobs: 1. Chronological, 2. Functional, and 3. Combination. Each style is effective, but one in particular should work better for you.
Use the following infographic to quickly find out which type of resume format would be best for presenting your unique job experience and background.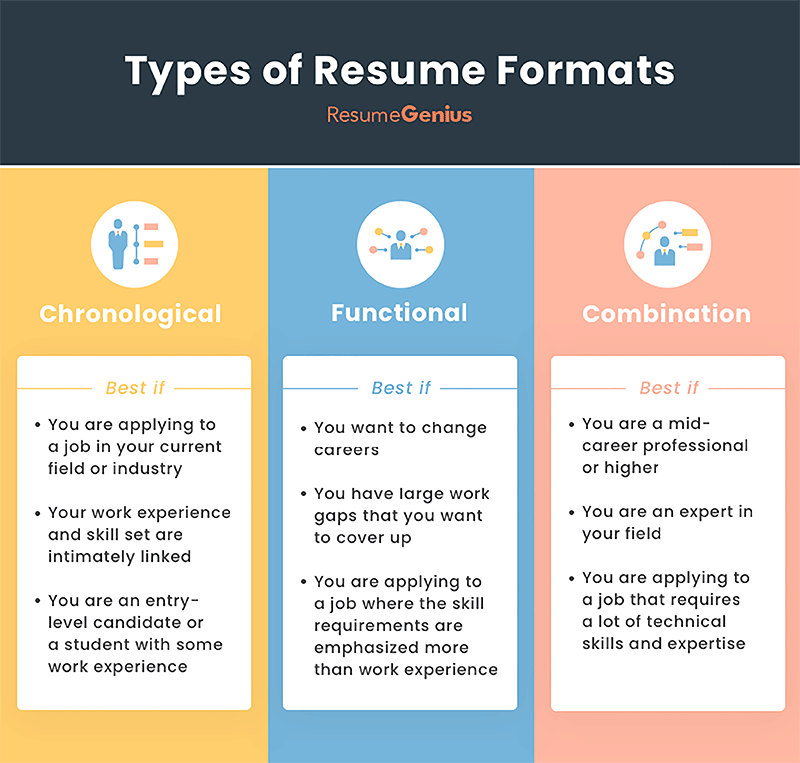 4. Resume Formatting: How to Format a Proper Resume
In addition to using one of the three resume formats above, it's also essential to know how to structure the content. This includes things like length, alignment, fonts, and margins. Below are a few quick tips to help you make sure your CV is not only formatted correctly, but also looks great.
1. Left-Align the Content
Generally speaking, the body of your resume should always be left aligned. Any other type of alignment looks messy and can be confusing to read for hiring managers.
When it comes to your contact information, however, it's perfectly acceptable to center align the text – especially if you want that information to stand out.
2. Maintain a One Page Length
There are some unique circumstances when you might need to create a resume that exceeds one page, but 99% of the time it's better to stick to one page in length.
Maintaining one page keeps all your information organized and easily viewable in one place.
3. Use .63″ by 1″ Margins
A little trick developed by our experts is to use .63″ left and right margins and 1″ margins on the top and bottom. Traditional resume formats use 1 inch margins all around, but by modifying the left and right sides to be .63″ it allows you to include more content and also makes your resume appear more robust by eliminating white space.
It's ok to use other margin lengths, but you should never go lower than .5″ or high than 1.25″ for any of your margins.
4. Stick to a Recommended Resume Font Style & Size
Recommended Font Styles:

Book Antiqua
Georgia
Lato
Trebuchet MS
Arial Narrow
Garamond
Calibri
Helvetica
Cambria
Didot (for headings)
Recommended Font Size:
A general rule of thumb is to use a font size of either 11 or 12. That being said, depending on the resume font you use there is some leeway with the size, as some fonts appear bigger (or smaller) than others.
As long as the font is easy to read and clearly presented on the page once printed, don't be too concerned about going over or under the recommended size.
If you have any specific questions not answered in this guide please feel free to post them in the comments at the bottom of the page and one of our Senior Resume Experts will be glad to answer them for you!