A good resume format will help you highlight your marketable traits and downplay your weaknesses.
The 3 best resume formats
There isn't a clearcut best resume format. However, recruiters and HR professionals have narrowed it down to three standard resume styles.
Your ideal resume format depends on your education, work history, and how you want to order the sections of your resume.
These are three current resume formats used by job seekers:
Chronological

(or "Reverse-Chronological")

Functional

Combination

(or "Hybrid")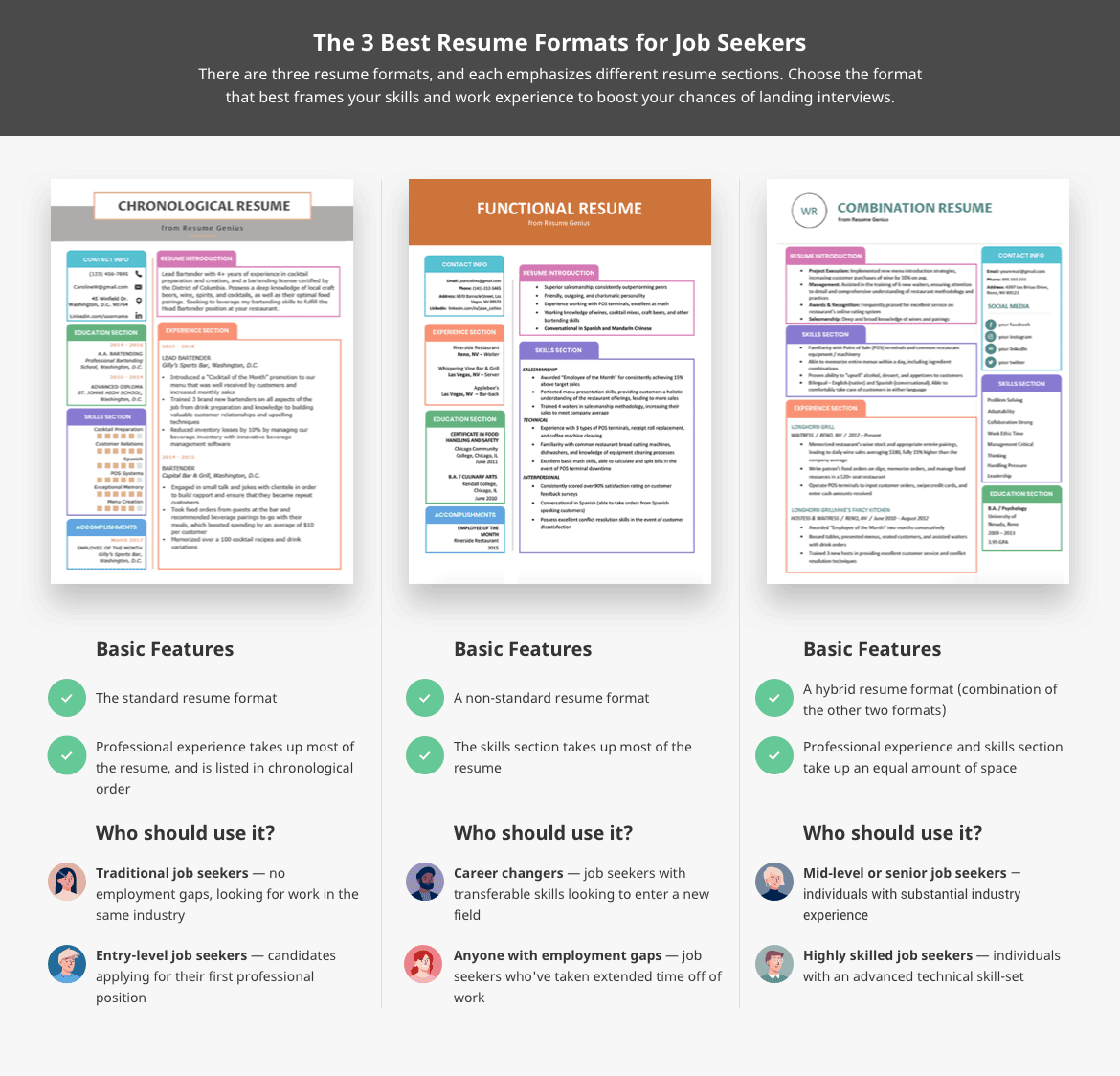 1. The chronological resume format
A chronological resume is the most standard resume format. It has a large work experience section, and lists your most recent job at the top of this section.
A chronological resume:
Shows hiring manager that your most recent work experience is relevant to the job
Presents your career in terms of promotions and career progression
Highlights how you've had a normal career without work gaps or terminations
Chronological resume sample
While hiring managers evaluate you in several ways, they mainly focus on your work history (if you have one). The importance of your professional experience section is why the chronological resume format is the standard for most job seekers.
I should use a chronological format if...
I want to demonstrate vertical career progression.
I want to apply to a job in a similar field.
I don't have large work experience gaps.
I shouldn't use a chronological format if...
I have multiple gaps in my employment history.
I am considering working in a new industry.
I frequently change jobs.
2. The functional resume format
The functional resume format focuses on your relevant job skills.
Unlike a chronological resume, the functional format ignores when and where you learned your skills. Instead of focusing on your work history, functional resumes are used to list your strongest resume skills at the top.
In a functional resume, including work experience bullet points is optional. You only need to write your company name, location, and job title for previous positions you held.
A functional resume:
Emphasizes your relevant skills for the job
Demonstrates your readiness to perform the necessary work
Removes focus from your work history
Functional resume sample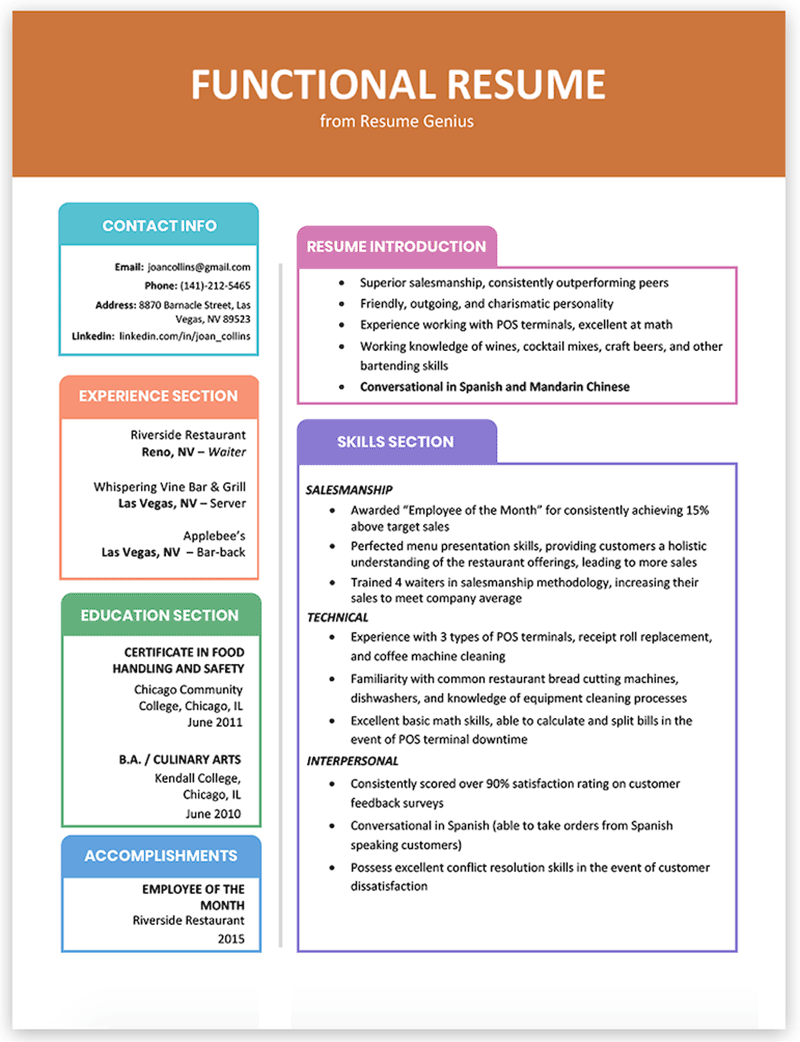 Because functional resumes focus on your skills, you need to work hard on your skills section. If you have a lot of technical skills, this is a great resume format for you.
I should use a functional resume format if...
I have unusually large gaps in my employment history.
I am in the midst of a big career change into a new industry.
I want to promote a specific skill set.
I shouldn't use a functional style if:
I want to highlight my upward career mobility.
I am a student or entry-level candidate that lacks experience.
I lack relevant or transferable skills.
3. The combination resume format
A combination resume is a combination of the chronological and functional resume formats. Combination resumes:
Begin with a resume profile, resume summary, or summary of qualifications
Lead with a core skills section (like a functional resume)
End with a detailed work experience section (like a chronological resume)
If this seems like a lot of information to include, that's the point. Combination resumes are ideal if you have a big skill set and a long career.
A combination resume helps you:
Equally emphasize your professional skill set and work history
Focus on transferable skills if you're writing a resume for a career change
Highlight your mastery of specific skills during a long career
Combination resume sample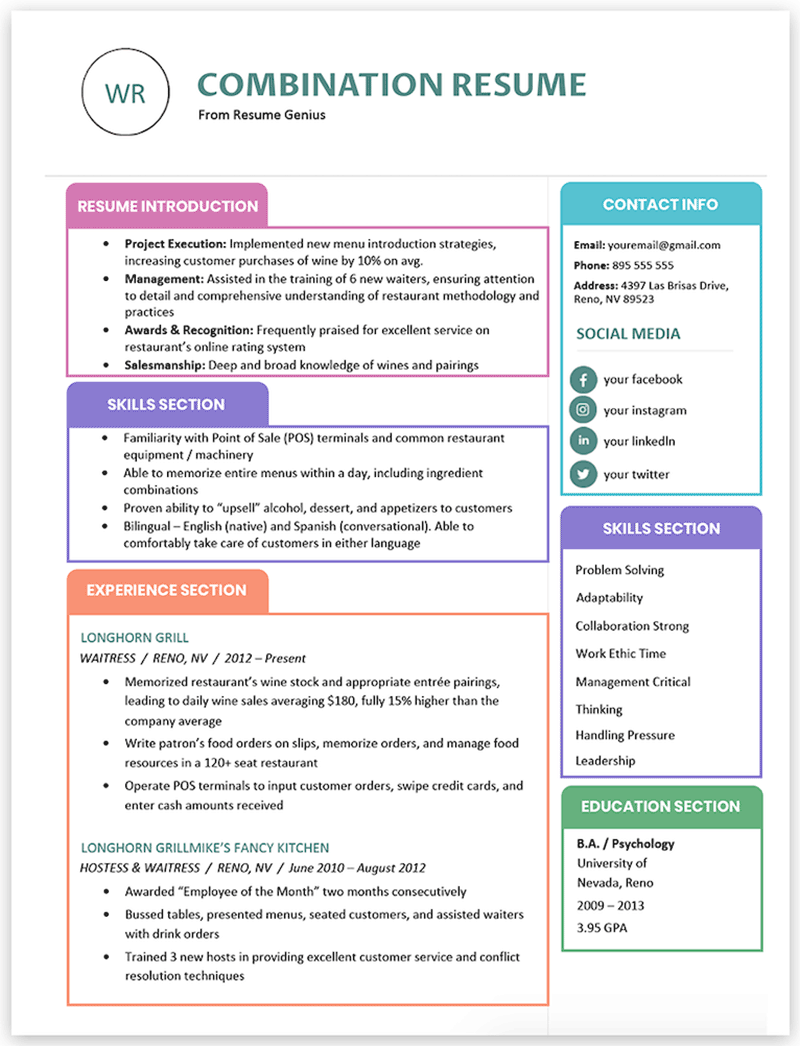 If your skills and work are of equal importance to your target job, this is a good resume format to use.
I should use a combination resume format if...
I want to showcase a relevant and well-developed skill set.
I want to transfer to a different industry.
I am a master at what I do.
I shouldn't use a combination resume format if...
I have zero work experience.
I want to emphasize my educational background.
I lack the relevant qualifications and skill set for a role.
What's the best resume format for you?
Job seekers have three professional resume formats to choose from when hunting for jobs. Each style serves a specific purpose, so only one will work best for your skill set and professional background.
Use the following infographic and to quickly determine which resume format you should pick.
Resume formatting: 4 tips on how to format your resume
Although it's your resume's content that will get you interviews, you should still ensure the layout is neat and easy to read.
Here are four quick resume formatting tips to correctly format your own professional resume.
1. Left align the content
In general, you should left align your resume. Unless your resume template was specifically designed with a different alignment, left is the standard.
2. Keep your resume one page long
99% of the time, it's best to only send out one page resumes.
However, there are some reasons to break this rule. For instance, you might need a two-page resume if:
you have 10+ years of experience relevant to the job you want
you're writing a management level or executive resume
you're an academic writing a professional CV
If you're still unsure how long your resume should be, make it one page to be safe.
3. Use .63″ by 1″ margins
The correct margins for a resume are  .63″ left/right and 1″ top/bottom. This combination strikes the perfect balance between making your resume easy to read, while including as much information as possible on a single page.
If you're worried you have too much (or too little) content on your resume, you can tweak the margins as necessary. Just don't get carried away, or you risk making your resume appear bizarre and unprofessional.
4. Use an HR-approved resume font
The font and font size you choose for your resume won't improve your chances of getting the job, but they can definitely hurt your chances. If you choose a professional font at a readable font size, you should be okay.
Recommended fonts
Book Antiqua
Georgia
Lato
Trebuchet MS
Arial Narrow
Garamond
Calibri
Helvetica
Cambria
Didot (for headings)
Recommended font size:
While the best font for a resume is debatable, experts agree that font size shouldn't fall below 10.5" or exceed 12". Some fonts look better smaller, and some fonts look better at larger sizes. Experiment until your resume looks professional and readable.