A resume summary (aka resume summary statement or professional summary) is a resume introduction that highlights your key work-related achievements and skills in four to five bullet points.
Each bullet point includes:
a short subheading related to one of your relevant skills or achievements
an example that showcases that skill or achievement
a data point (usually a number or statistic) that backs it up
An effective professional summary for your resume is your ticket to an exciting new job.
Learn how to write one with our comprehensive guide, and model yours after one of our examples.
How to Write a Resume Summary
Before we show you how to write a resume summary, first check out this example of what a summary for a resume looks like:
Don't be fooled by the length — this introduction is packed with information.
Simply follow these four easy steps to create a good summary for your resume and impress hiring managers:
Step #1. Identify Your Top Work Skills
First, check the job posting to decide which skills and achievements you should list.
Regardless of the job opening, include a mix of hard skills and soft skills in your resume summary. Doing so shows you have a balanced skill-set, and can handle a variety of tasks.
Step #2. Pick Examples of Each Skill in Action
Each resume summary bullet point needs a job-relevant achievement that proves your ability to get work done. Think about your professional experience, and come up with a list of your best examples.
Let's say you want to showcase your Spanish abilities. You might write these examples:
Translate written text at an average of 1,000 words per day
Translated 200+ documents for government agencies, including the US Department of Housing and Urban Development
Translated 1,000+ documents from Spanish into English
Provided simultaneous interpretation between Spanish & English at 50+ conferences
Step #3. Find Supporting Data
Once you've found some examples, add data to make your achievements quantifiable for hiring managers.
For instance, if you're a freelancer, you likely send an email for each project you accept. Simply use the search function of your email to find out how many assignments you've completed. Or you could check the number of invoices you've sent out.
Translated 1,000+ documents from Spanish into English.
Step #4. Use the Example That Highlights Your Best Attributes
After you've gathered several examples for your resume summary, pick the one that best illustrates your talents.
If you're applying to multiple jobs, you'll probably find that certain examples suit different positions.
Anatomy of a Professional Summary Bullet
Let's take a look at an example resume summary bullet point:
Part #1. The Bullet Point
The bullet point separates each sentence from the next, and helps distinguish your greatest marketable abilities from each other.
Part #2. The Subheading
The subheading is one or two words long, and is the name of a key soft skill or hard skill you want to advertise. It's bolded and short, making it draw the hiring manager's attention.
Part #3. The Sentence
If your subheading is "management," explain why you're an excellent manager by mentioning an actual achievement. This proves you're telling the truth (see Part #4).
Part #4. Quantifiable Data
Add numbers to your bullet to quantify each statement you make.
Check out how this hair stylist effectively uses quantifiable data in her resume summary statement: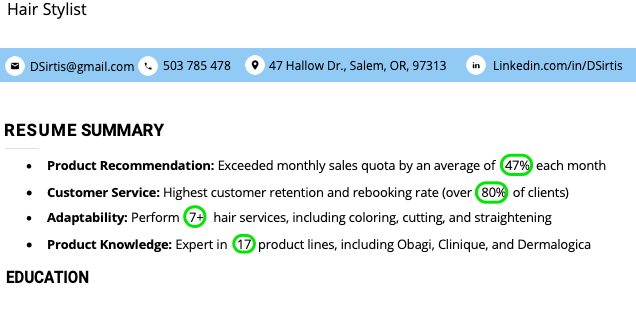 This data strengthens her resume summary because numbers attract attention and support her achievements.
Hiring managers want to see how you'll perform if they offer you the job, and concrete data in the form of numbers provides this insight into your performance. Plus, the fact that you've gathered this information in the first place even highlights your organizational skills, which is an added benefit.
10+ Resume Summary Examples
Here are some professional summaries for resumes that will inspire you when drafting your own:
Translator
This translator candidate's resume career summary will help them land more job interviews:
Spanish: Translated 1,000+ documents from Spanish into English
Communication: Collaborate with ever-growing portfolio of clients (currently 47)
Time Management: Complete 99+% of assigned translation projects within agreed deadlines
Accuracy: Low rate (<5%) of customer requests for revision of completed translation projects
Mechanic
Our candidate will successfully navigate the application process to their next job thanks to the summary section of their mechanic resume:
Vehicle repair: Repaired and serviced 2,000+ vehicles
Upselling: Upsold parts and labor by an average of 47%
Customer service: Greeted an average of 52 customers a week
Meticulousness: Test drove 1,470 vehicles to ensure work quality
Property Manager
This property manager resume shows that a resume summary can inspire both clients and hiring managers.
Negotiation: Negotiated average 4.7% discount from suppliers
Leadership: Managed 39 staff members, including security team
Organization: Oversaw portfolio of 85 luxury properties
Trustworthiness: Handled $50m in monthly rent and fees
Hair Stylist
This hair stylist resume professional summary highlights her career accomplishments.
Product Recommendation: Exceeded monthly sales quota by an average of 47% each month
Customer Service: Highest customer retention and rebooking rate (over 80% of clients)
Adaptability: Perform 7+ hair services, including coloring, cutting, and straightening
Product Knowledge: Expert in 17 product lines, including Obagi Clinique, and Dermalogica
Photographer
The resume summary found on this photographer resume shines a light on their achievements.
Composition: Capture stunning portraits using a DSLR and 4+ lenses
Post-processing: Create unique digital imaging effects in Adobe Lightroom and Photoshop
Awards & Recognition: Winner of the LensBoss 'Portrait Photographer of the Year' award 2018
Social Media: Cultivated an Instagram following of over 250,000 individuals to drive freelance business
Secretary
This secretary resume features a strong resume summary:
Management: 10+ years of experience supporting high-level executives and managing administrative departments
Leadership: Trained and supervised more than 25 administrative staff over a 5-year period
Microsoft Office: Possess MOS Expert Certification
Initiative: Executed an environmental initiative that saved over $4,500 in office supply costs
Teacher
The resume summary found on this teacher's resume provides salient achievements:
Experience: 10+ years of experience teaching classes of different sizes and ability levels
Interpersonal skills: Received 90%+ satisfaction rating from parents and students
Teaching skills: Improved math and literacy grades by 17% and 24%, respectively
Initiative: Executed switch to online record-keeping of student attendance, reducing administrative costs by 5%
High-School Student
Normally, high-school students should use a resume objective. However, this high-school student resume was written by someone with achievements to showcase:
Leadership: Served 1 term as Student Council President, securing majority support (70%) from Council members
Diligent: Received 3.9/4.0 GPA
Empathy: Organized charity drive for homeless veterans, raising $4,700
Attendance: Maintained 100% attendance record
Accountant
This candidate assembled a strong accountant resume compete with a summary statement that describes their achievements and skills:
Reliable: Supervised $4.7 million budget
Effective: Reduced costs by 17% over 3 years
Communication skills: Gave 2 oral presentations per month on company's financial indicators
Interpersonal skills: Trained 3 junior accountants
Nurse
An effective nurse's resume summary should look something like this:
Caregiving: Provide quality health care in a 20-patient ward, including daily monitoring, recording, and evaluation
Communication skills: Interface daily with 7 team members concerning patients' treatments
Empathetic: Commended 3 times for ability to deliver bad news to patients and their family members
Knowledgeable: Graduated Sacramento State Nursing program with 3.9 GPA
Resume Summary vs Resume Objective
A resume objective (or career objective) is the traditional resume introduction.
An objective is a three- or four-sentence statement where candidates outline their experience, skills, and aspirations, and people of all experience levels can write one.
The resume objective lets candidates highlight their ambitions at their target company, and how they will take those ambitions and benefit their target company.
However, every inch of resume real estate is valuable, and shouldn't be wasted by talking about your own goals. Companies are more interested in what you can offer them.
In a resume summary, each bullet point is carefully crafted to advertise your skills and achievements. This makes a resume summary statement a much more efficient use of space, and also more scannable for the reader.
Hiring managers can easily see where each sentence starts, which makes picking out the key details much easier — especially when they're going through your resume quickly (which they will be doing).
Who Should Use a Resume Summary Statement?
Resume summaries are an ideal option if you have 2+ years of experience, since they're a great way to showcase on-the-job skills, experience, and achievements.
Specifically, a resume summary is most effective if you have:
Stayed in the same job for several years
Held different roles in the same industry
Worked in multiple industries in your career
Should Students Use a Resume Summary?
Resume summaries better suit people with experience, so they're usually inappropriate for students.
A traditional resume objective provides more space for you to talk about your dreams and goals. If you're a student, an objective puts less pressure on you to think of work-related, quantifiable achievements.
However, if you're a student who's held leadership roles — maybe in student government, fraternities, or social groups — you could benefit from using a resume summary statement.
These experiences provide several transferable skills, and can also be tied to concrete accomplishments.
For instance,
student government experience will strengthen your leadership skills
a stint in the theater society will enhance your public speaking
playing on the soccer team will boost your team-player credentials
Just remember, hard data is essential for a resume summary, regardless of your experience level, so make sure you add a statistic to each bullet point.
Served term on University of Chicago College Council, winning 4,700 votes.
Conclusion
After you've finished writing your resume summary, use the rest of your resume real estate wisely by learning how to write a resume.
If you're ready to write your resume, take a look at our resume samples.
Or you can generate a tailored resume in minutes using our new and improved resume builder.